One of the top summer acquisitions of 2016 free agency, Russian defenseman Nikita Zaitsev was signed by the Toronto Maple Leafs to a seven-year contract on Tuesday. In this translated interview, originally appearing on the popular Russian site sport-express.ru, Zaitsev talked about his season, his new contract, and the Maple Leafs' environment.
*You can enjoy the full article by Alexei Shevchenko here.*
First Full Year in the NHL
Alexei Shevchenko: Let's start with the most important thing. You played all the regular-season games and four playoff contests and you ended up minus-26. This doesn't look (good).
Nikita Zaitsev: The stats don't always tell you the whole truth. Yes, I finished the season being minus-26. I don't want to make excuses, but I always played against the top lines in the NHL. Against those players who have to get the job done for their teams. If for example we play against Edmonton and Connor McDavid gets on the ice and I'm on the bench, then I'm gonna hit the ice myself right away. If the Blackhawks ice Kane's line, then I am going to go too.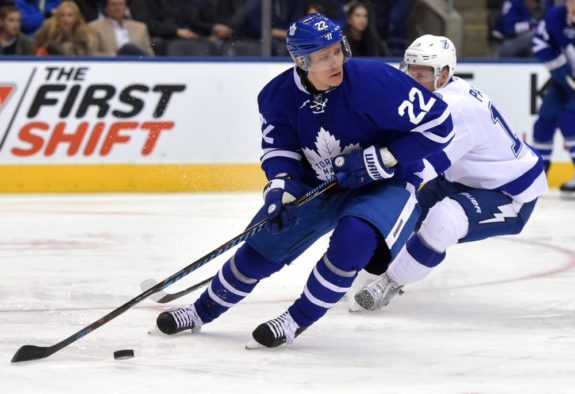 AS: Is it hard?
NZ: I had a hard role, but I truly enjoy that.
AS: Has ever Mike Babcock scolded you? I remember that once he laughed during an interview when he was asked about your plus/minus rating.
NZ: Yes, it was a fun story. Once he called me and Morgan Rielly and asked: do you need a green jacket? Then I'll give you one.
AS: What about green jackets?
NZ: It turned out that in golf there is such a tradition to give a green jacket to the player with the biggest minus rating. But he was laughing when he told us these things, it was just a joke. There is a special statistic to which not many people gives attention. There is an indicator that shows whom you played against. And it turns out that I always played against the best forwards. If you looked (at) the games carefully, you would notice that I pretty much always played in my own zone. I almost only defended. This is the kind of detail level that it's hard to notice if you are a fan, or if you don't watch the games and just look at the scoresheet.
AS: So, did he ever scold you?
NZ: No, not once.
AS: And what about Don Cherry?
NZ: OK I get it. I understand very well who is Don Cherry. He's a showman, he works for a popular channel and he says something fun, but he has convinced me many times that he doesn't watch the games.
.@MapleLeafs have signed D Nikita Zaitsev to a seven-year contract extension. Annual value of the contract is $4.5M through 2023-24 #TMLtalk

— Leafs PR (@LeafsPR) May 2, 2017
AS: Strange.
NZ: I read people's opinions and try to understand them. But I pay the most attention only to a selected group of people. The most important thing for me is to be able to watch my teammates in their eyes. So that I can enter the locker room with a raised head. I don't feel bad for anything else.
AS: What was your worst game this season?
NZ: In March we lost to Florida by a 2-7 score. That day I played really bad.
AS: And what about the best one?
NZ: Nothing comes to my mind. Most of the games were pretty much on the same level.
Nikita Zaitsev & Mike Babcock
AS: We always thought that Nikita Zaitsev was an offensive defenseman.
NZ: Goals and assists were the least things to worry me. Yes, I had some chances to run forward, but that happened fairly rarely. We were almost always defending if we exclude our power-play time.
AS: You mostly didn't shoot, but dump(ed) the puck in.
NZ: The fact is that you don't have much time to get a good shot. Yes, I understand what you're trying to say, but we had another plan to get the puck close to the crease faster, and it didn't include shots from the point.
AS: We had an interview earlier in January, but then just half of the season passed, while now you played a full year and you can now make conclusions. What was the hardest thing to adapt to?
NZ: I didn't know much, and thus next year it will be easier because I'll avoid many mistakes. I'll completely change my summer training. I will have (fewer) aerobic practices, they are of course useful, but I won't do as much as I did. I'll start working in two weeks, that is in mid-May. I will work more on the ice and will need to work more individually in the gym.
AS: In the NHL you got the "bye weeks".
NZ: Yet another thing that I'll need to correct next year. In the latest bye week I flew to the Bahamas, I spent some time in Miami. And only then I understood how hard it is to recover after long flights. Next time I'll stay at home and spend time with my family.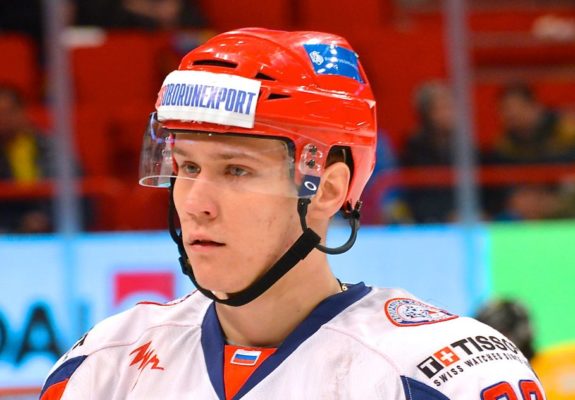 AS: Russian players have to change themselves, their personality, once they move to America?
NZ: Yes. Another mentality. For example, in Russia you must be fully focused on the games, you can't smile, or laugh too much. In America it's different. With CSKA, we'd tune the music in like 10 minutes before the game, while with the Leafs we had people dancing in the locker room.
AS: Did you dance yourself?
NZ: No, I did not, but we have some skillful guys. And no one sees anything bad in it. It's clear that what matters most is the way you act on ice, and not off the ice. In our locker room, it was prohibited to frown.
AS: Tell me more about it.
NZ: There were some rumors according to which a player was sent down to the AHL because he was always in (a) bad mood. Someone may get to you, ask what's going on and maybe send you down. The point is that the board of the team considers the team as a family, and you should be happy to be part of it. You should enjoy your job.
AS: Once Roman Lyubimov told me that he misses yelling from the coaches.
NZ: In the whole season, Mike just once broke out. But I wasn't there when he was scolding a player for his mistakes. I have been told that it happened, though.
AS: Anyway you hardly smile. I know you. You can laugh, joke, but you rarely smile.
NZ: Well, yes. But in Toronto, I am changing it. In part, it comes from Russia. Since I always played there I didn't pick up the habit yet that a frowning face is not an indicator of a hard worker.
AS: Maybe it's easier to play if you're smiling?
NZ: Well, maybe you don't fully understand what we, players and coaches, did this year. With a very young roster, we managed to get to the playoffs. The guys were really excited.
AS: I remember that after a defeat Babcock had your team practicing in the dark.
NZ: Yes, I remember that. We were practicing and at once lights went out. What should we have done, just go(ne) home? So we skated. Babcock himself laughed over this situation. But it doesn't mean that everything was bad.
AS: In what way is Babcock different from other coaches?
NZ: He has an incredible experience. And it looks like he knows everything about you. I just arrived and he already told me two things that I have to work on.
AS: Can you tell me at least one?
NZ: In the KHL, if you get the puck behind the crease, you can get close to it, pick it up, watch what's happening, and pretty much do not waste any force. Babcock told me right away that I shouldn't do it. That I would have no time because I needed to run and keep my feet moving. And it turned out to be exactly like that. In the NHL your feet are always moving, without a pause.
AS: You need to remember about it.
NZ: He always knows what's going on with you. He's always showing that we aren't just hockey players, but people that he cares about. He can advise you a good restaurant, and he is always interested in knowing what places you visited. He is always asking if everything is good and if he can help you, but at the same time, he tries not to exaggerate.
AS: In what sense?
NZ: At first I wanted to know everything about the game in the NHL. I asked my coaches to tell me even the littlest detail of our gameplan. But Mike prohibited me from doing so. He told me: "I perfectly know the way you see the ice, the way you think. If you need to fix something up, I'll tell you, and don't worry about the rest."
Zaitsev & His New Long-Term Contract
AS: You signed a seven-year contract. But you also told me that you weren't all that enthusiastic about Toronto. In the sense that you thought that there were better places in North America.
NZ: But after a full season I understood what a great place it is and how great it is to stay here with family and kids. No, no, I'm truly glad to be spending long years in Canada.
AS: In North America, it always looks like that players who get big contracts don't stop working and work hard to earn every penny. Of course, there are exceptions, but they are exceptions. What's your opinion?
NZ: Hard to say. I think that [in North America] you aren't going to get big money just because someone likes you. And if you're offered a big contract it's because they understand that you won't stop working the day after, but that instead, you'll work hard to show that they weren't wrong.
AS: Someone is interested in the KHL?
NZ: There is some interest. Sometimes in the locker room the guys discuss this or that event. But mostly it regards fights. I haven't heard of anyone being interested in knowing the scores or watching the highlights.
AS: And the last thing. I visited Toronto different times and I always noticed that there is always a lot of people on the street.
NZ: Yes, it's like that. It seems to me that they truly enjoy this lifestyle. People (are) going somewhere even on nights.
A professional hockey writer and translator. Loves Russian culture, language, and hockey. Reachable on twitter @AlexSerenRosso