Game 3 between the Pittsburgh Penguins and Washington Capitals barely got underway at PPG Paints Arena when Sidney Crosby drove the net, took a slash from Capitals' captain Alex Ovechkin and on his way down to the ice, received a cross-check to the head by former Penguins' defenseman Matt Niskanen.
Was it malicious? Did Niskanen target Crosby? Were the Capitals planning this all along? Those are some of the takes we've seen since this incident but you can decide for yourself.
However the hit is viewed — and whether or not the league disciplined Niskanen — doesn't really matter at this point. All that matters is that Crosby has been diagnosed with a concussion and will miss at least one game. In essence, it's two games when you consider how early he left Monday night's contest. The Penguins, already missing their top defenseman in Kris Letang, are now tasked with surviving Crosby's absence in a heated series against the league's best team in the regular season.
And somehow, the Capitals — this season's President's Trophy winner and assumed Stanley Cup favorites — will be the team with added pressure on them.
Nightmare Scenario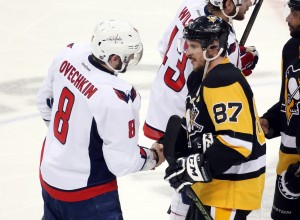 This is far from an ideal situation for the Penguins. However, they battled their way to a 2-0 series lead — now a 2-1 lead after Washington won Game 3 — and they're still in good shape despite missing Crosby.  They still have three of the top four postseason scorers in Evgeni Malkin, Phil Kessel, and Jake Guentzel, and a supporting cast that could put this series away.
That's bad news for the Capitals.
Washington carries a reputation of fizzling out in the postseason, and for good reason. It's historically true and their most recent squad led by Ovechkin and company has lived up to the hype. Second round exits are the norm, and the Penguins are a frequent foe in that situation. What happens if they're eliminated by the Penguins again but this time, without Letang and Crosby in the lineup? It's truly a nightmare scenario for a Capitals team with so much hype heading into the playoffs.
They're used to the disappointment of exiting the tournament much earlier than anticipated, but not to a team without it's two most important players. That won't sit well with the team or their fans.
Penguins are Confident, Resolved to Victory
Pittsburgh, similar to Washington in a way, carried a reputation of a good regular season team unable to finish the job in recent years. Most of their issues stemmed from a poorly constructed supporting cast and frustration among their biggest stars. Simply put, they were easy to play against. Mike Sullivan drastically changed their culture upon his hiring, though, and the Penguins are now committed only to playing their game. That needs to be the case for the rest of this series.
The Penguins live and die by the mantra of 'just play'. On Wednesday night, when they're staring at Ovechkin and Niskanen — both players involved in concussing their beloved captain — seeking retribution will be highly tempting. But this team has been above that, and their ability to 'just play' will be crucial to advancing with Crosby on the sidelines. The Capitals won't be seeking a fistfight, they're looking to tie this series and it's important Pittsburgh takes care of business in Game 4 at home. If the series goes back to Washington tied and Crosby remains out, things quickly shift in Washington's favor.
Sullivan, when discussing Crosby's absence with the media after Pittsburgh's optional skate on Tuesday afternoon, seemed as confident as ever in his remaining lineup. Carl Hagelin stated that if Crosby is out of the lineup, they'll win it for him and the rest of the Penguins echoed those sentiments. Resolve, resiliency and an ability to play through adversity has defined this Penguins team since December 2015. They'll need to rely on all those intangible qualities, as well as their remaining star power to finish things off against a Capitals team that's eager to prove they're more than just annual President's Trophy winners, but actual Stanley Cup contenders.
If they do pull this off, it may be the most frustrating exit for the Capitals' faithful in recent memory.