Make no mistake—Russian athletes deserve every opportunity to represent their country at the Winter Olympics. Certainly just as much as any other nation. While there are mixed sentiments on the participation of Russia in the 2018 Games, it is hard to swallow the fact that numerous elite athletes who have done nothing wrong have been given a bad mark by those found guilty of doping.
For what it is worth, clean Russian athletes will be allowed to play at the PyeongChang Winter Games, but under a neutral flag and with the contingent having the designation of the "Olympic Athletes of Russia". Are the proper people people even being punished? Seems unfair in more ways than one to have those innocent of any wrongdoing forced to forgo the colors and name of their nation. The utmost honor in any sport and for any athlete is to represent one's country. It's travesty to take that away from a athlete who deserves the honor.
Now that we have gotten that out of the way, let's get down to the meat of this preview: this is a darn good hockey club no matter what flag they are marching under or what their official title might be. The strength and will of players such as Lyudmila Belyakova and Angelina Goncharenko have always shown that their hearts are deeply Russian red underneath any jersey they may don. The Russians will also be bringing three stellar goalies to PyeongChang as well.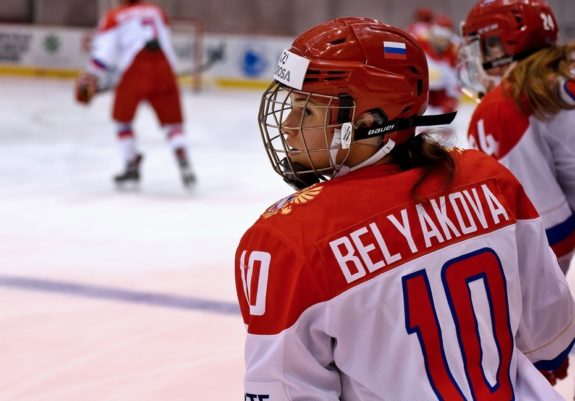 Just like their counterparts Canada and the USA and even Japan, these Russian women have been playing many years together and have great familiarity with one another. Many of them are teammates in the Russian Women's Hockey League (WHL). (NOTE: WHL is anglicized from Женская хоккейная лига (ЖХЛ.)
Here is how Russia's 23-player roster looks for the 2018 Winter Games:
Goaltenders
Nadezhda Alexandrova (Tornado Moscow Region), Nadezhda Morozova (Biryusa Krasnoyarsk), Valeria Tarakanova (SKIF Nizhni Novgorod)
Nadezhda Morozova is one of the top goaltenders outside of North America. The 21-year-old netminder has good size at 5-foot-7 and over 150 pounds. Morozova won a bronze medal for Russia at the 2016 Women's World Championships in Kamloops, British Columbia, Canada. She was in net for all five of Russia's games and came away with a 3.53 goals-against average and a .885 save percentage.
In the 2014 Women's U18 tournament in Budapest, Hungary, Morozova had the second-best numbers of any goalie at the games. A staggering 1.07 GAA and .962 SV%. For the past three seasons with Biryusa Krasnoyarsk, Morozova led the WHL in shutouts in 2016-17 and was named an All-Star this current 2017-18 season. Easy to see why when her save percentages have been .899, .911 and .924 respectively.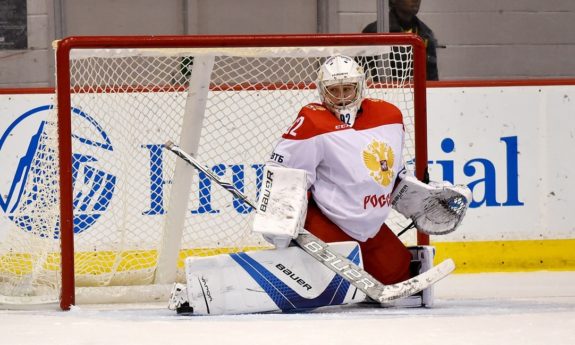 If Morozova is one of the best, then Nadezhda Alexandrova may be even better. She has a tad more experienced than Morozova as well, as Alexandrova just turned 32 earlier this month. During the 2013 Women's Worlds in Ottawa, Alexandrova's performance was nearly unbelievable. An astonishing 0.29 GAA and a .986 SV% in four tournament games saw her named as the IIHF's Best Goaltender at the tournament. She gave up only a single goal in nearly 210 minutes of play. In the bronze medal game alone, she stopped all 32 shots that Finland sent her way and ensured that the medal belonged to Russia. Alexandrova has won two Russian Championships for Tornado in 2015-16 and 2016-17. Like Morozova, she also named an All-Star for the current 2017-18 WHL season.
Then there is Valeria Tarakanova, who is an incredibly interesting third selection. She is by far the largest of three goalies at 6 feet tall and nearly 200 pounds. Tarakanova is only 19 years old and hails from the city of Nizhny Novgorod. Her goaltending numbers for SKIF have been quite good for the past three seasons in the WHL. Currently in 2017-18 Tarakanova has posted a 1.77 GAA and a .937 SV% through 12 games.
Вот и состав женской сборной России для участия в Олимпийских играх-2018. Федерация хоккея России отстояла участие в Играх форварда Людмилы Беляковой, которая ранее не получила приглашения от Международного олимпийского комитета:https://t.co/UebzxLj02i pic.twitter.com/vMCcqPxm2J

— Хоккей России (@russiahockey) January 25, 2018
It is a bit of a tossup between whether the Russian net belongs to Morozova or the veteran Alexandrova. Through recent play and appearances, the forerunner appears to be Morozova. However, if the Russians wish to go with a more experienced backstop it will be Alexandrova. Either way, you cannot lose. Tarakanova likely will not see any ice time do to her youthfulness, but the experience to be part of the Games will be invaluable to her long-term development.
Defenders
Maria Batalova (Tornado Moscow Region), Anastasia Chistyakova (Dynamo St. Petersburg), Liana Ganeyeva (Arktik-Universitet Ukhta), Angelina Goncharenko (Tornado Moscow Region), Yekaterina Lobova (Biryusa Krasnoyarsk), Yekaterina Nikolayeva (Dynamo St. Petersburg), Nina Pirogova (Tornado Moscow Region), Svetlana Tkachyova (Tornado Moscow Region) 
Angelina Goncharenko is arguably the Russians' best defender. You have to love her size at 5-foot-10 and over 160 pounds. More so, you have to love her skill set and ability on the ice. In Russia she has been part of Tornado for four seasons after a year in Ufa with Agidel. In her three previous seasons with Tornado, Goncharenko has averaged 21 assists in no more than 32 games a year.
She is constantly moving pucks from the back end and creating opportunities for the forwards. With a player like Goncharenko feeding the puck, it is no wonder that Tornado's forwards are the most potent of any scorers in the league. During the 2016-17 WHL season, Tornado scored 178 goals. Twenty-one of them came off of Goncharenko passes.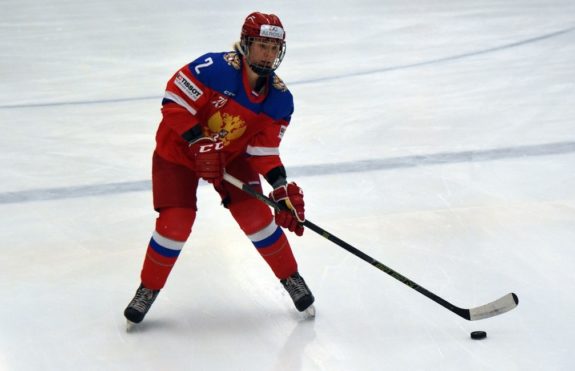 Svetlana Tkachyova is the elder stateswoman on Russia's blueline. At 33 years of age, the 5-foot-7 defender will be competing in her third Winter Olympics for the Russians after being part of the Vancouver '10 and Sochi '14 Games. After taking a few seasons off Tkachyova has rejoined Tornado and has played in four games this year. She had last played in the 2014-15 season when in 28 games for Tornado she put forth four goals and 15 assists. Tkachyova's invitation to the team is likely just an opportunity for Russia to have a steadying presence on their blueline and in their locker room. Her defensive capabilities are icing on the cake as compared to the intangibles Tkachyova can exude toward her teammates.
Yet another WHL All-Star defender is Anastasia Chistyakova. She currently plays in St. Petersburg for Dynamo and has put together three goals and an assist in 12 games. Presently just 20 years old, Chistyakova will turn 21 just two days into the PyeongChang Games. Like most of the Russian defenders, she has excellent size as well. Standing at 5-foot-8, Chistyakova is close to the 180-pound mark. Back in 2015, she used her size and skill to help Russia take a bronze medal in Buffalo at the IIHF Women's U18 tourney. This is just the first of future Olympics that Chistyakova will play in, as she is destined to be a vital cog for Russia for many years to come.
Forwards
Lyudmila Belyakova (Tornado Moscow Region), Yelena Dergachyova (Tornado Moscow Region), Yevgenia Dyupina (Dynamo St. Petersburg), Fanuza Kadirova (Arktik-Universitet Ukhta), Diana Kanayeva (Dynamo St. Petersburg), Viktoria Kulishova (SKIF Nizhni Novgorod), Valeria Pavlova (Biryusa Krasnoyarsk), Anna Shokhina (Tornado Moscow Region), Alevtina Shtarëva (Tornado Moscow Region), Yekaterina Smolina (Dynamo St. Petersburg), Olga Sosina (Agidel Ufa), Alyona Starovoytova (Tornado Moscow Region)
There are few better women's hockey players in the world than Lyudmila Belyakova. The one-time star for the NWHL's New York (Metropolitan) Riveters can score with the best of them. Not only did she help lead Tornado to a Russian Championship last season ('16-'17) but she did so with multiple exclamation points. Belyakova potted 34 goals in only 35 regular-season games, and also added 19 helpers. Believe it or not, those 53 points were just fourth-best in the WHL (more on than shortly).
Belyakova was one of the original Riveters. At just 19 years old at the time of her first and only NWHL season, she scored five goals and five assists in 15 games. If Belyakova is not the best Russian player, she is certainly their premier sniper. Any women's team in the NWHL, CWHL, Sweden or the like would love to have her on their hockey club. Belyakova is a superstar in every sense of the word.
The Russian national team is preparing in Khabarovsk for the 2018 Olympic Games pic.twitter.com/TfNrOLxwvj

— Ludmila Belyakova (@belyakova9) January 28, 2018
The only player in the Russian Women's League to better Belyakova's 34 goals last year was her Tornado teammate and soon-to-be teammate in PyeongChang, Anna Shokhina. This right-winger is only 20 years old and has already won the scoring championship in Russia last year with 39 goals, 42 assists and 81 points in 36 games. Understandably, Shokhina was named the league's MVP for the second time in her career.
A two-time WHL champion, she also serves as Tornado's team captain. The numbers this young lady has produced are astounding. In 96 career games in the Russian Women's League, Shokhina has scored 98 goals and 119 assists for 217 points. She was also part of that same team in 2015 that took bronze in Buffalo. In that particular tournament, she led all Russians in plus/minus (plus-seven) and assists (four) in five games. If any player is better than Belyakova on Russia's squad, it is Shokhina.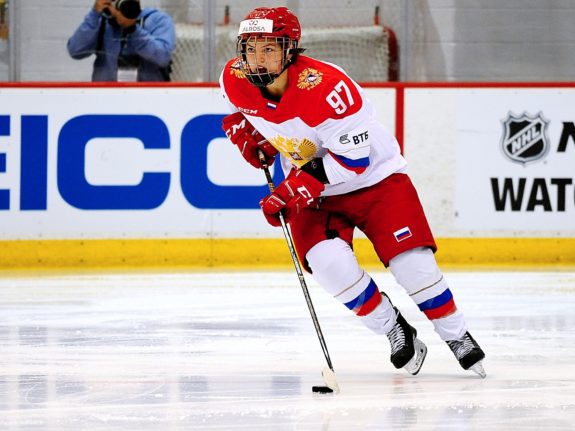 A third Tornado sniper and a third member of the 2015 U18 Russian team is Alevtina Shtarëva. This left-winger will turn 21 years old on the day that PyeongChang Olympics commence—certainly not a bad way to celebrate one's birthday. In each of her prior three seasons with Tornado she has hit double digits in goals. Shtarëva has excellent size at 5-foot-8 and close to 160 pounds, and she seems to be able to utilize her size to create space so he can get shots away. Her production in the WHL is quite similar to that of her two aforementioned counterparts. In 80 career games for Tornado, Shtarëva has scored 78 goals and 37 assists for 115 points. She too was elected to the 2017-18 All-Star Game.
By looking at these three forwards in particular, we did not even touch upon the offensive prowess of Fanuza Kadirova (seven goals, four assists in 10 games for Arktik-Universitet Ukhta), Olga Sosina (11 goals, 17 assists in 12 games for Agidel Ufa), Yevgenia Dyupina (three goals, nine assists in 12 games for Dynamo St. Petersburg), or any of the other scoring threats of the WHL from this season who are heading to PyeongChang.
The Bottom Line
The Russians have all of the bases covered: size, scoring, and goaltending. No matter what hurdles have been thrown their way leading up to PyeongChang, this group of players may very well be the finest team that Russia has yet assembled for women's hockey in one tournament. On paper, they are not that different from the teams that Canada and the USA are putting forth in terms of offensive production and the size of their players.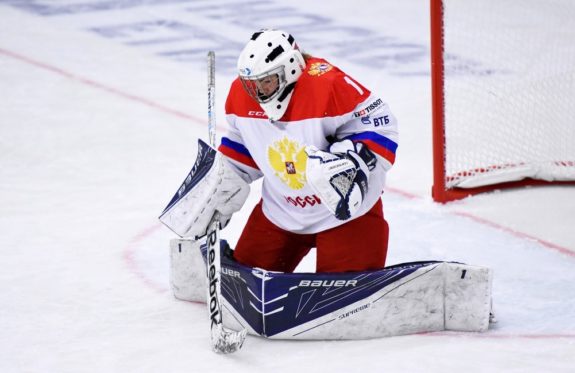 Russia's skillful forwards are particularly dangerous, if you haven't noticed. The five forwards from Tornado are enough to undress defenders with regularity and make any opposing goaltender go wide-eyed as they see them swooping in. Assembling Belyakova, Shokhina, and Shtarëva as a forward unit could rival any forward line that could potentially be constructed out of the various Olympians assembled in PyeongChang. That particular trio can bring fans out of their seats and scare the living daylights out of the opposition.
Rightfully so, these Russian women will have a chip on their shoulder as play gets underway. Who could blame them? But more importantly, they possess the skills and means of garnering a medal. While the Americans and the Canadians are the forerunners, the Russians seem destined for a bronze. The more noteworthy aspect of this team is that its collection of talent is enough to pitch an upset towards either North American country.
Russian defender Anastasia Chistyakova told THW: "I'm waiting for a real sport holiday. An amazing atmosphere among the best athletes of the world. This is my first Olympics, so I expect it will be, with all of its manifestations."
Obviously the players are excited. It is the personal opinion of this THW writer that the Russians will come away with the bronze. Or even a silver.
Other 2018 National Team's Roster Previews
Men's: Canada | United States | Russia | Czech Republic | Sweden | Finland | Switzerland | Slovakia | Germany | Slovenia | South Korea | Norway |
Women's: Canada | United States | Russia | Finland | Sweden | Switzerland | Korea | Japan
General Manager of the Buffalo Beauts (NWHL). Hockey history writer "The Hockey Writers". Credentialed media for the NHL Combine and 2018 IIHF World Junior Championships in Buffalo, NY, USA. Born and raised in Buffalo, NY. Lifelong hockey fan for over 40 years. Proponent of the women's game.