With the first NWHL season underway, the great characters that make up this league have a lot to be told about. Lyudmila Belyakova was the first Russian player to get signed in the NWHL and is now a member of the New York Riveters. The Hockey Writers talked with Lyudmila in her native language, Russian, right after she played a tournament in Europe with her national team. In this exclusive interview, Lyudmila talked about her adaptation to a new country, the differences between playing in North America and Russia, and living in NY.
– Lyudmila, why did you decide to go playing overseas in North America?
– It was my dream since my childhood and now that the NWHL was established, I decided that it was the right time to test myself and to go there [to North America].
– Was your family happy about your decision?
– Of course, my parents were very happy and always supported me.
– The start of the season wasn't good for the Riveters. What about you?
– Well, it can be said that it wasn't good for me either, it's my team and we're losing games right now.
– How is your adaptation going? How good is your English now?
– Once I'll be back to America I'll almost have to start over again, but I think that this time it will be much easier, after all I know already what to expect. Regarding my English… I can't say that it's great, but it's better than it was when I first got here to America.
– What kind of differences did you notice between the NWHL and the Russian Championship?
– In my opinion I'd say that the speed is very different. Here [in the NWHL] the game is much faster and you need to take decisions much faster.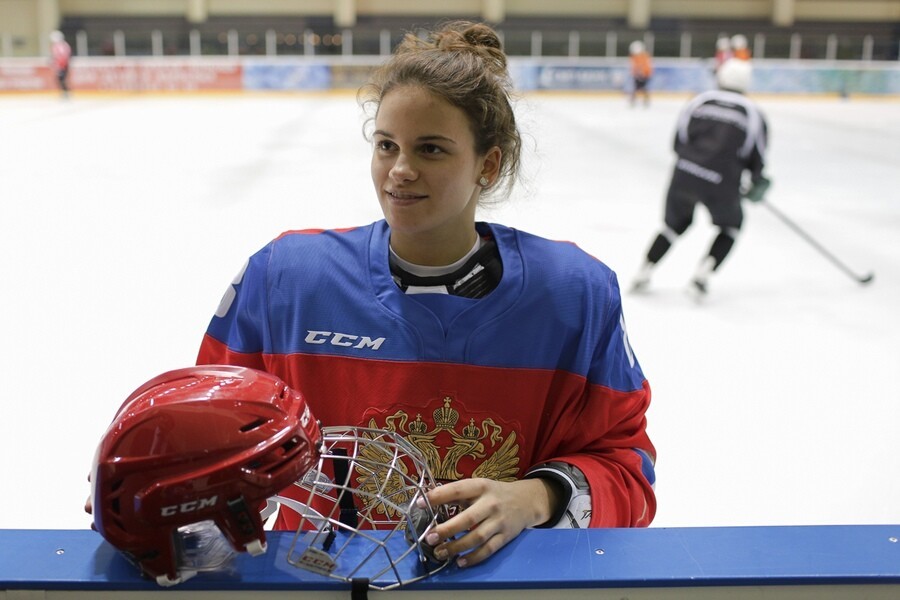 – What about the different ice surface?
– I have to say that I didn't find such a big difference.
– Why New York? Did you have any other offer?
– New York in the USA is pretty much like Moscow in Russia, that's why I decided to move to a big city which is a bit as I live back at home. But if I'll get offers from other cities, I'll be happy to discuss them.
– How do you like living in NY?
– I like it a lot, we live near the bay. Just ten minutes to the rink, therefore we can spend almost the whole day skating and having extra practices. In my free time I like having a walk, I try to spend my time in the most advantageous way as possible.
– Did you manage to stay in touch with other Russian girls in the league?
– Not yet, we haven't had a chance to talk while in America.
– And what about Russian players in the NHL?
– I am yet to visit a game, but I have some phone calls with some of the players. I plan visiting an NHL game soon!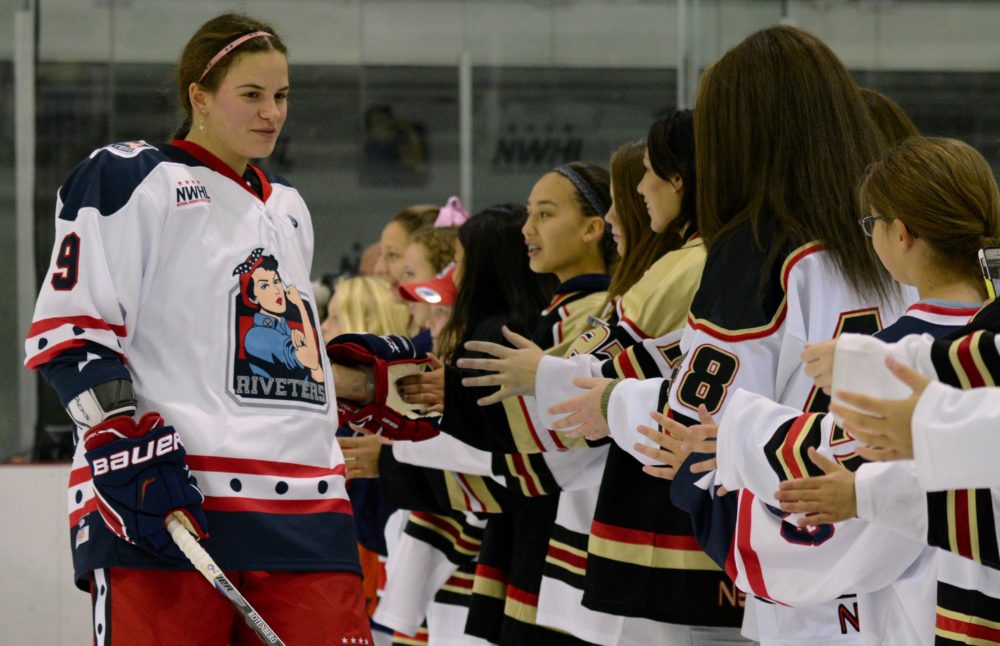 – Who is your favorite player?
– I like many players and I try to get from them as much as possible. But since the childhood my favorite player is [KHL veteran] Maxim Rybin. I wear the #9 in his honor.
– And why you wear the #10 with the national team?
– #9 was gone, they offered me to play with the #10, although I played with the #12 in the junior national team (it's the day of my birth). Then I moved to the #10 and I still play with it while on the national team.
– What has been the highlight of your career so far?
– Well, it can be said that each season has its ups and downs.
– In a recent interview we learned that Janine Weber is an excellent orange juggler. Do you have any interesting hobby?
– I like doing what I want depending on my mood. But more often than everything I am practicing, I love working on myself, both on and off the ice. I have a very good friend, Alexander Khomutov, he's a hockey player too, I practiced with him the whole summer and in America I miss a lot these practices.
– If you could choose, what would you pick? The Olympic gold or the NWHL title?
– That's a good question! Probably I'd take the Olympic gold, I couldn't miss this chance if Russia will be a good competitor. After all the Olympics are only once every four year, while the NWHL is played every season.
[Related: Janine Weber Is Making History With The NWHL]
Alessandro Seren Rosso can be reached via Twitter: @AlexSerenRosso
A professional hockey writer and translator. Loves Russian culture, language, and hockey. Reachable on twitter @AlexSerenRosso