We're midway through the 2017-18 hockey season and the players eligible for the 2018 National Hockey League entry draft have played a significant number of games. Several of them have played in the World Junior Championship or a top prospects game, as well. Given that the major prospect rankings entities have released their midterm rankings, we've compiled the mid-season edition of this year's NHL Draft Consensus Rankings. We've collected the major 2018 NHL Draft rankings released to this point and averaged out the rankings across the board to produce a consensus of the various scouting and rankings agencies.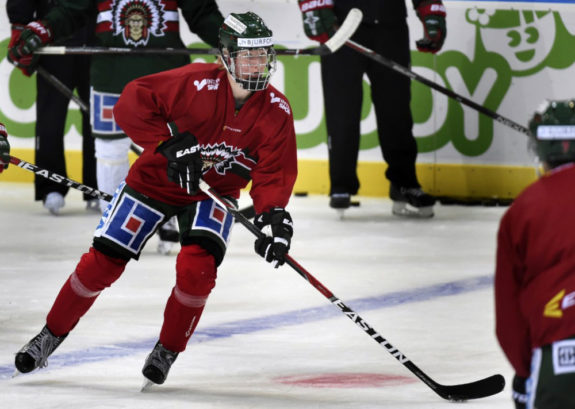 Here's the projected consensus first round (the top 31 ranked players) according to the major rankers.
Included Rankings
Each player's Central Scouting midterm ranking is also included for context
Notes on the Top 31
The positional breakdown of the Top 31 is:
0 goaltenders
13 defensemen
18 forwards
The league breakdown of the Top 31 is:
8 Ontario Hockey League
5 Quebec Major Junior Hockey League (including three from the Halifax Mooseheads)
5 United States Hockey League (all from the U.S. National Development Program)
2 Western Hockey League
2 Swedish Hockey League
2 NCAA
2 SM-Liiga
1 HockeyAllsvenskan
1 SuperElit (Swedish junior)
1 Ontario Junior Hockey League
1 Junior Hockey League (Russian junior)
1 Czech Extraliga
There is a clear top group in the 2018 class, led by Dahlin and Svechnikov – in that order. Tkachuk and Zadina are more or less tied for the third slot. Wilde, Smith and Kupari are tightly clustered around the 10th slot. Hayton, Veleno and McIsaac are also clustered tightly further down the rankings. Other than those clusters, the rankings are pretty linear and spread apart. The top half of the first round is very heavy on defenders, but becomes much more positionally balanced later on.
Consensus Rankings
| | | | | | | | | | | |
| --- | --- | --- | --- | --- | --- | --- | --- | --- | --- | --- |
| Rank | Player | Pos. | Primary Team | ISS | SN | McKenzie | Button | HP | FC | CSS |
| 1 | Rasmus Dahlin | D | Frolunda (SHL) | 1 | 1 | 1 | 1 | 1 | 1 | 1, INT |
| 2 | Andrei Svechnikov | RW | Barrie (OHL) | 3 | 2 | 2 | 4 | 2 | 2 | 1, NA |
| 3 | Brady Tkachuk | LW | Boston University (NCAA) | 2 | 4 | 4 | 3 | 4 | 3 | 3, NA |
| 4 | Filip Zadina | C | Halifax (QMJHL) | 4 | 3 | 3 | 5 | 3 | 4 | 2, NA |
| 5 | Adam Boqvist | D | Brynas U20 (SuperElit) | 8 | 5 | 5 | 2 | 5 | 5 | 2, INT |
| 6 | Oliver Wahlstrom | RW | U.S. National Dev. (USHL) | 5 | 8 | 9 | 9 | 7 | 8 | 7, NA |
| 7 | Quinn Hughes | D | U of Michigan (NCAA) | 7 | 16 | 6 | 7 | 9 | 6 | 4, NA |
| 8 | Evan Bouchard | D | London (OHL) | 6 | 10 | 7 | 10 | 15 | 10 | 5, NA |
| 9 | Noah Dobson | D | Acadie-Bathurst (QMJHL) | 20 | 6 | 8 | 11 | 8 | 9 | 9, NA |
| 10 | Bode Wilde | D | U.S. National Dev. (USHL) | 13 | 9 | 14 | 8 | 17 | 11 | 20, NA |
| 11 | Ty Smith | D | Spokane (WHL) | 10 | 14 | 10 | 20 | 12 | 7 | 14, NA |
| 12 | Rasmus Kupari | C | Karpat (SM-Liiga) | 9 | 7 | 13 | 14 | 11 | 19 | 6, INT |
| 13 | Joel Farabee | LW | U.S. National Dev. (USHL) | 14 | 12 | 16 | 15 | 6 | 16 | 11, NA |
| 14 | Isac Lundestrom | C | Lulea (SHL) | 11 | 21 | 20 | 16 | 14 | 14 | 3, INT |
| 15 | Barrett Hayton | C | Sault Ste. Marie (OHL) | 15 | 11 | 12 | 6 | 27 | 27 | 6, NA |
| 16 | Joe Veleno | C | Drummondville (QMJHL) | 12 | 15 | 15 | 25 | 20 | 12 | 13, NA |
| 17 | Jared McIsaac | D | Halifax (QMJHL) | 16 | 13 | 18 | 21 | 19 | 13 | 12, NA |
| 18 | Grigori Denisenko | LW | Loko Yaroslavl (MHL) | 17 | 18 | 21 | 19 | 10 | 21 | 4, INT |
| 19 | Jesperi Kotkaniemi | C | Assat (SM-Liiga) | 25 | 19 | 19 | 26 | 16 | 17 | 9, INT |
| 20 | Ryan Merkley | D | Guelph (OHL) | 23 | 27 | 11 | 12 | | 18 | 21, NA |
| 21 | Ryan McLeod | C | Mississauga (OHL) | 19 | 25 | 17 | | | 15 | 16, NA |
| 22 | Jacob Olofsson | C | Timra (Allsvenskan) | | 28 | 23 | 13 | 22 | 28 | 6, INT |
| 23 | Jack McBain | C | Toronto (OJHL) | 28 | 23 | 26 | 18 | | 20 | 29, NA |
| 24 | Benoit-Olivier Groulx | C | Halifax (QMJHL) | 21 | 20 | 28 | 28 | | 22 | 18, NA |
| 25 | Jett Woo | D | Moose Jaw (WHL) | 26 | 17 | 27 | 31 | 28 | 23 | 20, NA |
| 26 | Mattias Samuelsson | D | U.S. National Dev. (USHL) | | 30 | 24 | 27 | 13 | 30 | 17, NA |
| 27 | Akil Thomas | C | Niagara (OHL) | 18 | 31 | 29 | 23 | | 26 | 10, NA |
| 28 | Serron Noel | RW | Oshawa (OHL) | 31 | 26 | 22 | 24 | 29 | 31 | 9, NA |
| 29 | Rasmus Sandin | D | Sault Ste. Marie (OHL) | | 22 | | 17 | | | 15, NA |
| 30 | K'Andre Miller | D | U.S. National Dev. (USHL) | | | | | 18 | 25 | 31, NA |
| 31 | Martin Kaut | RW | HC Pardubice (Extraliga) | 24 | | 30 | | 23 | | 11, INT |