Women's hockey players are making ginormous strides across the globe. Examples abound: two CWHL teams are now based in China, a billionaire owner purchased the NWHL's Buffalo Beauts, and Team USA women were welcomed into the fold at the 2018 NHL All-Star Game. These are just a few primary examples, as the list could certainly go on. At the heart of the matter, it is important to recognize that this is only the beginning of wonderful times ahead for women's hockey. Make no mistake that there will also still be a lot of work to do along the way.
But it goes beyond just the game itself. We are also talking matters of equality, opportunity, and even stewardship for the future generations of women's hockey players. Now the female players have even opened up the doors of global harmony. In an unprecedented move both for worldwide diplomacy and for hockey, the Republic of Korea (South Korea) and the Democratic People's Republic of Korea (North Korea) have formed a unified women's team that will compete as one in the PyeongChang Games. The 23 South Korean players will be joined by 12 players from North Korea as one giant 35-player roster. The Unified Korean Team will play games with 22 players in the lineup out of those 35, and at least three of them will be North Koreans.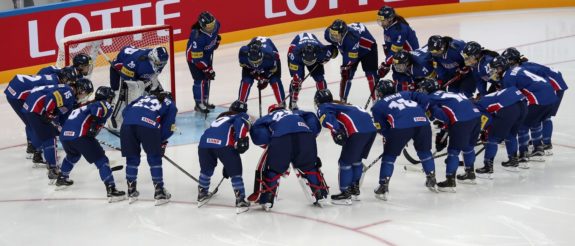 The idea that this is happening is surprising in a lot of ways, but it further instills a sense of hope. Putting political and cultural differences aside and competing as one imbues the qualities of the Olympics to their utmost. The 35 women who comprise the Unified Korean squad deserve applause. Maybe there will be a ripple effect for the better.
THW takes a look at how Korea's 35-player roster looks for the 2018 Winter Games in PyeongChang:
Goaltenders
Dohee Han (Ice Avengers/KOR), Genevieve Kim Knowles (Phoenix/KOR), Pom Ri (Sajabong/PRK) So Jung Shin (Ice Beat/KOR).
So Jung Shin is a former NWHLer and Metropolitan Riveters goaltender. During her lone season with the Rivs (2016-17), she suited up for five games and went 2-2-1 with a shutout. In the process, Shin posted a 3.20 goals against average and a .898 save percentage. Prior to that, she spent three years attending school and playing hockey at St. Francis Xavier University in Antigonish, Nova Scotia, Canada. Her numbers with the X-Women were sensational – save percentages of .930, .949 and .927 to go along with goals against averages of 1.44, 1.19 and 1.98. Those numbers consistently were among the top for goaltenders in Canadian collegiate women's hockey. Shin would finish her X-Women career with 37 career wins with St. Francis Xavier and a .944 SV% and 1.46 GAA.
Shins hails from Seoul, South Korea. In previous international competitions, she backstopped South Korea to bronze medals in 2012, 2014, 2015, a silver in 2016, and gold in 2013 and 2017 at IIHF Women's World Championships for Division II A (2014, 2015, 2016 and 2017) and Division II B (2012 and 2013) tournaments. THW spoke with Shin back in April 2017 as she was beginning initial preparations for PyeongChang. She is excited for the opportunity and believes in her teammates. In fact, she feels that many of them, too, could play in the NWHL some day.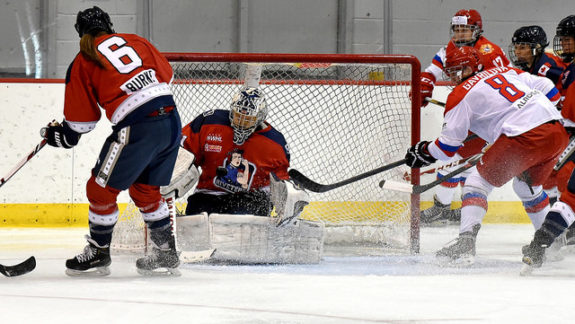 "I met some of the girls who play in Korea," Shin told us. "They told me they really want to play in NWHL in the future. Actually, their dream is not only to be national team players, but also to be college players and professional players. I think they have so much potential to play either. I hope that they can play in the NWHL or some other league in the world in the future. It would be great!"
The Three Other Goalies Besides Shin
Goaltender Genny Knowles is only 17 years old. She is a senior high school student at the Lawrenceville School in Lawrenceville, New Jersey. How exciting it must be for such a young athlete to make this squad. Knowles will not turn 18 until April. She is a native of Vancouver, British Columbia, Canada. It will be very interesting to see if she receives any ice time in PyeongChang. Knowles is very young and does not have the international experience that Shin has. Still, she is every much a part of this roster as any of the others.
Pom Ri is the only goaltender of the four to be from North Korea. She has twice represented her nation in international play. During the 2016 Division II-A World Championships, she appeared in one game for North Korea, albeit a 7-0 loss to Great Britain in which she stopped four of five shots after coming in to relieve Jong Sim So. During the 2017 version of the tournament, Ri would have a better showing. Appearing in two games for North Korea she posted a 2.45 GAA and a .882 Sv%. Ri is 22 years old and stands 5-foot-4 and a bit over 130 pounds.
A women's ice hockey team of #DPRK crosses the land border today to South Korea for a joint training with their counterparts from the South, as a unified team will compete as #Korea at the upcoming #WinterOlympics pic.twitter.com/OBJtUFdB0r

— Xinhua Sports (@XHSports) January 25, 2018
The fourth option in Korea's net is Do Hee Han. In all likelihood, she will play backup to So Jung Shin once the games get underway. After all, the two of them are used to being a goaltending tandem. Han was mostly Shin's backup in Women's World Championships since 2011. However, at the 2017 tournament, it was Han who took the main duties while Shin was the secondary. During this particular tournament, Han did exceptionally well as she was named the tournament's Best Goaltender after allowing only three goals in four games. She earned victories over Slovenia, Great Britain, Australia, and North Korea. Han would have numbers of 0.75 GAA and a .952 SV%.
Shin will be the Koreans' starting goaltender as she has had the most experience and most widespread success. She is also accustomed to facing shooters of the caliber that will be in PyeongChang from her time spent in the NWHL. Han is a very capable backup who can be the starter if called upon.
Defenders
Mihwan Cho (Ice Avengers/KOR), Jong Hui Choe (Kimchaek/PRK), Suyeon Eom (Ice Avengers/KOR), Chung Gum Hwang (Taesongsan/PRK), Sol Gyong Hwang (Jangjasan/PRK), Selin Kim (Ice Avengers/KOR), Chaelin Park (Ice Beat/KOR), Ye Eun Park (Ice Beat/KOR), Yoonjung Park (Phoenix/KOR), Su Jong Ryu (Kimchaek/PRK).
Defender Ye Eun Park has both North American experience and international experience under her belt. The 21-year-old skater played the 2015-16 season at the University of Prince Edward Island. There she appeared in 12 games, had six penalty minutes, but went pointless in her lone year at the school. More importantly though, at the past two IIHF Division II A Women's World's she has been nearly a point per game player from the back end. In 2016's tournament she had two goals and two assists in five games. This past year Park scored a pair of goals and an assist in five games as well. Those performances helped South Korea capture a silver and a gold.
At 5-foot-7 and over 140 pounds, Mihwan Cho is one of the Koreans biggest players in terms of size. She is 22 years old, and has been representing her country in international play since 2010. Not known for generating much offense, Cho has only scored a single goal and two assists in more than 30 international tournament games. No, Cho's main contribution to the Koreans will be her size and strength. She is the only player with semi-comparable size to the players of the powerhouse nations (USA, Canada, Sweden, etc.).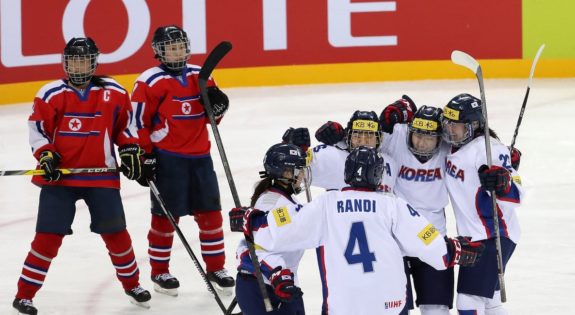 One of the 12 North Koreans on the team is Chung Gum Hwang. She has been a mainstay on the blueline for North Korea for their past three Women's Worlds at the Division 1B and Division 2A levels. Hwang only picked up a single assist in 15 IIHF games. The 22-year-old stands 5-foot-4 and just shy of 130 pounds.
The entire defense corps for Korea is very, very young. Although they will be guppies in shark-infested waters, the experience these youngsters will gain at the Games will be invaluable. If they truly intend to play either collegiately or professionally in North America like Shin said, then the competition they shall face in just over a week's time with will give them a full idea as to what the highest levels of women's hockey are truly all about.
Forwards
Un Gyong Choe (Susan/PRK), Jiyeon Choi (Ice Avengers/KOR), Yujung Choi (Ice Beat/KOR), Randi Heesoo Griffin (Phoenix/KOR), Soojin Han (Ice Beat/KOR), Danelle Im (Phoenix/KOR), Ok Jin (Kanggye/PRK), Su Sie Jo (Ice Beat/KOR), Su Hyon Jong (Taesongsan/PRK), Siyun Jung (Ice Avengers/KOR), Heewon Kim (Ice Avengers/KOR), Hyang Mi Kim (Taesongsan/PRK), Un Hyang Kim (Kanggye/PRK), Un Jong Kim (Taesongsan/PRK), Hyein Ko (Ice Avengers/KOR), Eunji Lee (Phoenix/KOR), Jingyu Lee (Phoenix/KOR), Yeon Jeong Lee (Ice Beat/KOR), Caroline Nancy Park (Phoenix/KOR), Jongah Park (Ice Avengers), Song Hui Ryo (Taesongsan/PRK)
Caroline Nancy Park is a 28-year-forward and a former Princeton University Tiger. During her four years at Princeton, she recorded three goals and 10 assists in 102 games. She also spent time in the Provincial Women's Hockey League (PWHL) during her teenage years with the Mississauga Chiefs from 2005 through 2007. In the 2005-06 season, she scored 11 goals and eight assists for 19 points in 22 games. Considering both Park's NCAA experience and PWHL experience, she is going to be one of Korea's most important players in order for them to be competitive.
Randi Griffin has a similar background to Park's. A year older than Park, Griffin also comes to the Korean team with four years of NCAA experience. A member of the Harvard University Crimson from 2006 to 2010, she appeared in 124 NCAA games. During that time Griffin scored 21 goals and 18 assists for 39 points. While she played at Harvard, Griffin was teammates with a good number of previous Olympians like Caitlin Cahow, Sarah Vaillancourt, and Julie Chu. Therefore, she is quite accustomed to the level of play she will be facing in PyeongChang. The 2017 IIHF Women's Division II-A tournament was Griffin's first international experience with South Korea. In five tournament games, she had two assists and was a plus-two as South Korea won the gold medal and went 5-0-0-0.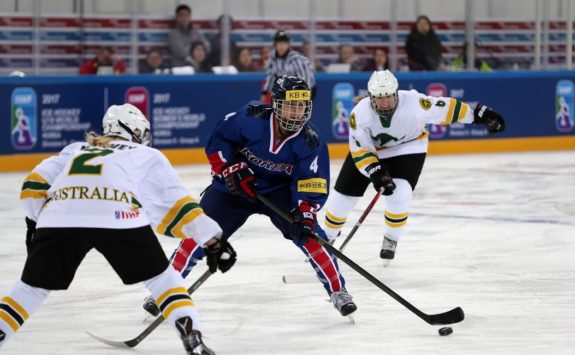 One of the youngest athletes in PyeongChang is South Korea's Eun Ji Lee. The 5-foot-2, 121-pound defender is only 16 years old. During those same 2017 Division II A games, Lee finished fifth in team scoring. In five games she potted two goals and an assist for three points. One of her goals came in an 8-1 strafing of the Australians. Lee's second goal came against North Korea where she rifled five shots on net and was also named Best Player of the game for the South Koreans.
Danielle Im has decent size for a forward at 5-foot-7 and 140 pounds. Like Park, Im has played in the PWHL for parts of three seasons with the Toronto Aeros. Her finest numbers came during 2010-11 when she had 12 goals and 12 assists in 36 games. Im has also played five years at the Canadian university level – four years at Wilfrid Laurier University, followed by a year at Ryerson University. In 118 collegiate games in Canada, Im put forth 12 goals and 21 assists for 33 points.
The Bottom Line
Obviously, the Korean Unified Team has a wide number of options when it comes to their game-day rosters. It will be very interesting to see not only what lineups they go with, but if and how often those lineups change from game to game. 35 players is a very large number to try to incorporate into one roster. Feelings cannot be spared in this instance if the Koreans want to put forth a dignified showing. They will have to go with the best roster, as opposed to the fairest roster. That means that a good number of players may be spectators for the entire PyeongChang Games.
It will be up to former Minnesota-Duluth Bulldogs defender and current South Korean women's national team coach Sarah Murray to determine which players see the ice and which ones give her the best opportunity to pull out a win, if at all possible. Murray has the experience of winning at one of the highest possible levels in hockey  – she is a two-time NCAA champion (2008, 2010) from her playing days with the Bulldogs. Separately, she also comes from a winning-coach pedigree. Murray's father Andy found success in the NHL as head coach of the St. Louis Blues and Los Angeles Kings, and he is currently the head coach of Western Michigan's men's hockey team. This will be a challenging road ahead for the younger Murray, but an opportune time to test her merit on sports' biggest stage.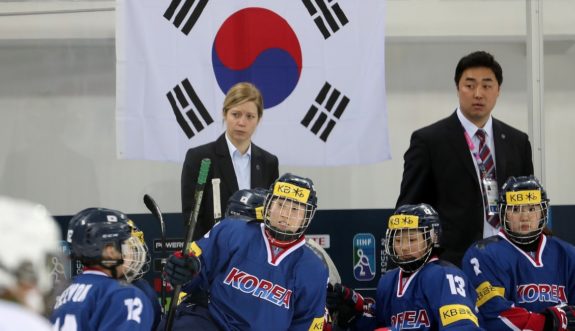 While it is certainly inspiring to see both the North and South Koreans standing and skating in unity, you cannot expect much from this particular team when it comes to competition. Shin is their only player with professional experience, and only a small handful have any experience playing against the elite level talent they will be facing at the 2018 Winter Games. As the host nation, this team certainly deserves to be proud of themselves and their country. Unfortunately, though, they could be faced with more than one blowout. Shin will need to stand on her head… and then some.
Other 2018 National Team's Roster Previews
Men's: Canada | United States | Russia | Czech Republic | Sweden | Finland | Switzerland | Slovakia | Germany | Slovenia | South Korea | Norway |
Women's: Canada | United States | Russia | Finland | Sweden | Switzerland | Korea | Japan
General Manager of the Buffalo Beauts (NWHL). Hockey history writer "The Hockey Writers". Credentialed media for the NHL Combine and 2018 IIHF World Junior Championships in Buffalo, NY, USA. Born and raised in Buffalo, NY. Lifelong hockey fan for over 40 years. Proponent of the women's game.