New York Riveters goaltender Sojung Shin has been a busy young lady. When I initially spoke with her at the beginning of April, she was gearing up to participate in the 2017 IIHF Women's World Division II-A Championship in Gangneung; a city in her homeland of South Korea. Shin had a superb tournament for South Korea, helping to backstop her country to the gold medal in the tournament and five straight victories. Shin and her goaltending partner, Han Do-hee, allowed a mere 3 goals throughout the course of the tournament.
Now that things have settled down (at least somewhat), Shin and I had the opportunity to get caught up. She acquainted me with her hockey upbringing.
"I was a forward for about a year and a half after I started playing hockey. But when I was about eight, I wanted to be a goalie. I liked the sound from the goalie pads, and I also thought goalies looked so cool at the time!"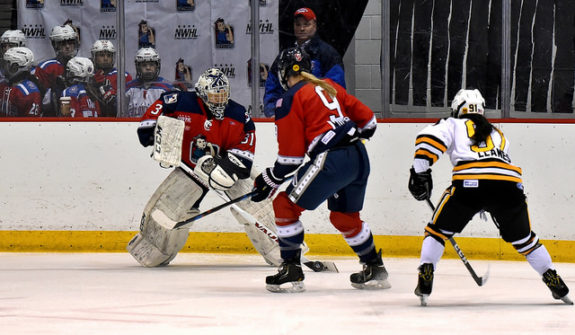 South Korean National Team
Sojung Shin was born March 4, 1990, and is originally from Seoul, South Korea; the capital and largest city in her country. From 2006 through 2013 alone, Shin represented South Korea at the Women's World Championships five times.
Looking at her performance at those tournaments, the save percentages that Shin recorded are absolutely incredible. Only once (2008) did she fall below a .930 save percentage. At the 2013 tournament, she posted an astounding .980 save percentage and a 0.52 goals-against average in four tournament games. Not surprisingly,  South Korea won gold at the 2013 games, and Shin would be named the tournament's top goaltender by the IIHF.
Congrats to @NYRiveters @golri31 who was named @NWHL player of the week for the Riveters' shutout win over the Whale #NYRvsCTW #JungerSaysNo pic.twitter.com/2k2mmq9KZN

— bdz sports (@bdzsports) December 23, 2016
There is a belief that if you are good enough at a particular craft or skill, you will be found. Far across the stretches of the blue Eastern Sea, another nation from another continent would seek out Shin.
"The first time that I came to play hockey in North America was in September 2013 at St. Francis Xavier University in Canada," Shin told me.
The "X-Women"
The school, located in beautiful Antigonish, Nova Scotia, took note of Shin's play and would make her their cornerstone for the next three years. While backstopping the "X-Women", Shin would continue her fantastic statistics with seasons of .930, .949 and .927 save percentages. Shin's numbers were routinely among the top for Canadian collegiate women's hockey, and she would finish her career at St. Francis Xavier having compiled 37 wins, a career save percentage of .944 and a career goals-against average of 1.46.
In July of 2016, having completed her studies at St. FX, Shin signed as a free agent with the New York Riveters of the National Women's Hockey League. However, the level of play in the professional league was at a tier much higher than what Shin had previously experienced either in college or in international play up to that point. In fact, the difference caused Shin to have difficulties in adjusting to the elite talent which the league houses.
South Korean national team goaltender Sojung Shin (@golri31) has signed with the @NYRiveters https://t.co/bUZuSuBtpu pic.twitter.com/gIzoV3Yl5f

— NWHL (@NWHL) July 27, 2016
NWHL Adjustment
"The first time that I played in the NWHL, it was quite different from college or the Korean national team. The speed, the shots, the timing, the situations and skills are all very high-level. I think the NWHL is one of the best women's leagues in the world. That's why I was struggling with making saves early in the season. But after that, it was fun to play in NWHL, and I also had fun with the team during the season."
In six regular season games for the Rivs this past season, Shin went 2-2-1 with a single shutout as well. She stopped 125 of 138 shots she faced, which was good enough for a 2.74 goals-against average and a .906 save percentage. Speaking to her ability to adjust to the NWHL game and eventually find her rhythm, Shin was named the league's "Player of the Week" shortly before Christmas 2016.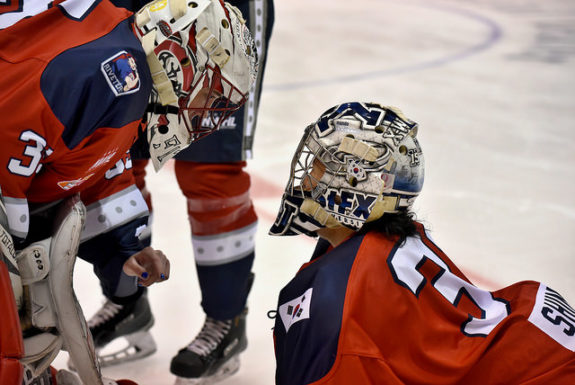 Shin is able to pinpoint the specific moment when she felt herself adapting and being able to contribute to her Riveters teammates.
"When I played in net against Boston on December 4, we came from being down two goals to none to tie the game and go into a shootout. We lost in the shootout, but still… I had allowed five goals in each of the two games prior against Boston (a 6-3 loss to the Pride on Oct. 8, followed by a 5-1 loss on Oct. 22). I couldn't follow their speed and read the play well during the games before this one. However, in the shootout loss, I found I could play with my game plan and I was happy that I could feel myself helping the team."
Future NWHLers
What I find to be most exciting from speaking with Sojung Shin is how she can contribute towards growing the NWHL and garnering attention toward the league internationally. The Winter Olympics of 2018 will be held in her native South Korea, and hockey will be at center stage; a perfect opportunity for young girls to become enamored with the game, and perhaps follow in Shin's footsteps by exploring opportunities to play in North America.
"Absolutely," she says. "I met some of the girls who play in Korea. They told me they really want to play in NWHL in the future. Actually, their dream is not only to be national team players, but also to be college players and professional players. I think they have so much potential to play either. I hope that they can play in the NWHL or some other league in the world in the future. It would be great!"
https://twitter.com/kfitzy94/status/796172652188696576
Hope to Return
As busy as she is and with a strong focus on her own play internationally, the tough question came when I asked Shin about whether she intends to return to the Riveters for 2017-18. Understandably, she feels a bit torn.
"I hope to return to the Riveters next season. However, I should focus on the national team for the Olympics. The national team has plans to have a lot of training camps and exhibition games before the Olympics start. Unfortunately, I almost missed half of last season with the Riveters because of national team training camp and also international tournaments. I felt so badly to have missed a lot of team practices and games."
Sojung Shin certainly is not alone in this boat, as numerous other marquee NWHL players are having to step away from their respective clubs in order to prepare for and participate in the PyeongChang Winter Games. It is my hope, and likely the hope of New York Riveters fans as well, that Shin will be able to find some balance between the the two teams and can play for another Rivs campaign during the league's third season of play.