The Swiss women are the reigning Olympic bronze medalists from the 2014 Sochi Games. There will be 12 returnees from that particular squad. Guess what? All 12 of them are pretty darn good players, too. They also bring a sense of ownership over the bronze and are prepared to make improvements upon that too. And guess what else? The 11 newcomers joining the team are all pretty darn good as well.
Switzerland's goaltending is their strongest suit, as all three netminders are accomplished and are within the upper echelon of their position. Probably their second best attribute is their offensive prowess. There are some truly skillful forwards up front, and some defenders that can contribute offensively too.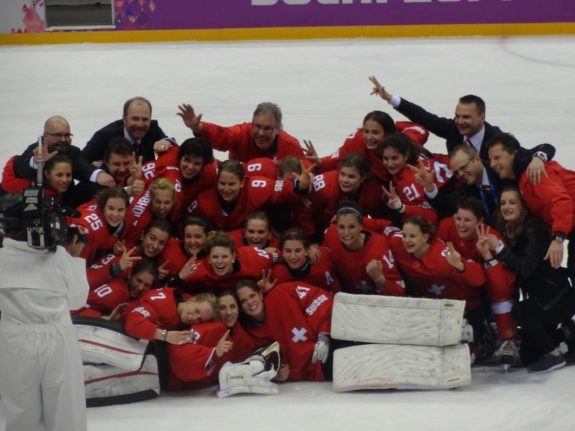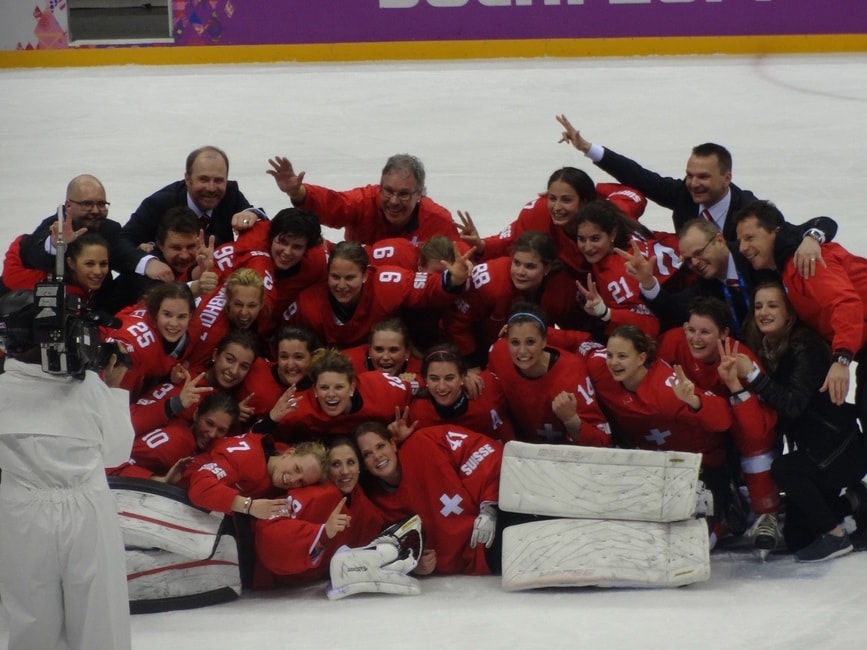 What is also favorable as well is that this Swiss team is comprised of players who not only play and train within their own country, but also features players from NCAA levels and Svenska damhockeyligan (SDHL), the top women's league in Sweden. Right off the bat, you know that this club has experience across the board—experience with playing against elite-level talent and experience with winning against that talent too.
Switzerland has the means and capability of repeating as bronze medalists. Whether they can obtain it, or a medal of a different color, is entirely up to them. THW takes a look at the Swiss' 23-player roster for the 2018 Winter Games in PyeongChang:
Goaltenders
Janine Alder (St. Cloud State University), Andrea Brändli (EHC Schaffhausen), Florence Schelling (Linköping HC)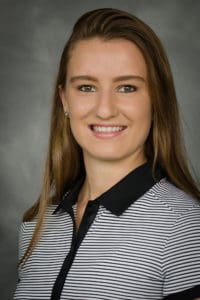 Before we delve into her numbers, we would be remiss if we did not mention the personality of goaltender Janine Alder. If you are looking for an Olympian to cheer for based on character alone, go with Alder. She is always smiling, always kind, and just genuinely in love with her teammates, her country, and her hockey. She is instantly likable and is an athlete of the utmost integrity.
When THW asked Alder back in October about the experience of winning bronze in Sochi, she shared the following:
"The tournament itself was just a dream come true for us," she explained. "Nobody expected us—this total underdog—to go up there and win a medal. I think it is still unreal that we made history like that. I sincerely hope that our medal and our effort just brings women's hockey from all over the world more together. That it helps develop and teach countries to get more financial aid. The medal itself is just the symbol of what we have to work for and what we have to continue working on. It was just so great. I don't even know how to explain it."
Alder plays NCAA hockey for the St. Cloud State University Huskies. She is in the midst of her sophomore season. At 22 years of age, Alder's numbers have been absolutely stellar. During the 2016-17 Huskies season, Alder made 31 appearances and had numbers of a 2.54 goals-against average to go with a .926 save percentage. Her record during that freshman campaign was 9-18-4 amid 29 starts. The numbers of Alder's sophomore campaign have been even better: 2.42 GAA and a .935 SV% in 14 games.
The Two Other Goalies Besides Alder
As solid of a goaltender as Alder is, the Swiss goal crease will predominantly belong to Florence Schelling. This comes as no surprise, as Schelling is one of the premier goaltenders in hockey today and has been for quite some time. She was the cornerstone in net during Sochi for all six of Switzerland's games on the way to the bronze. Although Schelling's goals-against in those six games was rather inflated at 3.97, her save percentage was consistent with what it takes to culminate in a medal at a decent .913. She was named the Olympic MVP for women's hockey and the Best Goaltender of the Sochi tournament.
But Schelling brings a lot more to this roster than just the previous Olympic medal. She has superb size for a netminder at 5-foot-9 and at 150 pounds. Schelling had a remarkable NCAA career as a Northeastern Huskie. In 98 games played at Northeastern she had a career record of 49-32-15 in 98 games. Better yet, Schelling had a career save percentage of .940 and a 1.74 GAA. Goaltending numbers very rarely look as dominant as her collegiate totals.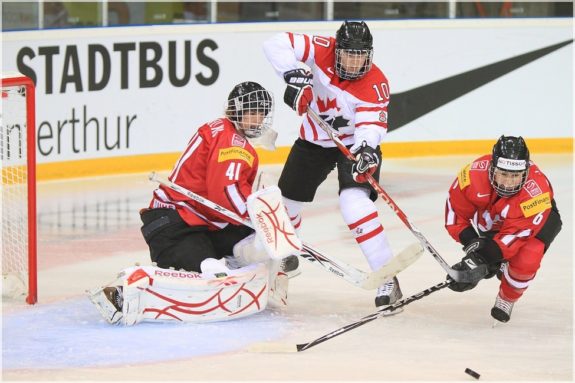 The third option the Swiss have in goal is youngster Andrea Brändli. At only 20 years old, this will be Brändli's first Winter Games. She has had first-rate performances in net at the U18 level for Switzerland. During the 2015 IIHF Women's World U18 tournament in Buffalo, Brändli had the best numbers of any goaltender at the tournament. In five games she played 310 minutes, allowed only eight goals and finished the tourney with a 1.55 GAA and a .949 SV%. As part of what generated that excellent save percentage number, Brändli shutout the Finns 2-0 during the preliminary round and made 39 saves in the process.
The year prior to Buffalo, she backstopped Switzerland to the gold medal in Füssen, Germany, and received honors as the Best Goaltender for the Division 1A Women's U18. Not hard to fathom when her numbers were as astounding as her 0.80 GAA and .959 SV%. Brändli's size is similar to Schelling's; the younger goalie stands at 5-foot-7 and is 150 pounds.
Schelling will be the main goaltender for the Swiss, if not the only one to see action. It would be worthwhile to add a little sprinkling of Alder in there too—she certainly is deserving of an opportunity to perform just from her skill set alone.
Defenders
Livia Altmann (Colgate University), Laura Benz (ZSC Lions Zurich), Nicole Bullo (HC Lugano), Nicole Gass (ZSC Lions Zurich), Christine Meier (ZSC Lions Zurich), Shannon Sigrist (ZSC Lions Zurich), Stefanie Wetli (EHC Winterthur), Sabrina Zollinger (HV71 Jönköping)
Defender Nicole Gass comes from an interesting hockey pedigree. Both of her uncles—Dan Kordic and the late John Kordic—played in the NHL. John Kordic was a Stanley Cup champion with the 1985-86 Montreal Canadiens. Gass played four years of NCAA hockey for the Colgate Red Raiders. Her top point total came during her sophomore season when she recorded a single goal but had 15 assists for 16 points in 33 games. Oddly enough, that highest point total came during the season in which she played the least amount of games. In 138 games for Colgate, Gass tallied seven goals and 37 assists from the blueline.
Sabrina Zollinger plays in the SDHL for HV71 Jönköping. In 31 games during this current 2017-18 season, she has put forth four goals and 13 assists for 17 markers. Though standing just 5-foot-4, Zollinger has a sturdy build and comes in at over 140 pounds. Prior to coming to Sweden, she played in the SWHL A for a number of years, but these will still be her first Olympics. Zollinger did, however, help the Swiss win a bronze medal during the 2012 IIHF Women's World Championship in Burlington, Vermont. She picked up a lone assist during six tournament games.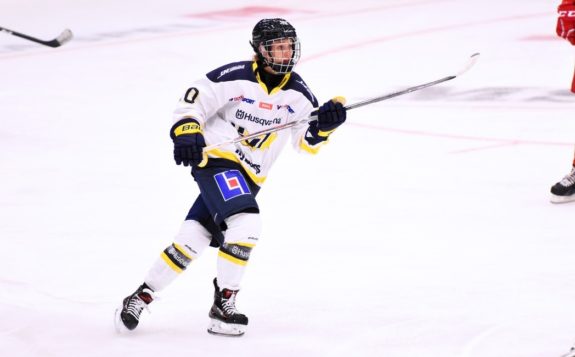 Even at just 25 years of age, Laura Benz will be playing in her third Winter Olympics when the PyeongChang Games get underway. She was part of the bronze medal-winning team in Sochi and was on the Swiss roster in 2010 at Vancouver. In 11 Olympic Games, she has picked up four assists. At 5-foot-8 and around the 140-pound mark, Benz has good size for a defender. She has played for the ZSC Lions Frauen of the Swiss Women's Hockey League A (SWHL A) since the 2008-09 season. This is the top women's hockey league in the country. In 78 regular-season games, Benz has totaled 18 goals and 52 assists for 70 points.
Forwards
Tess Allemann (Bomo Thun), Sara Benz (ZSC Lions Zurich), Sarah Forster (Bomo Thun), Alina Müller (ZSC Lions Zurich), Evelina Raselli (HC Lugano), Lisa Rüedi (GCK Lions Zurich), Dominique Rüegg (ZSC Lions Zurich), Phoebe Staenz (SDE HF), Lara Stalder (Linköping HC), Isabel Waidacher (ZSC Lions Zurich), Monika Waidacher (ZSC Lions Zurich), Nina Waidacher (ZSC Lions Zurich)
If you follow women's hockey at all, you have to love Alina Müller. At just 19 years old, she plays the game with a great deal of passion. Müller also scores a lot of goals and a lot of points. With ZSC Lions Frauen this season, she leads the entire SWHL A in scoring and by quite a larger margin. In 17 games, she has exploded for 33 goals and 24 assists to give herself 57 points. Right now Müller is averaging 3.35 points per game. It seems unthinkable that she could put forth such production.
She was just 15 years old when she competed in the Sochi Olympics, and she was still able to score a goal and two assists in Switzerland's six games in 2014. That lone goal was the game-winner against Sweden to capture the bronze for the Swiss. In turn, Müller became the youngest hockey player to win an Olympic medal. If the Swiss are to repeat as bronze medalists, Müller will have to be relied upon to score with more oomph than her first time around. That should not be a problem.
The three Waidacher sisters—Isabel, Monika and Nina—will make sure that these games are a family affair for the Swiss. The collection of all 23 women on the roster already consider themselves to be very much a family. That is further instilled when three of them actually are sisters. 25-year-old Nina is the only one of the three to have played on the 2014 Sochi squad. She is a strong forward and uses her 5-foot-7, 140-pound frame to generate opportunities.
In 2014, Nina was kept pointless however in the six games. Monika is the oldest of the three at age 27, but has nearly the exact same size as Nina. The elder Waidacher was a member of the 2012 Women's World squad that took bronze. Then there is Isabel, the youngest (23) and most diminutive (5-foot-6, 110 pounds). Isabel is a five-time SWHL A champion for ZSC Lions Zurich. Interestingly enough, all three sisters have also played NCAA Division III college hockey for the College of St. Scholastica. They have combined for 262 points for the school in just 212 games.
Drei Aroser Schwestern im Olympia-Hockeyteam
von @MarcelAllemann
Isabel, Monika und Nina Waidacher werden an den Olympischen Spielen in Pyeongchang zur besonderen Attraktion.https://t.co/wPqMM7QBQq pic.twitter.com/OAsqzsSAui

— "Mir zeiged Chralle" (@LionsFrauen) January 24, 2018
Lara Stalder is actually capable of playing both forward and defense but is listed as a forward for PyeongChang. She is a 2016 fifth-round selection of the NWHL's Boston Pride. Stalder spent four years playing at the University of Minnesota-Duluth and her numbers got better and better each year. As a senior during the 2016-17 season, she would score 23 goals and 33 assists for 56 points in only 35 games. Stalder finished her collegiate career with 148 points (54 goals, 94 assists) in a total of 134 games. She is one of the returnees from Sochi as well. Playing in five of the six games, she picked up a goal and an assist.
The Bottom Line
The only part of Switzerland's composition that leaves room for concern is their defense corps. Not that it is poor—it's not. But it does not have either the dexterity or the steadfastness of a USA or Canada, or even a Sweden or Russia. You would like to see them having a Rebecca Johnston (Canada) or an Angelina Goncharenko (Russia) on their back end and the Swiss don't really have that. Still, it's not a bad defense. You just wish it had more.
Saying all that—and this is where Switzerland balances out or even gets an advantage—they possess sheer fineness in goaltending, and have speed and skill up front with their offense. Schelling, Alder and Brändli are as good of a trio in net as any team could assemble for an Olympic roster. Most teams wish they had such solid goaltenders on their roster. Müller is so good at such a young age and is only going to get better and better. The PyeongChang Games could be a coming-out party of sorts for her as the world gets to see how good she truly is and will continue to be. Just wait for her to start playing NCAA hockey at Northeastern next year.
Wooopwoop! Girlpower. #alinamüller & @schellingf – Welcome home. #srfsotschi @SwissIceHockey pic.twitter.com/tNlqjwY4uu

— Steffi Buchli (@SteffiBuchli) February 24, 2014
You would like to see the Swiss complete the drive for two and garner back to back medals. They could pull it out, but the deck is stacked against them. If we have learned something from history, though, it is that anything is possible. Many of these young women from the underdog Sochi team are living proof of that.
Other 2018 National Team's Roster Previews
Men's: Canada | United States | Russia | Czech Republic | Sweden | Finland | Switzerland | Slovakia | Germany | Slovenia | South Korea | Norway |
Women's: Canada | United States | Russia | Finland | Sweden | Switzerland | Korea | Japan
General Manager of the Buffalo Beauts (NWHL). Hockey history writer "The Hockey Writers". Credentialed media for the NHL Combine and 2018 IIHF World Junior Championships in Buffalo, NY, USA. Born and raised in Buffalo, NY. Lifelong hockey fan for over 40 years. Proponent of the women's game.