The last time we checked on the Edmonton Oilers' 2017 NHL Draft picks was in November. A lot has happened over the past few months with the 2018 World Junior Championships, a trade, and some risers and fallers. Of the seven picks, at least three or four of them could one day be NHL players.
The rest of them are long-term projects that may or may not pan out. The one that's gaining the most notoriety right now is Kailer Yamamoto, and rightfully so. The Oilers 22nd overall pick was recently named WHL's Player of the Week. He's not the only one making noise.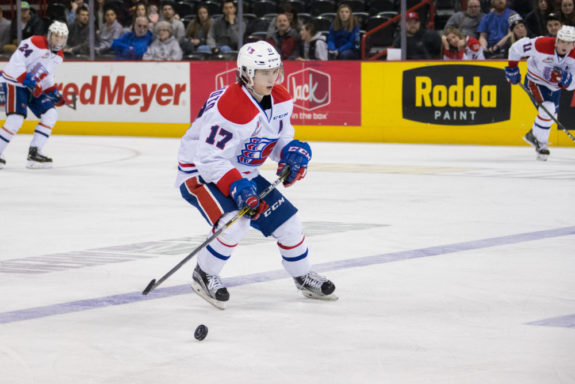 Ostap Safin and Kirill Maksimov were giving the Oilers reason to be excited. Six of the seven players were also in consideration for spots on their respective country's WJC team. In the end, three of the four Edmonton prospects that played in the tournament were from this 2017 draft class. The other was Aapeli Rasanen.
Yamamoto, Safin, and Dmitri Samorukov all had good showings. Without giving anything away here's an updated look at how these prospects are tracking.
Edmonton Oilers 2017 Draft Picks

Pick
Player
Current Team
GP

GP

G

W

A

GAA

PTS

SV%

22nd (1st)
Kailer Yamamoto (R)
Spokane
22
10
26
36
78th (3rd)
Stuart Skinner (G)
Swift Current
40
20
3.11
.904
84th (3rd)
Dmitri Samorukov (D)
Guelph
45
7
15
22
115th (4th)
Ostap Safin (R)
Saint John
44
17
23
40
146th (5th)
Kirill Maksimov (R)
Niagara
42
27
25
52
177th (6th)
Skyler Brind'Amour (C)
Chilliwack
46
10
14
24
208th (7th)
Philip Kemp (D)
Yale
18
1
4
5
Kailer Yamamoto
Round: 1st | Pick: 22nd Overall
Stats: 22 GP – 10 G – 26 A – 36 PTS
After being sent back to junior, it's taken some time for Yamamoto to regain some of his swagger. He scored four points in his return to the Spokane Chiefs in November. But it's a recent four-game stretch that saw him put up 10 points that's garnered some attention.
He quietly had a good tournament for Team USA at the 2018 WJC where he tallied four points in seven games. His performance was overshadowed thanks to the dominant play of Casey Mittelstadt and Kieffer Bellows, who took the headlines.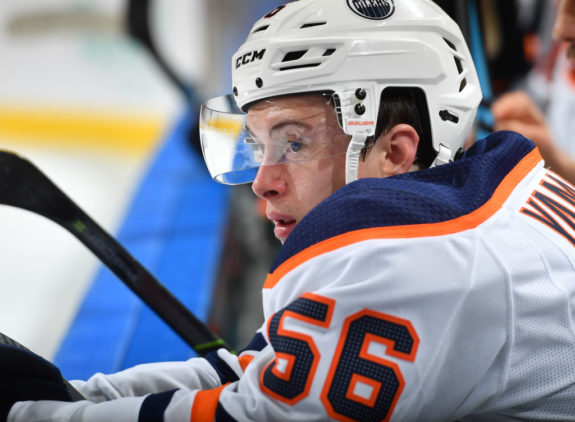 Yamamoto went home with a bronze medal. After returning from that nasty slash that saw him miss three games with the Chiefs, the 19-year-old has been on fire. The youngster has only been held off the scoresheet in five of his 22 games in the WHL.
He's got 27 points during his current 11-game point streak. Yamamoto also had an impressive showing on Feb. 2 against the Kootenay Ice that saw him tally five points. This kid has been the mark of consistency since going back to junior.
Stuart Skinner
Round: 3rd | Pick: 78th Overall
Stats: 40 GP – 20 W – 3.11 GAA – .904 SV%
After being one of the four goalies named to Team Canada's Summer Showcase roster, Skinner was left off the WJC team. Along with another Oiler prospect Dylan Wells, the two had rough starts to the year. You can't fault Canada for passing on either of them.
Skinner's been amongst the WHL's leaders for games played but was traded at the WHL Trade Deadline in a blockbuster deal. He's now the No. 1 goalie for the Swift Current Broncos who are gearing up for a run in the WHL playoffs.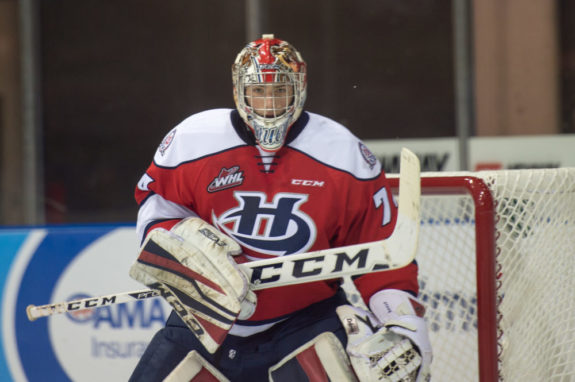 Skinner's had a strong start since joining Swift Current. He has a 2.23 goals against average (GAA), and a .926 save percentage (SV%) in nine games. More importantly, the Broncos are 6-3-0 with Skinner in net. That's a vast improvement from his underwhelming numbers with the Lethbridge Hurricanes.
The most significant piece of criticism, something that's especially true for young goaltenders, is consistency. Skinner's been up, down, and all around this year. He's yet to put a long stretch of good games together. If Swift Current is going to go deep in the playoffs, they'll need Skinner to be a star on a nightly basis.
Dmitri Samorukov
Round: 3rd | Pick: 84th Overall
Stats: 45 GP – 7 G – 15 A – 22 PTS
Samorukov's numbers at the WJC might not have been out of this world, but he was impressive nonetheless. If there's something to take out of that tournament, it's that he was trusted alongside Yegor Zaitsev in Russia's final game of the tournament.
Samorukov played the second-most minutes (6:08) for Russia in the third period in the losing effort. Now he's back with the OHL's Guelph Storm as part of a three-headed monster with Ryan Merkley and Garrett McFadden.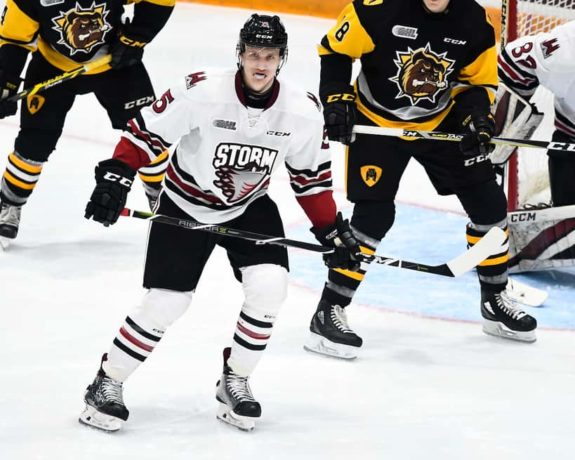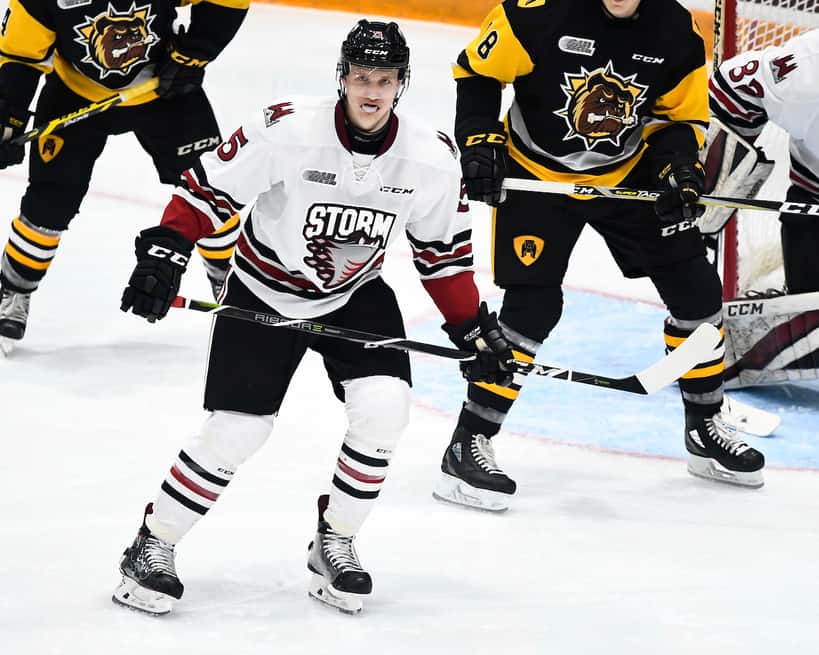 The long-term vision might be anywhere from a No. 4-6  defenseman, but he's been putting together a decent year. In 45 games this season, Samorukov has seven goals and 22 points. He's being used in all situations including both special teams. He has seven points in 13 games since the WJC.
Related: Dmitri Samorukov Discusses WJC & Oilers
Samorukov's also recovered from a minor nagging shoulder injury. Despite a disappointing WJC, the youngster is entirely focused on the situation in Guelph, and his future as an Oiler.
Ostap Safin
Round: 4th | Pick: 115th Overall
Stats: 44 GP – 17 G – 23 A – 40 PTS
The last time we checked in on Safin, he was an emerging as a point-per-game star in the QMJHL. He's starting to make a name for himself. It's no secret that the Saint John Sea Dogs are one of the weakest teams in the CHL. Safin is still putting up nearly a point-per-game (PTS/GP) as an 18-year-old.
His 0.91 PTS/GP put him amongst the leaders of Oiler prospects in junior. Only Kailer Yamamoto (1.63), Tyler Benson (1.26), and Kirill Maksimov (1.24) have a higher PTS/GP than Safin. Now imagine what his numbers would be like if he weren't on such a weak team.
Safin's currently leading his junior team in scoring. At the WJC he left Oiler fans wanting more, especially after he was paired up for parts alongside two stellar guys in Martin Necas and Filip Zadina.
https://www.youtube.com/watch?v=pk5zpTZ4_ws
The unfortunate thing is Saint John also traded another star in Joe Velano at the QMJHL trade deadline. It's Safin by himself right now. Since coming back from the WJC, Safin's numbers have tapered off with just seven points in ten games.
Related – November Prospect Report: Oilers 2017 Draft Picks
Before the Velano trade he had a 1.07 PTS/GP, so the impact of not having another guy to play with has taken its toll. There's plenty to be excited about despite this recent drop-off. The kid has an incredible skill set for a power forward, and could potentially play in Edmonton's top-nine down the road. He looks like he could be a solid second-third line forward in the NHL.
Kirill Maksimov
Round: 5th | Pick: 146th Overall
Stats: 42 GP – 27 G – 25 A – 52 PTS
Russia drew a lot of criticism at the WJC for their lack of scoring depth. One of the notable omissions was Maksimov, and the way he's played since December has turned heads. The 18-year-old has an impressive 27 goals in 42 games so far this season to lead the Niagara IceDogs.
He's also tied for 13th in OHL for goals scored and could finish the year with more than 40. He's proving to be a much more consistent scorer this year and has put together multiple hot streaks.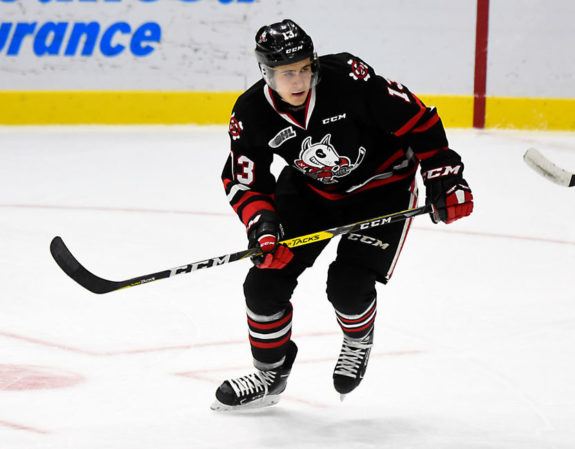 Maksimov has already exceeded last year's goal total and now looks to eclipse his shot total. On and off the score sheet, his game has risen to new levels. He's found a new gear in 2017-18. Maksimov's faster, he's been a better two-way player, and he looks dangerous in the offensive zone.
Related: Kirill Maksimov – A Thrilling Prospect For The Edmonton Oilers
His point-per-game pace puts him just a hair behind the likes of two of Edmonton's best prospects in Benson and Yamamoto. All in all, Maksimov has shown early returns of being fantastic value found mid-draft for the Oilers. That's something we haven't seen in quite some time.
Skyler Brind'Amour
Round: 6th | Pick: 177th Overall
Stats: 46 GP – 10 G – 14 A – 24 PTS
Brind'Amour is going to be a long-term project forward, but he's showing some struggle playing in the BCHL. In his last nine games, Brind'Amour has three points. He's got another year with the Chilliwack Chiefs before he fulfills his commitment to Michigan State University for 2019-20.
This is usually the part of the draft where teams are grasping at straws. Brind'Amour has a decent combination of size and skating ability. He has some aspects of his game that look good, namely his two-way abilities.
https://www.youtube.com/watch?v=bHSs33tQwg4
Ironically that was what his father Rod was known for. He's a long shot to be an NHL regular right now, and it'll help his case if he fills in his 6'2″ frame.
Brind'Amour protects the puck well but just needs to be more assertive at times. He's been a top-six forward for the Chiefs this season, but the hope should be for him to take a more significant step in the final months of the season.
Philip Kemp
Round: 7th | Pick: 208th Overall
Stats: 18 GP – 1 G – 4 A – 5 PTS
Lastly, there's Kemp. Despite his draft status, he drew consideration for one of the final spots on Team USA. He's a good puck-moving defenseman, but there's not a whole lot of information about him out there. Like Brind'Amour, he's an NHL long shot, but there's something to like in his game as well.
He's relatively mobile, he's got decent size, and he can skate. Kemp has five points in 18 games while playing for Yale University. As Sportsnet's Elliotte Friedman mentioned, the Oilers are hoping they found a diamond in the rough.
Edmonton's hoping it found a diamond-in-the-rough late in the 2017 Draft. Seventh-rounder Philip Kemp (208th overall), was the final defenceman cut from the Team USA World Junior roster. No guarantees, but that was a good showing for him. – Elliotte Friedman, 31 Thoughts
Kemp played for the American's at the 2017 U-18 tournament and won a gold medal. Kemp was the captain of that team, and as well the U-17 team he played on in 2016. He might not put up sexy offensive numbers, but this is the prototypical Steady Eddie defenseman.