Imagine that by the time you are born, your father has already been playing in the NHL for 13 seasons. Then, once you are in the picture, he plays for another six seasons after that. Shortly after you have turned 13-years-old, both of your older brothers have been drafted by NHL teams. Hockey running very deeply in your family is an understatement.
You as well have caught the hockey bug. But with the love and support of family, particularly your parents, you find that you can utilize the gifts that hockey has given you to positively impact the world in a different way. This is the case of Tessa Lowry, a sophomore hockey player at the College of St. Scholastica. She is also the daughter of longtime NHLer Dave Lowry, not to mention the younger sister of the Winnipeg Jets' Adam Lowry and Los Angeles Kings' prospect Joel Lowry.
She also has a heck of a good head on her shoulders.
The Long Career of Her Father Dave Lowry
Dave Lowry played 19 seasons in the National Hockey League. His career took him to all corners of North America. To go in order, Lowry played for the Vancouver Canucks, St. Louis Blues, Florida Panthers, San Jose Sharks and Calgary Flames. He played in 1,084 regular season games plus another 111 in the playoffs. Twice he played in the Stanley Cup Finals (1996 with Florida and 2004 with Calgary). While he had many great years in the league, his finest performance arguably came during the Panthers improbable 1996 run to the Cup finals in only their third year of existence. Lowry led Florida in both goals (10) and points (17) during the club's 22 playoff games that year. It was a series for the ages.
Though her dad had a long and storied career, Tessa Lowry sets the record straight. While he has certainly been a strong presence with a fatherly and coaching approach, he never forced the game upon her. The love of hockey in her was self-generated
Her Love of Hockey Was Natural, Not Pushed by Dad
"A lot of people assume that my parents, or my dad, kind of pushed hockey on me," Lowry explained. "To get me skating, and all that stuff. But it's funny because he actually did the complete opposite. I said I wanted to join hockey. I said I wanted to join boys (hockey). I could have played girls if I really wanted to, but I wanted to play boys. Growing up, if my confidence were down and I'd want to quit, my dad would always talk to me and say, 'You know what? If you want to quit, you can quit. That's totally fine'."
Meet @tessa10lowry who also has arrived! She's our newest #canadiansaint pic.twitter.com/qERjV5w6QM

— CSS Women's Hockey (@CSSWHockey) September 1, 2016
She would go on to say, "But my dad just wanted me to play another sport because sports do help with all parts of life. He was like, 'As long as you pick up something else, you don't have to play hockey. If you don't like it that's fine.' So a lot of people assume since he played for so long and my brothers play that he kind of pushed it on me, or made feel like I should play. But he did the complete opposite."
Learning the Game of Hockey While Young
But Lowry did stick with playing hockey and she recognizes that it has made her a better-rounded person. Like most longtime hockey players, especially Canadian kids, she started playing the game before she even reached grade school.
"I started skating when I was probably about four," she recalled. "We lived on a lake and it froze over, so we always had a rink. It's funny because I do have a sister too and she never played hockey. She figure-skated actually. I just always wanted to play with my brothers. I think it's kind of funny because I played boys until I was in bantam, and I would always play with my brothers on the rink. Just always wanted to be with them. I wasn't much of a girly-girl when I was younger."
Tessa Lowry Emulated Her Father
Lowry was born in April of 1998. At that point, her father was in his first season with the San Jose Sharks after having been traded to them from Florida in exchange for Viktor Kozlov and some swapping of draft picks. The first few years of Lowry's life were spent living in California.
In July of 2000 though, the elder Lowry signed as a free agent with the Flames. It was in Calgary where Tessa spent most of her childhood growing up. Though it was the later stages of her father's career, she still took to emulating him whenever she played on the ice. It was around the time that she was in junior high school when Tessa Lowry garnered an appreciation for the length of her father's career and his achievements on the ice.
Recognizing Dad's Contributions to the Game as She Got Older
"I would say that I realized more when I was in junior high, and when I was a little bit older," Lowry said. "I always knew that he had a good career, and I always knew he played because I always watched him play. But I didn't really realize how distinguished and how long he did play for compared to a lot of other players in the league until I was older. I remember though when I was really young skating with my brothers in a shootout. Or I'd play with their friends in a scrimmage even though they were way better than me. We'd always pick what player we wanted to be and I'd always pick my dad, even though I'm a defenseman and he's a forward."
What a treat that must have been for a little girl. Playing hockey with the big boys and when you picked what player you wanted to be, she did not have to pick from Gretzky, Lemieux, Kane, Crosby or Ovechkin. She could pretend to be her own flesh and blood father.
Lowry Opts to Become a CSS Saint
Lowry's love for hockey has continued into adulthood. It has since been matched by another passion as well (more on that shortly). But when it came time to decide where she wanted to play college hockey, she ventured a bit out of her comfort zone at first before realizing it was exactly where she wanted to be.
The College of St. Scholastica is a Division III school and is located in Duluth, Minnesota. They had originally started recruiting her when she was in grade 10. Now that she is there playing for the Saints and attending classes at such a prestigious school, she is prepping for a very bright future.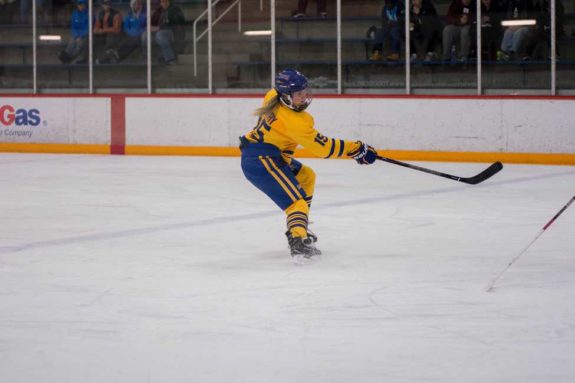 "I was really nervous to come out this far because it is a 21-hour drive for me to go home," Lowry remembered. "So I can't just pop home for a weekend. During my grade-12 year, I came on a Thursday and I stayed until Sunday with girls on the team. And I knew I wanted to be here. It was crazy. I remember telling my mom that they were all saying, 'You should commit!'. I wanted to so bad right then and there. My mom was like, 'Tessa, you've got to calm down. We need to look at the logistics of this'. But it's probably been the best decision of my life."
Hungry for More After One Year Under Her Belt
In Lowry's first season with the Saints, she scored a goal and four assists from the backend in 25 games. That certainly did not come easy either.
"I had a broken ankle last year, but I played the year with it. I played the full year and I got surgery in March," she explained. That being the case, she still managed to put 18 shots on goal and be a plus-three despite being hobbled a bit. It also did not deter her from playing a more robust and physical style of play. Lowry led all Saints players in penalty minutes with 28 during her freshman season. Interestingly enough, that is not much different than her father. Dave Lowry retired with 1,191 PIMs of his own.
That being said, Lowry is looking to step up her game during this current sophomore season. So far so good. At the time of this article, the Saints are already 3-0
"This year and the next years to come I want to be more of an impact player. I want to be a leader on the team. Hopefully, do a little more than I did last year. Get a few more points. A little more offense, and work on that part of my game. I want to be a leader to all the underclassmen coming in because it is a big jump from high school hockey. With all the work that you have to do and balancing all of the schoolwork you get. I just want to be a leader on the team. Whether it's more of a silent leader role or if it's more of a vocal one."
Like Father Like Daughter
There are a lot of similarities that can be drawn between Tessa and Dave Lowry. She is certainly her father's daughter when it comes to Tessa's best attributes on the ice. What made Dave Lowry such a longstanding NHL player was his rare combination of understanding the game along with his willingness to be a role player on the teams he played for. Tessa readily and proudly undertakes those same responsibilities that her father once did.
#10 Tessa Lowry pic.twitter.com/vMjyOYGCUi

— Team Pacific Hockey (@TeamPacificAAA) June 8, 2013
"I would say my defensive-zone positioning and my ability to see the ice," she said when asked what the best characteristics of her game are. "I'm not much of skill player at all. I'm more of a grinder. I love being in the corners and battling for the puck." She laughed and added, "I can say that I don't have an offensive bone in my body. At all. As soon as it gets into the offensive zone, I get off (the ice)."
The Timeliness of Role Players
Stepping up in the right moments and at the right times are what makes players like Lowry so highly sought by teams. During the Panthers '96 playoff run, Dave Lowry's 10 postseason goals were more than he scored in 11 of his 19 seasons. He could bring his game to its utmost when it was most crucial. Daughter Tessa is the same.
"I'm more of a role player. Much like my dad. I know where I belong on the team, and I know what my job is every time that I am on the ice. I know I'm not there to be the super skilled one and get past everybody—I know I'm there to win the battles in the corner, and get it to the forwards so that they can do their thing."
Proudest Moment of Her Career Thus Far
Her father likely has some proud moments of his own from throughout his career. Maybe it is the Finals appearance of '96 or maybe '04? Or his Calder Cup Finals run with the Fredericton Express of '88? Perhaps something even more present day like his being named an assistant coach with the Los Angeles Kings over this past summer? There is much to choose from.
Tessa Lowry, however, has a particularly proud moment of her own:
"My proudest moment of my hockey career was when I won bronze at the Alberta Winter Games," she stated fondly. "I was playing as an underage and I was named an assistant captain. It's kind of cool because I got to follow this girl that I played against my whole life. She was really, really good, and she was a captain. I got to take what she was doing as a captain and kind of take it all in. Using that to be more of a silent leader even if I don't have a 'C' or an 'A' in the future. I was just really proud. Even if we didn't place I think that still would have been my proudest moment because I got to represent my province as one of the top-six D-men and as an underage."
Lowry's Thoughts on Professional Hockey
Lowry's brother Adam just recently began his fourth NHL season with the Winnipeg Jets. Her older brother Joel is second overall in scoring for the ECHL's Manchester Monarchs and, as of this writing, is tied for the team lead in goals. With two brothers and a father having successful hockey careers, does Lowry foresee professional hockey in her own future? Not necessarily. Instead, she has found a love with a different sort of calling. One desperate for good people this day and age. People like Tessa Lowry.
"I don't think I would want to only because it is very hard to have a professional hockey career as a woman," Lowry expressed. "We don't get paid as much, so we'll have other jobs. I'm really excited to start my career in elementary education, and I would like to get my master's in special education. With teaching comes a lot of work. There is a lot of work that you have to put into it outside of work-time. Hockey is also very time consuming with workouts and practice. I don't know if that is something I'd be into because I want to be able to put 100-percent of my effort into my job, and into the students that I am teaching."
Lord knows more adults with this sort of mindset and ambition are needed.
Hockey Has Better Prepared Her for a Great Teaching Career
It takes a special someone to be a teacher. Responsibility, dedication, compassion, warmth, flexibility. The list of describing words that depict what bases a quality teacher must have covered are seemingly endless. As anyone in the hockey community can profess, the vast majority of "hockey people" are comprised of the same qualities. Tessa Lowry is both hockey player and a soon-to-be teacher. She is going to be an excellent one. If your kiddo ends up being in her classroom someday, consider yourself most fortunate.
"I think that hockey gave me a passion and I want to turn teaching into a passion. Help young kids find their passion. I love seeing kids grow and learn. Their reactions when they learn something new, or they finally understand something. It has also kept me very organized. I think organization in the classroom equals organized kids." Lowry added, "I also teach young kids to play hockey in the summer. I just honestly love it, and I think hockey has given me a passion."
Great Teachers Breed More Great Teachers
Is it really a stretch to think that Dave Lowry would have a child who is on her way to becoming a stellar educator? Not in the least. Since 2005, Lowry coached junior hockey in the Western Hockey League until he joined the Kings this summer. All that time, he sculpted young minds as a highly successful coach and a great teacher of the game.
It goes even further back than that. In his final NHL season when he was 39 years of age, he played alongside Flames youngsters like Chuck Kobasew (21), Oleg Saprykin (22), Lynn Loyns (22) Robyn Regehr (23), even Jarome Iginla (26). Don't you think those players drastically benefited from having Lowry on the bench and in the locker room?
All the best to Dave Lowry as he takes another step in his career with the LA Kings. pic.twitter.com/9yIlZRcLsJ

— Victoria Royals (@victoriaroyals) May 31, 2017
The same holds true for what Tessa has learned from her dad.
"He has taught me that you have to take every bit of knowledge that you can get and all the criticism that you can get, and you have to apply it," she shared. "If you are not a coachable player you will not be able to go far because teams won't want you. You can be the best player, and then not listen to their advice and not listen to what they're telling you, and they won't want you on their team. He has always taught me to work hard every shift and not stop battling until you win it. I think that has also helped me in the classroom because I never want to give up. I get frustrated if I don't do well, and I want to try harder."
Learning From Dad Is Not Always Easy
No one enjoys being criticized. Even those with the most welcoming of ears cringe or blush a bit when a critique is laid upon them. It has not always been easy for Tessa Lowry to learn from her father, but she recognizes that and has grown from it. It takes a big person to acknowledge that he or she does not take criticism well and then try to delve further into the thing that makes them uncomfortable so that they can improve.
"I have struggled with taking criticism from my dad," Tessa Lowry said. "I never wanted to listen to him. Secretly I did, but I'd act like I didn't want to listen because it's hard to hear it. But at the end of the day, it is actually making you a better person and a better player."
Like It or Not, Criticism Can Improve Us All
She recognizes her own growth and development as a person and realizes now how "Dad's" imparting words have been for the betterment of her all along. This is a crucial lesson to learn, whether it is on the ice or in the classroom. In fact, Lowry recognizes that she has a tap directly into a precious source that is not readily available to others.
"Now that I am older, I do take his criticisms of my game a lot more seriously," she shared. "I do realize how good of a coach he is as well. He isn't doing this to try and make me angry or to try and say I am a bad player. He's doing it to try to make me even better than I can be."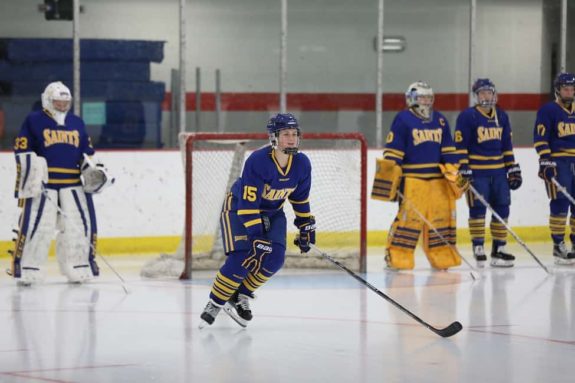 Lowry has taken notice of how highly her friends value her father's knowledge of the game.
"Looking at it now, a lot of my guy friends who play, he used to coach them in the WHL. They played in that league and they all respect him so much. The fact that they all do, I'm like 'Wow'. He's my dad, and I have him to ask him for drills to do for my team here. Or to ask him, 'Hey, what could I have done better there?'. Even though he's not a D-man, he played for so long, he understands, he knows all the positions. That's very nice that I'm lucky to have that resource just a phone call away."
Final Thoughts on Her Dad's Longevity and Accomplishments
Who didn't have a Dave Lowry hockey card when they were collecting in the 1990s? In the early years of the EA Sports NHL video game series, he was a mainstay if you were a Florida Panthers fan. There were many who hoped (and some who even still believe that they did) that the Calgary Flames would have won the Stanley Cup in '04. Lowry would have gotten his name on the Cup, and the Flames came ever so close to making that happen.
Dave Lowry was and is relevant. You do not have a career as long as he did if you are not relevant and needed.
Being a Role Player in Life
"You see a lot of players that try to become coaches, it doesn't work out. But he sees the game so well. He was very much a role player." Tessa further explained, "He wasn't really a skilled guy, but the reason why he had such a successful career is because he knew where he was supposed to play. He knew what he was supposed to do, he knew who to get it to. I think that is why a lot of skilled players don't play as long. Eventually, there is going to people that are more skilled when they get older, or faster. Whereas my dad knew he wasn't going to be the fastest and he wasn't going to be the most skilled, so he had to play the game differently than everyone else in order to stay in the league for so long."
Perhaps as a college student—always as a hockey player—and soon to be a teacher, Dave Lowry is more relevant to his daughter than ever before. College is a critical time for all of us. The world needs loving coaches, loving teachers and loving members of this community. Certainly loving parents. There is a sense of comfort from coming across a family like the Lowrys. Those instances of an adult raising a child to be a positively contributing member of society. One of the "good guys (gals)" so to speak. One generation raising another to be a role player who can get the job done in the corners and along the boards of life. The Lowrys are doing it right.