Show of hands: How many colleges or universities can say that their starting goaltender is already an Olympic medalist? Anybody? Anybody? The answer is not many. The St. Cloud State Huskies have their hand in the air because their starting goaltender is Janine Alder, goalie for the Swiss women's national team and an Olympic bronze medalist from the 2014 Sochi Games.
THW had the chance to catch up with Alder in the midst of her sophomore season at St. Cloud State. After an evening practice, we discussed her NCAA career and her preparations for the 2018 Winter Games in PyeongChang.
A Young Lady From Switzerland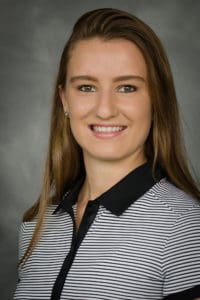 During Alder's freshman season, the now 22-year-old had a 9-18-4 record in 31 games, including 29 starts. More importantly, Alder was stellar in each of those games. She finished her first campaign with a 2.55 goals-against average and a .926 save percentage, topnotch numbers for any collegiate goaltender. So, how did this elite goaltender become a Huskie?
"I was playing for the U18 women's Swiss national team in the Czech Republic in 2012," Alder explained. "On Canada's U18 national team was our assistant here at St. Cloud Steve Macdonald. We played against each other, and I think that through that tournament in the Czech Republic they saw me play. They recruited me, contacted me, and over those years they had to wait until I graduated high school. Then I ended up over here!"
What prepared Alder for the NCAA was her experience playing with men's teams in Switzerland. She played for EHC Winterhur in Switzerland, a Junior Elite B team in the second highest men's junior league in the country.
During the 2012-13 season, Alder backstopped Winterhur to a bronze medal at Switzerland's national championships. She posted a 2.96 goals-against in 22 regular season games, plus a 2.87 in seven playoff games. She talked about how playing with Winterhur helped her reach the right speed for St. Cloud State:
"I played with boys before I came here. That higher rhythm of playing hockey has probably helped me to adjust to the level of hockey over here. It is so competitive. WCHA is the best conference in women's hockey that I have ever seen. I love to compete here and hopefully for another three more successful years."
The Strength of the WCHA
The women's Western Collegiate Hockey Association (WCHA) is comprised of seven teams—St. Cloud State University, Bemidji State, Wisconsin, Ohio State, Minnesota Duluth, Minnesota State, and the University of Minnesota. Even with a year of experience in the conference, Alder is still in awe of how strong the level of play is and how much it affords her in terms of an education.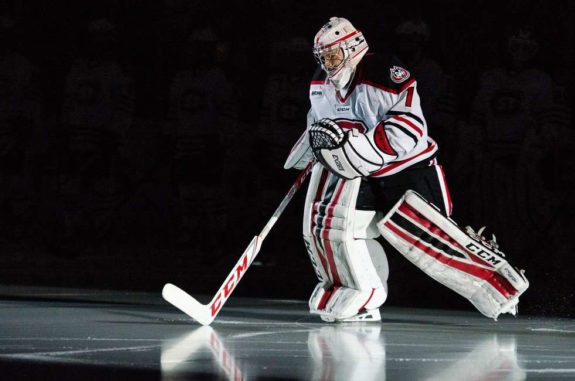 "As I said, it is just the best women's hockey that I have seen in the world," Alder expressed. "I have never seen any better. I love how the structure of being able to get a degree and being able to train in a professional and perfect environment. It's just what I love over here. I have never seen a system like that. It's nonexistent in Europe. I am so thankful for the opportunity to be part of the NCAA, and especially the WCHA Conference which I believe is the most competitive."
Alder as a Youngster in Zürich
Alder's hometown is listed as Zürich, which is the largest city in Switzerland. Like most elite young hockey players, she began playing the game when she was roughly a toddler. She was not a goaltender initially but soon fell in love with the position and its benefits.
"I might have started playing hockey at age four," Alder thought back. "Like everyone does, just skating around, shooting some pucks. I had actually been a defenseman for the first two years of my hockey career. Then, somehow I just fell in love with the goalie equipment. I just loved those gloves and pads. Nobody wanted to do the job, so I was pretty excited to be part of it. It's like a character thing, what you want to do. I am more of a stay-at-home girl and more of a defensive person. I just love it. It's great, and I am studying every part of it to become better and better every year."
Martin Gerber's Protege
Alder has one heck of a mentor, one who can help her achieve her goal of always improving. Asked if she had a player she admired growing up, Alder said:
"Martin Gerber, he had a few seasons in the NHL and won the Stanley Cup. He was playing for the Ottawa Senators and a few other teams, and then he came back to Switzerland. Now he is my coach over the summer. I just appreciate him as a person, and especially also as a goalie. He is as short as me, so he has the same style of playing. He is really my role model in every part of life."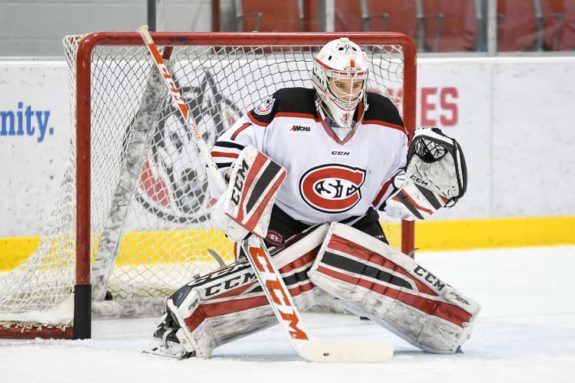 Martin Gerber played eight seasons in the NHL (229 games) and is one of the most important players for the Swiss men's national team. He assembled an excellent record of 113-78-21 to go with a .911 save percentage. In the process, he won a Stanley Cup as a member of the Carolina Hurricanes in 2006. Gerber also spent time with the Senators, the Mighty Ducks of Anaheim, Toronto Maple Leafs, and Edmonton Oilers and backstopped Switzerland to a silver medal at the 2013 World Championships.
Alder could not have found a better teacher, who is additionally a fellow countryman and a friend.
Separately, this past summer she spent a week training with former Buffalo Beauts' goaltender and Isobel Cup champion Brianne McLaughlin. "She's great!" Alder said enthusiastically when speaking of McLaughlin.
The Bronze Medal in Sochi
The Swiss women's national team shocked the hockey world at the 2014 Winter Games in Sochi, Russia. Alder recalled the magnitude of being at her first Olympic games and how quickly it all came about:
"It has been one of my biggest dreams come true being part of that team, and part of the Swiss delegation going to Sochi," she stated. "It was kind of unreal being nominated for the team. Everything happened so quickly because we found in January if we were on the team, and then day-by-day, get your clothes, get your equipment and just fly over there. I was by myself standing in front of 40,000 people cheering and waving at us at the Opening Ceremony. Then it just went on."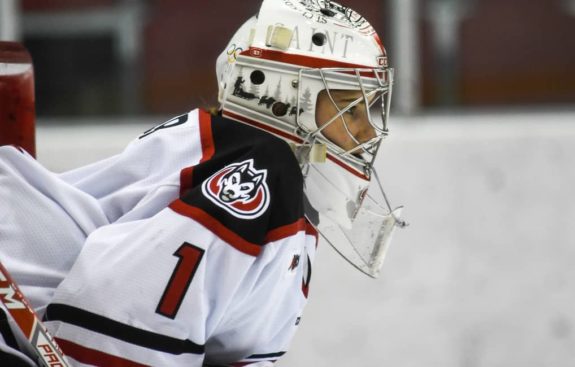 In the preliminary round of the Olympics, the Swiss team did not win a single game. With a record of 0-0-1-2 they were in deep waters being in the same group as Canada, USA and Finland. Of their three games in the prelims, the Swiss managed only three goals while allowing 18.
Switzerland's Cinderella Run at Sochi
When it mattered most, however, Alder and the Swiss went on a Cinderella run in search of a medal. They knocked off Russia 2-0 in the quarterfinals, which vaulted them into the semifinals against powerhouse Canada. While the Swiss lost 3-1, they staved off 45 of 48 shots in the process. They pulled off the unthinkable by defeating Sweden 4-3 in the bronze medal game.
"The tournament itself was just a dream come true for us," Alder explained. "Nobody expected us—this total underdog—to go up there and win a medal. I think it is still unreal that we made history like that. I sincerely hope that our medal and our effort just brings women's hockey from all over the world more together. That it helps develop and teach countries to get more financial aid. The medal itself is just the symbol of what we have to work for and what we have to continue working on. It was just so great. I don't even know how to explain it."
You just did a nice job of explaining, Janine.
Alder's Success in Her Homeland
The bronze medal is not the only accomplishment that Alder can be proud of. In her heart of hearts, one of her dearest accomplishments is playing with EHC Winterhur in her homeland. With that squad, she garnered the respect of the young men whom she played with and performed admirably. Alder explained how the bronze medal and the elite level of play she achieved in Switzerland compare with one another:
"I think it's hard to beat the moment of winning an Olympic medal, but I think also I am very, very proud of my career back home in Switzerland," she shared. "I was able to play with U20 guys and at the size of myself—I am pretty short, I am pretty small and tiny. I just enjoyed playing with the guys. It will be a part of me forever, and hopefully, if I go back to Switzerland after my college career I'll be able to play with the guys again.
It is so much fun and so much speed. I am more of a 'speed' kind of person playing hockey because it is what makes it fun. This is one of the proudest things in my life that I was able to compete with all those guys. And be accepted by them, and be taken in, and being a friend with them."
Preparations for PyeongChang '18
Switzerland is one of eight women's teams that will be competing at the 2018 Winter Olympics in PyeongChang. This time they will be in Group B, which also includes Sweden, Japan and the host nation South Korea. While she is tending net for St. Cloud State and completing her studies, Alder is still in regular contact with her national team and looks to participate in their camps within the next few months.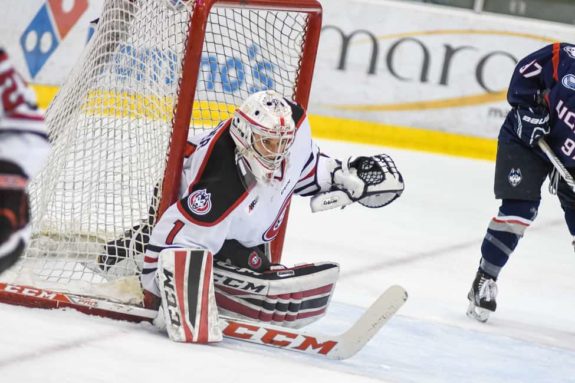 "The smaller countries like Switzerland, Germany, and Austria, they are coming together once every month and training for the Olympics," she explained. "Now I am continuously in contact with my goalie coach and my head coach of the national team. I'll be able to join them for the December camp, and then hopefully for January and hopefully for February again."
What the Future Holds
Alder still has the bulk of three years left of her collegiate career with the Huskies. After that, she has many exciting options, as any NWHL or CWHL club would love to have her. With interests in Mass Communications and Psychology, combined with her strong and likeable character, the working world would most assuredly welcome her onto the team.
"I am open for anything. I was thinking of following the path of a couple Swiss players and going to Sweden for a year or two and doing my Masters," Alder said about her future. "Or then, if there is an opportunity over here, I might stay over here and do a couple more school years or even try to find a job."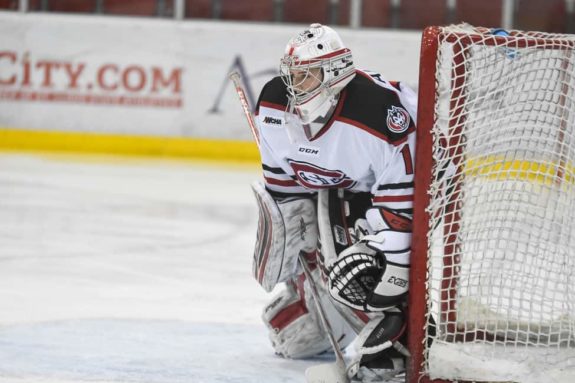 No matter what she decides for the years ahead, Alder will find success in her future. She is a heck of a goaltender and her pursuits in hockey will likely open many other doors for her as she continues along.
"For my high school degree, we had to do a bigger project at the end of our five years of high school," she said. "I wrote a paper about how hockey made the person out of me that I am right now. How it has helped me in becoming a strong person. The most I have learned from hockey is the work ethic, to commit to something 100 percent, and just having fun. Especially how to deal with victory and having losses at the same time. Staying humble."