With group play in Men's Hockey wrapping up Sunday, the 2014 Olympics will be moving on to the knockout round starting Tuesday.  Despite the early start times for those of us in North America, the games have not been short on excitement or intrigue.  The USA vs. Russia game that began at 7AM ET on Saturday was the most watched hockey game in the history of NBC Sports Network.  Viewership peaked at a remarkable 6.4 million viewers during overtime and the eventual shootout.
https://twitter.com/stevelepore/status/435142304798494721
Group play has seen a number of surprises, both good and bad.  Here are the five biggest ones as we head into the most exciting portion of the tournament:
Defensemen Dominate Offensively
With the games being played on Olympic sized ice, a premium was placed on defensemen that could skate well when rosters were selected.  On the bigger ice, they have more room to operate on the point and can generate offense from the backend with their skating to find open ice.
Shockingly, among the top thirteen scorers so far, there are five defensemen: Drew Doughty, Erik Karlsson, Shea Weber, Olli Maatta, and Sami Vatanen.  Doughty and Karlsson in particular have been integral to their team's success in group play with five points each.  Doughty scored both goals for Canada in their 2-1 overtime win over Finland, and is Canada's leading goalscorer and point-getter.  Karlsson led Sweden in points, en route to the top seed heading into the knockout round as the only team to win all three games in regulation.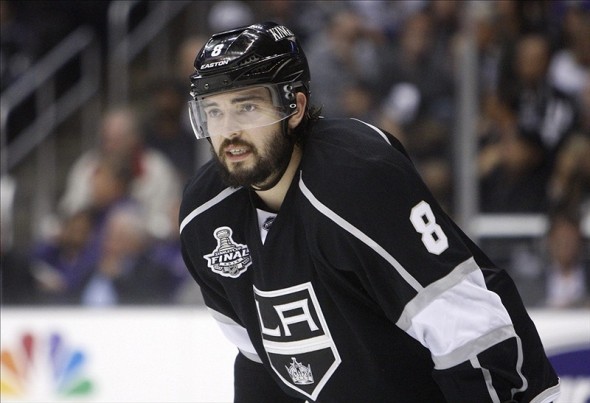 The importance of puck-moving defensemen is well known in the NHL, but they have taken on an even more crucial role so far in the Olympics.  Weber and Doughty's combined six goals is more than the entire Canadian forward corps has produced so far.  Maatta and Vatanen are a big surprise considering they are both playing their first full year in the NHL, and have just 106 games of NHL experience combined.
Sweden Keeps on Rolling
Heading into the tournament, many prognosticators had Sweden as one of the favorites to win gold.  But right before the games began, word came out that they would be without the services of both Henrik Sedin, and Johan Franzen.  Since 2009-2010, Henrik has 36 more points than the next highest scoring Swede, his brother Daniel.  Franzen was the 8th highest scoring Sweden in that time frame.  Some began to question if those two crucial losses would ruin their medal chances.
Henrik Zetterberg may be out of the Olympic hockey tournament, but he is still in Sochi. He's in too much pain to fly home.

— Chris Johnston (@reporterchris) February 14, 2014
To make matters even worse, captain Henrik Zetterberg suffered a herniated disc in his back during the first game, and is potentially out for the rest of the NHL season.  Zetterberg is in so much pain he can barely move, and cannot even fly home yet.  Despite injuries to three of their most important forwards, the Swedes haven't skipped a beat.  They were the only team to win all three of their group games in regulation, collecting nine points in the process.  As a result, they have the easiest path to the gold medal game, having to face the winner of Slovenia and Austria to make the semifinals, and likely Finland or Russia in the semis to reach the gold medal game.
Canada's Forwards Doing Their Best Disappearing Act
It was said that Team Canada could send their "B Team" to Sochi, and still win gold.  After all, "Team Snubbed" could feature stars like the highest scoring Canadian of the last three years Claude Giroux, Tyler Seguin, Taylor Hall, and James Neal.  Perhaps Hockey Canada should have given some attention to those guys because right now, the Canadian forwards simply are not clicking well.  Carrying a plethora of natural centers has forced a number of players to the wing, and it's clear that they aren't comfortable there.
Canadian forwards have combined for just five goals through the first three games despite having the three highest scoring forwards in the NHL on their roster.  They lack chemistry as a result of forcing centers to the wing position.  Chris Kunitz was subject to heavy criticism when he was selected, and so far his critics have been right.  He has zero points, is third to last in ice time among forwards that have played all 3 games, and is the only forward that does not have a plus rating.  He looks like he's a step behind, and the magic he and Crosby shared in the regular season has been absent so far.
The Emergence of TJ Oshie
When Team USA was selecting their final roster, TJ Oshie was on the outside looking in for a period of time.  But, the coaching staff lobbied for Oshie, pointing to his chemistry with David Backes, and his shootout ability as reasons for his inclusion.  TJ Oshie made the team, and the rest is history.  After a controversial  disallowed goal sent the USA-Russia game into overtime, Oshie took over.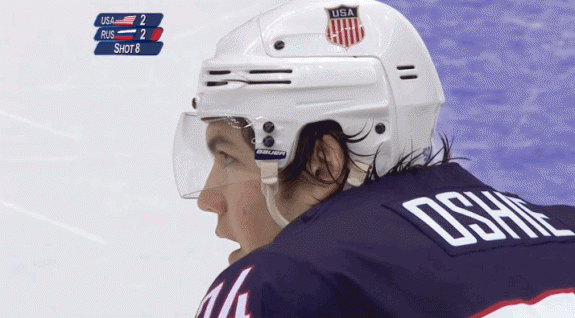 Many NHL fans know of TJ Oshie's prowess in the shootout.  After all, nobody has scored more shootout goals in the NHL this year.  But, many were shocked when Bylsma elected to continue to use Oshie over stars Patrick Kane and Zach Parise.  The move pulled off beautifully, as Oshie went 4-6 in his shootout attempts en route to carrying the US to victory.  He could have gone 6-6 were it not for a desperation stick save by Sergei Bobrovsky, and him airmailing a shot over a wide open net after he had successfully deked Bobrovsky.
Beyond the shootout, TJ Oshie has been a valuable contributor for Team USA.  He has a goal and three assists, and has played his usual physical brand of hockey.
A Shift of Power in Central European Hockey
Every hockey fan knows who Anze Kopitar is.  If you're a Detroit Red Wings fan, you will recall Jan Mursak being a decent player for the Red Wings' AHL affiliate, the Grand Rapids Griffins that has four NHL points to his name.  Other than that, the Slovenian roster is made up of players that very few in the hockey world have ever heard of.  After all, there are only seven hockey rinks in the entire country, and one in six registered senior male hockey players is on the Slovenian Olympic  team.  Yet, they managed to defeat Slovakia, led by Zdeno Chara, Marian Hossa, and Jaroslav Halak, by a score of 3-1.  They also hung on for two periods and played Russia to a very close game.  The Slovenian national team is still in its infancy and has a long way to go, but a win like this could inspire young Slovenians to pick up a hockey stick, and start playing hockey.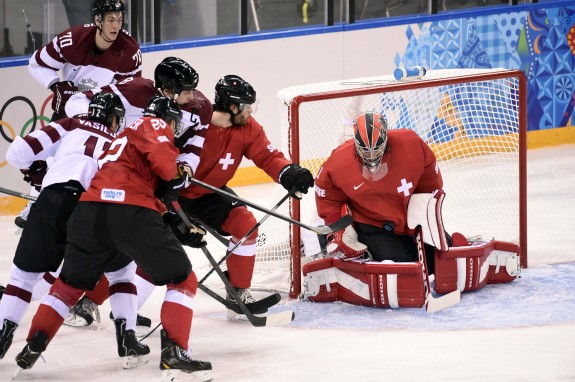 When you score two total goals in three games, you usually won't win many games.  But don't tell that to the Swiss, who won two 1-0 games over the Czech Republic and Latvia, and lost 1-0 to powerhouse Sweden.  They play a stifling defensive system with strict adherence to their system and style of play.  The Swiss have been a consistent dark horse over the past few Olympics despite the relative lack of famous names on their roster.  After defeating Canada in 2006 and taking them to a shootout in 2010, teams cannot afford to underestimate the Swiss anymore.
Just as the Swiss have impressed and Slovenians have shocked, the Czechs and Slovaks have disappointed.  Their rosters boast stars like Chara, Hossa, Jagr, and Elias, but they won just one combined game in group play.  The problem with these two nations is that their stars are getting older, and they aren't replacing them with quality young players.  The last player from either country to be labeled a blue chip prospect was Jakub Voracek in 2007.  Unless something changes quickly, expect the Swiss to be universally regarded as a superior team compared to these two in the near future.
Bill Schoeninger is a Philadelphia Flyers writer and current Boston University student studying business. Coming to THW from Hometown Hockey, Bill follows and writes about the Flyers, Boston University Terriers, and NHL Draft prospects. Follow him on twitter @BSchoeninger17