Team Canada won its final round robin game against Finland 2-1 in overtime, missing out on a chance to grab the no. 1 seed and instead falling back to no. 3. Allowing just two goals in three games, Canada's defence and goaltending has been outstanding. The concern is up front, where finding chemistry among 14 elite forwards is proving to be a difficult task.
To no one's surprise, head coach Mike Babcock has shuffled his lines since the moment the team arrived in Sochi, just like he did in Vancouver in 2010.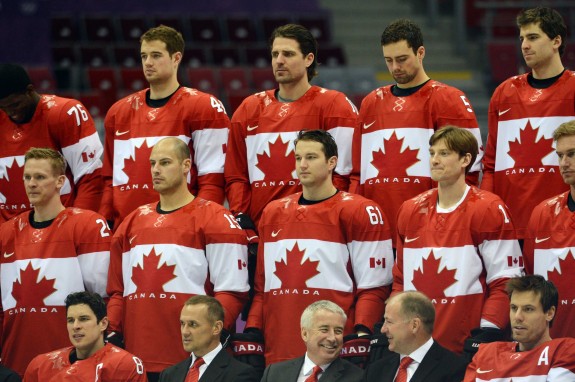 And, just like in Vancouver the question is: Who can help Sidney Crosby thrive?
The world's best player played alongside Chris Kunitz, Jeff Carter, Martin St. Louis, before forming a line with Jamie Benn and Patrice Bergeron against Finland on Sunday. Crosby, Bergeron and Benn were less than spectacular, in fact they may have been the team's worst line.
The Lines vs. Finland
Jamie Benn, Sidney Crosby and Patrice Bergeron
As we know, Crosby has not played to his potential yet, while Jaime Benn — who wasn't invited to summer orientation camp — was one of Canada's best forwards in the first two games. This line was a big disappointment as were unable to consistently gain the zone and when they did the cycle wasn't effective. Also, they seemed to avoid looking for the open man at the point. Babcock must mix things up once again to find linemates for Crosby.
Patrick Marleau, Jonathan Toews and Jeff Carter
They may have been Canada's best line. They generated a number of good scoring chances and combined for five shots on goal. Overall they were strong in all three zones, breaking out of their own end efficiently and cycling the puck well down low. The knock against them is that they were on the ice for Finland's goal. Marleau misplayed the puck near his own blue line and moments later it was in the back of the net.
Matt Duchene, Ryan Getzlaf and Corey Perry
This trio had about five more minutes in ice time than the Tavares line, but weren't able to have anymore of an impact. With so much speed and skill, this line should have been able to create more chances off the rush or by dumping and chasing the puck. Given more time, Duchene could gel with Getzlaf and Perry, who won't be separated. However, it may be worth trying another winger out on this line during the quarterfinal game against a weaker opponent.
John Tavares, Rick Nash/Patrick Sharp/Chris Kunitz
Tavares was the constant on a line that included Nash, Sharp and Kunitz. It's been hard not to notice Nash in each of the three games. He seems to bring energy and speed ever shift and is strong on the puck around the net. And, although he played fewer than eight minutes Sunday, he and Tavares seemed to develop some chemistry in the offensive zone. They made a number of good passes and drove the puck to the net. Sharp played a couple more minutes than Kunitz and rightly so, the Chicago forward has shown an ability to play a good two-way game, while Kuntiz continues to look lost at times in the offensive zone.
Defence
There is no need to make changes on defence. Shea Weber and Duncan Keith are perhaps the best defensive duo in hockey. They hit clean and hard, have great positioning and boast lethal shots from the point. Unlike Crosby and Kunitz, Alex Pietrangelo and Jay Bouwmeester are just as effective together at the Olympics as they are in the NHL. They play sound, mistake-free defence each and every shift. Drew Doughty and Marc-Édouard Vlasic have had tremendous success. In San Jose Vlasic often carries the puck up ice, but he has adapted to playing with Doughty and is always looking to dump the puck off to his L.A. nemesis.
What's Next?
It may be time to put Kunitz in the press box. Martin St. Louis may not be able to replace Steven Stamkos on the first line, but he can do a better job as the 13th forward and quickly adjust to different roles with different linemates.
Chris Kunitz is a great guy and a good player but he's not the right fit for Canada's top line. Credit to all those that said it all along.

— James Mirtle (@mirtle) February 14, 2014
Canada's forwards are struggling to score, but their blueliners have contributed and they've done so without scarifying anything defensively. They've scored six of Canada's 11 goals, while Getzlaf, Carter and Benn are the only forwards to light the lamp thus far. Considering they've faced Austria and Norway, that's an unpleasant statistic.
Maybe it's time to bring P.K. Subban in to see what he can do as the seventh defenseman and possibly as a quarterback on the power play. And, why not put Sharp back with Toews? That said, there's a chance Babcock may start from scratch in the quarterfinals and try out a few other combinations before facing a tougher opponent in the semifinals (assuming they get there).
It's kind of amazing that P.K. Subban has been a healthy scratch for Team Canada, and Chris Kunitz hasn't

— Bruce Arthur (@bruce_arthur) February 14, 2014
Perhaps something unconventional.
Tavares – Crosby – Carter
Sharp – Toews – Nash
Duchene – Getzlaf – Perry
Marleau- Bergeron – Benn
Or, lines similar to the first game, minus Kunitz.
Duchene – Crosby – Carter
Sharp – Toews – Nash
Marleau – Getzlaf – Perry
Benn – Tavares – Bergeron
The primary goal right now is to create offence, but Babcock is also looking for a line that can shutdown the world's best scorers, as Toews, Nash and Mike Richards did in 2010. Whatever that line is, it will almost certainly feature Toews. That said, you can bet whatever lines Babcock does roll out Wednesday won't go unchanged before the tournament's over.
As for Crosby, we continue to wait for him to be the go to guy at an international tournament. Yes, he scored one of the biggest goals in hockey history at the 2010 Games, but outside of that moment he wasn't a consistent factor. Jonathan Toews was the team's and the tournament's best forward. At the 2005 World Juniors his linemate Patrice Bergeron was the MVP. And, so far in the 2014 Olympics, it's Drew Doughty who looks unstoppable.
It's still too early to judge. Maybe, come Wednesday, Crosby will look a lot more like the player who has 78 points in just 58 NHL games this season.