After Hockey Canada announce the Team Canada roster going to Sochi to compete for gold at the 2014 Olympics, I posed the question:
"What if Canada could take two squads to Sochi? In Olympic sports such bobsled, we see multiple entries, aptly named Canada 1 and Canada 2. How would a second team of leftovers stack up against the other nations and against the official Team Canada, that is, Canada 1. Canada's depth as a hockey nation is unparalleled. While there are many competitive powerhouse countries when selecting one team, Canada could easily ice at least two very strong teams."
Who were the biggest snubs for #TeamCanada? @MsSRizzo has the answer on @HOH_Magazine http://t.co/rKso0m8fxE

— Josh Beneteau (@jbenny15) January 9, 2014
Team Canada Olympic Roster – Take 2
Here's the team I assembled out of the leftovers:
[su_tabs][su_tab title="Goalies"]
Josh Harding
Marc-Andre Fleury
Brian Elliott
[/su_tab]
[su_tab title="Defense"]
Mark Giordano – Brent Seabrook
Francois Beauchemin – Kris Letang
Dion Phaneuf – Dan Boyle
Brian Campbell – Mike Green
[/su_tab]
[su_tab title="Forwards"]
Taylor Hall – Claude Giroux – Tyler Seguin
James Neal – Joe Thornton – Martin St. Louis
Milan Lucic – Logan Couture – Nathan MacKinnon
Andrew Ladd – Jason Spezza – Jordan Eberle
Jeff Skinner, Eric Staal[/su_tab][/su_tabs]
***
Team Canada Sochi 2014 Roster
[su_tabs][su_tab title="Goalies"]Roberto Luongo; Carey Price; Mike Smith[/su_tab] [su_tab title="Defense"]Jay Bouwmeester; Drew Doughty; Dan Hamhuis; Duncan Keith; Alex Pietrangelo; P.K. Subban; Marc-Edouard Vlasic; Shea Weber[/su_tab] [su_tab title="Forwards"]Jamie Benn; Patrice Bergeron; Jeff Carter; Sidney Crosby; Matt Duchene; Ryan Getzlaf; Chris Kunitz; Patrick Marleau; Rick Nash; Corey Perry; Patrick Sharp; Steven Stamkos; John Tavares; Jonathan Toews[/su_tab][/su_tabs]
Team Canada's official roster can also be found here at TSN.
Olympic Hockey Showdown
Well, what would happen if the official Team Canada faced off against Team Snubbed? We will obviously never know in reality, but we can simulate the results in a number of ways. In this instance, we have selected NHL '13 (EA Sports) via PS3. Why NHL '93? Well "Canada 2", aka Team Snubbed, is captained by Claude Giroux who just happens to be on the cover. Why PS3? A stick tap goes to my colleague Patrick Yau as he volunteered to enter the rosters and sim it on his PS3.
Interestingly, THN had an idea of speculating how the Canadian All-Snub Team would do against the World All-Snubs. Unfortunately, they ran no simulation to see what would have gone down on the virtual ice.
You'll notice a couple of other necessary oddities:
Team Canada official squad are the Aces – that is, the "A" Team.
Team Snubbed or Canada 2 are the Beavers for Team B.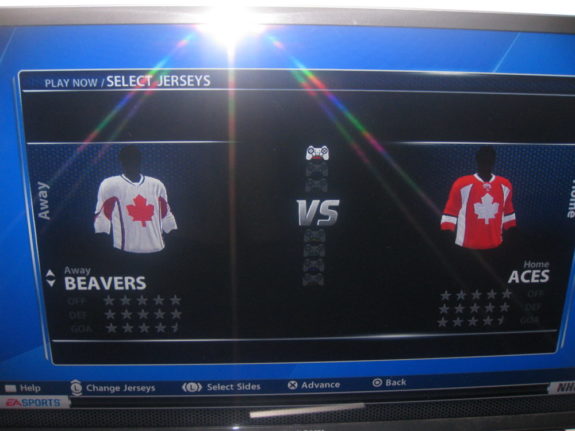 The Game
Drew Doughty took a penalty in the first period, resulting in a powerplay for Canada 2. Jason Spezza scores on the PP going top shelf over Carey Price's glove on a slapshot from the point to put Team Snubbed up 1-0.
Martin St. Louis scored the only goal in the second period, giving Team Snubbed a surprising 2-zip lead over the A-Team. Leaving off the diminutive but savvy forward  was one of the more controversial decisions made by Hockey Canada.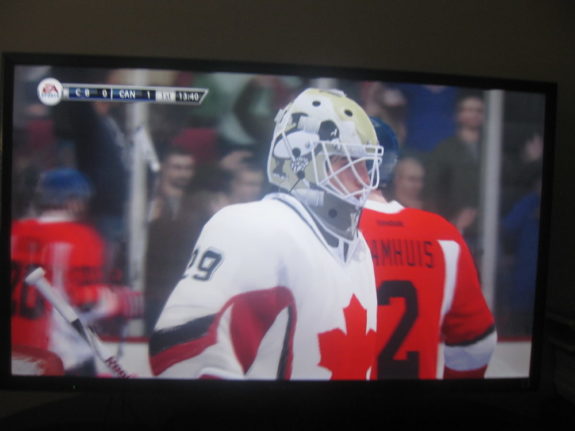 And then we get to the third period…Ryan Getzlaf finally cracked through the wall of Fleury, Marc-Andre that is. Patrick Sharp notched the game tying goal and then what would ultimately be the game winner to cap a run of three unanswered for Team Canada in the third. At the end of the game, to seal the victory Carey Price stoned Marty St. Louis. Team Snubbed gave Team Canada an excellent test, but ultimately fell to the assembled squad by Steve Yzerman et al.
The Three Stars
3. Marty St. Louis (1G)
2. Carey Price (29 saves; 2 GA)
1. Patrick Sharp (2G – GTG and GWG)
***
The Canadian Olympic Hockey Simulation Project is now complete. Are you surprised about the result? Now that some time has past since Yzerman et al announced the official Team Canada do you feel any different about those named and those who didn't make the final cut?