Sidney Crosby was named the captain of Team Canada for the 2014 Sochi Winter Olympic Games on Sunday. He already has an Art Ross Trophy, a Hart Trophy, and a Stanley Cup on his resume. Captain of Team Canada is another honor that Crosby can add to his list of accomplishments.
CONGRATS to SIDNEY CROSBY who was named Team Captain of our Men's Olympic Hockey Team! – @Iam_Shem pic.twitter.com/nrkl05gMEU

— KiSS 92.5 (@KiSS925) January 20, 2014
"It's definitely a huge honor," said Crosby. "I think playing for team Canada and playing in the Olympics is a great opportunity, but being able to be the captain, I think is definitely an honor."
Crosby has achieved more at the age of 26 than most players do in a career. None of what Crosby has accomplished is due to talent. He isn't the most talented player in the league, and doesn't have the most flair. Players around the league have admitted this same thing. Crosby isn't even the most talented player on his own team. Evgeni Malkin has a harder shot and better hands than Crosby, but it is Crosby who is labeled as the greatest player in the world. And deservedly so.
Crosby's transformation into the best player in the world is attributed to his will-power. While other professional hockey players like to go out and have a good time, Crosby eats, breathes, and lives hockey. If Crosby had a terrifying shot, or the slickest hands around, he may never have developed the determination to constantly improve his skills. Over time, this has made Crosby known as a "workaholic."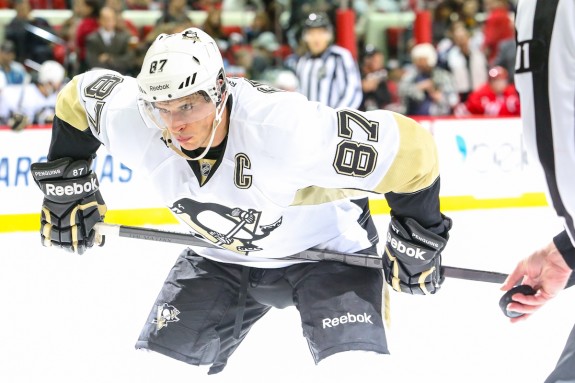 Crosby Leadership
The Pittsburgh Penguins will have played one game in an eight-day span leading up to their game tonight.The Pens' captain was happy to get some rest due to the compact schedule the league has been forced to play as a result of the upcoming Olympics. But despite having a 10 point advantage on the league scoring lead, Crosby was most looking forward to harder practices during this downtime.
"I think the rest is obviously a big advantage, but I think getting the opportunity to use those practices, you don't get a chance to practice that hard during the season," said Crosby. "To have a week to really get some good practice in, I think that's important. It's a good time of the year for it."
It's human nature to get complacent once obtaining success. Crosby could cruise through the rest of his career and still hear his name called for the Hockey Hall of Fame. The city of Pittsburgh saw Mario Lemieux become one of the greatest hockey players ever. But until Lemieux came out of retirement, he was known for his pure talent rather than his work ethic. Crosby is without a doubt talented, but it is his work ethic that puts him at the top of the hockey universe today.
With the Pens enjoying a seven point lead in the Eastern Conference and a massive 13-point lead in the Metropolitan Division, now would be the perfect time for Crosby and the team to relax. Complacency isn't a word that Crosby comprehends. He hasn't slowed down and neither have the Pens, winners in 19 of their last 23 games. This is a reflection of Crosby as captain. He's never satisfied, and is always attempting to get a leg up on the competition.
"You have to make sure you keep your edge and you're not just allowing yourself to look at points. You have to evaluate yourself based on how you're playing. If you're a winning team, or you're a team that has high expectations, and I think that's a team we like to consider ourselves as, then those things aren't easy to bring every night. So you have to have those expectations. You have to find a way to make sure that when teams come in here that they don't outwork you." -Sidney Crosby
Crosby Team Canada Captain
Most fans recognize Crosby for his numbers and highlight reel plays. This isn't why Crosby deserves to be the captain of Team Canada. He's earned the captaincy based on the respect of his hockey peers inside and outside of the Penguins' organization. Steve Yzerman has a bunch of gifted hockey players on Team Canada. They've all been around the game for a long time. Not much will need to be said within the locker room during the Olympics. The Canadians needed someone who they could look up too, and would be clutch in the big moments. More than anything, they needed a captain who was the hardest working player on a team full of super stars. No one has outworked Crosby over his eight year career. When Team Canada went looking for someone who led by example and had respect from everyone on the team, no one was more deserving than Sidney Crosby.
Justin Glock has covered the Pittsburgh Penguins for The Hockey Writers since 2011. As a lead writer, his Penguins knowledge traces back over two decades. For any requests, please feel free to contact Justin via email: JGlock10@gmail.com.