The Montreal Canadiens are off to one of the worst starts in the existence of their franchise history and for once, Carey Price is largely to blame. He has been fighting pucks, giving up rebounds, losing position and letting simple pucks get past him. Because of this, he currently has a 3.55 GAA and save percentage of .890.
He has allowed 26 goals thus far, which puts him in a three-way tie with Henrik Lundqvist of the New York Rangers and Toronto's Frederik Andersen for most in the entire league. Those are miserable numbers for a player widely regarded as the best in the world at his position.
What's the Problem?
It has been established that Price is one of the best in the world. He has demonstrated that year after year and yet, all of a sudden, it seems as though he is struggling to keep the puck out of the net. We could all speculate about personal issues, disagreements with coaching staff, or any number of conspiracy theories, but it seems to be that it could simply be a personnel issue.
Over the last two years, the Canadiens defense has seen more turnover than any other in the league. In fact, of the 15 defensemen who played at least 1 game for the Canadiens during the 2015-16 season, only Jeff Petry and Brett Lernout remain with the organization.
Why does this matter? Well, goaltenders are creatures of habit and need to adjust to such heavy turnover. Even after this past offseason the Habs went an entirely different direction with their defense. Andrei Markov and Nathan Beaulieu were two of the Habs better puck movers and have both moved on, only to be replaced by Karl Alzner and David Schlemko. While Alzner and Schlemko are both effective defenders and are very valuable in their own end, they do not have the offensive capabilities of Markov and Beaulieu.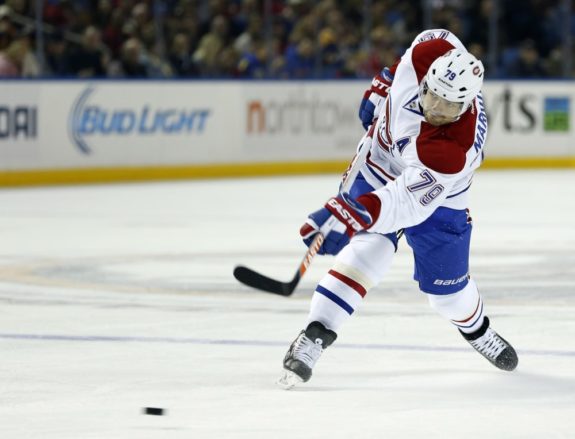 This type of change in defense structure is an adjustment for Price since the puck isn't being moved out of his zone as quickly as he is used to. Now, as a world-class goaltender, Price should be able to adjust on the fly, and that's what training camp is for, right? Well, yes and no.
Keep in mind that Price has had Markov in front of him for the last 10 years. Going from one of the best puck-movers of his time to a more stay-at-home type guy means Price has to adjust his angles, for one, and he has to change the way he goes about playing the puck. This last point, as we all know, is big for Price as he often acts as the Canadiens' third defenseman.
These may seem like little issues but when you pile them all on top of each other, it can be quite an adjustment.
What's the Solution?
There are many potential options as to how the Canadiens can dig themselves out of this hole. They could fire Stephane Waite, the team's goalie coach to get a fresh vision. What about trading Alex Galchenyuk for a top four, puck-moving defenseman? Another desperate option is to fire Claude Julien and try a new system. All of these could be potential fixes, but all are drastic measures considering we are less than 10 games into the season.
Also, it appears Alex Galchenyuk is very, very likely to get traded. Strong possibilities for a defenceman to come back the other way.

— Eric Engels (@EricEngels) June 15, 2017
Something not many people have been considering is actually sitting Price for a couple of games. I know, I know, it sounds absolutely insane to make the best goaltender in the world a healthy scratch, but it isn't unprecedented.
If we go back to the 2013 playoffs, we get a perfect example of how a little bit of time on the sidelines can reinvigorate a goalie. The Pittsburgh Penguins drew the New York Islanders in the opening round of the tournament and were easily the favourites.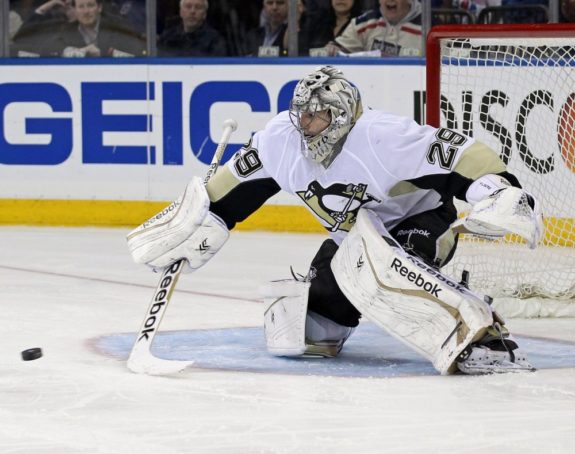 Marc-Andre Fleury had just come off a lockout-shortened season where he went 23-8-0 and appeared ready to bring the Penguins to their second Cup in four seasons. He backstopped the Pens to a 5-0 win in Game 1, but it was all downhill from there.
In Game 3, he allowed four goals but still eked out the win. The first four games of the series saw Fleury allow 14 goals before Dan Bylsma finally had enough. Tomas Vokoun started, and won, the next two games to give the Penguins the series win and he never looked back, leading the Penguins all the way to the Eastern Conference Finals, where they would get swept by the Boston Bruins.
The following season, Fleury came back with a vengeance and, although he didn't have the greatest statistical season of his career (.915 SV%, 2.37 GAA), he wound up winning 39 games, the third-highest total of his career. Two seasons later, the Penguins won the Stanley Cup again.
Who Will Take Over?
Al Montoya is and has been a very serviceable backup during his time in the NHL but, with no disrespect to Montoya of course, he is just that: a serviceable backup. He has started more than 25 games only once in his career and ended up with an .893 SV% and a 3.10 GAA. Not exactly promising. So if Montoya isn't going to take the net for Price, who should? None other than Charlie Lindgren.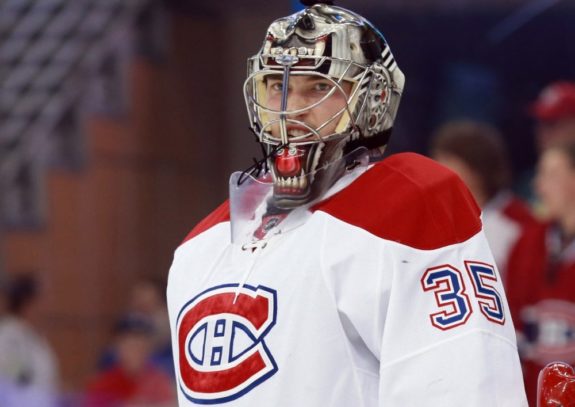 This season in the AHL, Lindgren has been awful, plain and simple. But, last season he won 24 games in the AHL and had reasonably good numbers (.914 SV%, 2.56 GAA) for a young starting goaltender in his first professional season. It's his small NHL sample that makes him a very curious option. Lindgren has started three games in the NHL, winning all of them with a .943 SV% and 1.64 GAA.
Not a Long-Term Solution
Don't get me wrong here, I'm not suggesting that the team should toss Price in the press box or on the bench for the next month and see if Lindgren can steal the starting job. That obviously isn't an option. But we know Price is better than what he's shown us, so it could be beneficial for him to sit and observe. He could study how his new defense core plays, as well as give himself the opportunity to get his mind back on track.
Not only could it be beneficial for Price, but it would also give the organization a chance to really see what they have with Lindgren. If his NCAA career and small NHL sample size are any indications then it's possible Lindgren could be an NHL starting goaltender. If he were to come up and play well, that could give Montreal a huge trade chip to either add more scoring up front or bring in a more offensive-minded defenseman.
Although it seems like a massive stretch to try something of this magnitude, at this point the Canadiens should be thinking about trying anything and everything to right the ship.
All statistics taken from: