The most noteworthy aspect of Slovakia's team for the PyeongChang Games might very well be their head coach. As a player, Craig Ramsay was one of the most underrated men to ever play in the National Hockey League. He played 14 seasons all with the Buffalo Sabres. That amounted to 1070 regular season games for Ramsay, eight seasons of at least 20 goals, and a Frank J. Selke Trophy in his final NHL season as the league's top defensive-forward. As a coach, Ramsay won a Stanley Cup with the Tampa Bay Lightning as John Tortorella's associate. In total, he has been either a head, associate or assistant coach in hockey for more than 30 years.
Ramsay brings that highly respected resume to PyeongChang where he will lead a modest Slovakian men's hockey squad. They have a few players that fans in North America will have heard of, but for the most part they appear to be a roster of unknowns – at least outside of Europe.
Slovakian #Olympics hockey coach Craig Ramsay is never too far from Buffalo. @ByBuckyGleason: https://t.co/1P8V57ROhf pic.twitter.com/zavvrQjb82

— Buffalo News Sports (@TBNSports) February 12, 2018
Team Slovakia general manager and Stanley Cup champion Miroslav Satan shared the following about his team in an IIHF news release:
"We have plenty of creative players there," Satan said. "We wanted to mix it so that there would be youth, experience, creativity and quick legs. With the game system and the team, we wanted to get closer to the modern style of hockey."
Slovakia will have their work cut out for them. As far as Ramsay is concerned: challenge accepted. THW takes a look at Slovakia's 25-player roster for the 2018 Winter Games in PyeongChang:
Goaltenders
Jan Laco (HC Sparta Praha), Branislav Konrad (HC Olomouc), Patrik Rybar (HK Hradec Kralove).
30-year-old Branislav Konrad will be playing in his first Olympics, but he has represented Slovakia in IIHF World Championship tournaments since 2007. At 6-foot-2 and 185 pounds, he is known to be agile in net and sound in positioning. Konrad has played three seasons now in the Czech Extraliga for HC Olomouc, including the current 2017-18 season. Presently he is posting a 2.49 goals-against average and a .904 save percentage in 45 games this year. Konrad played four games in the KHL for HC Slovan Bratislava during 2012-13 season and had numbers of 2.97 GAA and .885 SV%.
Jan Laco put up some pretty good seasons in the KHL while playing mostly in a tandem role or as a backup. However, his numbers in the Czech Extraliga this season and last depict a downswing in his play. This year Laco has played for two different teams in the Czech Republic. With Piráti Chomutov where he began this season and played last year, he had a 2.89 GAA and a rather paltry .888 SV%. It has not gotten any better after Laco came over to HC Sparta Praha. In six games he has put forth a 3.39 GAA and a .861 SV%.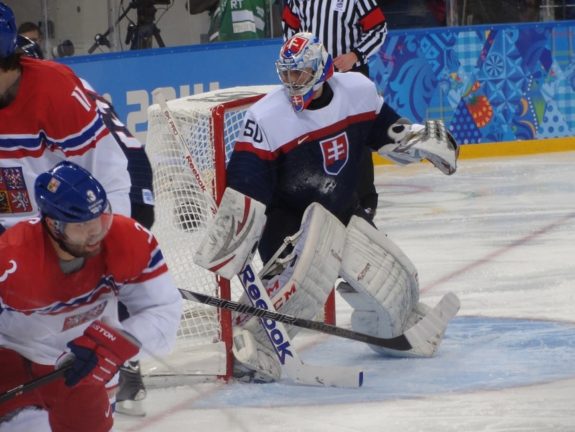 What Laco does have going for him is some decent previous Olympic experience. He saw action in two contests of the '14 Sochi Games and did admirably well. Laco helped Slovakia go the distance with Russia in the Group A prelims before losing 1-0 in a shootout. He stopped all 36 shots he faced within regulation and overtime. Though Laco and Slovakia would lose to the Czechs 5-3 in the qualification playoffs, he would finish the tournament with a 2.40 GAA and a .923 SV% in the two games.
Patrick Rybar is our third option in goal. He is the youngest (24) and the tallest (6-foot-3) of the three netminders. Whether playing in Slovak Extraliga or the Czech Extraliga, Rybar has always put up really nice save percentages. Here in '17-'18 he has played in 34 games for HK Hradec Kralove. Through those games Rybar's 1.59 GAA is the best in the entire Czech league and his .937 SV% is second best. The only better save percentage in the league this year (.945 SV%) belongs to a goalie who has played 23 less games than Rybar.
Defenders
Tomas Starosta (Dukla Trencin), Ivan Baranka (HC Vitkovice), Juraj Valach (Pirati Chomutov), Michal Cajkovsky (Avtomobilist Yekaterinburg), Peter Ceresnak (Skoda Plzen), Dominik Granak (HK Hradec Kralove), Marek Daloga (Sparta Prague), Juraj Mikus (Sparta Prague).
Ivan Baranka has long been a strong, hard-nosed defender. At 6-foot-2 and over 200 pounds his NHL career consisted of a single game played for the New York Rangers in the 2007-08 season. Oddly enough, he would tally an assist during the game to have exactly one point in one game. The Rangers had initially selected him at 50th overall in the 2003 NHL Entry Draft. Baranka would have a decent junior career from 2003 until 2005 when he played with the WHL's Everett Silvertips. In 122 junior games with Everett he put up 133 penalty minutes. While he is presently playing in the Czech Extraliga for HC Vitkovice, the finest portion of Baranka's career came in the KHL. Through seven seasons he would play in 334 games, score 32 times, and assist on 88 to total 120 points.
Den slovakiske landslagsbacken Ivan Baranka är klar för Rögle. #twittpuck pic.twitter.com/zVgPJMgpIM

— TV4 Sport (@TV4Sport) August 12, 2015
Slovakia must be the "Land of the Giants" because of players like future hall-of-famer Zdeno Chara and the big man on the country's PyeongChang roster, Juraj Valach. At 6-foot-8 and 230 pounds, Valach will need to be Chara-esque as much as possible at these Winter Games. Never drafted by an NHL team, he is also a product of the WHL but bounced around quite a bit as opposed to Baranka. Valach played his junior career with the Tri-City Americans, Vancouver Giants, Regina Pats and Red Deer Rebels. With Piráti Chomutov in the Czech Republic, he has 87 penalty minutes in 49 games to go with a pair of goals and 10 assists this season.
Dominik Granak is smaller for a defender at 5-foot-11 and under 180 pounds. That being said, he is also a well-decorated defender too. Granak is known more for his skating ability and his sound decision-making on the ice. Characteristics such as those helped translate to championships for the teams he has played for. Granak won two KHL Gagarin Cups in 2011-12 and 2012-13 while playing for  Dynamo Moscow. Prior to that he was a Swedish Elite League (SHL) champion with Färjestad BK during the 2008-09 season. In Granak's first season right out of junior hockey, he won the Czech Extraliga title with HC Slavia Praha during the 2002-03 campaign. Never a blueliner to score in abundance, even though he is considered an offensive-defenseman, Granak still gets the job done for the teams he has been part of.
Forwards
Martin Bakos (Bili Tygri Liberec), Milos Bubela (HC '05 Banska Bystrica), Lukas Cingel (HK Hradec Kralove), Marcel Hascak (Kometa Brno), Marek Hovorka (HC Kosice), Michal Kristof (HK Nitra), Andrej Kudrna (Sparta Prague), Patrik Lamper (HC '05 Banska Bystrica), Tomas Marcinko (Ocelari Trinec), Ladislav Nagy (HC Kosice), Peter Ölvecký (Dukla Trencin), Tomas Surovy (HC '05 Banska Bystrica), Matej Paulovic (HK Nitra), Matus Sukel (MHk 32 Liptovsky Mikulas). 
Even at age 38, Ladislav Nagy is still the most skillful player on the team. He is also the most accomplished. Nagy has 435 NHL regular season games to his credit. Having played for the St. Louis Blues, Arizona (Phoenix) Coyotes, Dallas Stars and Los Angeles Kings, he had three seasons of 20 or more goals. Nagy also scored at least 40 points on five different occasions. As team captain of HC Kosice in Slovakia, he has scored 21 goals and 17 assists for 38 points in 36 games. Throughout his long hockey career Nagy has always had an explosiveness to his style of playing. He is freewheeling and can still generate speed on a pair of older legs. Strangely enough, the PyeongChang Games will be his first Olympics.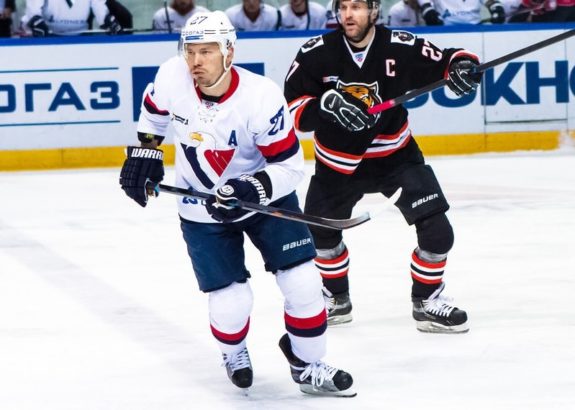 Former Pittsburgh Penguin Tomas Surovy was one of Sidney Crosby's teammates during "Sid the Kid's" rookie year in the NHL. Surovy was actually one of the brighter spots on that particular Pittsburgh roster. The Penguins had selected him in the fourth-round of 2001, and he played five seasons within the organization. Surovy plays a very similar game to Nagy. Very fast and blessed with superb hands around the net, he has routinely put up double digits in goals no matter where he has played. As team captain for HC '05 Banska Bystrica, Surovy has scored 11 goals and 27 assists for 38 points in 42 games this current season in Slovakia.
Slovakia's top penalty-killing unit will include Tomas Marcinko. The 2006 fourth-round pick of the New York Islanders is a defensive specialist whose overall game is based upon being responsible in his own zone first and foremost. Never having played an NHL game, Marcinko played four years for the Isles' AHL affiliate the Bridgeport Sound Tigers. He never score more than eight goals in a season. Marcinko captained the OHL's Barrie Colts during the 2007-08 junior season. One of his finest professional performances came last year in the KHL for the Kunlun Red Star. Marcinko played in 60 games – the most of his professional career since Bridgeport – and scored five goals and 13 assists. He got into the Slovakian lineup for one game during the '14 Sochi Games.
The Bottom Line
No team is more impacted by not having NHL players at this years Olympics than what Slovakia is. No Chara. No Gaborik. No Halak. No Dano. No Sekera. There is no need to go on really. It is almost painful to contemplate. The players that Slovakia will have in PyeongChang are mainly off of a C-list (not even a B-list) of who is who for international hockey. That is tough to swallow, especially for a nation who truly loves and supports the game and its players.
But enough negative talk – let's point out some positives. Ramsay is at the helm, and he is the type of coach that can squeeze some blood out of a stone. He will get more out of this team than what others would. Ramsay is definitely a blessing here.
The Slovakians can play a tight checking sort of game (like Ramsay did as a player) and they can play physical too. Satan did well by including players like Marcinko, Matus Sukel, and former NHLer Peter Ölvecký. They will need to focus more on shutting other teams down than attempting to outscore anybody. Nagy and Surovy, while being relied upon to score goals, will need to play responsible too.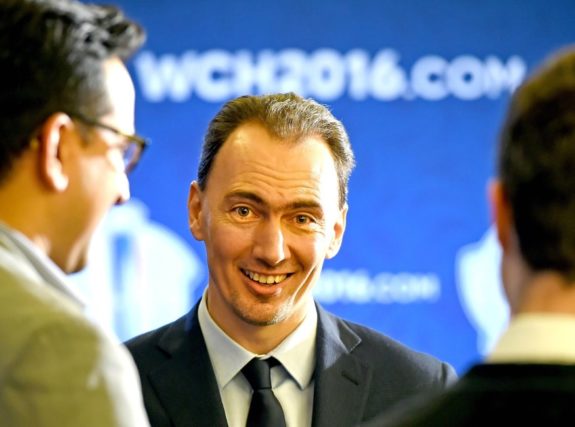 The other aspect of this Slovakian team which is a bit of a surprise is that they are naturally hard-hitting and physical. Forward Marcel Hascak has 500 penalty minutes in only 347 games in the Slovak Extraliga. Valach will be the most intimidating player in PyeongChang simply because of his immense size. Matej Paulovic is a sizable power-forward at 6-foot-3 and 200 pounds. He played a very robust game in the USHL for the Muskegon Lumberjacks across three seasons.
Of the 12 men's teams competing in PyeongChang, Slovakia will finish ninth or tenth.
Other 2018 National Team's Roster Previews
Men's: Canada | United States | Russia | Czech Republic | Sweden | Finland | Switzerland | Slovakia | Germany | Slovenia | South Korea | Norway |
Women's: Canada | United States | Russia | Finland | Sweden | Switzerland | Korea | Japan
General Manager of the Buffalo Beauts (NWHL). Hockey history writer "The Hockey Writers". Credentialed media for the NHL Combine and 2018 IIHF World Junior Championships in Buffalo, NY, USA. Born and raised in Buffalo, NY. Lifelong hockey fan for over 40 years. Proponent of the women's game.