The first half of the season is always interesting. You get to see the quick starters who pile up points right out of the gates and then begin to trail off 20 or so games in. Then you have the usual suspects who perform consistently each season and put up their normal amount of points. And finally you have the surprise players that come out of nowhere to impress. It's difficult to predict a player's performance because there are a variety of factors that come into play that could influence whether they start off good or bad.
The second half of the season is when you truly learn who the clutch players are because this is when the true players begin to show themselves. This is a time to shine for the players who dealt with offseason or early season injuries and are now starting to find their stride. Maybe, a rookie looked out of place within the first couple months but then gets a promotion to a top two line which reignites their scoring touch. And, as always, you have your stars who continue to dominate and rack up the points like they did in the first half.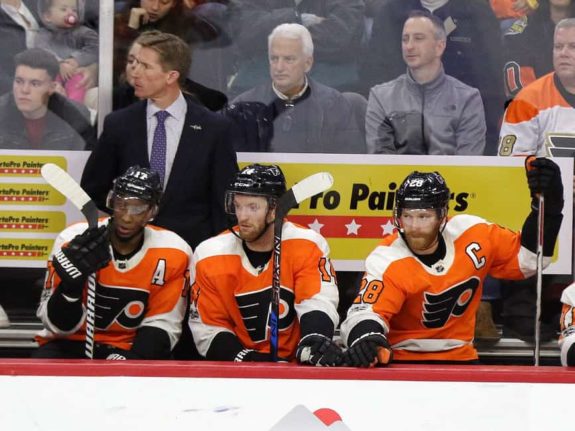 Rookie players are a perfect example for how a season can go very right or very wrong. Often times they take off immediately and then with the NHL season being 82 games, they begin to trail off. With the case of Brock Boeser, he is continuing his hot streak well into the season. With Kailer Yamamoto, he had a great training camp and came in strong but quickly tapered off. They're only kids so it is hard to forecast.
This season has had a little bit of everything which will make it very interesting to see how the players perform and how the remainder of the season goes. As for the Flyers, three players have been performing at a great rate since the start of 2018.
Sean Couturier
Sean Couturier… everyone has been waiting for a season like this from you! Fans and players from all over the league looked on in awe when Couturier dropped to the Flyers. He was a bonafide top five pick who dropped because of an illness prior to his final season of juniors. He put up 96 points in each of his last two seasons with the Drummondville Voltigeurs of the Quebec Major Junior Hockey League (QMJHL) and was supposed to be a scoring force.
Things didn't turn out exactly as they were supposed to when it came to the scoresheet in his first few seasons. He showed glimpses of offensive greatness (hat trick against the Pittsburgh Penguins in the playoffs) but couldn't string together a full season of production. That's not to say he played bad. He was used as a shutdown centreman playing against the league's best lines and fit that role great! The only downside to playing as the Flyers shutdown man was that he didn't get the opportunity to prove himself as a player who could also be an offensive threat.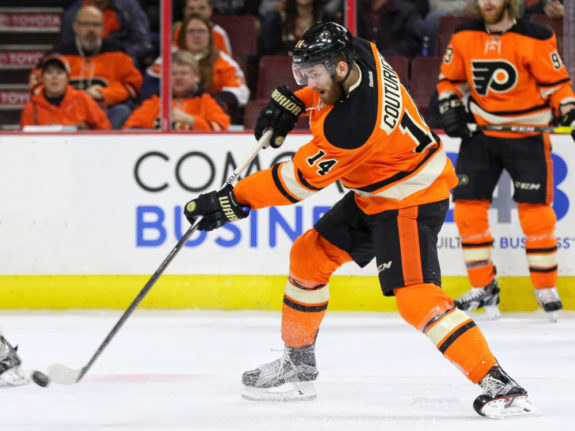 Flash forward to this season and head coach Dave Hakstol promoted him to more of an offensive role and he is embracing it. He has taken off with 57 points through 56 games and has set career highs in assists, goals and points. In addition to being an offensive threat, he is still playing a key role on the Flyers penalty kill as well as continuing to shut down the opposing teams top players. This promotion has morphed him into a "Jack of all trades." He is doing everything and impressing management along the way.
Couturier has put up 21 points since the New Year rolled in, which is maintaining his pace from before the holiday break. In the 18 games since the break, Couturier has posted seven multi-point games, including four games in a row where he had at least two points. He has been an offensive force for the Flyers but has also been sound defensively with a respectable plus/minus rating of plus-8 since Jan. 1. Couturier is going to be a key piece of the puzzle if the Flyers want to make a push for the playoffs.
Claude Giroux
Claude Giroux is having a great revival season so far with the Flyers. Many thought he was on a decline and that he would never match the production he had posted in 2011-12 when he put up 93 points. During his struggles, there were many chants for the team to strip the "C" from him because he wasn't a leader and the team could not succeed with him leading the way. He was snubbed from the Olympic team in 2014 and used as an extra forward for the 2016 World Cup of Hockey.
It was sad to see the level of disrespect he received from the hockey community, especially considering he put up 489 points within the last seven years — good enough for third in the entire league during that time. Only Sidney Crosby and Patrick Kane have more points in that time frame.
This season has shown Giroux's maturity in accepting to play on the wing, with Couturier promoted to the first line centre role. This duo has shown great chemistry all season. Couturier is tied for fourth in the NHL with 28 goals and Giroux is tied for third in the NHL with 46 assists.
Hakstol has rotated their other winger multiple times throughout the season including: Jakub Voracek, Wayne Simmonds and now Travis Konecny to try to balance the scoring. The trio of Giroux, Couturier and Konecny often make the opposing players look silly.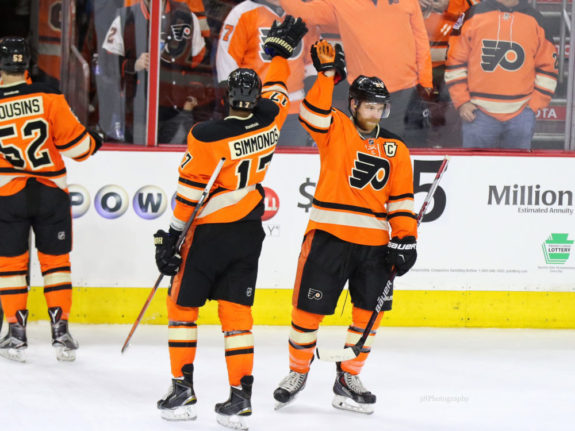 Both players that he is currently playing with, Couturier and Konecny, are also having exceptional seasons which can be attributed to the leadership that Giroux displays shift by shift. He is leading by example this year and it shows. It would have been easy for him to get down on himself after the 10 game losing streak which would have set the locker room back. He didn't, though, and kept his head up, dealt with the tough questions and turned the team around.
He had a great first half and it was acknowledged with an all star nod. The most important piece, though, is that he has continued this great play into the New Year. He has put up 18 points since the beginning of 2018, which includes five goals and 13 assists. Look for this trend to continue if the Flyers are to make the playoffs and potentially make a run.
Ivan Provorov
While there are a few players that could have fit into this final spot, one that stands out is Ivan Provorov. He has always been looked to as a cornerstone defenseman for the Flyers that could lead the back end of the franchise for many years to come. Since being drafted back in the first round of the 2015 NHL Entry Draft, he has been under a lot of pressure as Flyers fans can be very intimidating if you don't live up to your potential. Since entering the league at the beginning of last season, though, Provorov has been all the Flyers could have ever dreamed of and so much more. And he is only going to get better!
He is the definition of a two-way defender. He can score goals and make great 'seeing-eye' passes and is the defender that can step up to clear the net or finish a hit. In his second season as a Flyer, he has already set a career high in goals with 10 and is on pace to set a career high in points. Another stat that is impressive is that he has improved his plus/minus rating from a minus-seven in his rookie season to a plus-10 in his second season. He has looked good all over the ice and has looked very mature for such a young age.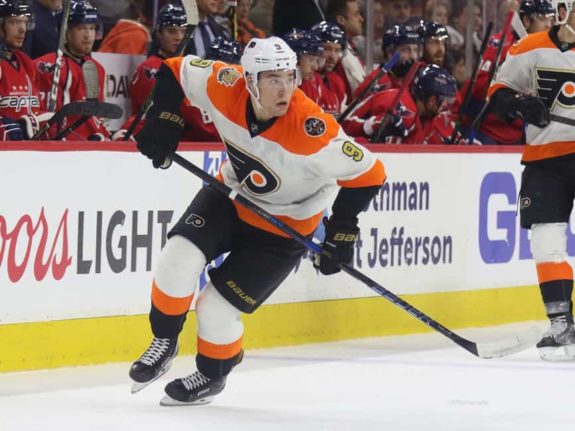 Provorov's game has steadily improved and Hakstol is showing more and more confidence in him. He won't overwhelm anyone with a clapper from the point but it's the accuracy and precision that makes his shots so dangerous. He is also a minute eater. He currently averages 24:29 time on ice (TOI) per game which is 18th in the league. Not too bad for a 21-year old.
Provorov had 15 points before the holiday break and has already posted 12 since. He is an integral part of the team's defense and will have to continue eating up more than 24 minutes per game if the team wants this success to continue.
Honourable mentions
A few players that could have been interchangeable with the above three are: Voracek, Konecny, Simmonds and Shayne Gostisbehere.
Those are my three Flyers players who have impressed in the new year, who are yours?
A writer covering the Philadelphia Flyers and NHL Prospects. Kurtis is also a Guelph Storm season ticket holder. Feel free to contact Kurtis at @kurtiswells92, or by email at kurtiswells@rogers.com.