When the South Korean men's national hockey team takes to the ice for their first ever Olympics, they will do so with two respectable men at the helm. Their head coach is the first Korean to ever have won a Stanley Cup. Jim Paek won two of them, in fact, as a member of the Pittsburgh Penguins for their 1990-91 and 1991-92 championship teams. In addition, Paek was the first Korean-born player to even play in the NHL. He played five seasons in the league from 1990 to 1995, and did so with the Penguins, Los Angeles Kings, and Ottawa Senators.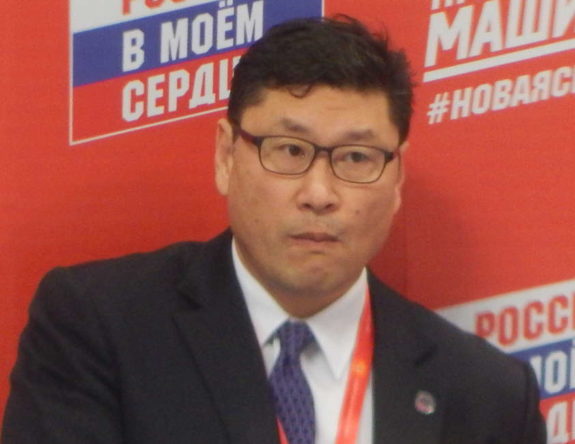 Paek's counterpart played in the NHL even longer, and is a veteran of 738 regular season games. Richard Park has assumed the assistant coaching duties for the Korean team in PyeongChang. He was the second Korean-born NHLer after Paek. Park enjoyed a successful pro career, too, and was very much a reliable penalty-killer and third or fourth liner. His career also included stops with the Penguins, in addition to the Mighty Ducks of Anaheim, Philadelphia Flyers, Minnesota Wild, Vancouver Canucks, and New York Islanders. Park's finest years were as a member of the Wild and then later the Islanders when he routinely hit double-digits in goals and played 70 games or more.
It will be up to Paek and Park to make Korea's Olympic performance a respectable one. Even with a more level playing field since there will be no current NHLers in PyeongChang, this team will have their work cut out for them. But certainly, Paek and Park know that – they played the game and found success at the highest levels. Now, they need instill that within their hockey team.
Here is THW's look at South Korea's 25-man roster that will be playing in the 2018 Olympics:
Goaltenders
Matt Dalton (Anyang Halla), Kye-Hoon Park (Sangmu), Sung Je Park (High1 Chuncheon). 
Kye-Hoon Park will actually turn 26 years old the exact day that the Olympics get underway (Feb. 9). At 6-foot-1 and slightly over 180 pounds, Park has decent size for a netminder. His movement in the crease is quite sound, and it further accentuates his butterfly style in net. Park is also quite lanky in his build, and this allows him to further splay his legs outward covering the entire bottom of the crease. Playing the 2016-17 season for Gangwon High1 of the Asian League, Park played 20 games while posting a 4.28 goals against average and a .881 save percentage. Those numbers look like 1980s NHL goaltending numbers. Even still, Park helped backstop Korea to a silver medal at the 2017 Winter Asian Games.
The true bread and butter for South Korea's goal crease is Matt Dalton. The Canadian-born netminder obtained Korean citizenship after playing in the country since the 2014-15 season. North American fans may recall his name as well because he was signed as a free agent by the Boston Bruins in 2009 after a solid collegiate career at Bemidji State University. Though Dalton never suited up for Boston, he did play parts of two seasons in the American Hockey League with the Providence Bruins. Arguably Dalton's finest season of hockey was with the 2012-13 Neftekhimik Nizhnekamsk in the KHL. That was when he posted numbers of 2.36 GAA and a .923 SV% in 38 games. This current 2017-18 season Dalton has played 20 games for Anyang Halla of the Asian League, and put up excellent numbers of 1.78 GAA and .942 SV%.
The third option in goal for the Korean is Sung Je Park of the Asian League's High1 Chuncheon. The 29-year-old netminder has represented his country in a wide range of international tournaments, including in Olympic qualifier competition in 2013. Multiple World Championships at the Division 1A and 1B levels for men's competition abound for Park as well. He is the most diminutive of three goalies at 5-foot-9 and 170 pounds, but he is their most experienced at least in terms of international competition. This season he has a sizable 5.14 GAA and a .850 SV% in only five games. Again, rather rough numbers to swallow.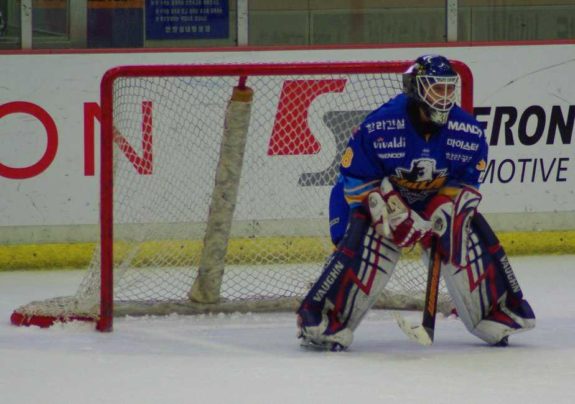 The starter for Korea should indeed by Dalton. His 6-foot-2, 196-pound frame is the size that needs to be in this team's net. Also, to be quite direct, Dalton is the best and most talented goaltender of the three. It is possible Sung Je Park gets to see some action due to his longevity for his national team and experience, but his playing may be only to satisfy the hometown crowd. Dalton is the one who could backstop any sort of unexpected win. At the very least, he will keep games closer for the Koreans.
Defensemen
Hyung Gon Cho (Sangmu), Wonjun Kim (Anyang Halla), Don Ku Lee (Anyang Halla), Hyonho Oh (Daemyung Killer Whales), Alex Plante (Anyang Halla), Eric Regan (Anyang Halla), Yeongjun Seo (Daemyung Killer Whales), Bryan Young (Daemyung Killer Whales). 
Defenseman Bryan Young is one of only two players on Korea's roster with prior NHL experience. A 2004 fifth-round selection of the Edmonton Oilers, the 31-year-old D-man played 17 games in the league for the team. In his earlier years, Young won an OHL championship and played in a Memorial Cup for the Peterborough Petes. He has been playing in the Asian League since 2010. After obtaining the proper citizenship, he has played for the Korean national team at multiple Division 1A World Championship tournaments. In 21 games this season for the Daemyung Killer Whales, Young has zero goals and five assists. Of any Korean skaters, he is certainly the most accomplished.
If Young is the most accomplished, then Alex Plante is certainly their best. It's hard to imagine that a former first-round NHL draft choice is now playing for the Korean national team, but that is the case with Plante. The Oilers also drafted this 6-foot-5, 230-pound behemoth with the 15th overall selection in 2007. Plante played just 10 NHL games, picking up two assists and 15 minutes in penalties. He is an alternate captain this season for Anyang Halla and has himself two goals and six assists 24 games, along with 49 PIMs. After a successful junior career with the Calgary Hitmen, a pretty good AHL career, and stops in both Austria and Norway playing professionally, Plante will need to be this team's most pivotal player. In five games for Korea at last year's Division 1A Worlds, he posted a pair of goals and an assist.
@AnyangHalla wins the Asian Hockey League. Congrats Alex Plantehttps://t.co/mfBpecmge8 @NHLFREEAGENTS @WHLHitmen pic.twitter.com/1qiOOWquJ0

— Darryl Wolski (@2112hockey) April 3, 2016
Don Ku Lee will be a solid puck-mover on Korean's backend. In his six prior seasons in the Asian League, Lee has posted double digits in assists. At 5-foot-11, he is a sturdy 210 pounds. During the 2013-14 Asian League season, Lee scored seven goals and 28 assists for 35 points in 42 games. He also put up 68 penalty minutes in that stretch and was a plus-23. Like Plante, Lee is also an alternate captain this year for Anyang Halla.
Forwards
Jin Hui Ahn (Sangmu), Minho Cho (Anyang Halla), Jungwoo Jeon (Sangmu), Kisung Kim (Anyang Halla), Sangwook Kim (Anyang Halla), Won Jung Kim (Anyang Halla), Young Jun Lee (Daemyung Killer Whales), Jin Kyu Park (Sangmu), Woosang Park (Anyang Halla), Brock Radunske (Anyang Halla), Sang Hoon Shin (Sangmu), Sang Woo Shin (Anyang Halla), Michael Swift (High1 Chuncheon), Mike Testwuide (High1 Chuncheon). 
The Korean's have a pair of brothers on their roster – Sang Hoon Shin and Sang Woo Shin. Of the two, Sang Woo is older by six years. The 30-year-old Sang Woo is the bigger of the two at 5-foot-9 and 176 pounds, but he does not have the scoring touch that his brother possesses. Still, Sang Woo brings plenty of international experience going back to IIHF U18 tournaments which South Korea played.
Onto the younger brother, you need to keep an eye out for Sang Hoon because he is the sniper on this team. At 5-foot-7 and under 170 pounds, Sang Hoo is darting and quick as can be. Last season for Anyang Halla, he was a point per game player after he scored 21 goals and 25 assists in 42 games. Even at 24 years of age, Sang Hoo won back to back Asian League championships in 2015-16 and 2016-17. During the playoffs is when he has really scored. In the 2015-16 run by Anyang Halla, Sang Hoo scored four goals and three assists in eight games. He would better that in 2016-17 with three goals and seven assists in only six games.
5'7" South Korean Sang-Hoon Shin at the Dallas Stars development camp 🔥😱 https://t.co/iOc3SVXZwk

— Gino Hard (@Ginohard_) July 10, 2016
It is interesting how all of these former Edmonton Oilers draft choices have ended up in South Korea. Brock Radunske is another one of them. The Oilers selected him in the third round of 2002 draft. While Radunske never played an NHL game, he had plenty of AHL and ECHL experience playing in the minors. He is also a big boy up front at 6-foot-5 and around 210 pounds. Radunske has played for Anyang Halla since the 2008-09 season, and is a six-time 20-plus goal scorer for the team. His goal production has dropped off these two most recent seasons, but perhaps a good showing at the Olympics will get him going again.
The Bottom Line
It will definitely be an enjoyable affair for the South Koreans to be able to cheer on their men's hockey team for its first Olympic competition. After only taking part in Division 1A and 1B competitions, this is really the first time this country will have a chance to see their national team take on the likes of USA, Canada, Sweden, Russia, etc. in a tournament of this magnitude. At the very least, the experience will just be plain fun for the Korean people.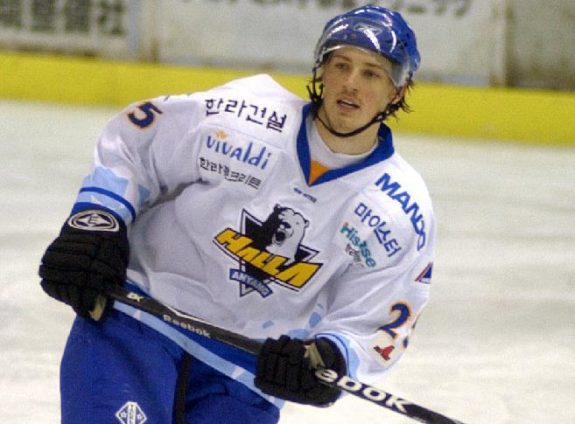 But from a coaches and players standpoint, that is not enough. The team itself will want to be competitive. Paek and Park alone are accustomed to success in hockey, and will not be willing to settle for less than their team's very best. The players themselves – Radunske, the Shin brothers, Young, Sung Je Park, and the others – they have won and lost championships in a variety of leagues and levels. These players certainly have a sense of pride to their games.
It is entirely likely that the South Koreans will play this entire tournament without a win. That does not mean, however, that they will not put forth some spirited affairs. PyeongChang is within their homeland, and these are their ice surfaces. At the very least, count on Korea to not give up without a hearty fight and some bite to their play.
Other 2018 National Team's Roster Previews
Men's: Canada | United States | Russia | Czech Republic | Sweden | Finland | Switzerland | Slovakia | Germany | Slovenia | South Korea | Norway |
Women's: Canada | United States | Russia | Finland | Sweden | Switzerland | Korea | Japan
General Manager of the Buffalo Beauts (NWHL). Hockey history writer "The Hockey Writers". Credentialed media for the NHL Combine and 2018 IIHF World Junior Championships in Buffalo, NY, USA. Born and raised in Buffalo, NY. Lifelong hockey fan for over 40 years. Proponent of the women's game.