Providence Bruins forward Austin Czarnik is in the midst of a stellar season. With 33 points over his first 32 contests, Czarnik was recently named to the AHL All-Star game as a member of the Atlantic Division squad.
The success he has enjoyed down on the farm this season should come as no surprise to those following his path, as the Michigan native has shown throughout his playing career that he's a heck of a hockey player. He represented the USA as a member of the 2012 World Junior Classic team and was a Hobey Baker Award Finalist as a member of the Miami University (Ohio) Redhawks, whom he captained for two seasons.
Since turning pro, he's been one of Providence's most consistent performers across his three-plus seasons and 125 games with the Baby B's. He has scored at nearly a point-per-game rate since initially debuting with Providence at the tail-end of 2015, registering 119 points over those 125 games, showcasing his considerable quickness, vision and playmaking abilities on a nightly basis.
At the NHL level, Czarnik has displayed flashes of that ability and potential, recording 14 points over 55 career contests with Boston. Able to play both center and wing, he has the look of a viable depth scoring option down the road.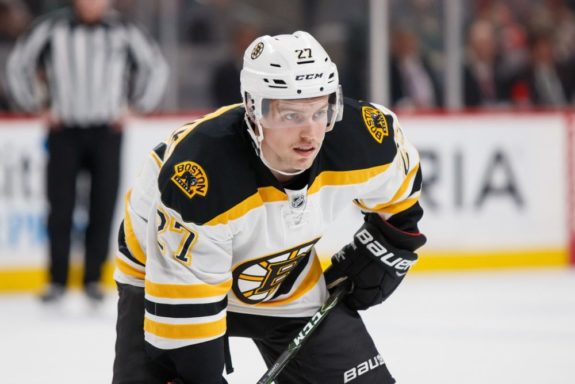 But therein lies the rub for Czarnik, at least as far as his future with the Bruins organization is concerned. With a youth movement in full swing, Boston's roster is already dotted with numerous forwards on entry-level contracts, not to mention the firmly-entrenched veterans locked up to long-term deals. Behind them is a cavalcade of roster hopefuls at the position, intent on locking down their own spot within Boston's twelve starting forwards as early as next season.
Already 25-years-old, a pending restricted free agent and having seemingly been passed by on the organizational depth chart, Austin Czarnik is facing an uncertain future with the Bruins.
Untimely Injuries & Illnesses
Czarnik has been dealt an unfortunate injury or illness in each of his past two training camps and preseasons with Boston. Basically, he's been forced out of the lineup at the worst possible time for a roster hopeful.
Last year it was due to the typical thuggery and scumbaggery that we've all come to expect from Radko Gudas, an opportunistic head-hunter if there has ever been one. Gudas' high, late hit resulted in a concussion for Czarnik in the preseason finale.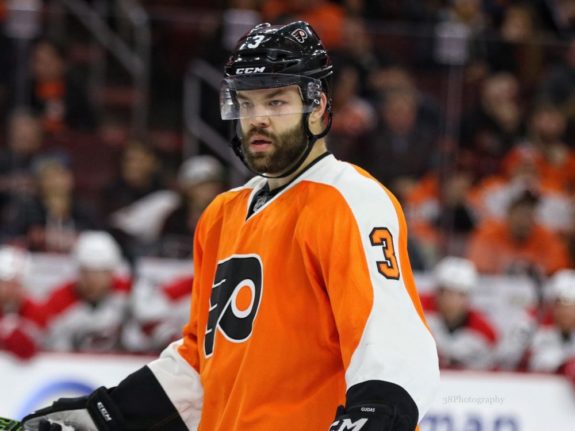 He had been on a tear throughout the preseason, looking like he might even challenge Ryan Spooner for the third-line center position. The concussion took Czarnik out of the lineup for roughly a week and undoubtedly knocked some of the sheen and precision off his game once he did return.
Another promising preseason was curtailed this season as an unspecified illness landed him on injured reserve just as the season was set to commence. Czarnik had registered two goals and three points in just two preseason contests prior to the illness.
By the time the dust had settled and Czarnik was able to return Jake DeBrusk, Danton Heinen and Anders Bjork had all made names for themselves and Czarnik was once again the odd-man out. His six-game stint with Boston this season has yielded one point (assist), four shots on goal and a minus-three in roughly eleven minutes of ice time per game.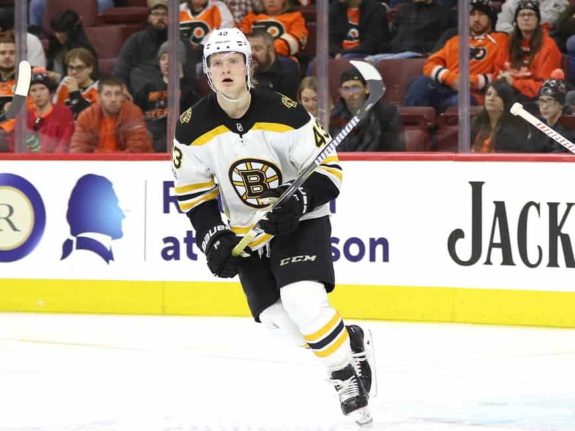 Diminutive players such as Czarnik (5-foot-9, 167 pounds) must constantly dispel the notion that their size is not an impediment to their viability. It's a largely unjust standard that similarly injury-prone players of greater stature are not held to. Regardless, Czarnik's periodic inclusions on IR will raise questions every time they occur.
Bruins Plugged-Up Pathway
Were DeBrusk, Heinen and Bjork the only players obstructing Czarnik's path then time would be his ally. After all, there figures to be at least marginal turnover next season within Boston's bottom six. Riley Nash and Tim Schaller are both unrestriced free agents at season's end — one (or both) appear destined to play and price their way out of Boston with what have been excellent and impactful campaigns to this point.
Related: Does Riley Nash Have a Future in Boston?
Like Czarnik himself, Sean Kuraly, Frank Vatrano and Ryan Spooner will be restricted free agents at season's end. Vatrano appears destined to spend next season elsewhere, but I said the same thing about Spooner this past summer and he's currently in the midst of a tremendous resurgence. His 16 points over 24 games (including a goal in each of his last three contests) represent the highest scoring rate of his career and suggest that perhaps 'Spoons' has a future in Boston after all. Which, consequently, is bad news for Czarnik.
Furthermore, another wave of youth is on the horizon. Jakob Forsbacka-Karlsson brings a skill set of two-way reliability (particularly defensively and on the face-off dot) that is marginally better suited for bottom six duty than Czarnik's — he would appear to be a candidate to reprise Nash's current role between Heinen and David Backes. After all, it was Jordan Szwarz and not Czarnik who was called upon to fill the role amidst Boston's injury woes throughout November. The same is true of Colby Cave's one game call-up last month.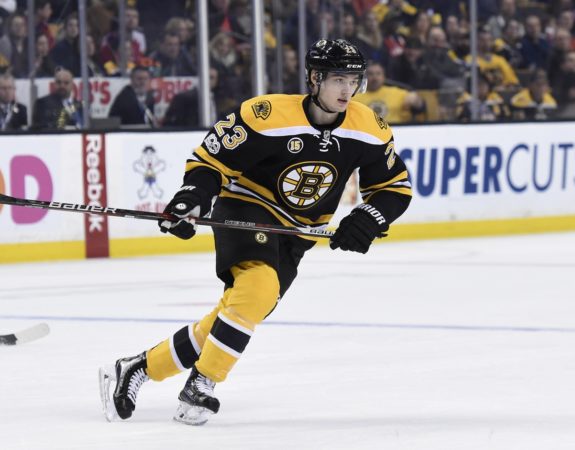 Peter Cehlarik is waiting in the wings for another opportunity to prove his worth at the NHL level. Ryan Donato figures to land with a splash, perhaps as early as the end of this year. Zachary Senyshyn and Trent Frederic both appear to have bright futures ahead of them as well.
As such, it's difficult to see where Czarnik fits into Boston's immediate or long-term plans.
Is Czarnik Trade Bait?
Bruins General Manager Don Sweeney made a comment last season that the organization was "done sprinkling its talent across the league," meaning it's unlikely the club feels any real impetus to trade Czarnik at this juncture just because there isn't room for him on Boston's roster. But if the deadline approaches and the front office believes there are one or two roster deficiencies which require addressing, don't be surprised to see his name included in the rumor mill.
He's sneaky-great from an advanced metrics standpoint, posting the fifth best Corsi and Fenwick numbers last season amongst qualified Boston forwards. Considering his expiring contract with team control, economical salary and considerable playmaking prowess the Bruins may wish to cash-in on him before more time spent in the minors further diminishes his perceived value.
The Pittsburgh Penguins are reportedly looking to offload Ian Cole, a battle-hardened left-handed defenseman also on an expiring contract (UFA). The Penguins have a glaring need in their bottom six (primarily at center) and have exhibited little hesitation employing and deploying similarly-diminutive playmakers (Conor Sheary, Jake Guentzel). Perhaps something could be worked out based around Cole and Czarnik.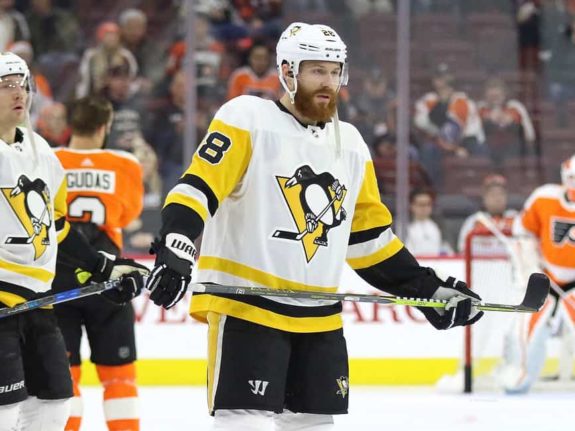 Austin Czarnik is talented enough to be one of thirteen forwards somewhere in the NHL, and he's unlikely to wish to remain in the AHL throughout his playing prime.
Who Is Austin Czarnik?
In the classic baseball film "Bull Durham," Kevin Costner's character Crash Davis refers to being the all-time minor league home run king as a "dubious honor." He knows he will be remembered for being the best of the rest, as opposed to being even just good enough to have played against the best.
Over the past five or so years, the Bruins organization has employed several players with a little Crash Davis to them: Chris Bourque was an AHL regular season and postseason MVP and won the league scoring title twice. Seth Griffith finished second in league scoring once and is averaging a point-per-game over 200-plus AHL games. Kenny Agostino was the AHL scoring champ just last season. And yet none of those three have been able to carve out an NHL career for themselves.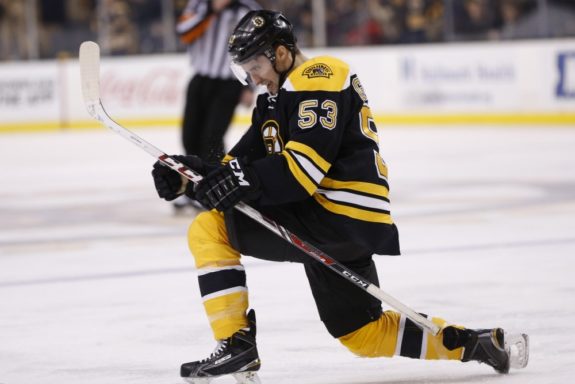 Jonathan Marchessault on the other hand was a 26-year-old veteran of over 300 AHL games before he received any regular playing time in the NHL. Even then, he was buried on a stacked Tampa Bay depth chart, playing just 45 games in a bottom six role during his first season with the Lightning. Two years and two franchises later and he's scoring at a point-per-game pace and leading the way for the expansion Golden Knights. He's also the recent recipient of a contract extension that few (if any) would have expected just two short years ago.
So who is Austin Czarnik? Is he Chris Bourque, Jonathan Marchessault or something else entirely? We won't find out until he gets another crack at an NHL lineup.
At this point, it's unlikely that chance comes in Boston.