When it comes to the Slovenia men's hockey team that will be playing in PyeongChang '18, it is a glass-half-empty, glass-half-full type of situation. The optimistic approach is that all of the teams taking part in this year's Winter Olympics do not have current NHL players on their rosters. The playing field is more even, and a team like Slovenia or South Korea is not in danger of having to go up against the likes of the Sochi '14 Canadian team, or any similar type of squad. The waters in PyeongChang won't be as deep and certainly won't have as many sharks.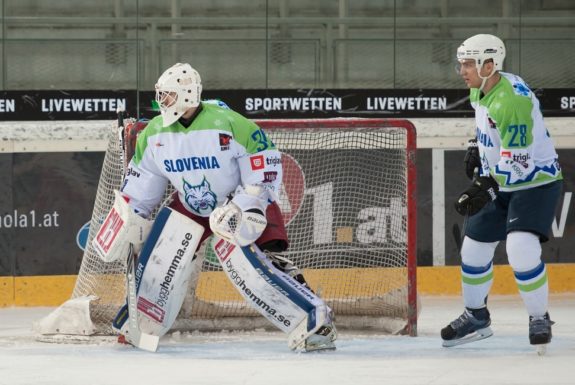 But then there is the pessimistic view. The best Slovenian in hockey history, Anze Kopitar, the two-time Stanley Cup champion and scorer of nearly 800 points, will not be on their roster because he plays in the NHL. He was with them in Sochi and had two goals and an assist in five games. The annoyance and disappointment are felt in that the Slovenians will not have their beloved star to cheer for. The concern comes from the question of, well, who do they have if not Kopitar? For starters, 19 of Slovenia's players from the Sochi team have returned for PyeongChang, including their top scorer. The hope is that they can survive without Kopitar.
Here is THW's look at Slovenia's 25-man roster that will be playing in the 2018 Olympics:
Goaltenders
Luka Gracnar (Red Bull Salzburg), Gasper Kroselj (Rodovre Mighty Bulls), Matija Pintaric (Rouen Dragons). 
Of the three goaltenders that Slovenia is bringing to PyeongChang, Luka Gracnar is the only one who was with the team in Sochi. He was in net for the 5-1 drubbing that the Slovenians received from the United States in the preliminary rounds. Gracnar made 23 saves on 28 shots. He was also just 20 years old at the time. Now playing in Austria for Red Bull Salzburg, Gracnar has played in 15 games this season and has posted numbers of a 3.13 goals-against average (GAA) and an .896 save percentage (SV%). He has played with Salzburg since the 2010-11 season. Gracnar's finest season came in 2013-14 when he had a rather superb 1.97 GAA and a .926 SV%.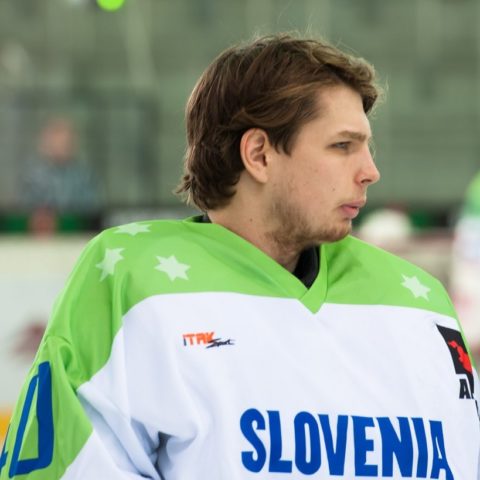 Gasper Kroselj is a 30-year-old netminder who is currently playing in Denmark with the Rødovre Mighty Bulls. He has pretty much tended nets all across Europe with leagues in Sweden, Croatia, Austria, Norway, and even in Russia in the KHL. Of course Slovenia is included in that mix as well. Kroselj played one season (2015-16) in the KHL for Medvescak Zagreb, a team from Croatia. During that season he played in 28 games and posted a 3.20 GAA and a .900 SV%. As a goaltender, Kroselj has good size at 6-foot-2 and 192 pounds.
The least known of the three goalies is Matija Pintaric. He has played the past three seasons in France and is currently with the Rouen Dragons. Pintaric also played a season in Kazakhstan, two in Sweden, and a bunch of years in his native Slovenia. No matter where he has played though, his numbers have been outstanding in net. In the past six years, his save percentage never went below .911. This year for Rouen, Pintaric is pitching a .914 SV% and a 2.37 GAA in 35 games. Last year's 34 games for France's Lions de Lyon saw him post a .933 SV% and a 2.26 GAA. The question is simply whether Pintaric can assemble such numbers against more credible shooters at the Olympics.
Defensemen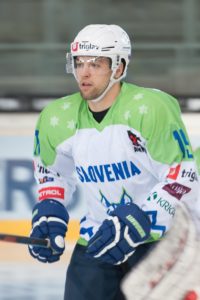 Blaz Gregorc (Mountfield Hradec Kralove), Sabahudin Kovacevic (Energie Karlovy Vary), Ales Kranjc (Eispiraten Crimmitschau), Ziga Pavlin (Motor Ceske Budejovice), Matic Podlipnik (Energie Karlovy Vary), Jurij Repe (Rytiri Kladno), Mitja Robar (KAC Klagenfurg), Luka Vidmar (Fehervar AV19). 
Blaz Gregorc has played the past five seasons in the Czech Extraliga, which is the highest level of hockey in the Czech Republic. A good sized number of former NHLers play in this league as well. At 6-foot-3 and close to 210 pounds, Gregorc is a decent puck-mover from the back end. He has hit double digits in assists in each of his seasons in the Extraliga. Currently playing with Hradec Kralove, Gregorc has four goals and 12 assists for 16 points in 41 games. He is also a plus-seven. Gregorc played in the Sochi Games for Slovenia but was kept pointless throughout.
Slovenia has a QMJHL alum on the blueline too in Jurij Repe. The strapping 23-year-old played 2012-13 and 2013-14 seasons with the Saint John Sea Dogs. One of Repe's teammates in his first year was Jonathan Huberdeau. In 87 QMJHL games, Repe registered 10 goals and 21 assists while racking up 97 penalty minutes. Repe also captained Slovenia's 2011-12 U18 World Championship team. He is likely going to be Slovenia's most able-bodied defender in PyeongChang, and will be fun to watch while the games are played.
Luka Vidmar is a name that a good number of North Americans will be familiar with. From 2005 to 2007, he played junior hockey in the USHL for the Chicago Steel. After that, Vidmar played four years of NCAA hockey at the University of Alaska Anchorage. Upon graduating, he played three seasons of minor-league pro in the ECHL and even was called up to the AHL's Rochester Americans for a six-game stint. Presently playing in the Austrian Hockey League for Fehervar AV19, the 31-year-old Vidmar has two goals and 13 assists in 40 games.
Forwards
Bostjan Golicic (Grenoble Bruleurs de Loups), Andrej Hebar (Olimpija Ljubljana), Ziga Jeglic (Neftekhimik Nizhnekamsk), Anze Kuralt (Amiens Gothiques), Jan Mursak (Frolunda Gothenburg), Ales Music (Fehervar AV19), Ken Ograjensek (Graz 99ers), Ziga Pance (Dornbirner EC), David Rodman (Grenoble Bruleurs de Loups), Marcel Rodman (EC Bad Tolz), Robert Sabolic (Torpedo Nizhni Novgorod), Rok Ticar (Sibir Novosibirsk), Jan Urbas (Fischtown Pinguins Bremerhaven), Miha Verlic (Villacher SV). 
The Slovenians have a pair of brothers up front in David and Marcel Rodman. Interestingly enough, neither brother plays on the same team outside of Slovenia—David plays in France with the Grenoble Bruleurs de Loups, while Marcel is in Germany with EC Bad Tolz.
However, what bodes well for these two and for Slovenia is that they both have North American experience and have played against similar-caliber players as to whom they will face in PyeongChang. The truest of hockey fans may even have some familiarity with them. The 34-year-old David played two years in the QMJHL with Val-d'Or Foreurs and was second on the team in scoring in 2002-03 when he had 26 goals and 44 assists for 70 points in 65 games. Brother Marcel, who is 36 years old, was a ninth-round selection of the Boston Bruins in 2001 and played two seasons with the Peterborough Petes. Marcel led the Petes in scoring in 2000-01 when he had 36 goals and 35 assists for 71 points in 61 games.
Že davno se je @marcelrodman vpisal med vodilne SLO hokejiste. Po letu odsotnosti se vrača med rise. https://t.co/ooS0ccde4W @SinisaUrosevic pic.twitter.com/t6DWNG6na6

— Delo Šport (@Delo_Sport) November 5, 2017
Ziga Jeglic led Slovenia in scoring during the Sochi Games with two goals and two assists in five games. Jeglic has played in the KHL since the 2014-15 season and has played for three different teams. Presently he plays for Neftekhimik Nizhnekamsk and has two goals and three assists in 24 games for them. Jeglic is known as more of a playmaker than a goal scorer. Slovenia will need someone to be its setup guy, and this 6-foot-1, 176-pound centerman is up to the task. Jeglic can play wing as well, and his team will need him to score at least as much as he did in Sochi.
Another KHLer is Rok Ticar. He has been a busy man this year as he has played for three different KHL teams this season. Presently Ticar is skating for Sibir Novosibirsk, but he has also suited up for Torpedo Nizhny Novgorod and Avtomobilist Yekaterinburg. It is interesting to note that of the three teams, he has produced the most with his current team, Sibir. In 11 games for his present squad, he has scored three goals and three assists. For Torpedo and Avtomobilist, Ticar did not register a single goal and was kept to seven assists in 23 games between the two teams. For Slovenia's sake, let us hope that he can carry his current production over to South Korea.
The Bottom Line
When you look at Slovenia's depth as such, the question transitions from "Who does Slovenia have without Kopitar?" to "How much do they really need him?" Now, that second question is not to be smart-alecky. Most assuredly, Anze Kopitar is one of the best hockey players in the world, and it is a shame in many ways that he will not be representing his country. Still, you have to keep in mind that this Slovenian team, which is very much the same as 2014, finished in seventh place in Sochi and won games over Slovakia (a bit of a shocker) and Austria. They are not a poor team by any stretch of the imagination.
The forward collection is certainly decent, with the Rodman brothers up front, and three KHLers in Ticar, Jeglic and Robert Sabolic. Slovenia's scoring will be done so by committee rather than a few key personnel. There is nothing wrong with that either if it gets the job done. Forward Jan Mursak is the only player on the team with NHL experience. From 2010 to 2013, Mursak played 46 games for the Detroit Red Wings and scored two goals and two assists.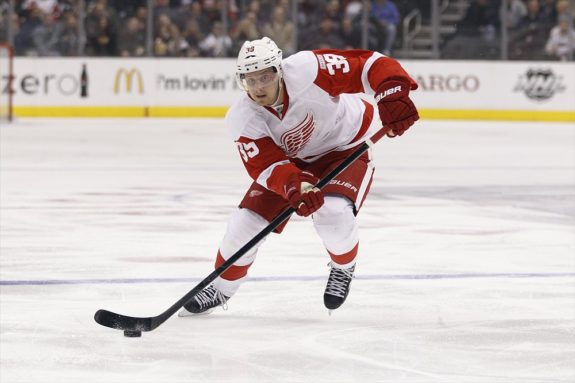 Goaltending is questionable. You likely have to give the nod to Gracnar, if for nothing else than that he has Olympic experience already. He has also won three Austrian League championships and has received Best Goaltender awards at both U18 and U20 IIHF international tournaments. He will get help too from sizable and hard-hitting defenders like Ziga Pavlin, Repe, and Gregorc.
No matter the outcome, Slovenia will be an enjoyable underdog to root for.
Other 2018 National Team's Roster Previews
Men's: Canada | United States | Russia | Czech Republic | Sweden | Finland | Switzerland | Slovakia | Germany | Slovenia | South Korea | Norway |
Women's: Canada | United States | Russia | Finland | Sweden | Switzerland | Korea | Japan
General Manager of the Buffalo Beauts (NWHL). Hockey history writer "The Hockey Writers". Credentialed media for the NHL Combine and 2018 IIHF World Junior Championships in Buffalo, NY, USA. Born and raised in Buffalo, NY. Lifelong hockey fan for over 40 years. Proponent of the women's game.