In terms of home attendance, the Vegas Golden Knights reside in the middle of the pack – an accomplishment when you think back to all the skepticism surrounding the market's ability to support hockey. However, it gets even better when you dig deeper. The team ranks 4th in 'home attendance percentage' (103%). Add T-Mobile to the long list of Vegas venues struggling to adhere to occupancy codes.
They are drawing better than the Winnipeg Jets, Nashville Predators, Boston Bruins, and the New York Rangers. And the fan base is already showing signs of outgrowing its venue – check out the fan fest they recently put on.
Having taken care of business at home all season – 18-2-2 – their road record is far more pedestrian at 11-9-1. That is a big gap. Their road performances have been ok and nothing more. Many of their losses came earlier in the season but their play away from T-Mobile, on the whole, has fallen short of what could (and should) be expected from a team with Cup aspirations.
They have a number of road contests coming up, a chance to alter the narrative and sustain momentum. Following a convincing win against the Lightning in Tampa, the Knights will play back-to-back contests against the Florida Panthers before heading to Carolina to face the Hurricanes. From there, they return home for two games before going on the road for their next six.
Suffice it to say, their road form will be critical for setting the tone for success in the second half.
Defensive Dropoff
Right off the bat, when you look at the numbers, the team's goals against jump out. At home, the Knights concede an impressive 2.18 goals per game, good for second in the league (Minnesota Wild). They combine a stout defensive game with elite offense, scoring 3.59 goals for per game (fifth). That level of production in both zones is hard to compete with.
On the road is a different story…specifically on the defensive side of things.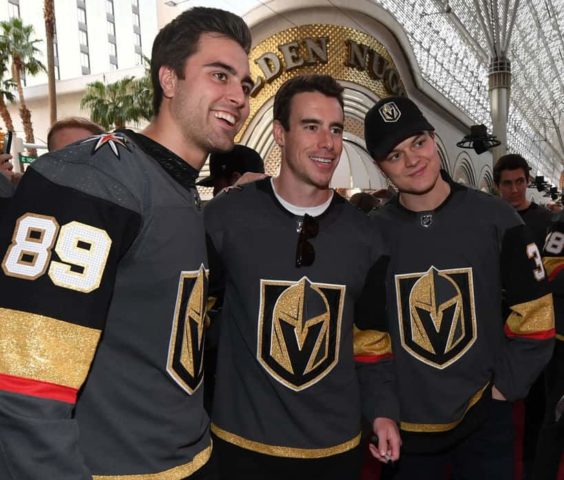 Away from the bright lights of Las Vegas Blvd, the Knights give up 3.19 goals per night – that's one goal more per game compared to their home number. Overall, their goal differential drops on the road from the home mark of 1.41 to -0.14. That's an alarming decline that head coach Gerard Gallant and his players need to resolve. Even the goaltending experiences a dropoff on the road: .927 at home and .898 in foreign arenas.
Only two players have minus ratings in home contests, another indication of even-strength dominance. Conversely, only eight players have managed plus ratings in road games.  Their scoring distribution is skewed as well, with over 60% of the team's total goals coming at home.
A team that prides itself on depth and balance should not be experiencing these types of dips when they play in opposing buildings. Ultimately, the Knights' playoff success – something they are not ready to talk about – will hinge on their ability to duplicate their home success on the road.
Not everything needs to stay in Vegas!
Reasons for Optimism (and Pessimism)
A common trait across successful teams is the ability to excel at even strength. That's not to dismiss the importance of special teams, but being able to generate offense with all four lines, remaining competitive up and down the lineup is a key differentiator between teams and a distinct advantage.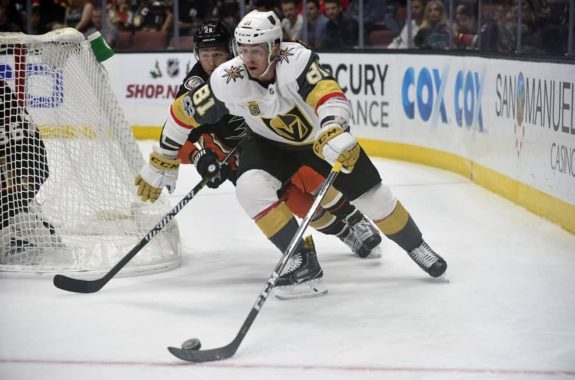 Most high octane offenses shred opponents on power plays, routinely capitalizing on the man advantage. The Knights to date, haven't relied on any semblance of power play prowess, ranking in the bottom third of the league in PP conversion rate; ticking at just over 20% at home, their PP drops to 13.5% on the road. The penalty kill follows a similar but less pronounced trend. At home, they kill 84.6% (11th in the NHL) of their penalties while on the road, it dips under 80, to 78.8% (20th).
They have been carried by a balanced roster and their ability to play well at 5-on-5 regardless of where the game takes place. With 120 even strength goals, the Knights trail only the New York Islanders in that department (123). For the time being, Vegas' proficient play in this area should result in more favourable outcomes than not, but even-strength hockey in the playoffs becomes a whole lot tighter. That brings added pressure to perform when the opposing team missteps.
Goaltending Travels
Another reason Knights fans should feel confident about their team's road (and second-half) prospects is the recent play of Marc-Andre Fleury.
In his last seven starts, Fleury has a .957 save percentage and a 4-2-1 record. Both regulation losses were road games and in both cases, dwindling goal support played a large role in shaping the outcome. Despite a small sample size brought on by his early-season injury, Fleury has only two regulation road losses all season.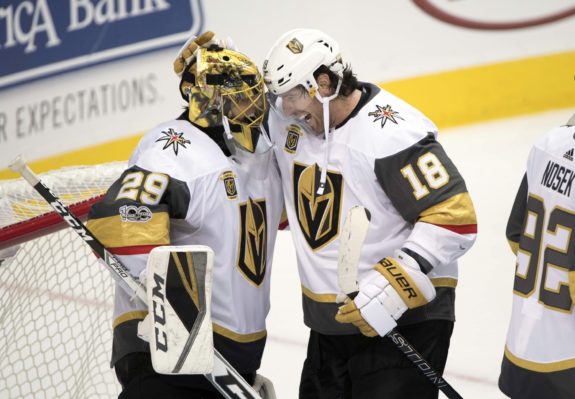 His .857 quality starts percentage is tops in the league amongst goalies with at least 10 starts. Both his GAA and SV% are higher on the road than at home – an outlier when you consider the goaltending splits referenced earlier (home and road SV%).
Even Malcolm Subban's numbers are comparable at home and on the road – .917 at home and .919 on the road. The SV% discrepancy mentioned earlier can be traced back to the early season road struggles of fill-in Maxime Lagace (.901 compared to .864). This is now a different, much healthier team.
As long as Fleury remains on the ice, there should be little doubt surrounding his ability to deliver the goods down the stretch.
Whether he's able to carry it into the postseason remains a question…
…For all his regular season success, Fleury has had a history of regressing in games 83 and beyond. He holds a sub .500 quality start percentage in 107 career postseason games.
Knights fans surely hope spring showers bring May flowers. They will undoubtedly need him once the stakes rise to levels even Vegas may have trouble coping with.