Alex Lyon was initially recalled by the Philadelphia Flyers back in early December to back up the team while goalie Michal Neuvirth was placed on injured reserve. However, during his short stint up in the NHL, he failed to see any ice time with the solid play of Brian Elliott and was later reassigned to the AHL with the return of Neuvirth. Earlier this week with Elliott now being injured, Lyon has once again been recalled by the club and has indeed gotten his chance to prove himself between the pipes.
With all the goalie prospects in the Flyers system, it is easy to look past him, which leads many fans to wonder…Who is Alex Lyon?
Lyon is 25 years old and was a standout goaltender for Yale University, which led to him being highly sought after by NHL teams following his graduation year. The Flyers were the lucky team that won his services and he has steadily been holding his own in the AHL. He has been playing for the Lehigh Valley Phantoms as a tandem with Dustin Tokarski.
Lyon made his first career start last night against the New Jersey Devils and overall he looked good. He was a victim to a few bad bounces which ultimately resulted in a loss. He had 18 saves on 22 shots which was a good start for the rookie. While he dreamt of a win in his first start, he has something to be proud of and something to build off of.
Extra, Extra, Yale All About It!
Lyon played three seasons for Yale University (2013-14, 2014-15 and 2015-16) and appeared in 93 games over that span. He was exceptional for the team, posting a 50-29-14 record over that time including a 19 win season in his final year where he posted a goals against average (GAA) of 1.64 and save percentage of .936.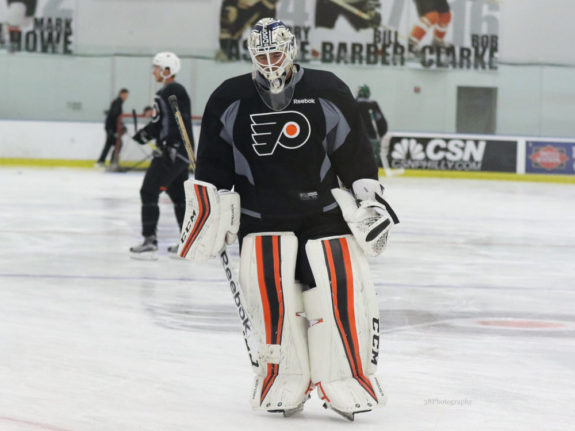 Lyon also picked a number of accolades playing for Yale including 2013-14 Ivy League co-Rookie of the Year, 2014-15 Ken Dryden Award, 2014-15 J. Murray Murdoch Award, and 2015-16 Hobey Baker top 10 finalist. He was also a finalist for the Mike Richter Award in 2014-15 and 2015-16. Lyon led the nation in GAA, save percentage and shutouts in the 2014-15 season. His seasons at Yale bolstered his stock and made scouts stare in awe.
These numbers and accolades caused a bidding war when it came to signing him in 2016. There was interest from teams all over the league but he ultimately chose the Flyers.
Lyon or Stolie the Goalie?
During the offseason, the Flyers signed both Lyon and Anthony Stolarz to one-year deals with the expectation that they would battle it out in the AHL with one of them emerging as a legitimate top two goalie. After Stolarz season was derailed with an injury, it left the door wide open for Lyon to step up and show just what he is capable of doing. He had an up and down season last year finishing with a record of 27-14-0 and four shutouts, but didn't get the call to the NHL. This season, sharing the net with Tokarski, he has played solid but hasn't been spectacular.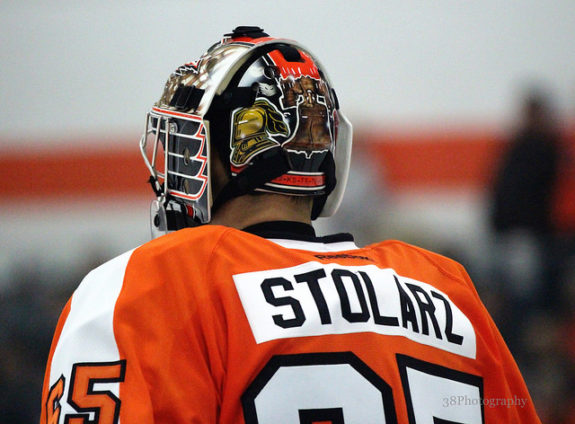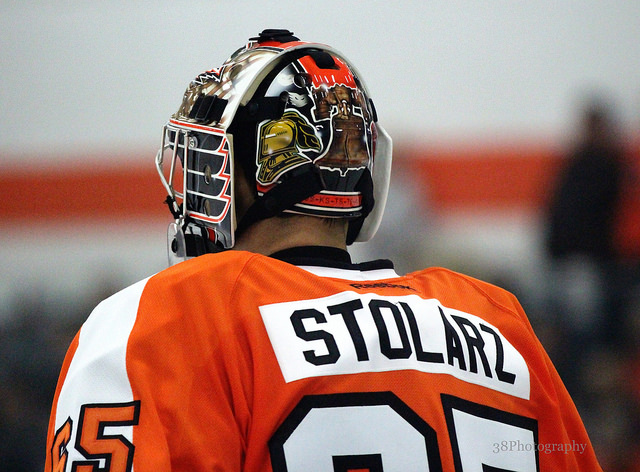 One has to think that it will be one or the other and that there is no way the Flyers can keep both due to the lack of room for development in the minors. It will be a tough choice, especially since they can't compare seasons. From the way last season unfolded, it appears that Hakstol and Hextall have more confidence in Stolarz as he received all the call-ups.
The battle is on. It will be interesting to see how the remainder of this season and the offseason play out. Regardless, this is a good problem to have because it means the Flyers have choices.
Last Chance to Hear the Lyon Roar!
This season may serve as Lyon's last chance to impress the Flyers brass. With goaltending prospects Carter Hart and Felix Sandstrom ready for pro hockey, they may force Lyon out next season. It would be a shame to see a promising goaltender like Lyon not get a fighting chance at the NHL with the Flyers. If it doesn't work out, it would be nice to see Lyon get another shot with a different team. This short stint could serve as a great opportunity for Lyon to raise his stock and possibly draw another team with fewer goalie prospects to pick him up and give him a better chance at getting a position in the NHL. It will be interesting to see what Ron Hextall has in mind.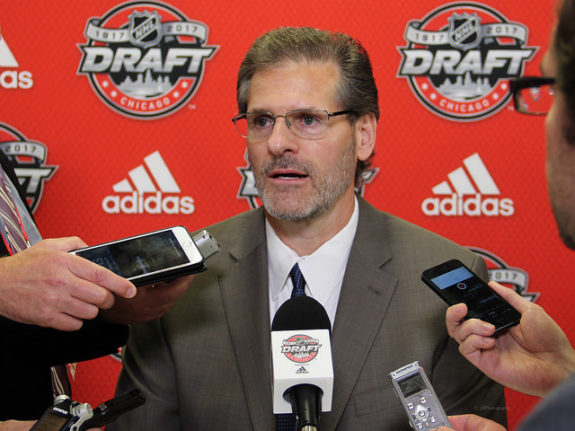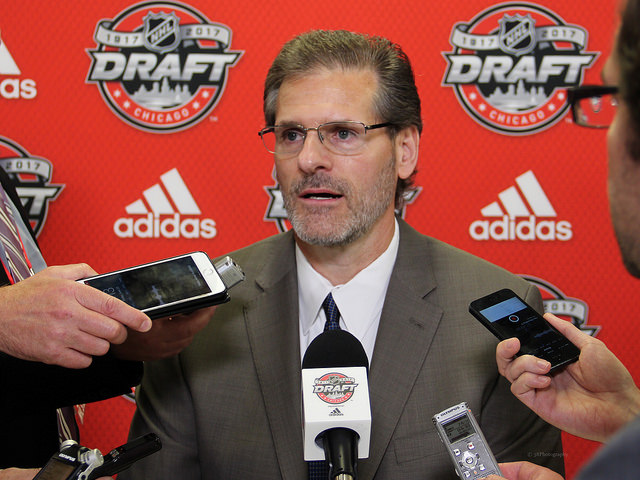 Lyon hasn't faced this kind of adversity up until this point in his career. In the USHL, he played the bulk of games and at Yale, he was always the go-to guy. It will be interesting to see if the Lyon-Flyers combination works out or if he is just another goalie that falls to the Flyers goalie graveyard.
This stretch of games is his chance to prove himself. It's unlikely that he'll be the next Michael Leighton but a solid performance can be the start of something. This is a great kid with a great attitude and he challenged himself knowing the Flyers had a few goalies coming up in the rankings. This isn't the last you've heard of Alex Lyon!
A writer covering the Philadelphia Flyers and NHL Prospects. Kurtis is also a Guelph Storm season ticket holder. Feel free to contact Kurtis at @kurtiswells92, or by email at kurtiswells@rogers.com.