Confidence. When one has it, everything seems great. When one lacks it, it can be tough to persevere. If anyone knows this, it's former Sabres winger Matt Moulson.
Moulson reached the 30-goal mark for three straight seasons while playing on the New York Islanders. He was one of a few bright spots during some dark, dismal seasons for the Isles. In total, he scored 118 goals in 304 games playing mostly alongside All-Star center John Tavares on Long Island. But, once he was traded to the Sabres, his production dropped considerably – he managed less than half his output, only 46 goals, in roughly the same number of games (297) in blue and gold.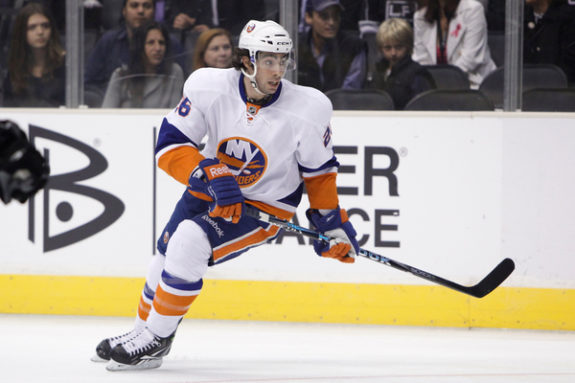 These days, Moulson is playing for the Ontario Reign, the Los Angeles Kings' AHL affiliate.
NHL to AHL
After appearing in 14 games with the Sabres this season, Moulson had a minus-nine rating and had yet to record a point. He was a healthy scratch in seven of nine games. In an attempt to shake-up the basement-dwelling Sabres, general manager Jason Botterill made the tough decision to place him on waivers on Dec. 4. With no takers on the 34-year-old veteran, special arrangements were made to loan him to the Ontario Reign – the Los Angeles Kings' AHL affiliate in Ontario, California.
Moulson was willing to expand list and Buffalo was willing to eat some of the salary. Unfortunately, no interest at this time. https://t.co/wAoaiDczFS

— Darren Dreger (@DarrenDreger) December 4, 2017
"You obviously never want to see something happen to somebody you're so close to, but at the end of the day it's a business and you never know what's going to happen," said Jack Eichel, who had roomed with Moulson and his family during his rookie season.
Since joining the Reign this season, Moulson has six goals and 20 assists in 22 games with the Reign. He's a plus-eight, with eight penalty minutes. He's third on the team in points, despite playing in only half the team's games.
Why the Reign?
The North York, Ontario, native, has family in the Los Angeles area. His brother-in-law is current Kings goaltender Jonathan Quick and he is also the brother-in-law of former Reign forward Sean Backman. For Botterill, it made more sense than stashing Moulson in Rochester.
"Matt has been a true professional, especially during this difficult decision," Sabres General Manager Jason Botterill said. "Matt has previously spent time within the Kings organization early in his career and we felt this would be the best opportunity for him. From an organizational standpoint, we felt that with our young forwards in place in Rochester, we did not want to take away from their development and ice time by adding another veteran player at this time."
Tough Decision
Moulson is in the fourth year of his five-year contract. With no takers on the trade market and Botterill not wanting Moulson to become a part of the culture in Rochester, finding him a place to play that was a good fit for him personally was the gentlemanly thing to do. It's a good-faith move by Botterill and the organization that shows players aren't just assets, but people. Moulson will be near family in California.
If the Sabres buy out his contract, they won't save much. The buyout ratio is 2/3, which results in a total buyout cost of $1.33 million. The buyout would be spread out over two years at $666,667 annually. His buyout cap hit would be $3.6 million this year and $666,667 next year.
His First Stint in the AHL
The 6-foot-1, 203-pound forward last skated in the AHL with the Kings' affiliate, the Manchester Monarchs, in 2008-09. He spent three seasons with the Manchester Monarchs of the AHL, putting up 160 points (74 goals and 86 assists) in 188 games.
During his rookie season, in 2006-07, Moulson led the Monarchs in scoring with 57 points (25 goals, 32 assists) and helped the team to the third round of the Calder Cup Playoffs before falling to the Hershey Bears. He played briefly with the Kings, contributing 10 points (six goals, four assists) in 29 games.
Making it to the NHL
Moulson, a left winger, was originally selected by the Pittsburgh Penguins in the ninth round (263rd overall) of the 2003 NHL Entry Draft. He never suited up with the Penguins, and eventually signed as a free agent by the Kings. In July 2009, he then signed a one-year free-agent deal with the Islanders–only $575,000–and put up a very cost-effective 30 goals.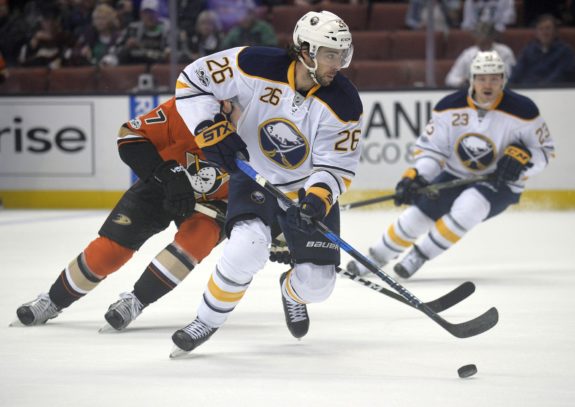 All told, Moulson's 11-year NHL career includes stints with the Los Angeles Kings (29 games), New York Islanders (304 games), Buffalo Sabres (297 games) and Minnesota Wild (20 games). He scored 176 times to go with 193 assists for a total of 369 points in 650 games. The North York, Ontario native played four years at Cornell, from 2002-2005, putting up 138 points (71 goals and 67 assists) in 134 games and served as captain.
The Downhill Slide
The 2015-16 season was a career-worst year for Moulson. He tallied only eight goals and thirteen assists in 81 games. In one stretch, he went 44 games without lighting the lamp and notched just one goal in a span of 63 games. At times he looked lost and out of place, which was reflected in his ice time dropping below 10 minutes per game for several stretches while being demoted to the fourth line.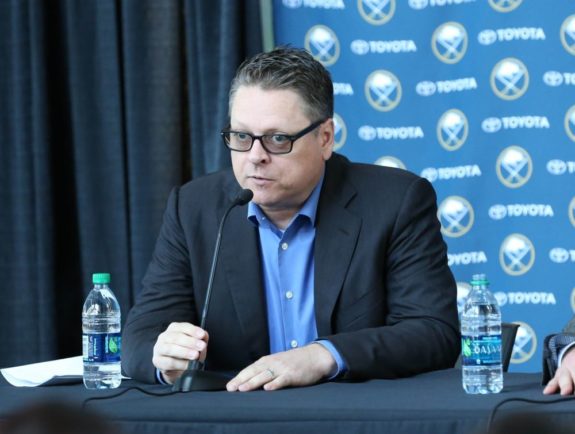 Some suggested that the hefty five-year, $25 million contract handed to him by Tim Murray played in his head. Others pointed at the lofty expectations that accompany scoring 30 goals three straight years that weighed on him. Whatever the case, even he can't deny he was downright awful. Underperforming doesn't begin to tell the story.
Often times, lack of success compounds itself. Slumps worsen. "Sometimes it's a tough thing to get out of because the more pressure you put on yourself, the more you want to do well, the worse you play. That was definitely the case with me," said Moulson.
The Summer of 2016
The struggling but determined winger put a plan in place after the 2016 season to re-dedicate himself and get back on track. Admittedly, he had a lot to prove to his naysayers.
He worked with his trainer to analyze his game and to focus on areas of improvement to get his game back where he wanted it to be. With the goal of being in the best possible physical and mental shape to help the team, he skated three or four days a week over the summer and put time in weight training.
New Sabre Kyle Okposo also held Moulson accountable. The two played several seasons together on the New York Islanders and are godparents to each other's kids. "Just having him there… to have someone to be an extra person to talk to and ask their opinions and get their true, true feelings – he's not going to sugarcoat it," said Moulson.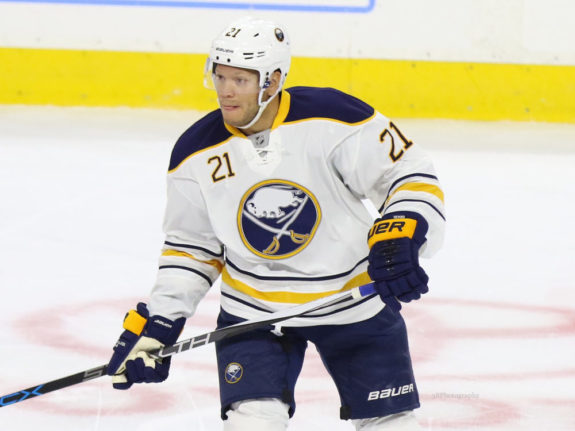 Moulson's hard work did see some results, albeit not enough. In the 2016-17 season, he put up 32 points in 81 games. His biggest contributions came on the power play–11 of his 14 goals came with the man advantage.
What's Next
Moulson is a highly likable person. He's a positive, do-the-right-thing kind of guy with a strong appreciation for our military and the communities in which he plays. He and his wife have two children, Mila Toni and George Benjamin.
He no doubt did a great job cashing in on three seasons as Tavares' winger. But, at 34, behind a step and unable to produce in the NHL, he's not likely to be picked up by any team, even if the Sabres eat a chunk of his salary. For now, at least Moulson is finding his scoring touch again in the AHL. And though he's starting to gain some confidence back, it's doubtful that he'll be seen in the NHL again.
"Get your sh$t together." – Kyle Okposo on the message waiving Matt Moulson sends to the Sabres' dressing room.

— John Vogl (@BuffaloVogl) December 4, 2017
Jason Botterill demoting Moulson is only the tip of the iceberg for what's to come in order to turn this once proud franchise back into a contender.