Everyone has a breaking point. When loss after loss piles up for a professional team that hasn't had a sniff of the playoffs in years, frustrations are bound to eventually boil over. Tempers will flare.
That opening paragraph was as true on Jan. 18, 2012 as it was on Jan. 20, 2018 for the Buffalo Sabres head coaches Lindy Ruff and Phil Housley.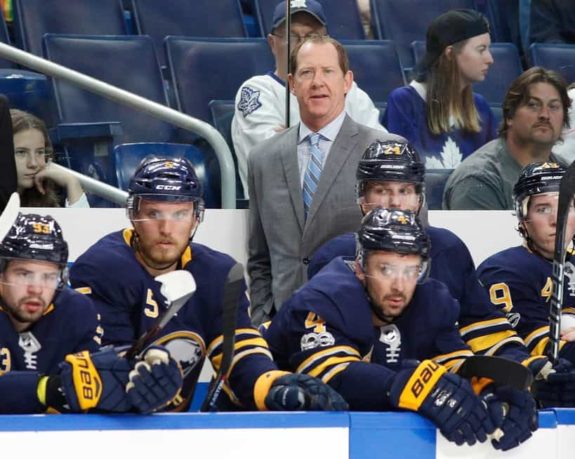 Ruff's Post-Game Press Conference
On Jan 18, 2012, the Sabres lost to the Chicago Blackhawks, 6-2 at the United Center. It was their third loss in a row, their sixth loss out of the last seven games, and ninth loss out of the previous eleven games.
At the press conference after the game, Mike Harrington, reporter for the Buffalo News, asked a few questions of Head Coach Lindy Ruff after the game. The last question was Ruff's decision to play a slumping Ville Leino on a regular shift. It got Ruff so riled up that he snapped back at Harrington, "Mike, YOU coach!" He then stormed away from the reporters.
Ruff is every bit as intense a coach as he was a player. For him to lose composure, even temporarily, spoke to the magnitude of the stress that he was carrying. His barked order left most of the reporters a bit dumbfounded and even flustered Harrington.
Housley's Post-Game Press Conference
It all felt and sounded eerily similar to the press conference after the Sabres' embarrassing 7-1 loss to the Dallas Stars in KeyBank Center. The Sabres have lost seven of their last eight games and nine of their previous eleven.
Housley was sugarcoating his team's start to the game and Bucky Gleason, another Buffalo News scribe, wasn't having anything to do with it.
"We come out and we're playing pretty good hockey," said Housley before meandering into chatter about an undisciplined penalty, being deflated after a second-period goal and players losing battles and not competing. When he finally finished his opening remarks, Bucky pounced on the opening.
"You were happy with the game… with how they played early? You were getting outshot 10-1. You were down 1-0," challenged Gleason. He seized the moment for calling the team and its coach out for what it was: a lousy effort.
"I didn't think we were playing that bad until it got to the point of 3-0," rationalized Housley, clearly rattled.
Gleason followed up, "Is this the low point, for you, you think?"
"It tells me a lot about the individuals on our team," explained Housley. "And what kind of direction we need to go."
"How much of it is coaching and you getting your message across and what needs to be done? You're more than halfway through a season?" continued Gleason.
Housley again deflected his answer to the players playing 'the right way.' Sensing the dialog between coach and reporter escalating, a Sabres' public relations executive wisely and quickly ended the press conference. Like the team on the ice, this was going nowhere productive.
What Should the Sabres Do?
There's plenty of blame to go around at 1 Seymour Knox III Plaza in Buffalo. Answers are in short supply right now. Despite having a handful of talented players on the team, it's been floundering in the basement of the league the whole year. These highly paid professional athletes are in a business in which winning matters and they are not. Fans are paying hard-earned money for tickets and entertainment. They're getting fleeced.
The home crowd shared their feelings on several occasions, booing the team off the ice. Many fans leave well before the midway point of the third period. The team's effort is just not there.
Is Housley Part of the Problem?
At his press conference introducing him as head coach last year, Housley's talk of playing an exciting, up-tempo offense, fueled by fast-skating defensemen and quick outlet passes, was fool's gold for management and fans. Spouting his philosophy without the necessary pieces to implement it was a recipe destined for failure this year. One look at the lineup should've proved that.
People who look back at the Sabres failure to reach the playoffs and say Dan Bylsma wasn't the problem are just as guilty. Disco Dan had two full seasons to do something in Buffalo. He couldn't.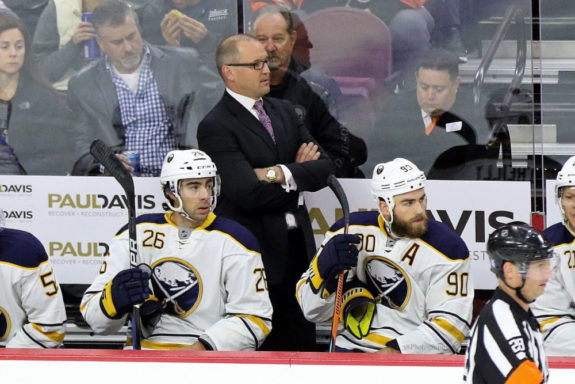 A coach has to find a system and a motivating scheme for the group he has, whether they are future All-Stars or not. It's the very definition of coaching.  They get credit for the outcome – if Dan gets credit for a Cup, albeit with a stacked All-Star lineup, he must take credit for the failures when his roster stinks. The facts are the facts.
While he doesn't have a great roster to work with, coaching is the epicenter of this underperforming team. Housley, while being dealt a hodge-podge team of individuals and castoffs from other teams, has had more than half a season to produce something. He's clinging to a system that his players aren't capable of playing. Surely, he knows more than one style of play.
Though he's a first-year coach, Housley should not be immune from the blame. He bears some responsibility for the team's abysmal record–they've won just 11 of 46 games with an "improved" roster from last year. The power play has gone from first to worst. The notion that he's not getting anything out of them is the same as criticizing a jockey beating a three-legged horse. He's trying to implement a system that they can't execute.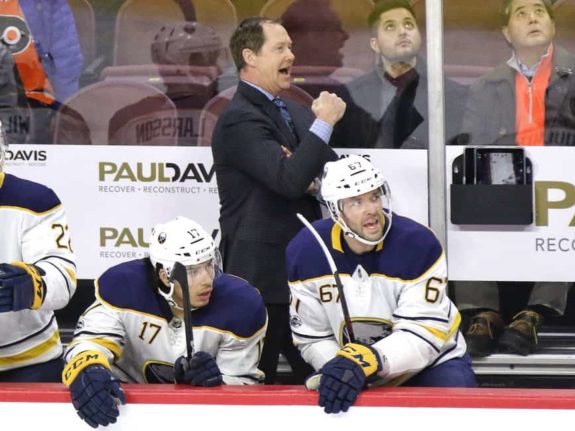 There is a huge difference between being able to execute a task and teaching a task. They are completely different skill sets. Just because a person can do complicated or highly specialized tasks doesn't at all mean that he/she has the ability to teach another to accomplish those things. Fans—and perhaps the Pegulas—fell into that trap in hiring Housely. Probably because they so want to believe and so want a winner.
Botterill's Plan
General manager Jason Botterill has a lot of work ahead of him to turn this franchise around. There's so much to be fixed. Since joining the team on May 11 last year, he purged nearly half the roster. He's since made the hard decision to waive Moulson. It will look easy compared to the work required to build a winner, or to at least turn this in to a hustling, hard-to-play-against team.
One-year "show me" contract players such as Benoit Pouliot, Jacob Josefson, Jordan Nolan and Chad Johnson should not be re-signed. Pouliot, while adding some offense has been brutal defensively. Nathan Beaulieu has made some gorgeous passes—to the other team. Botterill will likely try to flip all of them for a draft pick or prospect by deadline day.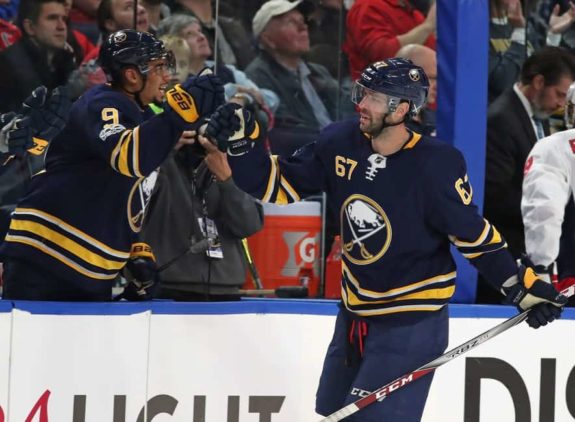 The heavy contracts of Ryan O'Reilly, Kyle Okposo and Zach Bogosian will take some creative thinking to shed. In many respects, it feels like the team is in a reset mode of 2015 without the stash of draft picks. It could very well be three to five years before there's any kind of playoff contender in Buffalo.
History Repeating Itself
Saturday's press conference was almost six years to the day that Harrington heard Ruff's famous words, "Mike, YOU coach!" Had Housley post-game press conference continued, it felt as if Housley was a moment away from spouting "Bucky, YOU coach!"
The lack of consistency and perpetual churn of general managers and coaches has resulted in two constants: a poorly performing Sabres team missing the playoffs and a fan base having to go through an unfair amount of suffering over the past few years.
Gleason asked Housley if it was a new low point. It's hard to say. There are still 36 games remaining in the season. Each one of them is an opportunity for Housley, his assistant coaches, and the players to show something positive. If they can't learn from their mistakes, it's safe to say the franchise hasn't bottomed out yet.