In today's Rumor Rundown, we look at a few names on the rumor mill and a team that is rumored to be selling the farm to get younger.
John Tavares Still Uncertain
Arthur Staple of Newsday is reporting the situation between the New York Islanders and John Tavares is still very much up in the air and that while the team has the questions of a long-term home now answered, the franchise will play some home games at Nassau Coliseum in the next couple seasons while their new arena is being built. This isn't wonderful news as far as their negotiations with Tavares are concerned as an arena is high on the center's priority list.
"Obviously where you're going to play is an important part of that (his decision). I don't think anything's been finalized or come out officially, so when the time's right, that news of what's going to happen will come out and will just be part of my thought process at some point. We'll see what happens, I guess."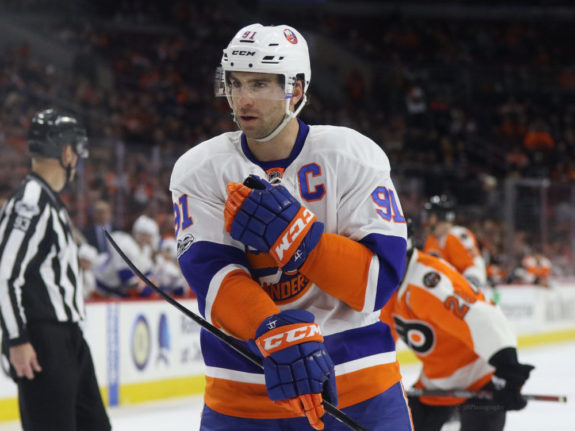 Elliotte Friedman did add during his radio hit on Sportsnet 590 that the Islanders still believe they can keep Tavares and for that reason, he's still on the team and a trade has not been seriously discussed with any other teams yet. The Islanders are viewing this as Tavares signing an eight-year deal and playing at least six of those seasons in a solid home and new building. Friedman also added that the prospect of the team making the playoffs this season is a huge factor toward Tavares's immediate future.
Related: NHL Trade Rumors: Kane, Green, McDonagh, More
Slava Voynov Returning to the NHL?
On the latest version of TSN Insider Trading, Darren Dreger reported that Russian defenseman Slava Voynov would like to return to the NHL one day. He's been out of the league since being charged in a domestic assault incident and it wouldn't be the easiest of returns, but it is possible.  The process to come back to the NHL could be a lengthy one but word is that Voynov could apply for reinstatement as early as April or early May when the KHL season comes to a close.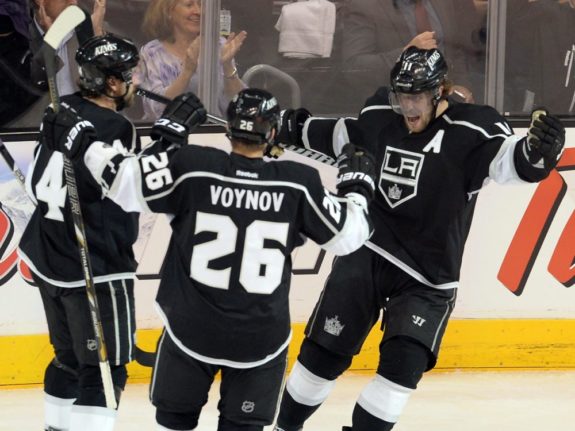 The Los Angeles Kings still hold his rights and if he comes back it would first be with the Kings making a number of decisions on his future but that is if, and only if, the NHL meets with him and decides not to enforce additional suspensions.
Penguins Want Help in a Few Areas
Pierre LeBrun said in that same segment that he believes the Pittsburgh Penguins are looking for a few ways to improve their team before the trade deadline. GM Jim Rutherford is looking for a bottom-six center and the Edmonton Oilers' Mark Letestu has come up in discussions. Also among the names speculated were Jean-Gabriel Pageau in Ottawa but he has a number of teams interested and the asking price would be higher.
Related: NHL Trade Rumors: Karlsson, Pageau, Pacioretty, More
Rangers About to Start Selling
It is being reported that regardless of where the New York Rangers sit in the standings and whether or not they make the playoffs this season, expect them to start selling assets and looking to get younger. Larry Brooks of the NY Post is suggesting the club will be looking for players already in the NHL or ones that are NHL ready. They'll also be looking for draft picks.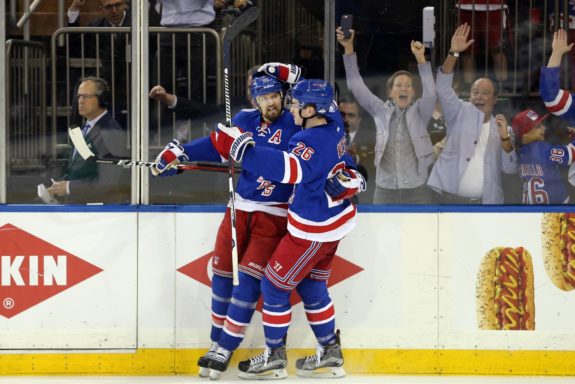 Among those being speculated, the Dallas Stars, St. Louis Blues, San Jose Sharks, and Tampa Bay Lightning could be targeted for winger Rick Nash. Also, the Rangers might be able to get a first-round pick or young roster player for Michael Grabner, a third- or fourth-round pick for defenseman Nick Holden and they might aim for a fourth- or fifth-round pick for David Desharnais.
While perhaps less likely, the Rangers are also prepared to trade defenseman Ryan McDonagh and Mats Zuccarello as both are UFA's after this season and neither is going to be signed to a long-term extension.
Jim Parsons is a freelance writer who covers the Edmonton Oilers and news and rumors posts here at The Hockey Writers.
You can also catch him writing at NHLtradetalk.com, The Sportster and hosting weekly video casts, THW News and Rumors Rundown, plus Oilers Overtime.
Follow below on any my social media accounts.