Alas, the consolation prizes — Thomas Vanek of the Vancouver Canucks and Michael Grabner of the New York Rangers.
Teams in need of scoring wingers will likely be targeting Rick Nash and Evander Kane first and foremost — at least among the group of unrestricted free agents — but the losers in those sweepstakes may turn their attention to these two Austrians ahead of the Feb. 26 trade deadline. And there will be losers, with upwards of a dozen playoff-bound teams seeking another goal-getter for their top-nine forwards.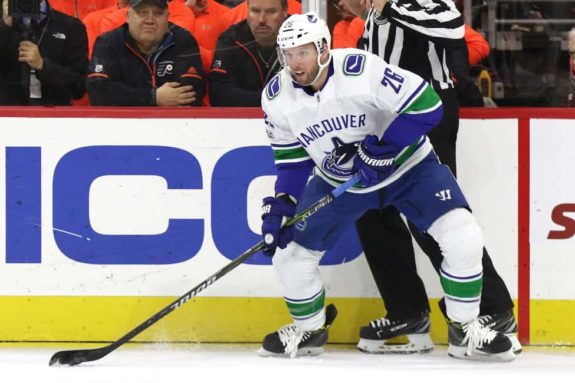 Vanek and Grabner should have similar value and the return may only be a draft pick — or a package of picks — but it'll be interesting to see whether either or both of them fetch a first-rounder. That will be the goal of Jim Benning and Jeff Gorton, but it will depend on the desperation level of other GMs — the buyers who miss out on Nash and Kane but still feel the need to upgrade or fill a perceived hole in their lineup.
As mentioned, the list is long. It starts with San Jose, Dallas and Boston — deemed frontrunners for Nash — and also includes Calgary, St. Louis and Columbus, the suggested landing spots for Kane. Obviously four of those six teams will still be trolling the market after the big fish are reeled in. Expect a few of them to continue casting and perhaps catch a Vanek or Grabner.
But the waters will still be crowded with other contenders like Pittsburgh and Tampa Bay, along with lurkers like Toronto and Minnesota. The list goes on . . .
Calgary could be in the running for Vanek to replace the departed Jaromir Jagr, who didn't pan out. There are similarities in their playing style and Benning hasn't been afraid to trade with division rivals, previously acquiring Sven Baertschi and Markus Granlund from the Flames.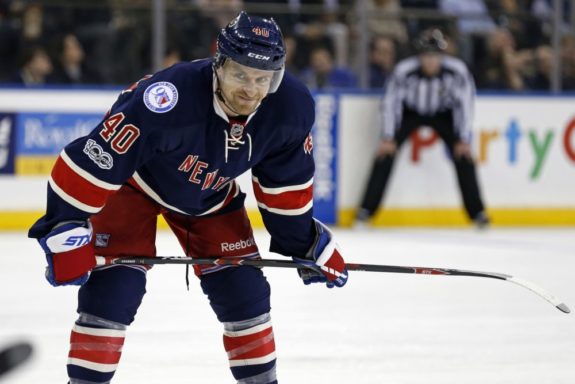 Edmonton won't be looking to add pending UFAs — too far back in the playoff race to risk making a run — and it's too bad because Grabner would have brought much-needed speed to the Oilers as one of the few players in the league capable of keeping up with Connor McDavid.
Speaking of Edmonton, Patrick Maroon could become the fifth-best option for these prospective shoppers — behind Nash, Kane, Vanek and Grabner — but the Oilers' preference is to get Maroon extended between now and the deadline.
Regardless of what happens with Maroon, Vanek and Grabner are the best of the rest and could be bargains by comparison — for those thrifty teams that won't buck up to pay the asking price on Nash and Kane.
Not to call these clubs cheap, by any means, but here are three potential suitors for Vanek and Grabner.
1) Carolina Hurricanes
New owner Tom Dundon is willing to spend on improving the Hurricanes' playoff chances. Head coach Bill Peters made that clear to the media in scoffing at the possibility of trading goaltender Cam Ward from a sellers' perspective, saying "we want to add, not detract. It's right from the horse's mouth . . . we have lots of picks."
The horse, of course, is Dundon, who has been talking the talk since buying a majority stake in the team from Peter Karmanos Jr. With the deadline approaching and Carolina very much in the race in the East, it'll be up to Ron Francis to walk that walk and find the right fits.
I talked to Hurricanes GM Ron Francis yesterday about his approach to the trade deadline, the team's play this season, the influence of new owner Tom Dundon, and more: https://t.co/sSqLcsKMCD

— Tom Gulitti (@TomGulittiNHL) February 9, 2018
Don't rule out the Hurricanes in making a bigger splash for Nash or Kane but, failing that, Francis should be able to cause a subtle ripple of some sort, with Vanek or Grabner as candidates. Either of them would give Carolina's offence a boost and perhaps provide a jolt for Jeff Skinner too.
Peters is right about the Hurricanes having plenty of draft picks, with seven for each of the next three years — including their own first-, second- and third-rounders in 2018, 2019 and 2020.
Carolina also has a deep prospect pool, highlighted by defencemen Jake Bean, Haydn Fleury and Roland McKeown, plus forwards Martin Necas, Janne Kuokkanen, Julien Gauthier, Nicolas Roy, Aleksi Saarela, Valentin Zykov, Sergey Tolchinsky, Warren Foegele, Lucas Wallmark, Phil Di Giuseppe and others still developing in junior, college or overseas.
So if Dundon's orders are to do what it takes to make the playoffs, Francis should be successful in supplying Peters with some reinforcements for the stretch run.
2) Nashville Predators
David Poile is buying again and the Preds are probably big-game hunting with Nash and Kane in their sights, but they could also settle for Vanek or Grabner. Nashville will be shoring up its centre depth with the return of Mike Fisher — making the Predators four deep down the middle, with Ryan Johansen, Kyle Turris and Nick Bonino — but another scoring winger could put this team over the top.
Last year's runner-up is already in good shape with Filip Forsberg and Viktor Arvidsson flanking Johansen on the top line, while Craig Smith and Kevin Fiala have been displaying nice chemistry with Turris on the second unit. In addition to Fisher and Bonino in the bottom six, Peter Laviolette still has Scott Hartnell, Calle Jarnkrok, Colton Sissons, Austin Watson, Pontus Aberg and Miikka Salomaki at his disposal.
Predators GM David Poile talks Trade Deadline with @Zeisberger https://t.co/Rf5fUbdGGe

— Bill Price (@BillPriceNHL) February 9, 2018
So this isn't a pressing need for the Preds and Poile won't be forced into overpaying, but if he can afford to acquire another scoring threat like Vanek or Grabner, they'd be a welcome addition as well. Nashville has the cap space and it won't go to waste.
The Predators also have the necessary assets, including their first-round picks for the next three drafts. Poile will make a move, it's just tough to pinpoint his preference.
3) Los Angeles Kings/Anaheim Ducks
Make that four potential suitors since all three California teams are in position to be buyers — including the San Jose Sharks — and Vanek or Grabner would be a good get for any of them.
Vanek is already in the Pacific Division, so they'd be more familiar with his skill-set, but Grabner's blazing speed and penalty-killing ability could be more appealing for Los Angeles and Anaheim.
The Kings are going to get Jeff Carter back as a ringer from within, so they'll be set at centre then. They have been searching for another veteran winger after parting with Mike Cammalleri and Jussi Jokinen, so Vanek or Grabner — if not Nash or Kane — would fit the bill and should be more of a sure thing as secondary scorers.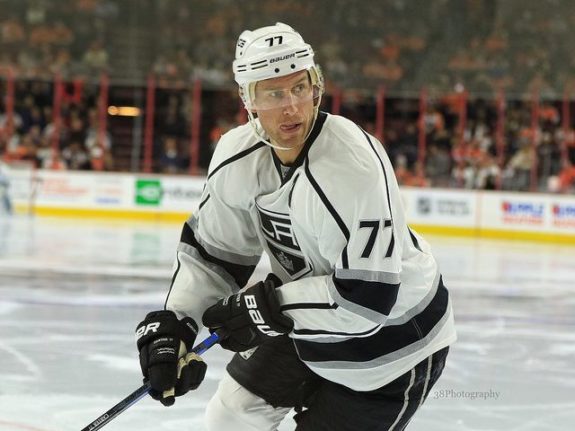 Los Angeles may make more than one move to round out the supporting cast, with a handful of lesser talents auditioning for bottom-six roles at the moment — including Alex Iafallo, Michael Amadio and Jonny Brodzinski. Rob Blake would be wise to bring in a couple upgrades and add some experience up front, with lots of cheaper options also expected to be available such as Valtteri Filppula, Radim Vrbata, Benoit Pouliot, Lee Stempniak, Drew Stafford, Patrick Sharp, Blake Comeau, Brad Richardson, Chris Stewart, Jason Chimera, Shawn Matthias and Jannik Hansen.
If the Kings could land one of the big four and one of those dime-a-dozen types, John Stevens could roll four effective lines for the postseason. Los Angeles has seven picks in 2018, including its own first-rounder, plus two fourths and two sixths, so Blake can definitely do some wheeling and dealing.
The Ducks are deeper than the Kings as of today — now that they are finally healthy, for the most part — but Bob Murray isn't one to rest on his laurels. Anaheim might already be the team to beat in the Pacific bracket, but another scoring winger is likely on Murray's shopping list — assuming last year's deadline acquisition Patrick Eaves is done for the season and won't be back for the playoffs.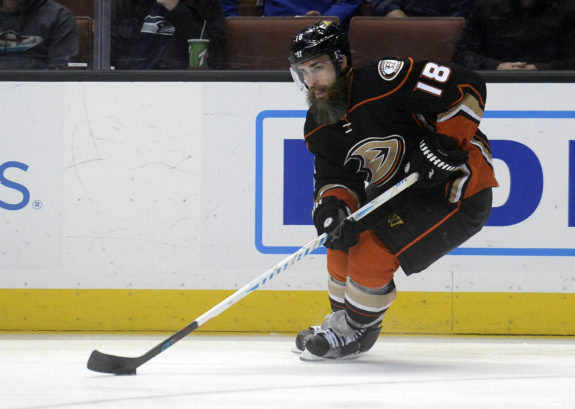 Replacing Eaves' presence with Vanek or Grabner would seem logical — like a pretty fair trade-off — but the Ducks could also be aiming higher in pursuit of Nash or Kane. Or perhaps lower, if Murray feels Filppula, Vrbata, Pouliot or one of the others would be an adequate addition. The market is a bit saturated and there should be enough scoring wingers to go around.
It would be fun to watch Grabner fly alongside Andrew Cogliano, but the Ducks could go in several different directions at the deadline. Like L.A., Anaheim has seven picks for 2018, including its own first-rounder and two thirds, so there's a good chance that Murray will get his man — or one of his men.
---
Well, what do you think — where will Vanek and Grabner wind up? Carolina, Nashville, Los Angeles, Anaheim or somewhere else?
Larry Fisher is a senior writer and head scout for The Hockey Writers, having been an at-large contributor for THW since August 2014. Fisher covers both the NHL and the WHL, specializing in prospects and NHL draft content, including his annual mock drafts that date back to 2012. Fisher has also been a beat writer for the WHL's Kelowna Rockets since 2008, formerly working as a sports reporter/editor for The Daily Courier in Kelowna, British Columbia, Canada from 2008-2019. Follow him on Twitter: @LarryFisher_KDC.