The Feb. 26 trade deadline is fast approaching and business should pick up soon.
One of the names garnering a lot of attention lately is New York Rangers power forward Rick Nash, a former 40-goal scorer who has been asked to submit his no-trade list of 18 teams.
Nash has been hit-and-miss in recent playoff performances, but the hardest thing to do in the NHL is score goals and that's something he's always been good at. So there should be significant interest from the 12 teams he's willing to join, assuming some of them are playoff-bound buyers.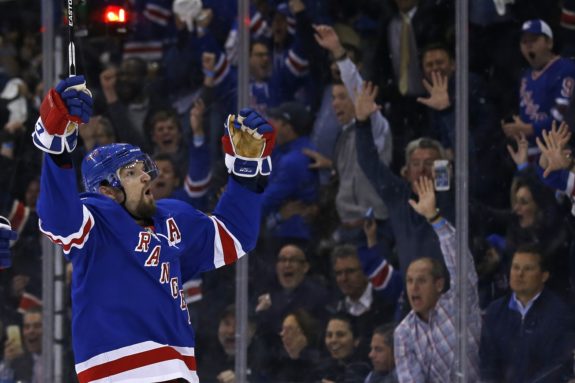 A quick scan of the landscape produced eight potential suitors for Nash, including the Nashville Predators, St. Louis Blues, Minnesota Wild, Pittsburgh Penguins and Tampa Bay Lightning. However, these three teams emerged as the most likely candidates to land Nash.
1) San Jose Sharks
Nash has familiarity and chemistry with Joe Thornton from past international tournaments and, assuming Thornton is healthy for the postseason, Peter DeBoer could load up his top line with Nash joining the Joes, Thornton and Pavelski. That trio would be handful for anybody.
Nash also plays a somewhat similar game to Patrick Marleau as a bigger-body presence that is responsible at both ends, so he could replace a lot of those lost intangibles come playoff time.
The Rangers are selling and possibly blowing it up with the goal of getting younger. The Sharks make for a perfect trade partner, with plenty of youth to offer.
https://twitter.com/NicholsOnHockey/status/961021903392489473
Tomas Hertl and Timo Meier presumably aren't available and San Jose needs to keep Chris Tierney down the middle too. Kevan Labanc, Joonas Donskoi and Mikkel Boedker probably wouldn't be offered, but also might not be refused at the Rangers' request.
However, the Sharks have the cap space to make this a mostly futures move, which could be more appealing to the Rangers as well. Josh Norris and Dylan Gambrell immediately come to mind as centres likely to be coveted by the Rangers. To a lesser degree, Daniel O'Regan, Rourke Chartier, Noah Gregor, Scott Reedy and Sasha Chmelevski could be of interest at that position.
That's not to mention wingers like Rudolfs Balcers, who is leading the AHL Barracuda in scoring as a rookie pro, or Jayden Halbgewachs, who was recently signed as a high-scoring free agent from the WHL, plus the likes of Marcus Sorensen, Adam Helewka, Joachim Blichfeld and Ivan Chekhovich.
The Rangers may prefer a developing defenceman as part of the package, with San Jose able to offer one of Julius Bergman, Cavan Fitzgerald, Jeremy Roy or Mario Ferraro.
The Sharks have already moved their second- and third-round picks in 2018 and thus may be more reluctant than others to part with their first-rounder. In saying that, San Jose does have all seven of its picks for 2019, which could also be used as currency.
Lots of potential there, so Nash in a Sharks' jersey could make the most sense.
2) Dallas Stars
Don't rule out a reunion with Ken Hitchcock, who is still trying to find the right fit alongside Jason Spezza on a second scoring line. Nash and Spezza go way back, with Spezza the second overall pick from 2001 and Nash going first overall in 2002. Their careers have kind of been intertwined at times and they, too, have been teammates in representing Canada over the years.
If the Stars going to keep their top line stacked with Tyler Seguin between Jamie Benn and Alex Radulov, Jim Nill will need to get Hitchcock another proven scorer up front and Nash could be that missing piece for Dallas.
My top trade target of an impending UFA that could really help a contending club for a deep playoff run would be @NYRangers Rick Nash. He is playing as well as he has in last 5 years.

— Brian Lawton (@brianlawton9) February 7, 2018
As for the return, the Rangers would have to inquire about Finnish defencemen Julius Honka and Miro Heiskanen, but it's highly unlikely that Nash could fetch either of them, even in a 1-for-1.
More likely, the Rangers would be targeting centre prospects again in Jason Dickinson and Roope Hintz as the primary piece in any package. Riley Tufte, Denis Gurianov and Jason Robertson could also be of interest as project-type forwards, while Brett Ritchie and Valeri Nichushkin could be had as reclamation projects. Remi Elie, Gemel Smith, Curtis McKenzie, Dillon Heatherington, Gavin Bayreuther and Niklas Hansson might be added as throw-ins.
Dallas has eight draft picks in 2018, all seven of its own, plus Chicago's fourth-rounder. Ditto for 2019, also with an additional fourth-rounder. So expect the Stars to be dangling a pick or two in addition to prospects rather than roster players.
3) Boston Bruins
Bruce Cassidy has been getting secondary scoring from young wingers like Danton Heinen and Jake DeBrusk to this point in the regular season, but can they continue to deliver into the playoffs? It only gets harder to score from here on out, so that's the question Don Sweeney has to be asking himself with the likes of Nash, Evander Kane and Thomas Vanek presumably available as veteran ringers.
Where Nash would slot into Boston's lineup is tougher to project than San Jose or Dallas, but there should be a decent fit for him with the Bruins — be it with David Backes or David Krejci, or perhaps both.
Nash would solidify the Bruins' top nine and could be for Boston what James van Riemsdyk is for Toronto should that first-round matchup materialize.
Like the Sharks and Stars, the Bruins have ample youth that they could part with to land Nash, including some closer to NHL-ready talent. Sweeney is adamantly against moving their contributing youngsters like Heinen, DeBrusk, Charlie McAvoy and Brandon Carlo. Those four are likely off limits.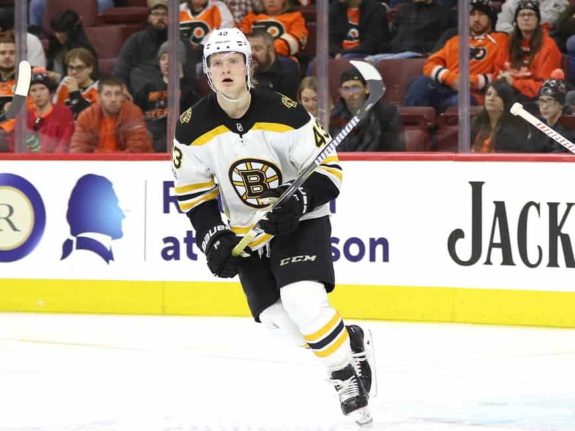 Ryan Spooner has picked up his play lately, but he always seems to be a conversation starter for Boston and could eventually be moved. He's playing the wing right now but is a natural centre, which could be to the Rangers' liking. Frank Vatrano could use a change of scenery too, but he won't have much value in the present.
Names that would get Jeff Gorton's ear include college forwards Trent Frederic and Ryan Donato, but Sweeney will also try to avoid including them. That leaves a forward group of Anders Bjork, Austin Czarnik, Jakob Forsbacka-Karlsson, Peter Cehlarik, Zach Senyshyn, Oskar Steen, Jesse Gabrielle and Joona Koppanen. Still lots to choose from there and a nice prospect pool for all the flack that Boston has got about its drafting.
On defence, Matt Grzelcyk could be the roster player of interest, along with Ryan Lindgren, Jakub Zboril, Jeremy Lauzon and Rob O'Gara in that order.
The Bruins have six picks in 2018 — only short their fifth-rounder — with all seven for 2019 and 2020.
Boston's current roster is arguably overachieving but has positioned the Bruins to be a buyer, and Sweeney has the assets to go get a rental like Nash to improve their playoff chances.
---
So what do you think — where is Nash headed next? San Jose, Dallas, Boston or somewhere else?
Larry Fisher is a senior writer and head scout for The Hockey Writers, having been an at-large contributor for THW since August 2014. Fisher covers both the NHL and the WHL, specializing in prospects and NHL draft content, including his annual mock drafts that date back to 2012. Fisher has also been a beat writer for the WHL's Kelowna Rockets since 2008, formerly working as a sports reporter/editor for The Daily Courier in Kelowna, British Columbia, Canada from 2008-2019. Follow him on Twitter: @LarryFisher_KDC.