Hilary Knight is the NWHL's premier player, playing on the league's best team. At least, the Boston Pride can be considered the league's best team until they or the Buffalo Beauts win this weekend's Isobel Cup.
After the season they've had, Knight says her teammates won't accept anything less than a win this weekend.
The Pride's regular season domination was clear. They lost just three games, had 14 more goals than the second place Connecticut Whale and allowed 12 fewer goals than any other team for a plus-26 goal differential. On an individual level, Knight led the NWHL in points, goals and assists. Behind her was teammate Brianna Decker, who ranked second in all three categories.
It drives home why the Pride's co-captain is an ambassador for the women's game across the world and why she's led the Pride to the NWHL's first championship series.
Her Pride hit the ice Friday to face the Beauts in the first-ever Isobel Cup Final, taking place at the Prudential Center Practice Facility — home of the New Jersey Devils — in Newark, NJ.
Boston is heavily favored over Buffalo, who upset the number two seed Connecticut Whale in the first round of the playoffs.
Knight sat down to talk with The Hockey Writers about the Pride's season, the Isobel Cup and the state of women's hockey.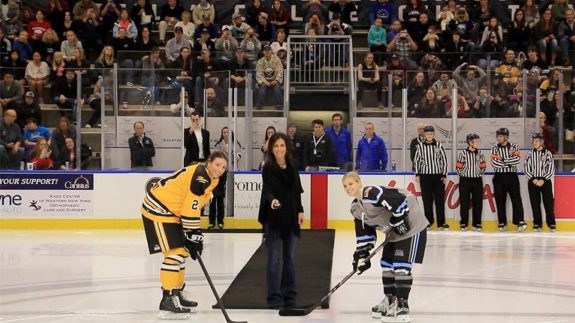 The Hockey Writers: How was your first taste of the NHWL postseason? Things have been heated between the Pride and the New York Riveters all season, but it's the first time there's that immediate pushback the next night and something really being on the line.
Hilary Knight: I think the hardest thing to do is end someone's season. Especially with those guys. They're just such fighters on the ice. They poured their heart and soul out there. It got a little feisty the last four minutes of play. It was a learning experience for our team and we'll take that and move forward to the next round.
THW: You have some marquee players with you, Decker, Gigi Marvin and some others, but from a teammates perspective, who stepped up in the Riveters series?
HK: I think there are kids that really don't get credit… you hear about Brianna or me or Gigi all the time but you don't hear about Rachel Llanes or Julian Dempsey or Zoe Hickel or Marrisa Gedman. Giving them a lot of credit when credit is due is huge. I'd say those guys have been pulling the rest of our weight for the last couple weeks.
THW: You'd never fully expect anything of course, but was there an assumption with your regular season success that you'd wind up facing the Whale in the championship?
HK: I guess if you're looking at the standings and how certain teams seasons have gone you would assume that. I think I said after Saturday's game, not even knowing what the game score was that night, "We don't even know who we are playing yet." [At that point Connecticut held a 1-0 series lead after shutting out the Beauts in game one.]
Buffalo upset us earlier on in the year with an overtime win. It's the second season. Anything can happen. You can't take any team lightly. Our track record doesn't matter at this point.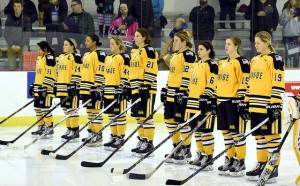 THW:
Has Buffalo started figuring you out? Since the 6-7 game on Dec. 5, they've managed to limit Pride scoring and even, in the final match of the season, held you to the smallest shot differential of the season. What have you seen there as the season progressed?
HK: I think they got a lot better over the season. They had a rough start. Not everybody was able to make it… they were a little behind in that aspect. Once they got that ironed out and everyone could make it and everyone could build together, things were moving. They're shooting the puck more. They're hitting the net more. They've changed something.
You can't take anyone lightly at this point. We're not looking at their beginning of the year season record. We're not saying anything about that moving forward. It is what it is. They're going to fight for their lives, just as we are.
THW: Was it easier for the Pride, starting the season with so many players who've skated together before?
HK: I think the easiest thing for us was that those who were in Boston were just in Boston. It made it easy to say, I'm just in Boston and I'm just playing for another team now. And they're paying me, so that's awesome. [laughs]
I still think we went through our growing pains. You have to figure out where you fit within the system. Any time you have a new coach or a new team dynamic, you have to figure out where you fit into that system. We had those pains as well. We dipped a little bit before Christmas. After Christmas we came back all fiery. It's just the journey of the season that each team takes. Fortunately we peaked at the right moment.
THW: Brianne McLaughlin has been great for Buffalo as the season wore on. Do you and Brianna Decker have any kind of advantage in a situation like this, having shot on her so much as teammates on the national team?
HK: It goes both ways. Does she have an advantage because Brianna and I have shot on her a lot? I think you level one another out.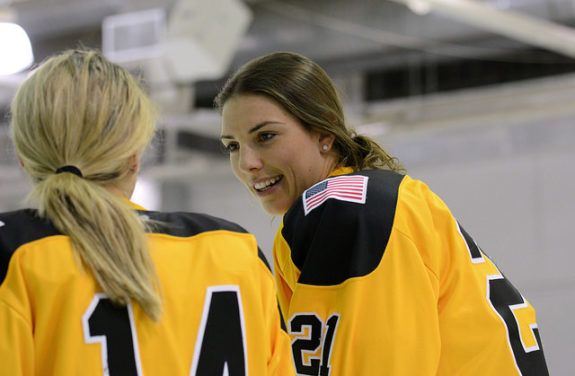 THW: Is there anyone on the Beauts that the Pride needs to have an eye on? Someone who can change the complexion of the game by themselves?
HK: I think the Beauts have a similar showing as we do. You've got some good players, Megan [Duggan] when she's there, Bri [McLaughlin] is doing a really good job, but there are a ton of other players you don't hear about and they'll sneak up on you and put a goal in on you or make a great play. Being ready to play and be fully locked in is something that we're really looking forward to, because we've got a lot of players that don't get credit too and they will really step up in those moments.
THW: Have you talked much about how special teams will be a key to winning in this series? The Pride have turned a lot of games through a strong power play. The Beauts take a league-low number of penalties, but they've also got the league's worst penalty kill.
HK: We've scored a lot of goals when we're down a man. We appreciate the four-on-five, that's always reassuring that when you're down a man you can score. When it's five-on-four, we score. We can get every single line firing. It's really special.
Recently our other power play has been just hitting the mark perfectly. That's been great. As you said, they're taking fewer penalties, we'll have to really increase our accuracy and our efficiency of our power play opportunities. I'm sure we'll be working on those.
It's going to be a great game. You're going to see the claws come out.
THW: Entering this championship weekend, what are you most looking forward to?
HK: Winning the Cup. It would almost seem like the season was sort of a failure in our mind if we don't win the final prize. I think if you ask any competitive person they'd say the same thing.
It's funny, you walk into the rink and Jillian Dempsey is just so fired up. She can't get down to Newark soon enough. Those are the type of people we have on our team. Those are the people who create the fabric of our team and why we are so competitive.
THW: Changing gears a little, to talk about the league: You recently tweeted out that you want a CWHL/NWHL championship game. Is that just a hope or is there something more behind it?
HK: It's actually what the players want. It's what the fans want. If it's something we can make happen, we'll do it.
I think sometimes that different pressures need to be placed on these leagues to collaborate and work together. Hopefully somewhere down the line — I don't know what the collaboration looks like — something happens.
We can't keep going into new frontiers in women's hockey and doing it alone. You need everybody to do it. You need everybody on board. It'd be great if the NHL could kind of put two of these leagues in a room and say, Alright, let's work something out. We want to move forward with the future of women's hockey. That'd be something super special not only to fans, but I think the players right now who are forced to decide which league they'll play in.
Imagine if we had cross-league exhibition games or we had the winner of Clarkson play the winner of Isobel.
Hey @NHL what do you think: @NWHL #IsobelCup winner plays @TheCWHL #ClarksonCup winner for The Title. #borderbattle #BecauseItsTheCup

— Hilary Knight (@HilaryKnight) February 28, 2016
THW: Are you hearing that from players in both leagues?
HK: Yeah, it's cross-league. I think if you honestly talk to any of the players, they wish that the best players could play the best players and they don't have to choose what league they want to be in. It'd be nice to choose just where they want to live. The problem is you've got two different leagues with two different structures. You've got to find the common ground, and someone who wants to restructure both of them with the best interests of women's hockey collectively as a sport, not just where the leagues are.
THW: Do you see progress in what the NHWL has achieved this season?
HK: To be honest, moving over to the NWHL was a really hard decision. I know people are like, well you get money, it's gotta be easy. To be honest it wasn't about the money at all. It was more about setting a standard or a marker that was really tangible.
Now we can prove if you market women's hockey you'll get more fans, you'll develop an even bigger platform and you'll also be a part of partnerships that will be influential and instrumental in developing the sport and various player platforms. That's why I decided — that's why we decided — to go to the NWHL, so it sort of forced growth.
I think sometimes in hockey in general we tend to get caught in the same hamster wheel thinking the thing we're doing is the one right way. Sometimes you need a disruptor in the market to force growth and that's sort of what the NWHL did.
I didn't really have an expectations for the NWHL. They surpassed what I thought was going to happen. Obviously with any new league you've got hiccups here and there, but it definitely forced the growth that I wanted to see and it proved to people that you can market women's hockey and it can be successful. Where it moves forward, I don't know, I'm not on the business operations side, but I think it's a great starting point and it really forced the other league to grow a little bit and realize different things. I know you saw some changes on the other side… [laughs] We're at a point where it would be great if the players and the fans didn't have to choose and we could all collaborate and work together.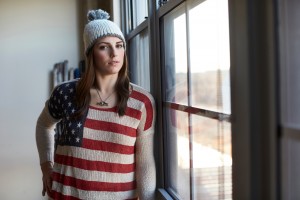 THW:
With your position in the sport, do you feel a responsibility to pushing the leagues toward growth?
HK: Yes. Definitely. I feel strongly about certain topics. Yeah, it is my responsibility. Just because the U.S. team gave me such a great perspective with my time in that program and listening to the older girls — the Angela Ruggieros, the Jenny Potters, whoever it was. I was just listening to their take on our sport. I'm thinking, ok how am I going to push our sport even further? How am I going to build on their shoulders?
At that point it definitely is a responsibility. When I see that these two products combined can be a great product, and it's not only beneficial for us as players, but for fans and future generations, you know, I'm going to say, Hey! What about this? It's not necessary to stay quiet about something that's so important. I'm attached to the development and growth of women's hockey.
***
The Pride face the Beauts in the Isobel Cup Final starting Friday at 7:30pm ET. Game two is scheduled for Saturday at 7:30pm ET. If a third game is required, it will take place Sunday at 1:30pm ET.
— Hilary Knight (@HilaryKnight) March 11, 2016