After an impassioned plea by Rev. David Bauer, the players on the Canadian national hockey team reconsidered their earlier decision and voted to continue and finish the World Hockey Championship tournament.
Bad Refereeing Upsets Players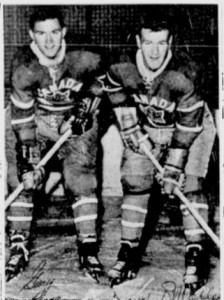 The Canadian players were so upset with the officiating in their 2-1 loss to Czechoslovakia yesterday they voted to withdraw from the tournament and simply return to Canada. They made this decision knowing full well they would have to forfeit the rest of their tournament games. Only two players voted to continue to play.
Team captain Terry O'Malley led the meeting in which the vote was taken.
The players were upset because of two disallowed goals and numerous penalties that contributed to the loss of the crucial game against the Czechs.
Father Bauer, who created the national team concept and has been managing and helping coach this year's entry, made a dramatic appeal to the players. He spoke to them about their obligations and the repercussions that would follow should they withdraw. He told the players that as a country, and as representatives of our country, they had an obligation to play the final two games against Russia tonight and Sweden on Sunday.
Lionel Fleury, president of the Canadian Amateur Hockey Association and Gordon Jukes, the organization's secretary-manager, were also present.
The players relented on their earlier decision, saying that they wanted to spare Canada the embarrassment of leaving early and to try to avoid future sanctions against the Canadian hockey program.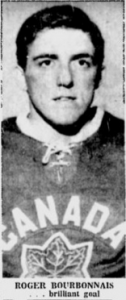 Roger Bourbonnais. Canadian forward, explained the players' reversal:
"We were afraid the withdrawal might just look like sour grapes. And it could have hurt the CAHA and Father Bauer."
Playing-coach Jackie McLeod was quite emotional about the entire affair:
As far as I'm concerned, we should have just pulled out. You have to make a stand some time, protests do no good. But we're staying for one reason – Father Dave.
Many of the players expressed the sentiment that these would be their last international hockey games and possibly the last hockey games they will ever play. Bourbonnais spoke for them:
"I think these two games against the Russians and the Swedes will be my last hockey games. I know four or five other guys are thinking of hanging up their skates."
Coach McLeod spoke of the game that sparked this latest controversy: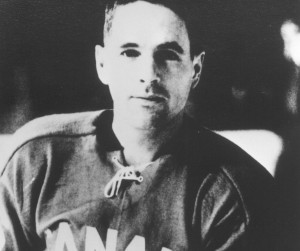 "It's the same old story. They killed us with cheap penalties and it's not an accident.
"The Polish referee was so bad, he didn't even know the rules. When he gave O'Malley a double minor penalty in the first period, he tried to put Paul Conlin in the penalty box to serve one of them. When I wouldn't let him do that, he gave Marshall Johnston a minor penalty a few seconds later.
"After the Czechs scored, he was going to keep both men in the penalty box. It was only after much protesting he let one man out.
"Canada gets shafted year after year in the championships and other European games. It's time we quit the farce and play our own hockey."
Lacroix Leads Petes Past Marlies Again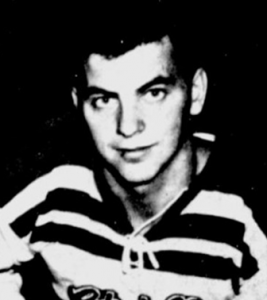 Andre Lacroix of the Peterborough Petes, the Ontario Hockey Association Junior A Series leading scorer, seems intent on eliminating the Toronto Marlboros from their playoff series all by himself. Lacroix scored one goal and set up two others as the Petes defeated the Marlies 3-1 last night in Peterborough.
In the other three games, Kitchener hammered Niagara Falls 6-2 while Oshawa crushed St. Catharines 6-1 and Hamilton and Montreal tied 4-4.
Wayne Carleton put Toronto ahead 1-0 with the only goal of the first period. Danny Grant, Mickey Redmond and Lacroix came back with second period markers to put the Petes ahead 3-1.  Petes goalie Don Caley then shut the door on Toronto the rest of the way.
Billy Hway led the Kitchener attack with two goals against the Flyers.
Wayne Cashman was the star for Oshawa in their lopsided victory over St. Catharines. Cashman scored three times and added an assist. Defenseman Bobby Orr had two assists.
Chris Bordeleau led Montreal with two goals, but it was Lucien Grenier's goal with just over a minute to play gave the Baby Habs the tie. Roger Lalancette was spectacular in goal for Hamilton, and it was his play that was mainly responsible for Hamilton gaining a point in this game.
Notes: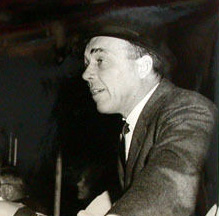 Detroit owner Bruce Norris has assured Gordie Howe that he has a job for life with the Red Wings.
Rumours are starting already about expansion coaching posts. Among the names being bandied about are Rudy Pilous, Red Sullivan and Phil Watson.
San Francisco Seals have traded goalie Long John Henderson to the Victoria Maple Leafs for a player to be named later. Seals then recalled goalie Doug Favell from Oklahoma City of the CPHL. He will back up regular Seals goalie Jack McCartan.
John Brenneman's late goal gave the Minnesota Rangers a 1-1 tie with Tulsa Oilers in a CPHL game. Gary Veneruzzo scored for Tulsa.
Victoria Maple Leafs downed the Los Angeles Blades 5-3 in WHL play. Claude Labrosse, Steve Witiuk, Bob Barlow, Andy Hebenton and Fred Hucul scored for the Leafs. Marc Boileau, Brian Smith and Bill Orban replied for the Blades.
Dick Gamble of Rochester Americans continues to lead the AHL scoring race with 81 points. Wayne Hicks of Quebec Aces is second with 76 points, followed by Gamble's team mate Jim Pappin with 75.