Which players have been best at carrying their teams this season? To me, carrying one's team means that a player produces in wins and when he doesn't produce, the team suffers. This is a question I wanted to know the answer to, so I decided to research it and learn what percentage of games a team wins when a particular player scores. I looked at regulation and overtime games (no shootouts) in which a player scored at least one goal. I searched by forwards and defensemen separately and then broke the results into wins and losses.
I only looked at forwards whose teams won at least 10 games when that player scored and at least five wins when a defenseman scored. For losses, I only looked when forwards had at least seven and defensemen had three or more.
All data was up to date before the Feb. 7 games.
Best Winning Percentages by Forwards
Nikita Kucherov, Tampa Bay Lightning
When Nikita Kucherov scores at least one goal, the Lightning have won 95 percent of games, with a record of 20-1. In those 20 wins, he has scored 23 of his 27 goals. Those 20 wins when scoring are the most for any player this season. When he doesn't score, they have a 14-14 record. The 20 wins lead the Lightning by six, with Brayden Point in second place with 14.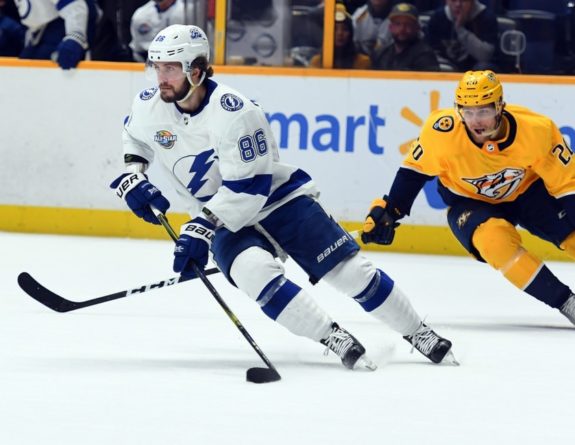 Nazem Kadri, Toronto Maple Leafs
Nazem Kadri set a career high in goals last season with 32. He has regressed a bit this season but still has 17 goals. Of those 17 goals, 11 have come in a winning effort as the Maple Leafs have won 91 percent of the games when Kadri scores, with a record of 10-1. When Kadri doesn't score, Toronto is only winning 46 percent of games.
Wayne Simmonds, Philadelphia Flyers
For several years, Wayne Simmonds has been one of the most consistent scorers in the league, scoring at least 25 goals in five of the past six seasons. He currently has 18 goals and is well on his way to another 25 goal campaign. When Simmonds scores a goal, the Flyers are winning 88 percent of games with a 14-2 record. In those victories, he has scored 16 goals. The 14 wins when Simmonds scores is most on the team. When he doesn't score, the Flyers are only winning 35 percent of games.
Patric Hornqvist, Pittsburgh Penguins
Patric Hornqvist is another proven and consistent goal scorer, netting at least 20 of them in every full season of his career. This season, he has 16 of them and has been a main contributor to Pittsburgh's recent resurgence. When he scores, the Penguins win 86 percent of games with a record of 12-2, with Hornqvist scoring 13 goals in the wins. The Penguins are only winning 44 percent of games when he doesn't score.
Kevin Fiala, Nashville Predators
The Swiss-born Kevin Fiala has 17 goals this season, already surpassing his career high of 11 set last season. He has been great at providing depth offense and the Predators have won 85 percent of games when he scores, with a record of 11-2. Of his 17 goals, 12 have come in those victories. Nashville wins 57 percent of games when Fiala doesn't score—above 50 percent but still substantially lower than when he scores.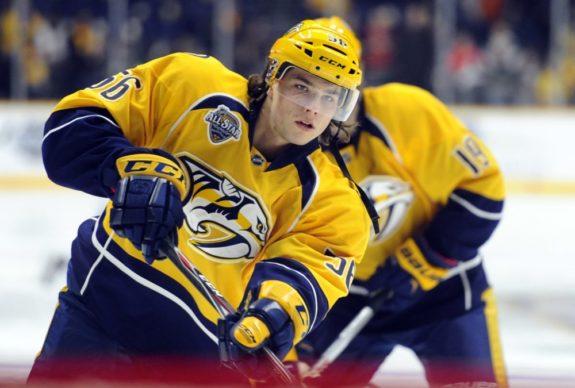 Best Winning Percentages by Defensemen
Mikhail Sergachev, Tampa Bay Lightning
Rookie Mikhail Sergachev has eight goals and 28 points as a 19-year-old. All eight of his goals have come in wins and the Lightning have a perfect 7-0 record when he scores. Those seven wins are tied for the most by any defenseman in the league. They are also two more wins than when teammate Victor Hedman, a perennial Norris Trophy contender, scores.
Jake Muzzin, Los Angeles Kings
Jake Muzzin is putting together a great rebound season, already surpassing his point total from last season, and his six goals are only three behind last year's total. Like Sergachev, all of Muzzin's goals have come in wins, and the Kings have a perfect 6-0 record when he scores. This is a better winning percentage than when his Norris-winning teammate Drew Doughty scores, as the Kings win 75 percent of games.
Mark Giordano and Dougie Hamilton, Calgary Flames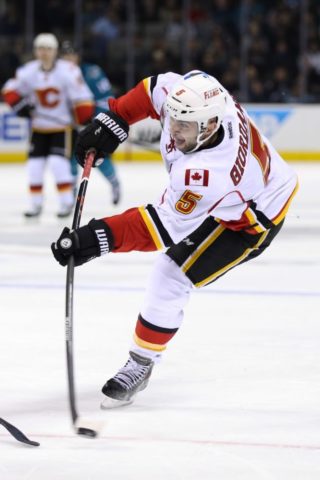 The Flames have one of the best defense corps in the NHL and are led by captain Mark Giordano. He consistently scores between 10 and 15 goals, and his nine goals this season puts him on pace to be in that range once again. The Giordano/Dougie Hamilton pair is one of the most dynamic in hockey and it shows, as the Flames win 91 percent of games when one or both players score (10-1 record). This includes a perfect 6-0 record when Giordano nets one. Compared to the 3-1 record when one of Calgary's other defensemen scores, it is evident why Giordano and Hamilton are the team's top pair.
Joel Edmundson, St. Louis Blues
When thinking of the Blues' defense, the names Alex Pietrangelo, Colton Parayko, and even Jay Bouwmeester come to mind. Not every hockey fan would even be able to list Joel Edmundson among them, yet he has been the most impactful in providing goals in wins. He has six goals this season, a career high, with five occurring in wins, and the Blues have a perfect 5-0 when he scores. His other goal came in a shootout win. Edmundson is now injured and likely to miss significant time, so it will be worth paying attention to how the Blues adjust to his absence.
Worst Winning Percentages by Forwards
Clayton Keller, Arizona Coyotes
The Coyotes have the fewest points in the league so it should come as no surprise that one of their skaters leads the league in losses when scoring. Rookie Clayton Keller got off to a great start and looked like he was going to run away with the Calder Trophy for Rookie of the Year with 10 goals in his first 15 games. He has 15 goals total on the season so he has slowed down quite a bit. When he has scored, the Coyotes have only won nine percent of games with a record of 1-10. He has scored 12 goals in losing efforts, and the 10 losses are two more than any other Coyotes forward. When he hasn't scored, the Coyotes have won 10 games, a large amount considering they have just 11 regulation or overtime wins on the season.
Ryan O'Reilly, Buffalo Sabres
Another player on a really bad team is Ryan O'Reilly, who has developed a reputation as one of the best two-way centers in the league. He has 16 goals and is well on his way to a third straight 20-goal season. Unfortunately, when he scores, the Sabres have only won 23 percent of games with a record of 3-10. He has scored 11 goals in those losses.
Mika Zibanejad, New York Rangers
After Derek Stepan was traded last offseason, Mika Zibanejad was thrust into the first-line center role. He has played pretty well in the role, providing a decent amount of offense, especially on the power play. However, the Rangers have been unable to take advantage of his play and his impact has been hindered. When he has scored, the Rangers have won just 29 percent of games with a 4-10 record, and 11 of his 15 goals have come in losses.
Sam Reinhart, Buffalo Sabres
One of the Buffalo forwards with at least five losses when scoring a goal, Sam Reinhart has had a slow season after setting a career high in points last year. The Sabres have won only 30 percent of games when he has scored, with a 3-7 record. Of his 11 goals, seven have come in losses.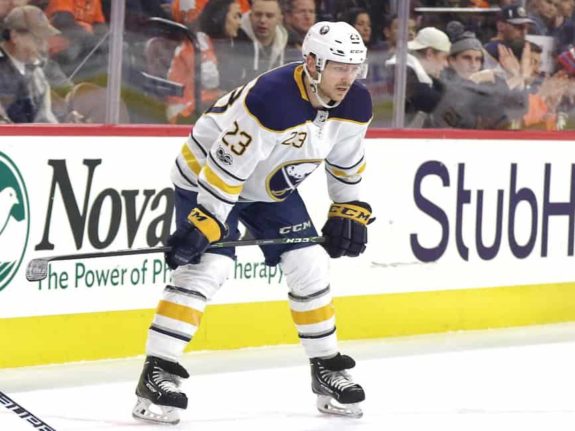 Frans Nielsen and Tomas Tatar, Detroit Red Wings
Teammates Frans Nielsen and Tomas Tatar are having down seasons for the Red Wings. Both players have 12 goals and the team has won 36 percent of games when either scores with an equal 4-7 record for each. The worst part is that there has only been one game in which both players scored so there are 13 combined losses between the two.
Worst Winning Percentages by Defensemen
Erik Karlsson, Ottawa Senators
Both the Senators and Karlsson have regressed this year as evidenced by Karlsson leading this category. Of the seven losses the Senators have when a defenseman scores, Karlsson has scored in three of them. When he scores, Ottawa is only winning 25 percent of the four games with four goals scored in three losses. He has five goals on the season and 80 percent have occurred in losses. That's not a good rate for a team's number-one defenseman and major provider of offense.
Shea Weber, Montreal Canadiens
Shea Weber is the Canadiens top defenseman but has struggled to stay healthy this season. In 26 games, he has six goals and 16 points. Four of his six goals have come in losses and the team has only won 25 percent of the games with a 1-3 record he has scored. Those three losses are the most of all Montreal defensemen.
Brent Burns, San Jose Sharks
The reigning Norris Trophy winner, Brent Burns has struggled to find the back of the net with just nine goals on the season.  Compared to the 29 he scored last season, he has regressed with a shooting percentage 46 percent below his career mark. More alarming is that Burns has a minus-24 rating. The Sharks have won just 29 percent of the seven games when Burns scores with seven of his goals occurring in the losses.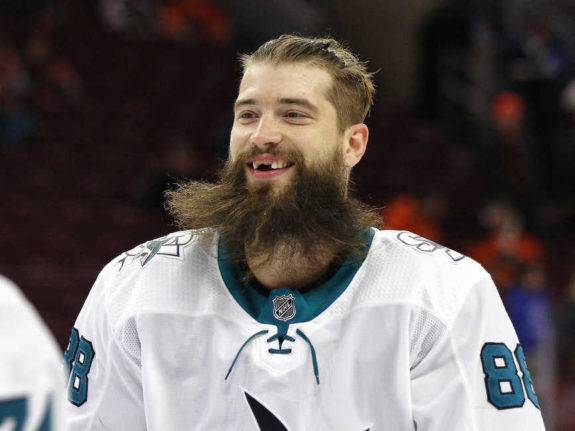 Oliver Ekman-Larsson, Arizona Coyotes
Like forward Clayton Keller, Oliver Ekman-Larsson has had a difficult time positively impacting the Coyotes. Ekman-Larsson has eight goals and 25 points but is a minus-41 despite being the team's top defenseman. When he has scored, the Coyotes have won just 29 percent of games with a 2-5 record. The five losses are the most for a Coyotes defenseman.
Keith Yandle, Florida Panthers
The Panthers have four losses when either Aaron Ekblad or Keith Yandle score this season. But, when just Yandle scores, they are winning 33 percent of the six games compared to the 56 percent when Ekblad scores. Yandle has six goals in total with four scored in the losses.
General Takeaways
Generally, a team's winning percentage when a player scores reflects how good that team is overall. The players with the best winning percentages are typically on the best teams. In the parameters I set up, only two of the players with positive winning percentages are on teams out of the playoffs. These are Wayne Simmonds of the Flyers and Jake Muzzin of the Kings. Similarly, of the players with the worst winning percentages, only the Sharks' Brent Burns is on a playoff team. Furthermore, eight of the players with sub-50 winning percentages play on one of the seven worst teams in the league.
A reason for this distribution is that bad teams still have good players. Arizona and Buffalo may be the two worst teams but Oliver Ekman-Larsson, Clayton Keller, and Ryan O'Reilly are still quality players. Bad teams still need players to carry the roster even if the results aren't there. Ekman-Larsson is top-pair defenseman on most teams but, with the roster surrounding him, his ability to positively impact the team is kept in check.
*All stats came from Hockey-Reference
My name is Kyle, and I'm the managing editor of The Hockey Writers. I joined THW in Oct. 2017 and am always striving to bring you the best hockey coverage possible. You can email me directly at kyle@thehockeywriters.com.