Despite missing the playoffs for the fourth straight year, the Toronto Maple Leafs had a few things to be hopeful about heading into the 2009-10 NHL season. Over the summer in a blockbuster trade with the Boston Bruins, the Leafs acquired Phil Kessel to help give their mediocre roster some star power.
The Leafs also had two young prospects to put all their hopes into; Luke Schenn who had already played a full NHL season after being drafted fifth overall in the 2008 draft and Nazem Kadri who the Leafs had just drafted seventh overall in the 2009 draft. Now, we all know how the next few years went for the team and the players, but through all that, Kadri managed to hang on to be a core part of the new revitalized Leafs.
Now, nine years later, Kadri is living up to the hopes and expectations of being a seventh-overall draft pick, but his new-found star status has gotten lost among the new crop of Leafs players.
The Long Road to Babcock
Kadri had always been a player that showed flashes of tremendous potential but just couldn't get his game up to that next level. Some of this could be the result of having his development rushed to help bring some offense into a weak Leafs lineup or it could be that Mike Babcock was the first coach to get through to him.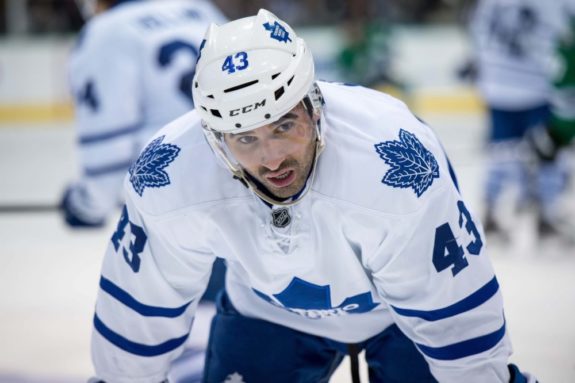 Before getting Babcock as a coach, Kadri had been through three coaches in his time in Toronto – Ron Wilson, Randy Carlyle, and Peter Horachek. A few years after being fired, Wilson popped up and talked about what went wrong with Kadri and his time in Toronto. Part of it was putting the blame on Kadri saying that he had issues with backchecking and that he never listened. Although Wilson admitted that some of that could've been avoidable had he sent Kadri down to the minors early to send a message to him.
Under Carlyle and in his first season of being an NHL regular, Kadri showed signs of that potential with 44 points in 48 games in the shortened 2012-13 season and was also able to get his first glimpse of the playoffs, which he wouldn't see again until last season. From there Kadri seemed to just stagnate, never being able to elevate his game to that next level.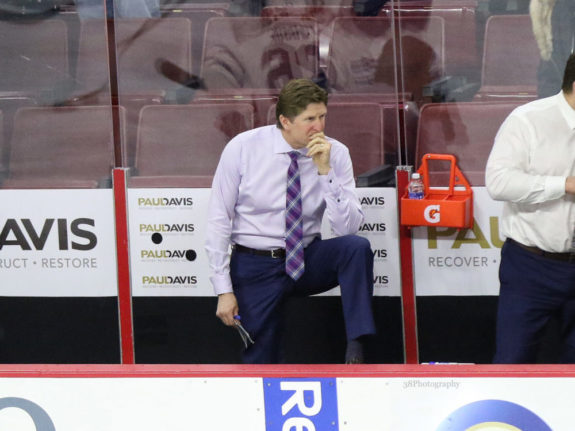 Then came Babcock. Right from the start, it was clear that Kadri was Babcock's first project as the newly minted head coach. The 2015-16 season was awful for both the team and Kadri with the Leafs finishing dead-last in the NHL (which gave the team Auston Matthews) and Kadri having the worst shooting percentage of his career with just 6.5 percent.
But what was important about that season was that it was truly for the first time a season full of hope for what was to come in the 2016-17 season. For the Leafs, it was Matthews and making the playoffs again. For Kadri, it was all that hard work paying off and emerging as, not only a top center in the NHL but as a defensive shutdown center.
The Unexpected Shutdown Center
Back in the early years of Kadri's career in Toronto, nobody would've expected him to become a top shutdown center for the Leafs on the most defensively reliable line on the team. All the work that both Babcock and Kadri put in finally resulted in a drastic change in Kadri's game with the 2016-17 season being a career year for Kadri.
Not only did Kadri's shooting percentage come back up to normal levels at 13.5 percent and result in a career high in goals with 32, but he also became the Leafs shutdown guy. Tasked with going up against the top players in the league every night and being expected to hold them off the score sheet, Kadri not only performed well – he thrived.
Alongside Leo Komarov, who has also become a great defensive player, Kadri was put up against the opposing team's top line every night which then let Matthews matchup against weaker lines. The great thing was that not only did Kadri shutdown top lines, but he could also score against them with the best example being the overtime winner against the Edmonton Oilers.
In a way, by focusing more on the defensive side of the game his offensive potential was finally able to flourish.
Kadri finished the 2016-17 season with 61 points in 82 games, a career best, which tied him for third in team scoring. He also finished second in goals on the Leafs with 32 goals, also a career best. Eight years after being drafted, Kadri had finally lived up to being taken seventh overall in the 2009 draft.
The Leafs Other Star
For Kadri, this season became about showing that he can repeat on his success of last season and so far he is doing just that.
Kadri continues his success as the Leafs shutdown center and has continued his scoring pace from last season with 22 points in 26 games this season. The interesting thing with Kadri being cemented as the shutdown player for the Leafs is that it feels like his scoring ability has been largely ignored.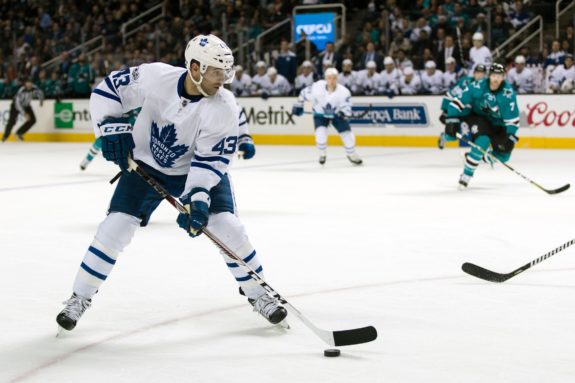 If you combine point totals from this season and last season, Kadri ends up being second in team scoring with 83 points in 108 games. And for comparison that's only 10 points less than Matthews. Kadri also quietly had a nine-game point streak, which seemed to go unnoticed.
Kadri has finally become the star player that he was expected to be when he was drafted all those years ago and it's time to start viewing him as such.
Toronto Maple Leafs contributor for The Hockey Writers.
I've been a fan of the Toronto Maple Leafs since I was a kid and have always had an interest in writing. At The Hockey Writers, I get to enjoy both of my passions as well as writing about small convoluted details in player contracts and stats.