It's been the story of the season in Glendale – the Arizona Coyotes just can't catch a break at the goaltending position.
After trading Mike Smith to the Calgary Flames over the offseason and bringing in former New York Rangers backup Antti Raanta to replace him as the starter, it was expected that the 'Yotes would improve at the goaltending position this season.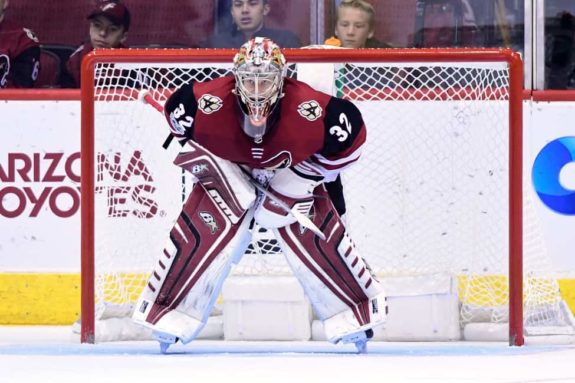 After all, with the newly-acquired Raanta, who had been a stellar backup in Chicago and New York during his career, along with backup netminder Louis Domingue, who entered 2017-18 fresh off of an impressive run to finish last season (a .940 save percentage over the final six weeks), there was no way that the Coyotes' goaltending duo could fail, right?
Coyotes Goaltending Woes: The Gift That Keeps on Giving
On paper, the duo of Raanta/Domingue seemed like a winning combination. In reality, though, the situation in the crease really couldn't have gone much worse for the Coyotes than it already has this year. Problems began during the preseason – Raanta suffered an injury during training camp and was forced to miss the regular-season opener in Anaheim. As a result, Domingue started that fateful game on Oct. 5 at the Honda Center and was a key culprit in the Coyotes' loss, as Arizona failed to hold onto a 4-1 lead and lost in overtime, 5-4, in a game which seemingly set the tone for how the rest of the season would proceed for Rick Tocchet's club.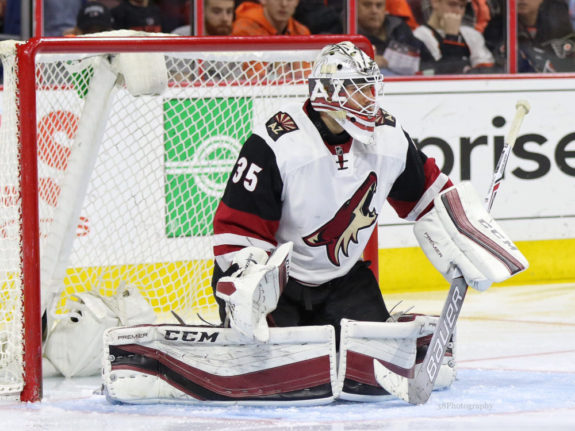 Raanta returned in time for Arizona's home opener against the Vegas Golden Knights on Oct. 7 and played well, but he went down with a lower-body injury against the Detroit Red Wings on Oct. 12 and was placed on injured reserve. From there, the Coyotes turned to Domingue and Tucson Roadrunners netminder Adin Hill, but neither were able to get the job done. Domingue was waived and eventually was traded to the Tampa Bay Lightning on Nov. 14 after posting a 0-6-0 record and an ugly .856 save percentage in eight appearances, while Hill was sent back the AHL on Oct. 28 after failing to record a victory in three starts with Arizona.
As a result of poor play from Domingue and Hill, general manager John Chayka went out and acquired 110-game AHL veteran Scott Wedgewood from the New Jersey Devils on Oct. 28. The Coyotes won their first game of the year in Wedgewood's team debut on Oct. 30 in Philadelphia (their 12th game of the year), but, by then, it was far too late, as their 0-10-1 stretch to start the year practically eliminated the team from playoff contention before the season really began.
Raanta Returns (Not for Long, Though)
Turmoil at the goaltending position was one of the many reasons for the 'Yotes 11-game losing streak to start the season, but the issue appeared to be resolved when Raanta returned to the lineup on Nov. 2. With their starter healthy and back between the pipes, the Coyotes went 4-3-1 in Raanta's eight starts from Nov. 4 through Nov. 20 and were playing much better as a group than they had been previously. However, Raanta lasted fewer than three weeks before suffering another injury, as he left in the first period on Nov. 22 shortly after this collision with San Jose Sharks' forward Logan Couture:
Is this where Antti Raanta was injured? #Yotes pic.twitter.com/AgmDn4Dr7a

— FOX Sports Arizona (@FOXSPORTSAZ) November 23, 2017
Following Raanta's injury, Wedgewood entered the game and was promptly scored upon within five seconds of entering the crease. Couture made the score 2-0 in the second period, after which Wedgewood locked things down for the rest of the game. The damage had already been done, though, and the Coyotes lost 3-1 despite allowing only 14 shots in the 45:23 of hockey which followed Raanta's injury.
Wedgewood got the start again on Nov. 24 and played well in a 3-2 overtime victory over the Los Angeles Kings as he stopped 23 of the 25 shots he faced on the night. The 'Yotes backup was again between the pipes on Nov. 25 against the Golden Knights, but, unlike the events of the previous night, things didn't go well for the 25-year-old netminder. The Golden Knights struck for three goals in a span of 1:42 during the second period, and Wedgewood was pulled and replaced by Marek Langhamer as a result.
Despite the 3-0 deficit, Langhamer gave his team a chance to win – the 'Yotes pulled to within 3-2 in the third period, but they were unable to complete the comeback as Jonathan Marchessault scored an empty-netter in the waning seconds to give Vegas the 4-2 victory.
Without Raanta, Coyotes Back to Square One
Going forward, it isn't clear who head coach Rick Tocchet will turn to if Raanta is forced to miss an extended period of time. Raanta did not travel with the team for their brief two-game roadie in Alberta, which wraps up on Nov. 30 in Calgary, so one can assume that he'll be out for another handful of games once the 'Yotes come back home for their Saturday night matchup against the Devils.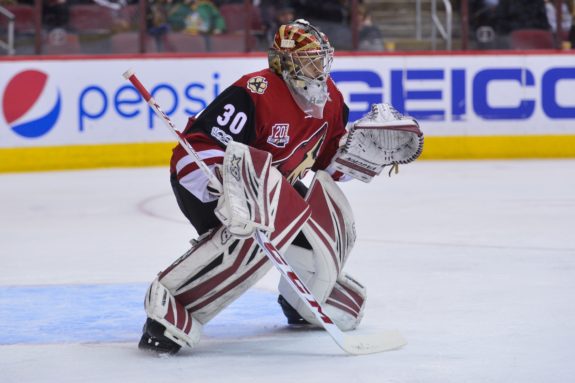 Wedgewood has been good, not great, since being acquired on Oct. 30, but will presumably continue to get the lion's share of the work in Raanta's absence moving forward. However, Langhamer might be worth a look at some point – he's played well in limited NHL action (17 saves on 18 shots) and has been the best goalie in Tucson this season, as he recorded a 1.59 GAA and a .947 SV% in three appearances prior to his call-up.
Hjalmarsson Struggling to Stay Healthy
Goaltending hasn't been the only position where the Coyotes have struggled with injuries, though. Recently-acquired defenseman Niklas Hjalmarsson has also missed a significant amount of time this season, and, unfortunately, appears to back on the shelf once again after leaving with an upper-body injury on Nov. 28 in Edmonton. Hjalmarsson previously missed 10 games with an upper-body injury he suffered on Oct. 30 against Philadelphia, but it's unknown if his recent injury is related to his previous ailment.
Coach Rick Tocchet on Nik Hjalmarsson's injury: "He got banged up pretty good. I don't know how long he'll be out. It's a big loss for us."

— Craig Morgan (@CraigSMorgan) October 31, 2017
Hjalmarsson was brought in over the summer to be a stabilizing presence on Arizona's backend, but has, so far, been unable to remain healthy enough to make a significant impact on the Coyotes' fortunes this season.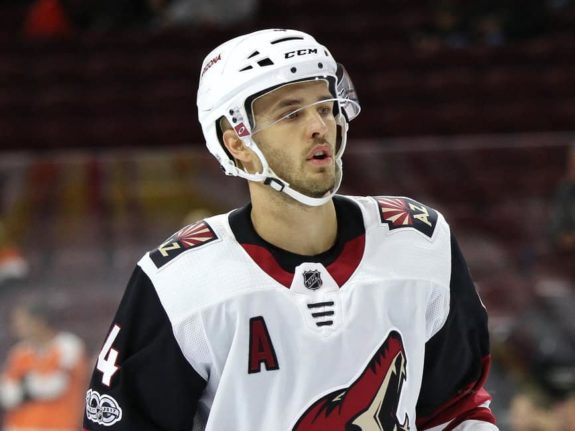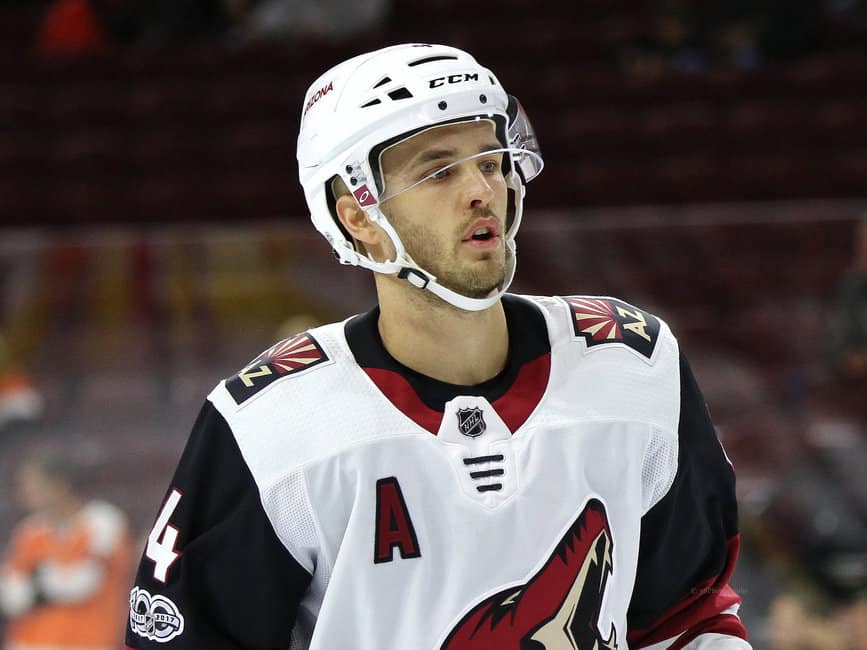 As a result of their injury woes, the Coyotes have been forced to utilize nine defensemen so far – they began the year with Hjalmarsson, Luke Schenn, Adam Clendening, Oliver Ekman-Larsson, Alex Goligoski, Kevin Connauton, and Jason Demers on the opening night roster, and have since utilized AHLers Joel Hanley and Dakota Mermis in their lineup as the season has progressed. Tucson Roadrunners captain Andrew Campbell was recalled on Nov. 29, and will presumably become the 10th Coyotes defenseman to see the ice in 2017-18 as Hjalmarsson recovers from his injury.
Chychrun Ready to Return?
Although it's been a struggle for the unit this season, the Coyotes' blueline will undoubtedly receive a boost from the upcoming return of Jakob Chychrun. The 19-year-old phenom has been out all season after undergoing knee surgery over the offseason, but it appears as if he'll ready to return to NHL action soon. Chychrun was recently assigned to the Roadrunners for an AHL conditioning stint, so it's a safe bet to make that he'll be back in the NHL inside of two weeks.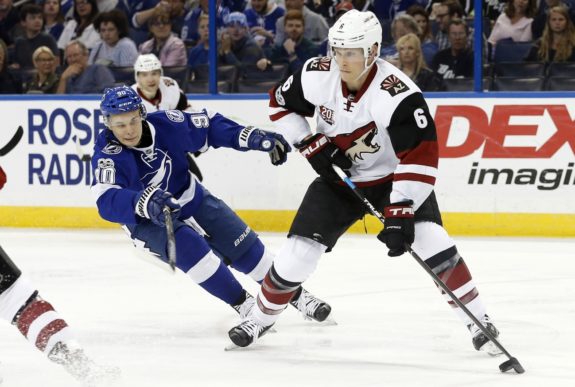 Chychrun's return will also take a significant burden off of Arizona's other defensemen, namely Schenn and Connauton. The 2016 first-round selection can play on both of Arizona's special teams units and is capable of eating up significant minutes at five-on-five as well. The 'Yotes are undoubtedly eager to get Chychrun back in the lineup.
Overall, the Coyotes have made a significant improvement since their season-opening 11-game losing streak. They're playing better hockey as a team and are 5-6-3 in 14 November games so far (a far cry from a 1-11-1 record in October). However, injuries to key players like Hjalmarsson and Raanta have hampered the 'Yotes efforts to climb out of the NHL's cellar. The return of Chychrun should help matters considerably, but, at some point, the Coyotes are going to need a break from the injury bug. Will they get it, or will they continue to be plagued by injuries and ailments as the season progresses?
A lifelong Phoenix resident, Louis has been following hockey since 2010, has covered the Arizona Coyotes since 2015, and has been playing hockey since 2020. So far, Louis has visited eight NHL cities, and one of his personal goals is to eventually make it to all 31 NHL arenas. For any questions or concerns, contact the writer via Twitter @LouisPannone.