It's no secret that Patrick Kane is one of the most dominant players in the NHL. As the first American-born player to win the Hart Trophy and Art Ross Trophy, he's a future member of the Hockey Hall of Fame. For two seasons, Kane and Artemi Panarin were the most dominant offensive force in the NHL, winning the Hart Trophy and Calder Trophy in the same year.
Panarin was traded for Brandon Saad over the summer, and many speculated if Kane's game would decline without 'the Bread Man'. Kane continues to be the top player on the Blackhawks, and he owes it to a couple of players who could easily be his new right-hand man.
Here are two of the players that compliment Kane's game.
Nick Schmaltz
Nick Schmaltz currently holds four goals and ten assists in 20 games this season. Although he isn't the best goal-scorer on the Hawks, he has tallied plenty of good assists so far this season, many of them Kane's goals. They often play on the same line, and Schmaltz' speed matches up well with Kane's style of play.
Kane even compared Schmaltz to Connor McDavid as he told Mark Lazerus of the Chicago Sun-Times, ''Watching [the Oilers' Connor] McDavid [on Wednesday] night, you saw some of the similarities with Schmaltz, where he comes through the middle that fast and can almost create breakaways by getting that puck with so much speed in the middle of the ice.''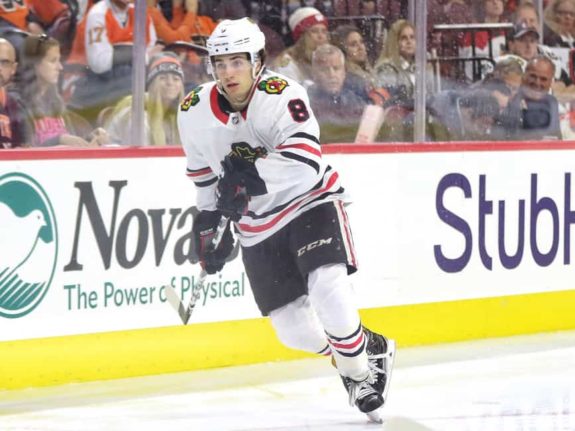 Players like McDavid are making the game all about speed and Schmaltz definitely knows how to turn up the speed of the game. He is a great center beside Kane as his right wing and with Schmaltz' speed and Kane's scoring ability, they can easily be one of the most dominant offensive forces in the league.
Alex DeBrincat
As the most dynamic rookie on the Hawks, Alex DeBrincat currently has ten goals and eight assists in 24 games. Although they often don't play on the same line often, both Kane and DeBrincat are prolific goal scorers and share smaller statures. DeBrincat is 5'7″ and 165 pounds, and Kane is 5'11" and 177 pounds.
They showed consistent chemistry together on Nov. 27 when DeBrincat earned his first career hat trick against the Anaheim Ducks. In some ways, DeBrincat appears to show the same consistency Patrick Kane did as a rookie a decade ago.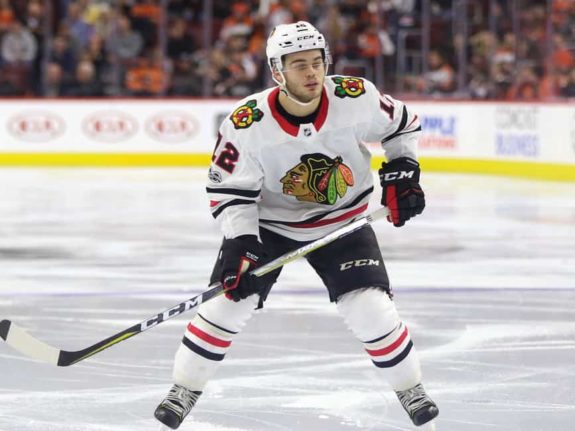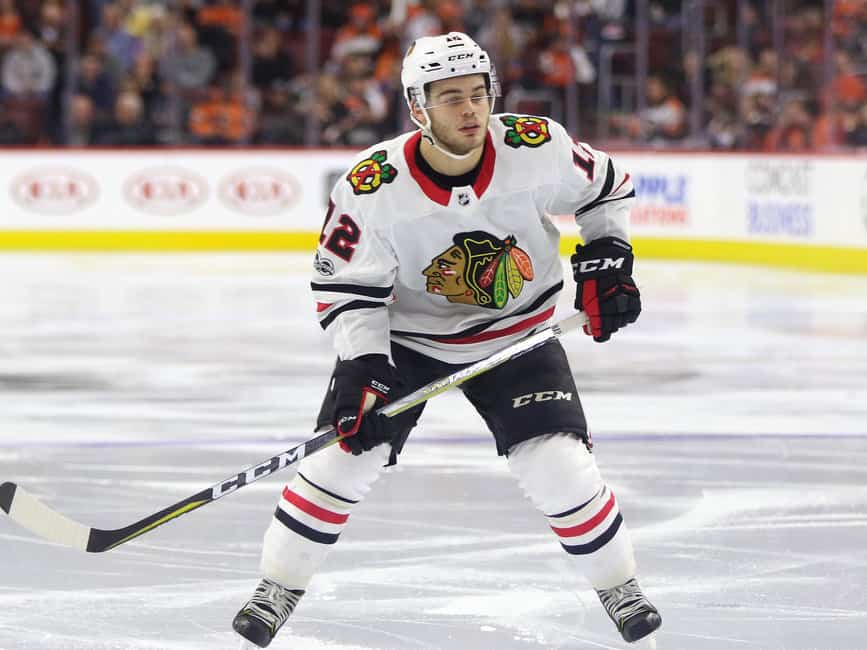 Like Kane, DeBrincat is always looking to improve his game as he told Lazerus of the Chicago Sun-Times, "I feel good, but I feel like I can do better," he said. "Never be satisfied with where I'm at, and always try to improve."
Kane also told Lazerus after the victory against the Ducks, "It seems like we've been playing a little bit better as of late." DeBrincat is without a doubt one of the reasons for their recent success. With the two players showing many similarities, they are destined to make a great duo if they play on the same line more often.
Who Wins?
DeBrincat is a solid runner-up with the similarity between him and Kane. They also have solid chemistry which was shown during the Nov. 27 victory against the Ducks, but Schmaltz takes the cake at the end.
On paper, Schmaltz appears to be Kane's potential right-hand man since they often play on the same line and compliment each other's goals through assists. Schmaltz' speed compliments Kane's scoring ability, two factors that are essential to be successful in the NHL nowadays. When they play together, they can be a danger offensively, similar to how Kane and Panarin were together.
Schmaltz is no Panarin, but he's getting there. If Schmaltz continues to improve alongside Kane, they will be an offensive force to be reckoned with throughout the league.