Since his debut in the 2016-17 season, Chicago Blackhawks forward Nick Schmaltz has proven to himself to be essential to the bottom two lines. Despite having six goals and 22 assists in 61 games, Schmaltz finished his rookie season with a plus/minus of plus-10, making him one of the many rookies to shine on the Hawks. Although he's no Ryan Hartman, he is considered to be one of the many young rising stars on the Hawks.
Here are five facts to know about Nick Schmaltz.
1. College Years
Like his teammate Jonathan Toews, Schmaltz played college hockey at the University of North Dakota for two seasons. He led the Fighting Hawks to the 2016 NCAA Championship by scoring the game-winning goal against the University of Denver.
Schmaltz spoke of why he chose UND over the University of Wisconsin-Madison at the 2017 Blackhawks Convention.
"My parents are both from Bismark, North Dakota and my parents moved to Madison when my mom went to med school at UW," said Schmaltz. "My dad and two uncles played at North Dakota. It was kind of a family tradition. My brother was there and I wanted to play with him so it kind of made it (the choice) easy for me. I'm glad that I went there."
2. Connection with Adam Burish
Schmaltz and former Blackhawks player Adam Burish both grew up in Madison, Wisconsin. Burish worked for Schmaltz's dad when he was young. Schmaltz speaks of looking up to Burish from a young age at the 2017 Blackhawks Convention.
"We skated on the hockey trim all the time so we've known each other for awhile. I always used to watch him on the (Wisconsin) Badgers every weekend. I loved watching him play and he's definitely one of my idols."
Burish says of Schmaltz, "I actually worked for his dad at the end of high school and into college at a gym. This little rat (Schmaltz) would be running around and shooting hockey balls all over the gym."
3. Sibling Rivalry
Schmaltz played with his older brother, Jordan, back in college, but in the NHL there is a rivalry between the two. Jordan, 22, plays for the Chicago Wolves, the AHL affiliate of the Hawks' rival organization, the St. Louis Blues.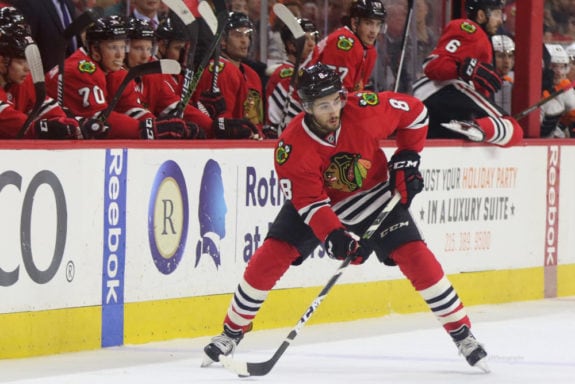 Nick spoke of playing against Jordan in a 2016-17 preseason game on NHL.com."It was the first time we ever played against each other, so it was fun watching him play; he had a great game. Hopefully, one day we'll get a regular-season NHL game in against each other."
According to Jordan, the rivalry is nothing new. "We had a competitive household; had a hockey room in our basement. It would always be me and my sister vs. Nick because it was the oldest and the youngest against him. We were running the full-court press on him; we'd chip it in and go (a)muck."
4. International Play
Schmaltz has represented Team USA several times in international tournaments. He played for the gold medal-winning 2013 World Junior Challenge team, where he won most valuable player. He also played for the silver medal-winning team at the 2013 Ivan Hlinka Memorial Tournament, and the bronze medal-winning team at the 2016 World Junior Championship and the 2017 IIHF World Championship. Although no NHL players will be participating in the 2018 Olympics, Schmaltz has a promising future with Team USA in other tournaments.
5. Contract
Schmaltz is signed through 2018-19 at a cap hit of $925,000, which makes him a restricted free agent in July 2019. His future with the Hawks depends entirely on his performance in the next two seasons in which he could very well be traded to another team or become a Stanley Cup champion. With so much potential on a star-studded team, Schmaltz can easily become a star over the next two seasons.
Illinois State University graduate and lifelong Chicago Blackhawks fan. I also write for The Odyssey at Illinois State and Fans Talk Sports. Other than hockey, I love to write historical fiction and nonfiction.