After Artemi Panarin's outstanding rookie year won him the Calder Trophy in the 2015-16 season, expectations were sky-high for the Blackhawks' rookies in the 2016-17 season. 22-year-old Ryan Hartman has stood out among the Blackhawks' rookies this year as the highest scoring rookie on the team. Here are five quick things to know about Chicago's newest star.
1. Living the Chicago Dream
It is the dream of every kid playing a sport growing up in Chicago and the Chicago suburbs to one day play for a hometown team. For Hartman, whose hometown is West Dundee, Illinois, this dream came true when he was drafted 30th overall by Chicago in the 2013 NHL Draft. Three years before his draft day, Hartman was one of the many in attendance at the 2010 Blackhawks Stanley Cup victory parade. His dream will come full circle if he wins a Stanley Cup with the Blackhawks.
2. Compared to Andrew Shaw
Many Blackhawks fans were frustrated when Andrew Shaw was traded to Montreal in late June 2016 out of fear that the absence of his gritty style of play would be detrimental to Chicago's success. Fortunately for Chicago, this was a short-lived fear thanks to Hartman.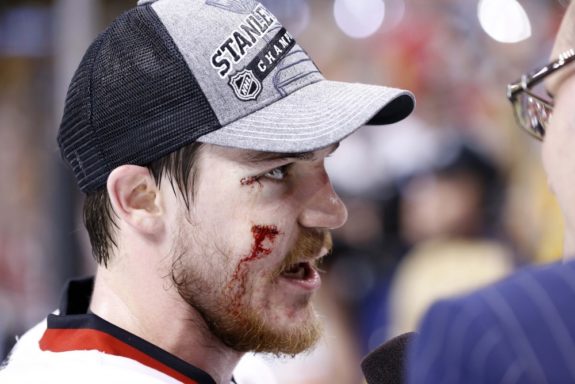 Before the 2016-17 season began, Hartman spoke of his excitement to take on the gritty role on the team with Mark Lazerus of the Chicago Sun-Times: 
"That style is how I've played my whole life," Hartman said. "I still need to prove myself, and go out and play every night like he did and do everything I can to make this team. He came here and obviously did plenty of good things. He had a really good stint here. Now that he's gone, there's a space to fill. We're different players, and we've done different things in our careers. But there are definitely similarities."
With his immense success so far in his rookie season, it is safe to say he has lived up to expectations.
3. Gritty Style Comes from Difficult Times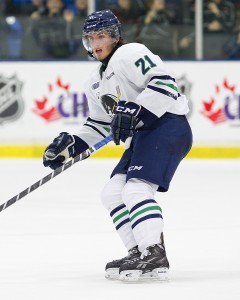 Luck hasn't always been on Hartman's side, and the same goes for his family. Shortly after he moved to Michigan at 15 to become a member of the U.S. National Development Team (NDP), his mother was diagnosed with breast cancer. Hartman's mother encouraged him to focus on hockey as she recovered (she is currently six years cancer-free) and Hartman's gritty style of play can be attributed to this time in his life. Shortly after his mother's diagnosis, he was drafted into the OHL by the Plymouth Whalers and was later drafted by the Blackhawks.
4. First NHL Hat Trick One to Remember
Hartman scored his first career NHL hat trick against the Nashville Predators on Jan. 8. All three goals were scored in the third period; one was off his hip and two were empty-net goals, making it rather unique. Despite the unusual nature of his fist NHL hat trick, Hartman found it rather uneventful as he told the Chicago Tribune, "I don't think anyone is really going to remember them in a couple days."
5. Two Gold Medals for Team USA
Despite never playing in the Olympics, Hartman's resume on Team USA is rather impressive. He won gold with Team USA at the 2012 IIHF U18 Championships as well as the 2013 World Junior Championships. Shortly before Team USA won the gold at the 2017 World Junior Championships, Hartman wished the team good luck on Instagram and included a photo of himself when he played four years prior.