Back in 2009, the Toronto Maple Leafs had some big plans regarding the NHL Entry Draft. They were led by the outspoken Brian Burke who believed that the team should run on "pugnacity, testosterone, truculence and belligerence."
With that philosophy in mind, Burke and his scouting staff, made Toronto's first selection of the draft, taking Nazem Kadri of the London Knights at seventh overall.
At the time, Kadri was an offensive dynamo who had some nastiness and physical edge to his game. Burke thought he had found the perfect player to fit into his style. However, it wasn't until much later in his NHL career that Kadri finally developed into what Burke saw.
Wilson and Carlyle Eras
Before the Leafs went out and got Mike Babcock to coach their team, Kadri was getting tastes of different NHL coaches and their unique styles. The first was Ron Wilson, who not successful in helping  Kadri to reach his full potential. It was always a case of calling Kadri up for a few games and sending him back down for more seasoning.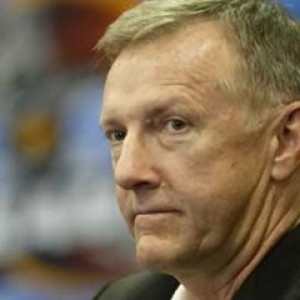 A few years after he was fired by the Leafs, Wilson was on the TSN panel while searching for a new coaching gig. He made multiple comments about how difficult Kadri was to coach and how the Leafs weren't tough enough on the former Knight.
Playing under the bright lights of Toronto is challenging enough for players. It simply wasn't an ideal situation for a young player trying to develop.
The next coach brought in was Randy Carlyle. Kadri fared much better under the now current Anaheim Ducks' bench boss, but his tenure wasn't without its fair share of controversy. For much of Carlyle's time in Toronto, Kadri was in his doghouse.
He was able to perform decently despite limited ice time given by his head coach. As per usual with the Maple Leafs, rumours were constantly swirling that Kadri was on the trading block. You won't hear such rumours today, however.
Carlyle saw the type of effective player that Kadri could become. He just wasn't able to get himself and his young charge on the same page.
Mike Babcock's Influence
Now that Mike Babcock is in town, the players know exactly what to expect from their head coach. Babcock is tough but fair. If you play hard, you'll be rewarded with shifts and increased responsibility. Kadri is now one of the veterans on the team, a player who has experienced the teams of the recent past and is trying to develop and learn from their mistakes.
Babcock has put the onus on Kadri to be a leader on this team filled with rookies. He wants him to succeed and to realize his potential of being one of the top two-way centres in the NHL. In that spirit, Babcock has put Kadri in all types of situations, giving him many opportunities for growth.
It is evident Babcock trusts Kadri and that trust has paid off in spades for the Leafs this year. Kadri is now able to play an effective game at both ends of the ice. He has proven to be a shutdown centre, as evidenced by him containing dynamic players like Connor McDavid, which is no easy feat.
When pucks are zingin' off @43_Kadri's twig like that, there's no wonder he's having a career-high year. #DETvsTOR pic.twitter.com/giHApKkRgY

— NHL (@NHL) March 8, 2017
He has also achieved a career high in goals with 27 and is on pace to hit over 30. His career high in points is 50 and the former London Knight is sitting at 49 at the time of this article. A career year was not what many predicted, however, Babcock has been able to get the absolute best out of Kadri.
The credit shouldn't fall solely to Babcock, however. Kadri's attitude is an important factor in the amazing statistical year he is currently experiencing. He has matured both mentally and physically since his time as a rookie under Wilson. Back in 2015, the team suspended Kadri three games after he arrived late for a team meeting.
You would never hear of the Kadri of today behaving in such an irresponsible manner. He now takes accountability for his actions and also acts as a guiding force for the Maple Leafs' numerous rookies.
Some words of wisdom from Nazem Kadri today: "You won't out-score your mistakes this time of year."

— Lance Hornby (@sunhornby) March 5, 2017
With the Leafs fighting tooth and nail for a playoff spot, Kadri will have to be one of the Leafs' best players down the stretch to give his team a chance at a playoff berth.
Babcock trusts him, his teammates respect him and the fans have fallen in love with his game. Kadri has the opportunity to make something of himself in this city with this team. He has turned the corner and appears to finally be on the right path.
My name is Anthony Fusco. Through school, I completed a joint degree involving an Honours B.A. in Journalism from Wilfrid Laurier University and a Videography and Broadcasting degree through Conestoga College.
I currently work for the University of Toronto as a Varsity Sports Announcer and for the Toronto Maple Leafs as part of their game presentation squad.
I'm also the play by play voice of the Kelowna Falcons, a baseball team located in British Columbia.
My goal is to one day be a hockey broadcaster.