Though she will be turning 17 years old in just a few days, Finnish defender Elli Mäkelä already has a very cerebral approach to hockey. Coming off of her first U18 Women's World Championship in Moscow, Russia, she took the time to talk hockey with THW. The Finns would finish fifth in Moscow, but the experience Mäkelä received was invaluable.
Recall, if you will, longtime NHLer and one of the greatest players to come out of Finland, Kimmo Timonen. Here is a defender that played over 1,100 regular season NHL games and won a Stanley Cup. Timonen was very intelligent with the way he played the game. The most important factor to keep in mind is that through his 16 NHL seasons, he was only 5-foot-10 and shy of 200 pounds. In a position that is traditionally thought of as needing a fair amount of size and strength, Timonen used smart plays, impeccable positioning, perseverance, and wide vision to remain an impactful defender for many years, despite any shortcomings in either size or strength.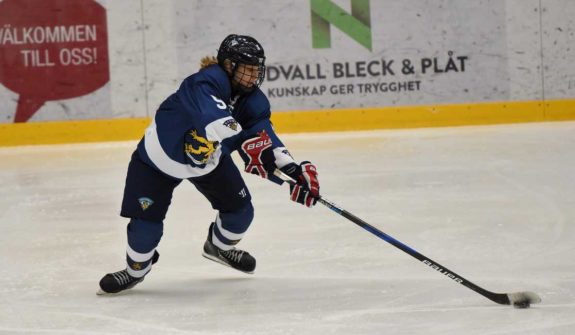 Mäkelä plays a very similar game to Timonen in that she uses her smarts and her positioning. Someone will always be faster. Someone will always be stronger. But with the way Mäkelä understands the game, she can keep opponents at bay by outsmarting them and outworking them. She believes that a little patience is a virtue of hockey, as well.
Beginning of Mäkelä's Love for Hockey
Mäkelä is from a small town in Finland named Inkeroinen. It is located in the southeastern portion of the country. Having just over 5,000 residents, Inkeroinen does have an ice arena that is used for local hockey teams. This same rink is where Mäkelä began to learn the game.
"I started playing hockey when I was maybe six years old," she told THW. "I got interested in hockey when I saw my dad coaching boys that were around the same age as me. At home, I asked my dad why he coaches only boys and I can't come. After that, my dad took me to the practice and I liked it and started playing."
You have to like the way Mäkelä thought, even at age six. She has been playing hockey ever since. It is amazing to see instances of these grassroots levels of hockey growth throughout the world. Here is a small town in Finland that most North Americans likely have never heard of. A young girl falls for the game and questions her father as to why she can't play, too. Lo and behold, she is now representing her country and playing on their U18 women's team. It's a storyline good enough to be the foundation of a hockey movie about women's hockey.
An Understanding of the Game
Certainly, Mäkelä is not that diminutive. At 5-foot-5 and 120 pounds, she is a sturdy skater and has a good build when having to physically jockey for positioning. Still, Mäkelä is the first to explain the importance of both patience and versatility when they correlate to her success on the ice as a player of her position.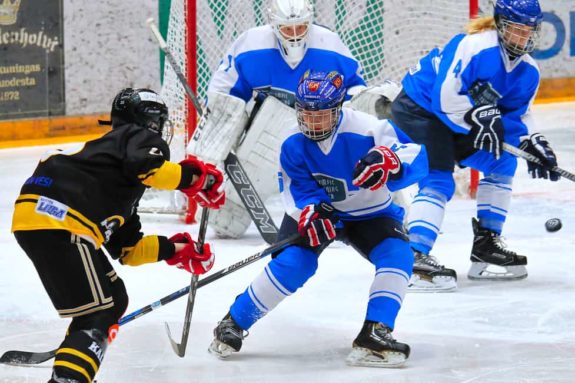 "As a defender, you are usually expected to be big and strong to keep other players out of the goal or holding them against the ice rinks board so that they can't make goals," Mäkelä explained. "That is true, but I think that defenders have to be very patient. The forwards are always trying to fool you, so you can't make wrong moves. You also have to be a very good skater because you have to get the puck out of the defense area, even from the smallest holes. You don't have to be the fastest skater, but you have to be versatile. Forwards are usually the quickest, so you have to know the right moves to fool forwards especially when you are getting pressure from the back."
That is where the comparison to Timonen truly takes shape. Both he and Mäkelä possess(ed) versatility to their skating. They can find those small holes that she spoke about. Neither is a defender who is fooled very easily, and certainly not out-hustled.
Learning and Playing with Team Kuortane
In Finland, Mäkelä plays in the Naisten Liiga, which is the top league for women's hockey in the country – essentially, the female counterpart of the SM Liiga. Mäkelä is a member of the club, Team Kuortane, which is an interesting team in and of itself. Founded in 2010, Team Kuortane was founded by the Finnish Ice Hockey Association as a project to develop the play of young female hockey players in Finland.
Players on the team live and practice at Kuortane Sports Academy, where some of them are even studying in college or in a career school. The majority of the players on Kuortane comprise Finland's U18 national team.
Mäkelä explained that "…the team is playing and training in Kuortane and coached by Jari Risku who is also the U18 team head coach. Our team has three goalies and 22 other players, and the ages are between (players) who are born in 1998 and 2002. Our team is the youngest team in Women's Liiga because the team is developed for players who are in senior high school and want to develop themselves as hockey players."
Community-Based Hockey Training and Friendships
Through the time that she has been at the academy, Mäkelä has found the program to be most beneficial to her and her teammates. That is both in terms of her schooling and her hockey development. Team Kuortane provides a unique set of circumstances, and it is geared towards building the future of women's hockey in Finland. Plus, it is very tightly knit among the players. Their own community of sorts, which also can form lifelong friendships.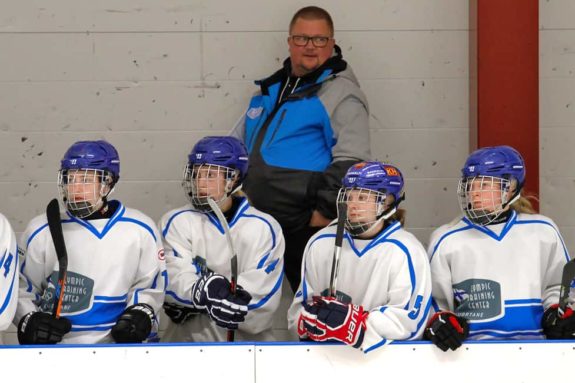 "I enjoy playing here because the games are tough," Mäkelä told THW. "I get the best training to develop my weaknesses and make my strengths even better. Everything is so well planned here, so you don't have to worry about do you have enough time for school or do you get enough food that you need. I also like other players in this team because everybody comes from around Finland and not from the same place so you get to know more people who can become very important to you. We also live with each other and go the same school, so we basically share everything."
It is pleasing to see too that the players are not just learning hockey and academics, but they are learning integral social skills, too. The fact that the academy provides such structure alleviates some of the major stresses that top athletes can encounter while playing at high levels, let alone for their country. Team Kuortane is similar to elite North American academies such as the North American Hockey Academy (NAHA) or the Okanagan Hockey Academy.
Representing Finland in International Play
The 2018 Women's U18 Worlds in Moscow ran from Jan. 6-13. While these were Mäkelä's first U18 international games, she has had previous experience playing for her country.
"My first time representing Finland in an international tournament was in Budapest, Hungary in April 2017 for the U16 women's first official tournament, the European Cup," Mäkelä said. "There were eight countries and Finland came in third. I also have been in W18 Finnkampen tournament in Nyköping, Sweden in December 2017 where we had three games against Sweden. I played in the Kuortane Cup in Kuortane, Finland in October 2017."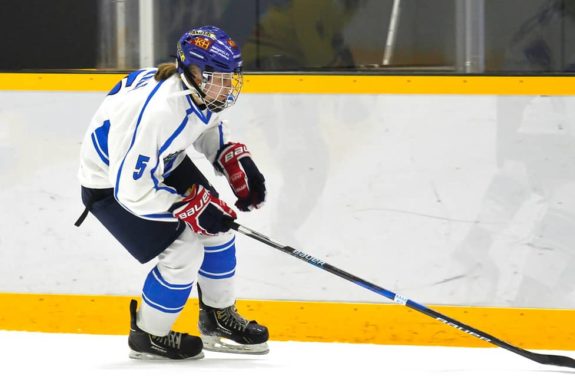 Mäkelä played in all five tournament games for Finland in Moscow. She would register three shots on goal in that stretch, and picked up four minutes in penalties. While Finland finished in fifth place and did not medal, the most important aspect of the tournament is the opportunity Mäkelä had to represent her country, and to do so by playing the sport that she loves.
"It means a lot, and I'm really glad and honored to play in team Finland's jersey," Mäkelä said with the greatest sincerity. "It makes me feel really proud that I live in Finland, and I hope that I get opportunities like this in the future."
Keep playing the way that you do, Elli, and most assuredly those opportunities will present themselves.
Opportunities for the Future
Ideally, every athlete wants to make it to the Olympics. Every athlete wants to play their sport at the highest level and against the very best in competition. Mäkelä is no different in that regard.
"My hockey dream is that I could be on a women's Olympic team someday, or get to play on the women's national team," she expressed. "I know that women can't play hockey as a job in Finland, so it would nice to play somewhere else also."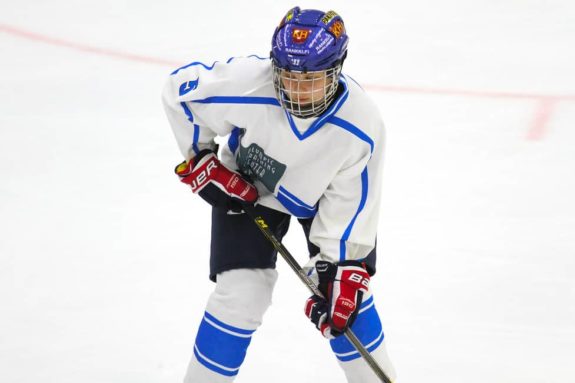 Strides are certainly being made in that regard. Both the NWHL and CWHL compensate their players. The compensation is not nearly enough, and certainly not enough to live solely on a hockey career alone. At the very least though, it is a starting block. Likewise, the fact that the Buffalo Sabres' owners Terry and Kim Pegula bought the Buffalo Beauts (NWHL) and that the New Jersey Devils partnered with the Metropolitan Riveters (NWHL) offers some glimmer of hope that salaries for women's players could be increased by owners with deep pockets. Supporters of women's hockey such as this THW writer can at least hope for that.
Mäkelä's Hero and Her Sense of Humility
As the women's game develops and grows, one of the most heartwarming aspects is that the stars of today are bringing about opportunities for the players of the future.
Mäkelä told THW: "My hockey hero is probably Finnish player Jenni Hiirikoski because she is so inspiring. She inspires you to work hard every day to reach your dreams and goals in hockey and in life."
The 30-year-old Hiirikoski also plays defense and is of similar size to Mäkelä. Hiirikoski is also an Olympic bronze medalist for Finland, and has won six bronze medals at Women's World Championships. She is certainly an excellent hero for Mäkelä to have. A major goal of women's hockey proponents is that players like Mäkelä will not have to work as hard to find opportunities as Hiirikoski has had to.
Perhaps a sense of levity can be found, and Mäkelä could someday earn a living in Finland playing hockey. Likewise, a little more than 13 years separate Mäkelä and Hiirikoski. Maybe someday, the Finnish girl who is 13 years Mäkelä's junior – she would be about three years old right now – can play the game she loves, be compensated for it, and live a comfortable life. In the truest sense, that is the goal of "grow the game."
Elli Mäkelä has the right mindset to be a leader for future generations of women's hockey players. It is likely that she will one day be a hockey hero for a young player. Mäkelä certainly has life figured out already, even at 17:
"The most important thing that hockey has taught to me is that you have to respect everybody no matter of their position in life or in hockey, and that you are never better than anybody else."
Truer words were never spoken.
General Manager of the Buffalo Beauts (NWHL). Hockey history writer "The Hockey Writers". Credentialed media for the NHL Combine and 2018 IIHF World Junior Championships in Buffalo, NY, USA. Born and raised in Buffalo, NY. Lifelong hockey fan for over 40 years. Proponent of the women's game.