If you were to look at the Edmonton Oilers' playoff chances right now, you'd have to admit they're bleak. A rough start to the year has them sitting 13th in the Western Conference with a 20-23-3 record. With 36 games to go and a ten point gap between them and a playoff berth, things are dire in Edmonton. The question is: Is this year is just a write-off or are the Oilers really this bad and need a shot in the arm.
Today it'll take around 99 points to make the playoffs in the Western Conference. The Oilers will have to make up 56 points down the final half of the season and go 28-8-0. How likely is that to happen? Not even the first place Tampa Bay Lightning or second place Vegas Golden Knights are playing .778 hockey. That's the pace Edmonton needs to pull a miracle and make the playoffs this season.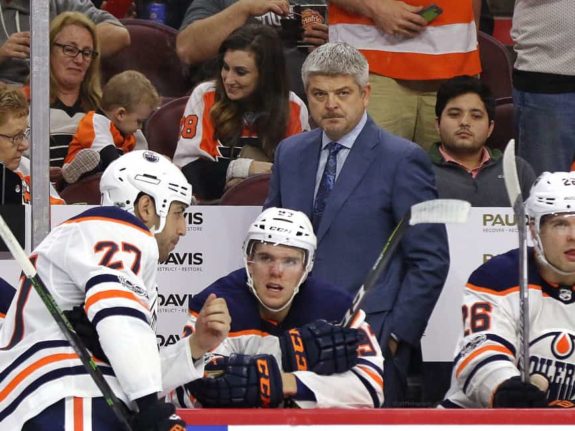 As NHL insider Bob McKenzie has stated, more teams across the league are open to dealing significant pieces to shake up their rosters. Whether or not the Oilers are going to make a push this year, or if they're preparing for next season, they'll need help scoring goals. Their offense currently ranks 24th in the league, and it's down considerably from the 2.96 goals per game they averaged last year.
Anecdotally I can tell you that trade talk is very much alive and that all across the National Hockey League teams are much more open to dealing and dealing significant players than they ever have been.

– Bob McKenzie, on TSN 1050
So if you take McKenzie for his word, maybe there's an option on the market that'll help the Oilers score goals. Last month I asked readers on Twitter what the Oilers needed. Resoundingly 53% of the vote said Edmonton should add a top-six player. So what are some potential top six guys, more specifically wingers, that can help this squad?
Here are some names to chew on to get the conversation going. Feel free to add your suggested names and reasoning in the comment section below.
Andreas Athanasiou
| | | | |
| --- | --- | --- | --- |
| Team: | Detroit Red Wings | Age: | 23 |
| Cap Hit: | $1.38 million | Stats: | 34 GP – 10 G – 11 A – 21 PTS |
The Detroit Red Wings are in a similar boat as the Oilers right now, well outside the playoffs with 38 games to go. The difference? It looks like the Red Wings might be moving towards a full rebuild. They could be sellers at the trade deadline as they do an internal evaluation. One guy you might hope shakes loose is Andreas Athanasiou.
A criticism of Edmonton's lineup is the team isn't that fast, and Athanasiou would help address that area. Last year, the blazing forward scored 18 goals for Detroit, and after a contract dispute, he's on pace for 21 goals in 72 games. That's a better scoring pace, despite already having missed ten games. Right now he carries a digestible $1.38 million cap hit.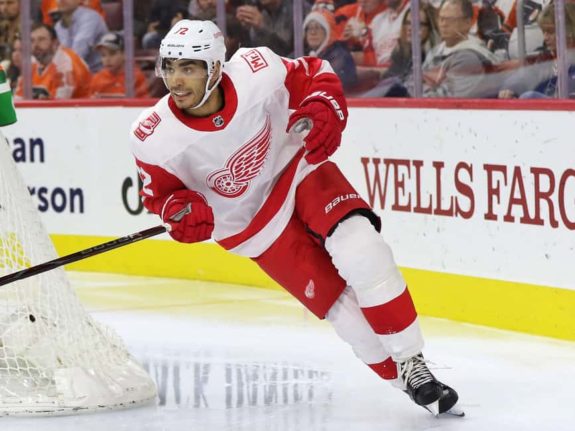 Here's the twist — he's a restricted free agent (RFA) this summer with arbitration rights. Depending on what the asking price could be, it's possible the Wings end up back in another contract dispute with him. Insert the Oilers, who could desperately use some scoring depth. Athanasiou can play all three forward positions, and that could give Edmonton some versatility.
Related: Does Patrick Maroon Finish the Season with Oilers?
The 23-year-old is enticing, but the Red Wings won't just give him away either. Sending a reclamation project like Drake Caggiula or Anton Slepyshev might not whet their appetite. However, maybe there's the possibility of Ryan Strome and a draft pick being something to think about.
Mike Hoffman
| | | | |
| --- | --- | --- | --- |
| Team: | Ottawa Senators | Age: | 28 |
| Cap Hit: | $5.18 million | Stats: | 42GP – 11 G – 18 A – 29 PTS |
This could be a costly addition for the Oilers to make. Mike Hoffman submitted a 10-team no-trade list as per the Ottawa Senators request. The Sens are a cap team, and they're already strategizing how they'll maneuver around the next crunch they're up against. Hoffman has hit the 20-goal mark in each of his last three seasons and he's on pace to score 21 goals and 56 points this season. He'll be one of the more highly sought after players at the trade deadline if the Sens are genuinely shopping him. The hard part is finding a return that could help the Senators address their defense.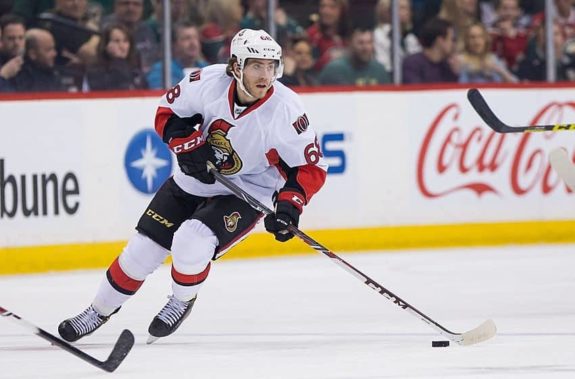 You have to believe that Ottawa general manager Pierre Dorion would want someone like Darnell Nurse in return. Hoffman's a shooter, and no one on the Senators comes close to his 139 shots (3.3 per game) this season. It's a contentious situation in Edmonton right now. The depth on the wings is still up in the air, especially moving into next season.
Related: How Many Losses Until Oilers Are Out of Playoff Contention?
Does Oilers GM Peter Chiarelli go with Patrick Maroon, Milan Lucic, Jesse Puljujarvi and possibly Kailer Yamamoto? Or does he look for a more proven scoring option and make a move to shake up his top six? If the Oilers want to make a big move, Hoffman could be a scoring solution. Frankly, he's a better option than most of the ones they have right now.
James Neal
| | | | |
| --- | --- | --- | --- |
| Team: | Vegas Golden Knights | Age: | 30 |
| Cap Hit: | $5.00 million | Stats: | 43 GP – 18 G – 11 A – 29 PTS |
The one guy I would think could've been a perfect fit for the Oilers was Jonathan Marchessault. Marchessault signed an extension with the Vegas Golden Knights, though, and that moves him off the market. So who's next? Maybe James Neal. Sure, with Vegas firmly entrenched in a playoff spot, the likelihood of them moving a guy like Neal might not happen.
He's currently on pace to reach the 30-goal plateau for the third time in his career. In Vegas' early infancy, he's been one of the faces of the franchise from a marketing perspective. So unless the Golden Knights suddenly free fall, seeing the Oilers acquire Neal might not be within the realm of possibility.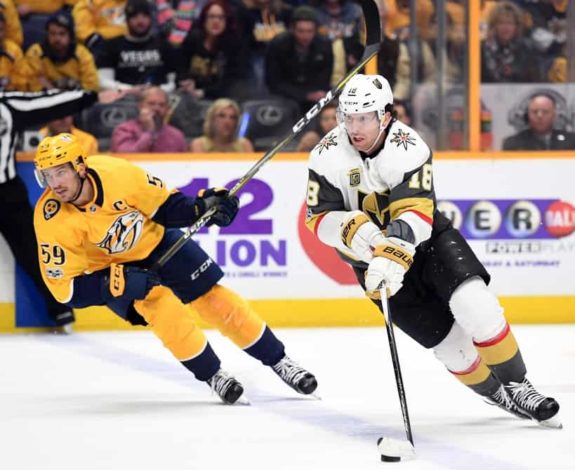 The kicker is how much an extension is going to cost, and that might be Edmonton's way in. The 30-year-old would be one of the marquee free agents if he were to hit the market this summer. If Vegas can't sign him to a lucrative long-term deal, for whatever reason, maybe he becomes available.
Whether that means signing him via free agency or do a trade and sign at the draft, there's a slight possibility this could work. Neal's also struggling right now with just one goal in his last ten games.
Evander Kane
| | | | |
| --- | --- | --- | --- |
| Team | Buffalo Sabres | Age | 26 |
| Cap Hit | $5.25 million | Stats | 44 GP – 16 G – 20 A – 36 PTS |
Before you throw something at the screen, consider a few things about Evander Kane. Sure enough, the first thing that comes to everyone's mind is the off-ice issues that have been well documented through his career. The latest was the tussle he had in practice with Justin Falk. Still, find a player that's available right now that's on pace to score 30 goals.
For all of Kane's problems off the ice, he's managed to find a way to score 16 goals and 36 points on an offensively challenged team. The Buffalo Sabres have the league's worst offense with just 2.25 goals per game. Right now Kane has points on 36% of the Sabres total offense. Move that same percentage to the Oilers (sure it's a flawed and subjective stat), but that's 45 points.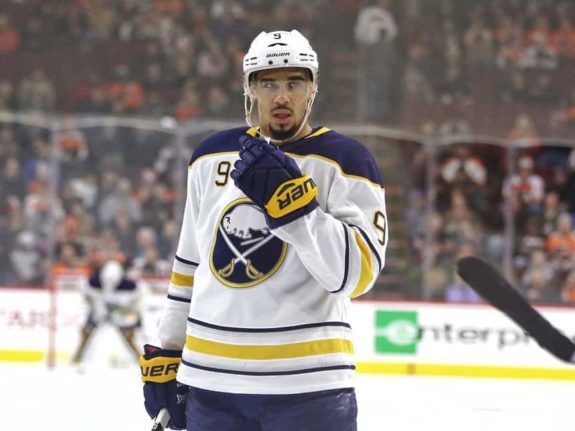 Aside from Jack Eichel, no Sabres player has more points than Kane. His current point total ties him with Leon Draisaitl for second in scoring on the Oilers. After dumping Taylor Hall and Jordan Eberle, the Oilers could use a consistent scorer, and for all his problems, Kane is that. He's had three 20-goal seasons, and he's been within a goal or two for six years, including this season.
The Sabres are asking for a king's ransom right now. TSN's Darren Dreger believes that Buffalo GM Jason Botterill is asking for a roster player and three other assets. Kane's an unrestricted free agent (UFA) this summer, so if Edmonton doesn't feel the need to make this move now, they can wait until the summer. In a league where goals are hard to come by, maybe Kane can provide an answer for the Oilers.
Edmonton Oilers regular contributor providing insight on all things Oilers including club history, prospect profiles, trade breakdowns, and everything else in between. Check back regularly for new and exciting content. Follow on Twitter @SanderTHW.