The Vancouver Canucks' prospect pool is swimming with young and exciting talent — Adam Gaudette is no exception and currently firing on all cylinders.
Gaudette is currently lighting up NCAA hockey for the Northeastern Huskies and proving the fact that he is ready to make the leap to the NHL and join the Canucks. Last week, he was named the Hockey East player of the week after a five-point weekend — Gaudette's stellar play has been a major part of the Huskies recent success and impressive 7-0-2 record in their last nine.
After recording a five-point weekend center Adam Gaudette has been named the NCAA Hockey East Player of the Week. #Canucks

— Rick Dhaliwal (@DhaliwalSports) January 15, 2018
Gaudette With the Huskies
Gaudette is currently leading the Huskies and the entirety of the league with 17 goals and 18 apples in 22 games. On top of his offensive contributions, Gaudette has also been praised for his defensive play — he has earned comparisons to former Canuck, Ryan Kesler.
His hockey sense is one of his greatest assets, as he is rarely out of position and almost always pressing the issue in the offensive zone — he makes quick decisions and puts everything towards the net efficiently, hard and quickly. The Huskies are loving Gaudette's presence, especially on special teams as he is a penalty kill warrior and also a weapon on the man advantage — so far, he has two shorthanded markers and eight on the power play.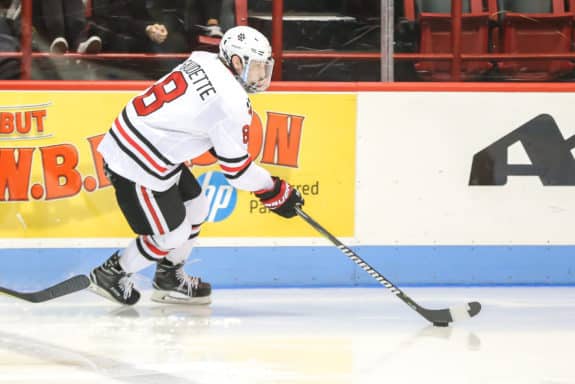 Last season, the Braintree, Massachusetts product chalked up 26 goals and 52 points in his 37 games — 16 of his goals were on the man advantage. Unfortunately, he was snubbed of a Hobey Baker nomination. This season, though, Gaudette has been nominated for the Hobey Baker and is certainly a favourite at this point of the 2017-18 season.
While the Huskies have benefited from Gaudette, Gaudette has also benefited greatly from the Huskies. Playing against older and bigger players has shaped Gaudette into a strong and aggressive player that is perfectly capable of playing at an NHL level.
Cracking the Canucks
Where does Gaudette fit into the Canucks' future? He's likely to be a bottom-six player tasked with a more defensive role but there's always room for improvement and he could possibly blossom into a second-tier scorer for the upcoming Canucks.
At center, Gaudette is more valuable than ever for the Canucks because of his ability to kill penalties. Following the departure of the aforementioned Kesler, the Canucks' penalty kill has heavily lacked, partly due to the fact that their centermen, generally speaking, are not strong on the penalty kill.
Following this season, Gaudette, the Canucks' fifth-round selection in the 2015 NHL Entry Draft, will likely be offered an entry-level contract by the Canucks. He will have the option of playing out his final year with the Huskies in the 2018-19 season and I think he should take it. One more year of development could prove to be huge in terms of shaping the 21-year-old's future in hockey.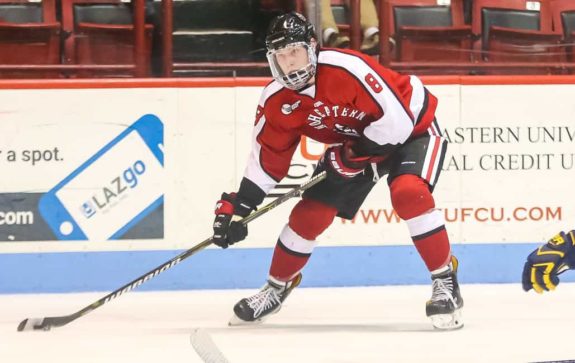 However, Canucks' director of amateur scouting, Judd Brackett, is confident that Gaudette will be a Canuck sooner than later.
(Gaudette's) very excited about beginning a pro career. I think that's a safe bet, but yo know, other things have happened before. – Judd Brackett
Gaudette has progressively improved over his three-season ride with the Huskies, and, if he does end up playing a fourth, I believe he'll take his play to a whole new level. Leadership, maturity and his overall skills would be tailored to their full potential and his transition into the NHL will be that much more seamless.
Related: Canucks Prospect Pettersson Lit up the 2018 WJC
Predictions
I believe Gaudette will be finishing this season with the Huskies atop the league scoring race and smash his previous point-high of 52 — he will score over 30 goals and finish with 60-70 points while carrying a strong plus-minus.
Following the season, I think that Gaudette will be offered an NHL contract from the Canucks and join them in a third or fourth line role. I don't think he'll hold down a full-time spot on the Canucks just yet, though, and instead will likely spend the majority of the season with the Utica Comets of the AHL.
Moving forward into the future, Gaudette could be a great third-line center for the Canucks and one of their best penalty-killers. I know it's not that exciting, and he's no Brock Boeser, but players like Gaudette hold high value, and, come late in the season, when it's all on the line, guys like Gaudette and Kesler are who you want around.