On March 30, 1979, the World Hockey Association (WHA) officially folded and merged with the NHL. The merger added four teams to the league: the Edmonton Oilers, the Quebec Nordiques, the Hartford Whalers, and the Winnipeg Jets. In addition, players such as Wayne Gretzky, Gerry Cheevers, Mark Messier, Mike Gartner, Michel Goulet, and a young upstart goalie out of Bowling Green State University named Mike Liut joined NHL teams.
A WHA Steal
Mike Liut was drafted by the Blues in 1976 but instead joined the Cincinnati Stingers of the WHA upon graduating from BGSU. Once the WHA folded, the Blues reclaimed Liut's rights and he became one of the most prolific goalies in Blues history. But all that's legendary isn't always harmonious, and Liut's tenure with the Blues ended on a sour note.
After five straight seasons of 20-plus wins, which included five of 25 straight playoff appearances for the Blues, Liut was traded to the Whalers with Jorgen Pettersson for Mark Johnson and Greg Millen. Many, including Liut, have speculated that his $900,000 salary was to blame, as it was higher than both players the Blues received in return combined.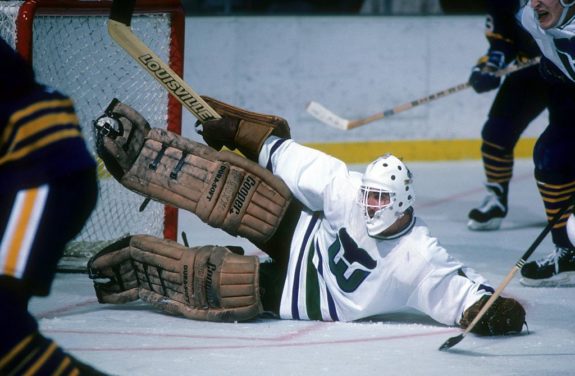 While his numbers during the 1984-85 season weren't at the same level of his Lester B. Pearson Award-winning season of 1980-81, he was still a very valuable goalie. During his tenure with the Whalers, Liut posted three 20-plus win seasons including a division title in 1986-87, and led the league in goals-against average (GAA) in 1989-90. Liut ended his professional playing career in 1992 after a mediocre stint with the Washington Capitals.
Thirty Years of Searching
While Liut hasn't dressed up in a Blues jersey in over 30 years (not counting the Winter Classic alumni game), the effects of his tenure and departure have been felt by every goalie looking to replace him. There's been a long list of All-Star goalies that have come through the doors, and others who filled in admirably only to be forgotten in history after they left.
Grant Fuhr made an appearance in St. Louis for four stellar regular seasons but is only remembered for the early exit he made in 1995-96 playoffs, which left the Blues to rely on Jon Casey. Curtis Joseph began his career in St. Louis before being traded; Roman Turek posted a 40-plus win season with the Blues; Chris Osgood stopped through for two seasons, as well as Fred Brathwaite, Guy Hebert, Tom Barrasso, Ben Bishop, Ryan Miller, Jaroslav Halak, Brian Elliott, and the current netminder, Jake Allen. None of them lasted longer than five seasons, and many only stayed for one or two seasons.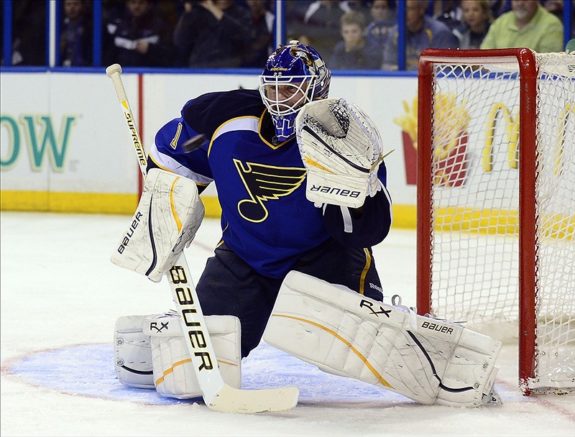 Although Fuhr, Miller, and Barrasso all won Vezina Trophies on other teams, none of the above-mentioned goalies won the coveted trophy as a member of the Blues. They have had two William M. Jennings winners: Turek in 1999-00 and Halak/Elliott in 2011-12, but they've all been unsuccessfully reaching for the bar that was set by Liut way back in 1980-81 when he was a runner-up for the Hart Trophy to Wayne Gretzky.
Records Are(n't) Made to Be Broken
As of today, Mike Liut still holds the bulk of St. Louis Blues goaltending records. He still leads the Blues in the following categories: games played (347), wins (151), losses (133), ties/overtime losses (52), goals against (1194), minutes played (20,010), and many of the same categories in the playoffs as well. All of these records were set during the five and a half years he spent in St. Louis during the early 1980s, when offense was beginning to take off due to the rise of Gretzky, Messier, Mike Bossy, Bryan Trottier, Marcel Dionne, Bernie Federko, Peter Stastny and Denis Savard.
Jake Allen is within striking distance of the wins record if he can maintain the level of play he has been showing the last three seasons, but besides that record, many of these will never be broken. Liut's legacy in St. Louis is more than just his Ken Dryden-esque style of goaltending that captivated a weary St. Louis crowd after nearly a decade of mediocrity in the 1970s. His legacy is the level of excellence that fans, coaches, and ownership have come to expect from every net warrior that has worn the note.
It would be false to say that the Blues haven't seen their fair share of legends, but none have come close to matching the greatness that Mike Liut showed night in and night out. The Blues may have physically moved on from Liut during the 1984-85 season, but his memory and legacy have remained cemented in the minds of Blues fans everywhere.