The NHL trade deadline is just over a month away, and the Edmonton Oilers could be making some significant changes. Edmonton's struggles this season have been duly noted as they're currently eight points out of the playoffs with 36 games to go. Do the math, and the chances of them making the playoffs are next to nil barring a miracle down the stretch. It could take 96 plus points to make the playoffs in the Western Conference.
Edmonton would need to pick up 53 points in the remaining schedule, essentially a 26-9-1 record the rest of the way. If they lose nine or more games, the season is likely over. That means the Oilers could be sellers heading into the February 26 deadline. This brings us to the status of pending unrestricted free agent (UFA) Patrick Maroon. The 29-year-old has had a down year in the goal scoring department after scoring 27 goals last season.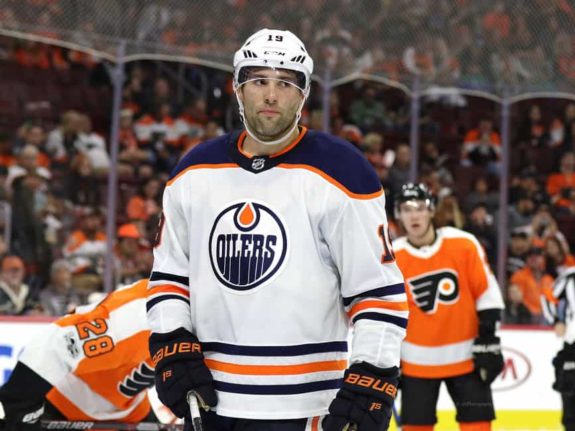 This season Maroon has 11 goals in 44 games and might be lucky to score 20 this year. Still, his points are on par with his performance from a breakout season a year ago where he scored 42 points. Of the four Oiler UFA's this summer (Mark Letestu, Mike Cammalleri and Yohann Auvitu being the others), Maroon would fetch the highest return.
"Extremely Unlikely" Maroon Stays in Edmonton
"I think he's going to get traded. I don't think there's a doubt that he's going to get traded. I'd be surprised that they're keeping him. I don't see any way that he finishes – I shouldn't say that because there's always a way. I would say it is extremely, extremely unlikely that he finishes this year in Edmonton."

– Elliotte Friedman on Boomer & Warrener, Sportsnet 960
A big 6-foot-3, 227-pound power forward, he'll be a valuable commodity for teams looking to beef up their lineup ahead of the playoffs. This brings us to the comments made by NHL insider Elliotte Friedman. He goes on to reiterate the fact that teams looking at guys like Evander Kane, Mike Hoffman or even Max Pacioretty might be keen on Maroon. He has shown he can play with superstars like Connor McDavid, Ryan Getzlaf and Corey Perry.
The 29-year-old also won't have the acquisition cost that the aforementioned Kane, Hoffman or Pacioretty would. Maroon's digestible $1.5 million cap hit will allow teams the cap flexibility to make another move if necessary as well. Suitors won't feel a significant cap crunch. It's worth noting that Maroon's current deal does not have a no-trade clause (NTC) or any trade protection for that matter.
Tenuous, Angry & Disappointing Season in Edmonton
"Those five days off, in terms of what they're going to talk about and what they're going to think… If I was them, I would probably keep it together for the rest of the year, not do anything – trade your UFAs – not do anything too crazy unless something just dropped on your lap that you couldn't say no to, and then really take a long, hard look."

– Elliotte Friedman, on Boomer & Warrener, Sportsnet 960
Edmonton is off for the week after putting up back-to-back wins over the weekend versus the Arizona Coyotes and Vegas Golden Knights. They don't play again until January 20 versus another divisional opponent, the Vancouver Canucks. Friedman would go on to give his opinion that the Oilers shouldn't do anything crass. Reading between the lines, that could mean not moving a core guy like Ryan Nugent-Hopkins.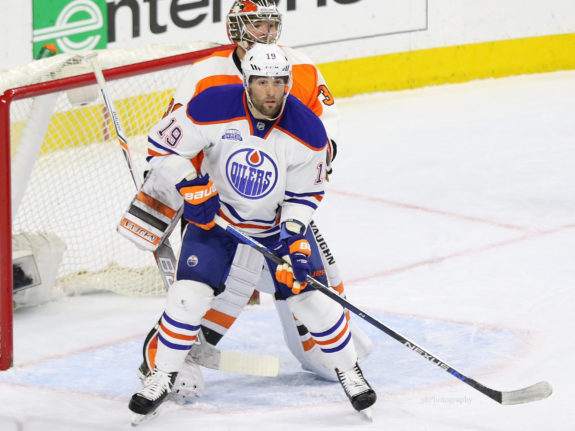 Maroon will be due for a hefty raise, and there's the possibility of him netting over $4 million on the market. Looking at comparables from last year's trade deadline, you get a picture of the kind of value Maroon would have. The question is whether the incoming value justifies moving a 20-goal scorer.
Related: Bruins, Oilers, & Those Ryan Nugent-Hopkins Trade Rumours
Edmonton's already been burned in recent years, at least the opinion within the market, with the Taylor Hall and Jordan Eberle trades. They can't afford to get burned again from an asset management perspective.
Examples of What Trades For Forwards at 2017 Trade Deadline Got Teams

Team
Traded
To
Acquired

Arizona

F Martin Hanzal

F Ryan White

4th Round Pick

Minnesota

F Grayson Downing

1st Round Pick

2nd Round Pick

Conditional Pick*

Colorado

F Jarome Iginla

Los Angeles

4th Round Pick*

Dallas

F Patrick Eaves

Anaheim

2nd Round Pick*

Detroit

F Tomas Jurco

Chicago

3rd Round Pick

Detroit

F Thomas Vanek

Florida

D Dylan McIlrath

3rd Round Pick*

Los Angeles

F Dwight King

Montreal

4th Round Pick*

Tampa Bay

F Brian Boyle

Toronto

F Byron Froese

2nd Round Pick*

Vancouver

F Jannik Hansen

San Jose

F Nikolay Goldobin

4th Round Pick*
* indicates a conditional draft pick
Should the Oilers Trade Patrick Maroon?
"It's basically going to be Maroon, this is my opinion, Maroon, Letestu, the rentals, Cammalleri, 'What can we get for these guys because the season is lost for the most part, and so let's find out what the market is for those guys as rentals." – Bob McKenzie, interview with TSN 1260
We'll see what the consensus is amongst Oiler fans, but here's my opinion on the subject. Edmonton should keep, and sign Maroon to a three-year extension. The reason for that term is because typically the thought is that power forwards start to slide production-wise after turning 32. In arguing against a Maroon trade, there's not enough depth internally for Edmonton to move a 20-goal guy for a future asset.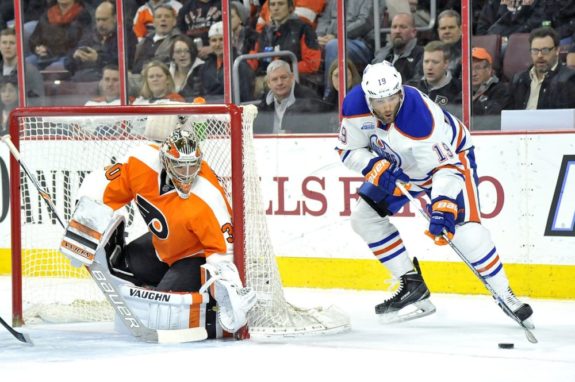 This is especially true if the gamble is converting on picks where the Oilers have historically struggled. Edmonton needs a bonafide return and something that can help this club today and next season. Next year, Jesse Puljujarvi will enter his second full season in the NHL and should take a step forward. There's a high probability of Kailer Yamamoto also challenging for a spot. That'll give Edmonton two options on the right side, something they haven't had this season.
Arguing Against a Patrick Maroon Trade
If they sign Maroon, they'll have two 20-goal guys on the left side if you include Milan Lucic. If you put any stock into the numbers crunched by Darcy McLeod (aka Woodguy), you'll know the value of wingers for Edmonton. The Oilers will need wing depth if they intend to go with a three-headed monster at center. Every time they have moved away from having McDavid, Leon Draisaitl, and RNH centering their own lines, the team has noticeably struggled.
Here's one of the reasons I mentioned to @Bob_Stauffer on his show last week that McLellan should stick with "the big 3 C" deployment. pic.twitter.com/a6B94XufDe

— Woodguy (@Woodguy55) January 15, 2018
Unless the Oilers can swing a deal that alters the construction of their top six, like acquiring a Hoffman, Kane or Pacioretty themselves, what's the logic in dumping Maroon? We all know he's from the St. Louis area and that there's the possibility of him going back home. But I wouldn't be so quick to jump into that boat and say Maroon's guaranteed to walk out the door himself.
There's a deal to be made, and the intrigue of playing with McDavid for the next couple years has to be enticing. Edmonton's cap situation also isn't as dire as some believe, and they can afford to keep Maroon if they wish. If he wants to leave, then, by all means, trade him. However, if he wants to stay, I'd keep him. Every Oiler has had a down year, Maroon included.
Edmonton Oilers regular contributor providing insight on all things Oilers including club history, prospect profiles, trade breakdowns, and everything else in between. Check back regularly for new and exciting content. Follow on Twitter @SanderTHW.