With 936 career points over 1,048 NHL games, Henrik Zetterberg has seen and just about done it all over his 15-year tenure with the Detroit Red Wings. The now 37-year-old Swede has been captain of one of the league's most storied franchise's for the last six seasons, he's won a Stanley Cup and Conn Smythe (2008), an Olympic Gold Medal (2006), a World Championship Gold Medal (2006), the NHL Foundation Player Award (2013), and the King Clancy Trophy (2015).
It's funny how things work out, for Zetterberg who is the second-latest draft pick (210) to win the Conn Smythe Trophy. Over his 137 playoff games, he's racked up 120 points (57g-63a) which ranks him fifth in Red Wings history and seventh among all active NHL players.
Learning From Legends
When he started his professional career in North America he was a young man trying to find his place in the NHL alongside some of the greatest – and most prolific – players to ever play the game. "The one thing that I benefitted the most from in the beginning of my career was the leaders that we had in Detroit," Zetterberg told The Hockey Writers. "Starting with Stevie (Yzerman) and Nick (Lidstrom). Kris Draper. Chris Chelios. Brendan Shanahan. Igor Larionov. I can keep going forever," he added while smiling. "There are not many players that I played with that first year (2002-03) that aren't in the Hockey Hall of Fame or aren't going to be in the Hall Of Fame. That is pretty special and they were so great to me, helping me on and off the ice."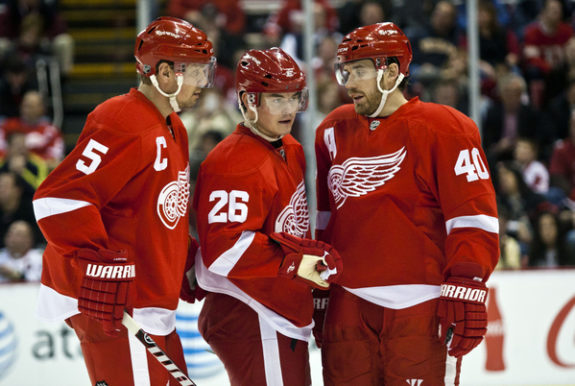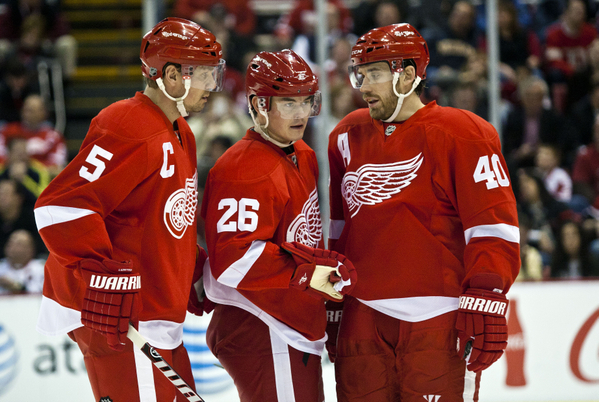 He wasn't lying. There are eight members of that 2002-03 Red Wings team that are presently in the Hockey Hall of Fame, and that number could grow to 11 if Zetterberg, Pavel Datsyuk, and Curtis Joseph get the call from the Hall one day.
He is arguably a first-ballot Hall-of-Famer and among the greats of a fantastic franchise — which is not an easy list to crack. Nowadays as the last remaining link to their last Stanley Cup (2008), he is passing on all of that knowledge to a younger generation of players in Detroit that has aspirations of finishing atop the NHL mountain again one day soon. There are currently at least eight players on the Wings that are 28-years-old or younger.
Role Reversal
"It's gone fast, I can tell you that. But in the same way, it's fun to see these young guys coming up and playing well," he explained. "You know what they are going through coming into this league, getting more and more responsibility, playing more and more minutes. It started a little bit last year and we've taken more steps forward this year."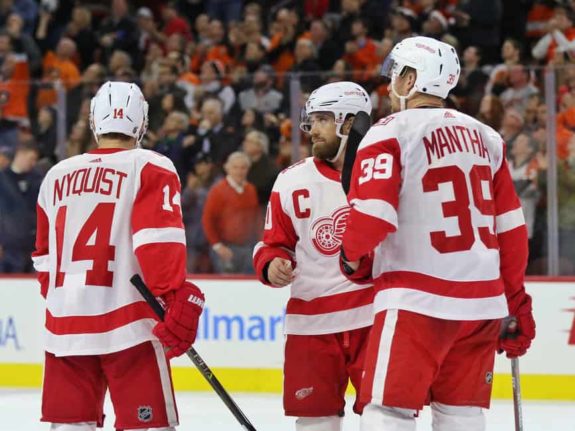 The game has changed fast too, with incoming players now faster, stronger, and more prepared to take on an increased role in the league at a young age. Zetterberg may not put up points at the same clip he used to, but he's also smart enough to know how to adjust his game to keep pace in the new-era NHL.
"Oh yeah, it's definitely a lot faster now than it was when I came into the league. Naturally, I'm not getting faster," he said with an impish grin, "so it's a little tricky sometimes. You have to be able to use other abilities, and use the people around you that have more speed," he added while laughing.
Beating the Odds
He also never dreamed that he'd still be playing in the league (for the same team that drafted him no less!) as a 7th Round pick (210th overall) in the 1999 NHL Draft. "No. When you get into this league you're just happy to be there. We live in the moment and you never take anything for granted. In the same way," he paused and grinned, "it's gone really fast. I can't believe it's been 15 years and I'm still doing this. I'm happy as long as this lasts and I'm enjoying every minute of it."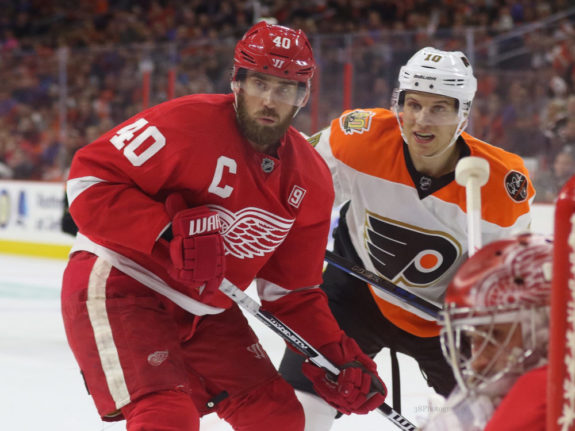 As mentioned at the top, he's been captain of the Red Wings for six seasons now and of all the things he's accomplished, all that's he's seen and done in the NHL – that might be the achievement or honor that means the most to him. "Absolutely, it's a huge honor," Zetterberg proudly told THW. "To be the captain of an Original Six team…just looking back at who has been captain of this team before me — they're all legends. Just to even be among those guys it means a lot to me."
It's rare that players stay with a franchise for the duration of their careers, especially when they play in the NHL for as long as Zetterberg has, and perhaps even more so in the new-era NHL where the game has evolved quicker and faster every season. So treasure no. 40 Red Wings fans. Celebrate his career and realize how special and truly unique a player of his stature is, even in your town where you've had a whole lot of iconic players. One day in the not too distant future his number will be hanging alongside all of the other icons that have graced your city.
Dan Rice is in his 9th year of reporting for THW & has covered NJ Devils home games for 15+ years at various websites. He began his journey working for legendary broadcaster/writer Stan Fischler from 2002-04 & completed an internship at the ECHL; he also has been writing features for the NWHL (nwhl.zone) website since 2016.