It's inevitable. We know it will happen at some point (soon), it's just a question of when. An agreement, a partnership, a merger, some sort of unity is destined to happen between the Canadian Women's Hockey League (CWHL) and the National Women's Hockey League (NWHL). Fueled by the strong beliefs of the players and with fans dying to see the best of the best all housed in one premier collection of competition, what has commonly become known as "#OneLeague" is poised to come to fruition. It is for the betterment of women's hockey and it is only right for it to happen.
So, should we see a combined league be formed sooner rather than later, it will arguably be comparable to a women's version of the NHL, but only in the sense that it will be regarded as the best league in the world for female hockey players. Much like how the NHL is commonly believed to be at least a notch ahead of the Kontinental Hockey League (KHL), Swedish Hockey League (SHL), Czech Extraliga, and so on.
If indeed OneLeague becomes the destination for women's hockey players, then there are some players you will most assuredly want to be there that have not necessarily been in discussion before for either the CWHL or NWHL. These players have carved out niches elsewhere. Each, however, is an elite competitor and would undoubtedly wish to test their merit in the utmost league.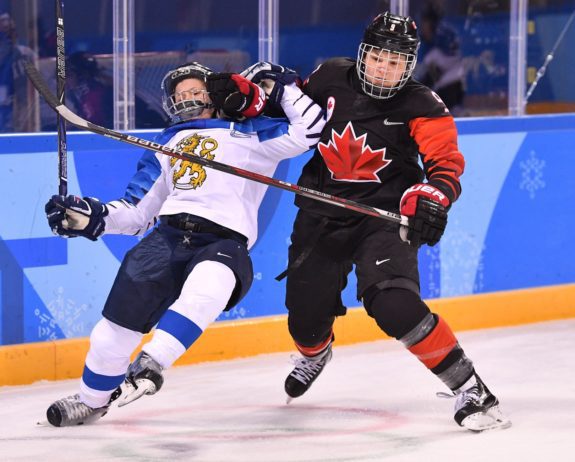 With the understanding that recent PyeongChang Olympians such as Hilary Knight, Marie-Philip Poulin, and the like are bound to be back in the fold for the 2018-19 season (whether it is one league or two in North America), we want to focus on players a bit more outside the realm of shoo-in. These are players that the CWHL/NWHL should actively pursue for their league(s). Rather THW presents to you five players that one would hope to see in OneLeague.
#5 Refika Yilmaz, defender (Turkey)
Refika Yilmaz has long been the best hockey player from Turkey, for either women's or men's hockey, having learned the sport initially by playing roller in-line hockey as a teenager in the haze of the Mediterranean sun. Eventually she would bring her game to the ice, and has served as team captain for the Turkish women's national team since she was 25 years old (Yilmaz will be turning 28 in June 2018).
Oddly enough, Yilmaz was selected in the eighth round of the 2017 CWHL Draft by the Boston Blades. She has however never suited up for league play in North America. Internationally though, Yilmaz has been the heart and soul for her country's hockey team. This was never more apparent than in Hong Kong in 2015 when her play from the back end helped Turkey to go undefeated in three qualification games to obtain promotion to the Women's World Division II-B competition. Yilmaz had five assists in the three games and was a plus-seven.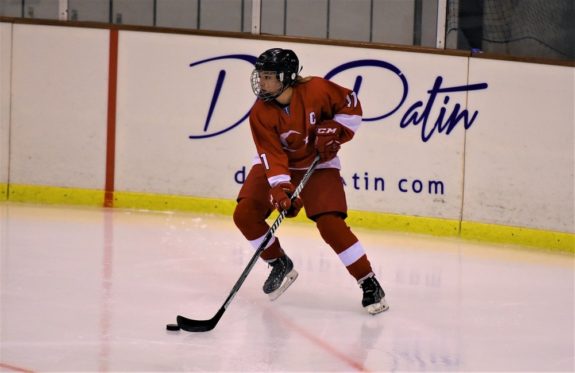 Not only is Yilmaz talented enough to play in a premier women's hockey league, but it would be fantastic for the game of hockey in general. Putting a player from an entirely non-traditional hockey market into the limelight would be a superb way of growing the game and removing barriers. Furthermore, Yilmaz has earned such an opportunity. Still a young player, she has become a mother hen of sorts for the Turks and takes great pride in being a leader for less experienced teammates who have developed a love for the game.
#4 Klára Peslarová, goaltender (HC Poruba B)
When THW interviewed Klára Peslarová in Oct. 2017, she told us quite matter-of-factly that her brother has always referred to her as "Dominik Hasek in a skirt". This is about as close to the truth as one can come when describing a hockey player. Peslarová is widely considered to be the greatest female Czech goaltender to ever play. Presently just 21 years of age, she has many more years of tremendous hockey ahead of her.
And yet, she has already accomplished so much. This current 2017-18 season Peslarová played for HC Poruba B, a fourth-tier men's club in her native country. This took place after her playing playing two seasons for SDE HF of the Svenska damhockeyligan (SDHL), the top women's league in Sweden. In the 2016-17 SDHL season Peslarová posted a .926 save percentage and a 2.91 goals against average in 21 games.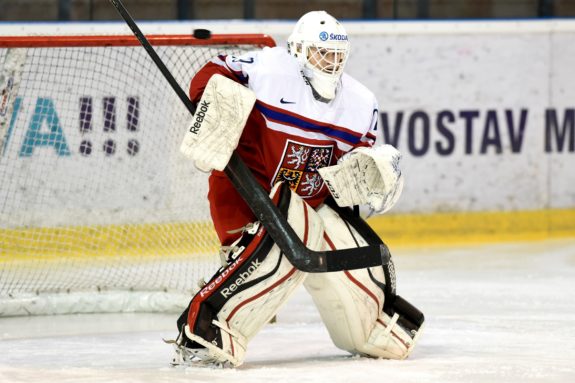 Where Peslarová has been simply stellar is with her international play when representing the Czech Republic. At the 2014 Women's U18 she backstopped the Czechs to a bronze medal in Budapest, Hungary. There Peslarová allowed just nine goals in six games for a .951 SV% and 1.57 GAA. In the semifinal of that tournament against the United States, she was brilliant between the pipes while turning aside 58 of the 61 shots she faced in the game. Not surprisingly, in addition to the bronze being draped over her shoulders Peslarová was named Best Goaltender of the tournament.
How great would it be to have Peslarová in goal in the same league as Amanda Leveille and Erica Howe? Most professional women's teams would be salivating over the thought of having such a highly talented goaltender.
#3 Nicole Bullo, defender (Ladies Team Lugano)
Then we have the Swiss. Nicole Bullo is the most accomplished defender in the history of women's hockey in Switzerland. She is a four-time Olympian, including once as a bronze medalist. Bullo is also an incredible puck carrier, and feeds passes beautifully. She can also put plenty of them into the net herself.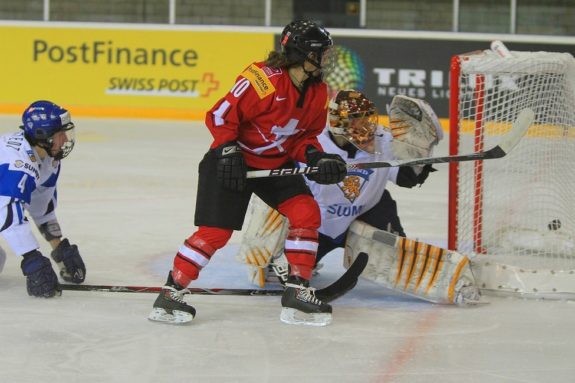 Bullo has played for Lugano since the 2003-04 season and is well more than a point per game player, even as a defender. In 200 SWHL A games (the top women's league in Switzerland) she has scored 138 goals and 179 assists for 317 points as a blueliner. Bullo also has a physical side to her game and has 158 penalty minutes in her career. Her most productive season with Lugano came in 2012-13 when she assembled 21 goals and 19 assists in only 18 games to give herself 40 points on the year. Bullo would score another 15 points (6G, 9A) in nine playoff games that same season. Additionally, she is a five-time SWHL A league champion with Lugano.
Bullo is a defender who has played her entire career in her native Switzerland, so it is unlikely that she makes a jump across the pond. However, she should at least be given an offer and the opportunity. If we consider the NWHL, CWHL, SDHL, Finland's Naisten Liiga, and Russia's WHL as the top-five leagues for women's hockey, then Bullo is quite possibly the best hockey player in the world outside of those particular leagues. Soon to be 31 years old, it is a prime time for her to try her hand for at least one season playing abroad.
#2 Lyudmila Belyakova, forward (Tornado Dmitrov)
Let us entice Lyudmila Belyakova to make a return to North America to play. The five-foot-seven, 140-pound forward is easily the top Russian in women's hockey (though teammate, and often linemate, Anna Shokhina is right up there too). Belyakova was also an original Metropolitan Riveter during the NWHL's inaugural season. Truth be told, she fit in very well with the squad too and made a mark that has not been forgotten in the league.
All of 20 years old at the time, Belyakova finished just behind Riveters Bray Ketchum and Brooke Reimer who each had 14 points for team scoring in 2015-16. Belyakova tallied five goals and five assists for 10 points in 15 regular season games. She would add another goal within a pair of playoff games that same year.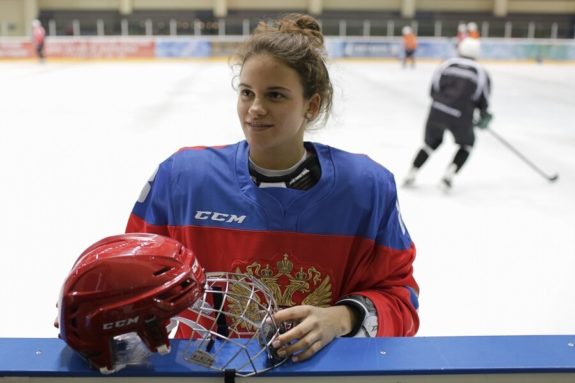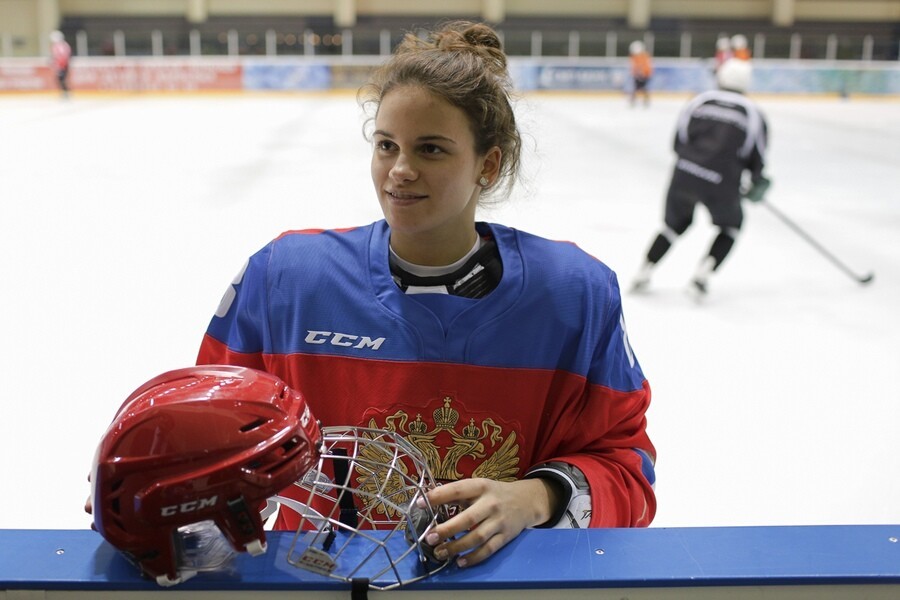 Belyakova has been astonishing at times while playing for Tornado Dmitrov in the Russian Women's Hockey League (WHL) (NOTE: WHL is anglicized from Женская хоккейная лига (ЖХЛ)). She has twice won that league's championship, and has scored 70 career goals thus far in a mere 76 games. Add her 39 assists to that total, and you have a player who is averaging nearly a point and a half per game.
At the 2018 PyeongChang Winter Games, Belyakova was second overall in scoring for the Olympic Athletes of Russia with a goal and two assists in six games. It was the first of what will be many Olympic Games for the sniper.
If she is at all interested in making a return to play in North America, teams will be lined up for her services. The concept of OneLeague comes across as rather enticing for a player of Belyakova's notoriety.
#1 Jennifer Wakefield, forward (Luleå HF)
A two-time Olympian for Team Canada and a six-time World Championship medalist, Jennifer Wakefield has long been the prototypical power forward for women's hockey. The 28-year-old Wakefield stands 5-foot-10 and 170 pounds. She can play a very physical game, but she also has the softest of hands around the net. During her NCAA career which was split between the University of New Hampshire and Boston University, she blistered away 120 goals and 86 assists for 206 points in just 134 games. What would be perceived to be the best women's hockey league in the world would therefore need to have the arguable premier power forward in it.
A closer look at the forward from Pickering, Ontario: Jennifer Wakefieldhttps://t.co/I0GBqyu3TW | #RoadToPyeongChang pic.twitter.com/6dVas2J5EQ

— Team Canada Women (@HC_Women) October 30, 2017
Wakefield did play one year in the CWHL with the Toronto Furies during the 2012-13 season. In 24 games for Toronto she scored 13 goals and added five assists. Since that year though, Wakefield has played almost exclusively in the SDHL. There she has turned hockey in Sweden on its ear. For example, while suiting up for Linköping HC in the 2015-16 season, she compiled an astounding 38 goals and 17 assists for 55 points in only – are you ready for this? – 18 games.
Approaching the age of 30 (Wakefield will be 29 in Jun. 2018), it would be nice to see her finish out her career closer to her homeland of Canada. Now in saying that, it is highly likely that Wakefield is very much enamored with the SDHL and her play in Sweden, and has no intent of coming to OneLeague, the CWHL, or the NWHL. But from the perspective of women's hockey proponents, having Wakefield in North America once more is very high on the proverbial wish list.
A OneLeague Wish List for Now
For the time being, these players are just items on that wish list until OneLeague actually takes shape. But if this combined league is to become the finest collection of talent in women's hockey, then the governing body who will be running it should actively pursue these particular players and others like them. Truly make this pending league be the best of the best. Gather and promote the finest players from everywhere. OneLeague is a dream (that is very likely to come true) at this point in time, but it is imperative to think big and ensure that we are being all-encompassing. If you build it, they will come.