There are many Buffalo Beauts fans pondering over what might have been. At least if there had been one more year. Official word was released on Jul. 20, 2018 that renowned hockey sniper Jess Jones is returning to the CWHL's Markham Thunder after a lone season in the NWHL with the Beauts. A native of Picton, Ontario, CA, the 5-foot-4 Jones had played all four of her previous women's professional-level hockey with the Thunder before she went south of the border for the 2017-18 season. Worth noting that each of those seasons were played while the team was still located in Brampton.
Jones has had tremendous success previously in the CWHL, and has demonstrated that she is one of the better goal scorers in women's hockey in general. In 95 games with the Thunder from the 2013-14 season through 2016-17, Jones scored 43 goals and 43 assists for 86 points. She is a three-time CWHL All-Star too. Most noteworthy though are the 17 goals and 20 assists she scored during the 2016-17 season, which led her to being named the winner of that year's Angela James Bowl (along with Marie-Philip Poulin), awarded to the top points scorer in the league.
BREAKING: Thunder sign free agent Jess Jones. Welcome back to #ThunderNation, @jones22__!

📚 https://t.co/quz8oegWov pic.twitter.com/iPvQaJ5BYs

— Markham Thunder 🌩 (@ThunderCWHL) July 20, 2018
"Jess brings experience, offensive ability and a game intensity and work ethic," Thunder Head Coach Jim Jackson said via a CWHL press release about the signing. "She will elevate the players around her."
Road Between Markham and Buffalo Is Well-Traveled
The proverbial trade route between Brampton/Markham and Buffalo has seen a good amount of traffic in recent years. In addition to Jones, players such as Sarah Edney, Rebecca Vint, Hayley Williams, Devon Skeats, and Olympian Megan Bozek have each played for both the Thunder and the Beauts. So in a way it is not surprising that Jones is traversing back through the route and rejoining the Thunder. Keep in mind too that Markham are the reigning Clarkson Cup champions of the CWHL, so she is rejoining a winning organization.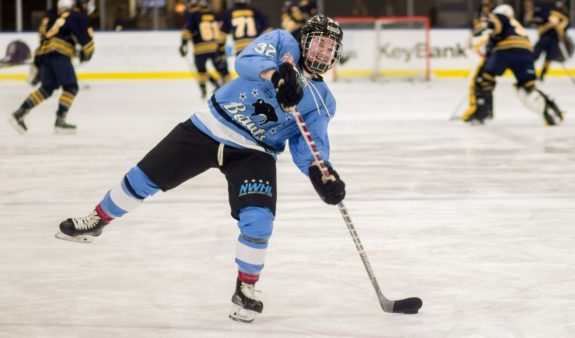 "Ultimately, I wanted to come back because I enjoy playing in the CWHL. I've been a part of the league for four years, and I want to continue to be a part of the growth for women's hockey here in the CWHL,"  Jones said via the same press release. "It's a great league to be a part of."
Now she will have the opportunity to help the team retain the Clarkson Cup. It's not something that Jones takes lightly either. For a player who will be turning 28 on Aug. 30, she recognizes that time is a factor in both her career and her performance. She went on to say:
"I just want to come back and contribute to the team the best I can. I'm getting older and the girls are getting better! I'm just hoping to contribute to another great season for the Thunder."
Jones Will Be Missed in Buffalo
For Buffalo fans, they wish that they had more time with her. Jones took part in the Beauts' Free Agent Camp earlier this summer. While it was a little surprising to see her out there at the time, no alarms were raised because a number of other veteran Beauts were taking part as well. We now know that Jones' destination for the 2018-19 season had not been decided at that point, and it ends up being Markham.
While Jones' 2017-18 season in Buffalo was not as statistically productive as many would have thought it would be, it was her leadership and experience that truly came through. Along with her former Thunder teammate Edney, Jones served as an alternate captain for the team. With hers, Edney's, and team captain Corinne Buie's leadership, the Beauts made a third-straight trip to the Isobel Cup Final. They lost 1-0 in a hard fought game on the road against the Metropolitan Riveters.
Jess Jones' is leading @BramptonCWHL's surge to climb @TheCWHL standings https://t.co/3GQA6bmmCG pic.twitter.com/QpjVsBMKst

— CWHL (@TheCWHL) December 7, 2016
Jones' season in Buffalo was certainly not a bust either. In 14 regular season games she scored a decent four goals and five assists. Three of her assists came on the power play. Ultimately what may have shortchanged Buffalo in terms of Jones' goal scoring was that she did not have a natural playmaker to feed her the puck. Jones is a finisher – all you have to do is get her the puck, and she will put it home. The Beauts did not have a linemate for Jones who functioned in that regard.
Perhaps too Buffalo felt Jones was more expendable for this upcoming season. They signed sniper Kelly Babstock, who functions very similarly to Jones. With Hayley Scamurra, Maddie Elia and others already under contract too, it's not as if the Beauts will be hurting for offense.
Moving on for More Other Opportunities
It is a likelihood that Jones will regain her usual scoring touch and output now that she is back with the Thunder. This is the team she is most comfortable with. When it comes to the human aspect, proponents of the women's game want to see that the players are happy, cared for and successful. If a player is "at home" with one team more than another, then that is a good thing.
"I have been part of the Thunder organization for so many years," Jones also said. "I absolutely love the team. I think we have the best organization, fans, volunteers… everyone involved with the Thunder is great. I wouldn't wanna come back and play for any other team."
Buffalo bids you adieu, Jess Jones, and bids you good luck!
General Manager of the Buffalo Beauts (NWHL). Hockey history writer "The Hockey Writers". Credentialed media for the NHL Combine and 2018 IIHF World Junior Championships in Buffalo, NY, USA. Born and raised in Buffalo, NY. Lifelong hockey fan for over 40 years. Proponent of the women's game.