The NWHL season may have just wrapped up, but that doesn't mean that the league's players aren't still helping to "grow the game". That particular phrase has become a mantra – even a beacon of sorts – as NWHL players generously offer their time and their hearts in order to develop both interest level and skill sets for younger generations. In essence, "grow the game" is a cornerstone to the foundation of the NWHL.
The players put themselves out into the hockey community in a wide variety of ways. Furthermore, they are eager to impart their knowledge to a younger generation. This is how the journey of women's hockey continues to grow and how it is blossoming today.
Sarah Edney's 🚨🚨 performance on Saturday has earned her Co-Player of the Week honors! Congrats, Ed!

MORE: https://t.co/fnM2Rb3auV pic.twitter.com/y0up5jZXF1

— Buffalo Beauts (@BuffaloBeauts) March 12, 2018
THW had the opportunity to catch up with Buffalo Beauts All-Star defender Sarah Edney. She was kind enough to answer some questions on what young defenders – preteens and teenagers especially – can do to develop further in the defense position. Edney is one of the best defenders in women's hockey, and the insight that she offered would prove beneficial to both young readers and parents alike.
The Importance of Having Strong Skating
To say that Edney is a powerful skater is an understatement. At times she appears like a thoroughbred out on the ice with her stride and the strength that she is able to generate behind it. Throughout the 2017-18 NWHL season it was a pleasure to watch her skating ability, particularly with how strongly her skates cut through the ice and the push she would use to accelerate.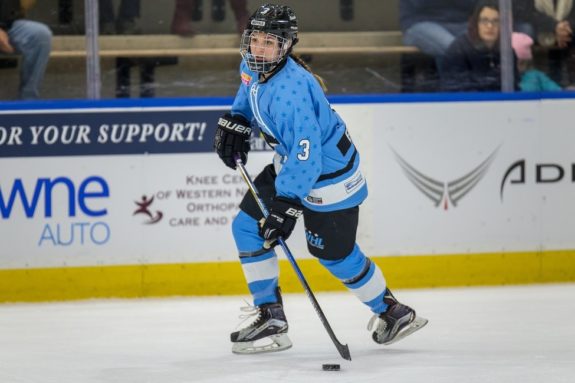 There is no surprise then that Edney is a strong proponent for young defenders to work on their skating, and to utilize it as a vehicle for improving the other aspects of their game as well.
"The biggest thing that I tell kids is that skating is one of the most important, but overlooked, skills for a defenseman," Edney explained. "You need to be able to keep up with other players skating forward while you are skating backwards, and are required to also jump up into the play on offense to assist your team. Strong skating skills will allow other skill development to come easier, allow you to play at a fast pace, and be a threat all over the ice."
Edney practices what she preaches. This was perhaps most apparent in the Beauts semifinal victory over the Boston Pride at the HARBORCENTER on Mar. 17. The 5-foot-6 defender stepped up into the play in the offensive zone, pounced on a Kourtney Kunichika pass and buried it by Boston goalie Brittany Ott. Edney goes down in history as having scored the first home playoff goal in Beauts history.
When to Jump up and When Not To
So how did Edney know that it was the right time for her to jump up into the play? This part may be a bit more inherent, but is still something that can be practiced. Edney takes a cerebral approach and reads situations very well. Positioning is a skill that is honed and worked at over time, but it is very important for young players to be aware of their surroundings.
"As a defenseman, I do a lot of reading off of other players," Edney told us. "I like to try my hardest to keep my calm and not make any sudden movements, and anticipate where other players are going to be so that I can get there first or at the same time as them to break up any developing play."
Being methodical and seeking out opportunities are things Edney did very throughout her first NWHL season. She was the only player on the Beauts to have more than one point in the playoffs – a goal and an assist in two playoff games. Edney also led all Beauts defenders in goal scoring during the regular season with three tallies too.
🚨!!!!!!

SARAH EDNEY MAKES THE BUILDING SHAKE! IT'S 1-0 BEAUTS! #BOSvsBUF pic.twitter.com/eErJBUNKXg

— Buffalo Beauts (@BuffaloBeauts) March 17, 2018
She was able to give an insightful response for young defenders on discerning whether or not to jump up into the rush:
"Whether or not to jump into the play is all about the context," said Edney. "Usually, no matter how tired you are, if you are able to jump into the rush and create an odd-man situation for your team I would say go for it. This greatly improves your team's chance of scoring if you outnumber the opposition. If you feel like your forwards are tired and are probably just going to dump the puck and change, or you feel as though nothing is really accumulating in terms of opportunities, I would say change and get a fresh defenseman on the ice. Other than that, it just depends on the situation and how you are feeling at that point in your shift."
Answering an Age Old Question
There is an age old question in hockey. When a defender is caught in a two-on-one situation and backing up to help their goaltender, should they opt to play the pass or the shot, thus allowing the goalie to cover the other option? There are various schools of thought on this and certainly much of it is situational. Nevertheless, it is a situation that defenders of all ages find themselves in from time to time and having to defend against it.
THW asked Edney for her own advice and philosophy on handling those dicey two-on-ones:
"When it comes to two-on-ones that is a little bit more tricky," she expressed. "When players are younger, I think it is important to stay in the middle and avoid giving either player too much space. As players get older, I like to start getting them to think about stick positioning. For example, if the player is coming down the left side and is a left handed shot, they control the puck on the outside. This means that they are in a prime passing position across to the other side, but if they were to shoot they would be releasing the puck from the outside, which is an easier shot for the goalie. In this situation, I would instruct the defenseman to favor the pass a bit more and allow the goalie to take the shot from the outside."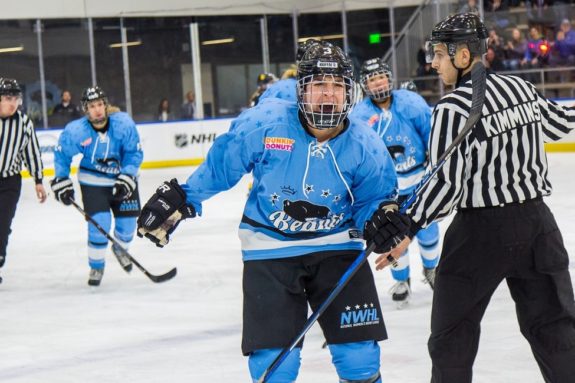 Again, deciding on the better option is situational. Edney is certain to point out that if facing the opposite threat a defender would want to handle matters differently.
"On the other hand," she went on to explain, "if the player is on the left side and is a right handed shot, they are in a more dangerous shooting position as they have control of the puck on the inside and it is harder for them to get the pass across to the other player on their forehand. Therefore, in this situation, I would advise taking some time and space away from the player with the puck to not allow them an easy inside shot."
Having good coaching is obviously helpful in deciphering these sorts of situations. Not surprisingly, Edney's defense coach with the Beauts is three-time Stanley Cup champion Craig Muni who is a former NHL defender of over 800 regular season games.
The Art of Shot Blocking
Edney was third among Beauts defenders in blocked shots during the regular season with 10, and she was one of only five Beauts skaters to have double digits in that category. Blocking shots is a science just as much as it is an art. Obviously, while there may be an expectation that putting one's body in front of a puck will be painful, the important thing is to not get injured. While some pain and discomfort in hockey is inevitable for all who take the game seriously, there are methods to blocking shots where the defender is figuratively using their head more than their body. Edney applies logic to shot blocking as well.
She explained, "When blocking shots, remember where your equipment is – on the front! So, my number one rule is not to turn around. It is scary at first but once you get used to it, especially as a defenseman, you will be blocking a lot of shots in front of the net being shot from the blueline and you have time to react. The other rule, that I have heard described in multiple ways, is don't 'flamingo'. What does this mean? Don't pick your one foot up in fear because guess what? The top of your foot doesn't have as much padding at your toe caps and this will hurt. Let me tell you from experience."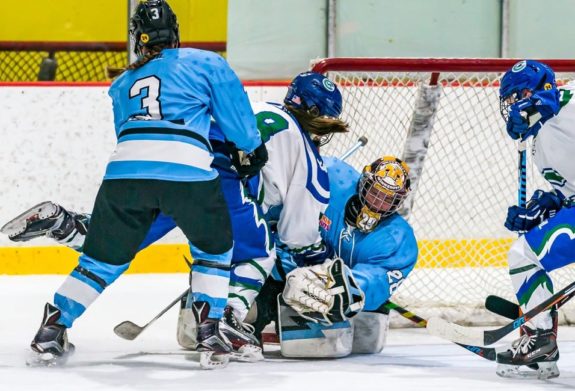 These are some key basics that are fundamentals in getting acquainted with shot blocking, especially for those youngsters who are just trying it out. It is gutsy to put oneself in front of vulcanized rubber, but it doesn't have to be done haphazardly. If applied and utilized correctly, it is a vital ability in a defender's repertoire. Like anything, it takes a considerable amount of time to become proficient at it.
Edney further shared, "As I have gotten older I have gotten better at judging how hard shots are and I now tend to block wrist shots more often and allow my goalie to control the slap shots. The last and perhaps most important tip though is don't try to block the shot by batting it out of the air because the last thing you want to do is tip it into your own net. Use your body and try to look as big as you can. Sometimes just preparing to make a block and making the other team think you are going to block it will cause them not to take the shot in the first place."
How Much Does Size Matter?
While there are taller players in the NWHL, Sarah Edney is one of the more solidly built defenders in the game. She is noticeably quite strong and is not a player accustomed to being out-muscled. But in saying that there will always be someone bigger than you and always someone stronger than you. This is where defenders must use both their smarts and be able to physically adapt their bodies to the differences of their opponents.
The human body is a remarkable piece of work, and it is incredible to notice how a person's analysis of their surroundings and situations can cause their body to react accordingly.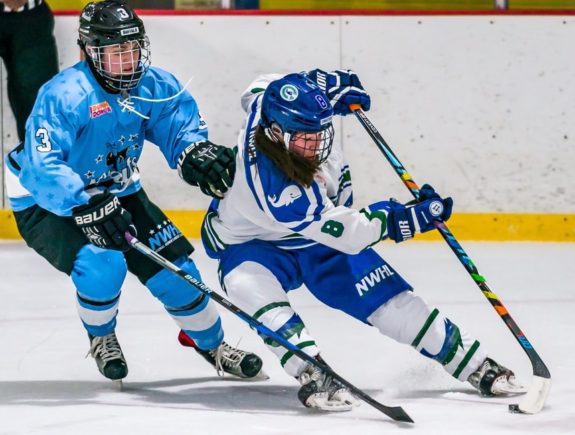 "You might not always be the biggest or the strongest, but it doesn't mean that you can't be the smartest," Edney said. "Give yourself a strong, wide base while battling in the corners and always push off of the hips of the bigger players. In front of the net, keep the player behind you and when the puck moves. Box them out using your own hips and keep your wide base so you keep them under control and going where you want them to go. You also have different skills such as being quicker or more agile, so if that's the case beat them to puck races and you won't ever have to worry about them getting the puck."
Notes to a Younger Self
If you are a young defender reading this, then realize that Sarah Edney was once very much in your shoes. Born in Sept. 1993, she is still a young professional hockey player herself. But, she has been playing this game and defending for quite a long stretch. More importantly, Edney has competed at the highest levels. That includes time spent in both the NWHL and the CWHL, as well as having played NCAA hockey for four successful years at Harvard University. She also represented Canada at the 2011 Women's U18 World Championships and won a silver medal. So you could say that Edney knows a thing or two about the game and the position.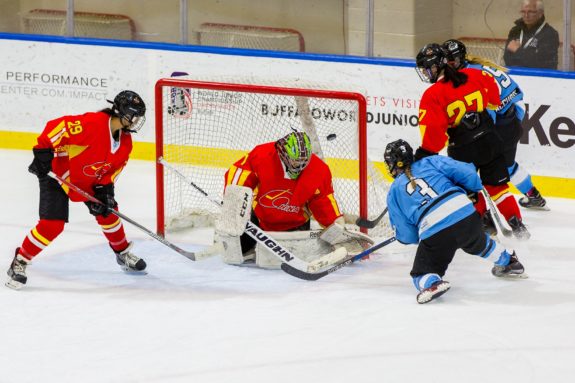 She also recalls what it was like to be a young hockey player who wasn't even a teenager yet. These days Edney would have some technical advice for her younger self.
"If I could give my 12-year-old self some advice on playing defense it would be to work on all different types of shots often. As I have gotten older, developing my snap shot throughout university was the best thing that I could have done. A lot of people don't take slap shots anymore because goalies are getting better and players are also getting better at blocking the puck. Shot selection is so important and being able to choose from an arsenal of different shots is very beneficial."
Hopefully there are some 12-year-old defenders who have just learned a thing or two from Edney that they can apply to their own games. She definitely knows what she is talking about and is eager to share her knowledge.