Sarah Edney has a propensity for being in the right place at the right time. The Buffalo Beauts All-Star defender makes this happen out of sheer hard work and hustle. If there is any luck involved, it is only a smidgen. The rest of it is all Edney.
Rather quietly, she has developed into one of the best defenders in the NWHL and certainly one of the best on the Buffalo squad. Now you might say – "Well, obviously. She was voted as an All-Star, wasn't she?". An All-Star selection is nice, but it does not do Edney's performance the proper justice. Are you familiar with the expression "good things happen to good people"? With Edney though, this is a two-parter. She is a good person – a sentiment believed among teammates, coaches, fans and media – but she is also a darn good hockey player too. When you combine those two sentiments, you suddenly have a defender who is bringing about an abundance of not just good things, but great things. Edney's level of play is creating opportunities for she and the Beauts. Even Edney herself can be surprised sometimes with what comes her way, and is willing to make light of the unexpected situations too.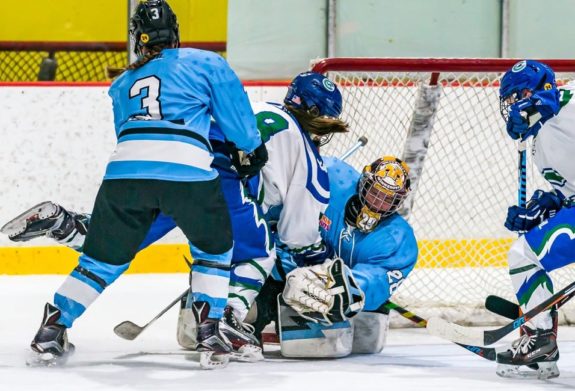 We'll give you an example from earlier in the year. At the Beauts' Jan. 20 victory over the Connecticut Whale in a 2-1 shootout stunner at the HarborCenter, Edney went in on the Connecticut net all on her own just moments into the game. It was sheer elusiveness and stickhandling skill, and coming from a blueliner no less – she just burst forth on goal out of nowhere. Although Whale goalie Sydney Rossman made the stop, Edney dipsy-doodled through the Connecticut defense all on her own and recorded the first shot on net.
When THW asked her about the opportunity at the time, she laughed, shook her head and said:
"Well that was an out of body experience!"
Edney the Main Cog in Mar. 10 Victory Over Whale
Bring it back to present day. Edney pulled off similar heroics in the Beauts 4-1 victory over the Whale on Mar. 10. There was so much more in store for this showdown that made the defender's performance even more storied. For starters, this was the Beauts' final regular season game of the 2017-18 campaign. They played out their final four games all on the road. Most importantly, it was an opportunity to end the year with a 10-game winning streak intact by coming through with the victory.
Edney scored both the Beauts' first goal of the game and the last. After what was a sluggish opening period for Buffalo, the defender wired a shot from the point at 6:02 of the second period. Buffalo was down 1-0 after Amanda Boulier had opened the scoring for the Whale in the first period. The Beauts desperately needed some sort of spark as they came into the first intermission trailing and with little pep to their steps.
"I think we just knew that we weren't playing our best game," Edney explained. "We took a period to get into it today, and then we kind of bumped up our intensity. I think we just needed to get our minds focused after that first period, and then we just played our game."
Goals From Edney Bring About the Win
The first Edney tally was what the Beauts needed to give themselves a kick in the backside to get going. With Connecticut's Emma Greco in the box for a delay of game infraction, Edney caught the puck to the left point of Rossman and immediately fired. The puck went through traffic, deflected and tumbled into the back of the twine. With the game tied up, it was apparent that the Beauts of the second period were their old selves again. Edney would also add an empty-netter with 32 seconds left in the game.
🚨🚨🚨🚨 2nd OF THE NIGHT!@s_edney93 sends it into the yawning cage. 4-1 Beauts #BUFvsCTW pic.twitter.com/rSPru7CfNp

— Buffalo Beauts (@BuffaloBeauts) March 11, 2018
"They were both pretty… different," Edney laughed about her two goals. "I actually thought one of our players tipped the first one, but it was the other team. And then an open net, so you can say they weren't really 'real' goals. But it's good. It's good to win. I think we just wanted to get out of here with a win. We had some ups and some downs, but we kept our streak alive. I feel like we're happy with that."
Keeping it intact they did. 10 games in a row is a superb streak for any hockey club, and a fine way to not only end the season on a high note but bring momentum into the playoffs. Edney feels it and she wants you to feel it too.
The Progression of the Team Throughout the Season
Having played in 14 of the Beauts' 16 regular season games here in 2017-18, she is also at the top of many statistical categories for the team. This only further accentuates the idea of Edney's hard work paying off. The three goals she has scored this year lead all Beauts defenders. Her six points (three goals, three assists) are second only to her teammate Sarah Casorso (zero goals, nine assists) among scoring from the Buffalo rearguards. Edney's 29 shots on net not only lead all Beauts defenders but are tied for seventh most among of all skaters on the team. She twice this year had a season high of four shots on goal in a game, and each time was against Connecticut.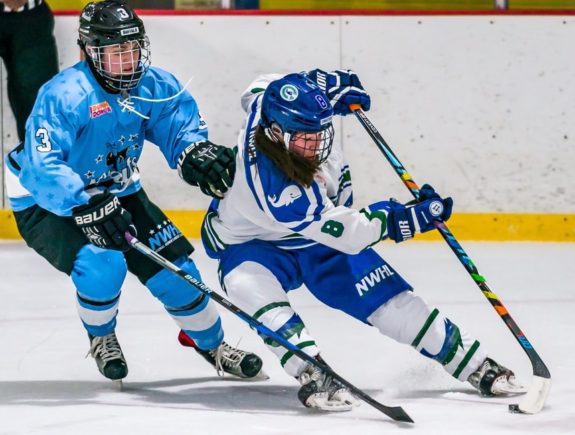 But it's not just Edney's play that has steadily progressed and blossomed as the season has gone along. The entire team has improved and has continuously become more cohesive. You do not just walk into a 10-game winning streak. An accomplishment such as that is brought about by both intestinal fortitude and unity on and off the ice. The Beauts have both in droves.
Asked how she has seen the team grow throughout the year, Edney responded:
"I think it's chemistry, but it's also confidence," she stated. "I hadn't been with the team (last year) but Buffalo was an underdog. We came into the season with a target on our back a bit because they won the championship last year. But I think definitely confidence and getting used to each other. Building off better chemistry in wins. I think that definitely helps."
A New Beaut Is Added Into the Fold
Just days prior to their season finale, the Beauts announced that they had signed forward Jordan Juron for the remainder of the season. Juron had actually played with the Beauts for a single game back on Jan. 14 on a professional tryout. Thus far she has been a point per game player. Juron picked up an assist on a Rebecca Vint goal in her January debut. Then in the Mar. 11 win she scored her first NWHL goal in addition to Edney's pair and a marker from Hayley Scamurra.
Edney was quite complimentary of Juron, and feels that her new teammate adds a threatening flair on offense. One that is timed perfectly for the playoffs.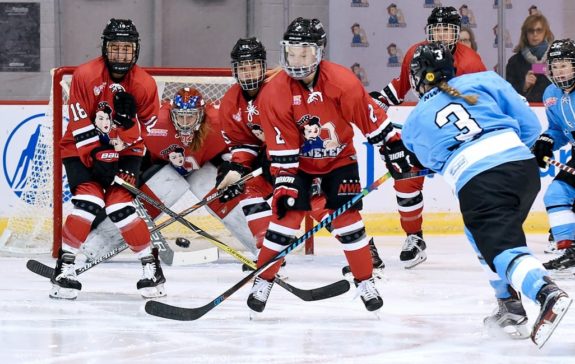 "She's practiced with us a bit," Edney shared, "and already she's fit perfectly into the forward chemistry. She has great hands, a great shot. I played against her actually in Boston in college, so I know she's a threat. But she just keeps getting better and better with building chemistry, so I think she's definitely a secret weapon."
Edney played four years of collegiate hockey at Harvard University. In 127 career NCAA games, the blueliner totaled 25 goals, 63 assists and 88 points. Edney also had a career plus-19 as well for her plus/minus. Eight of Edney's 25 goals were power play tallies and four were game-winners.
Beauts Fans Provide an Energized Building
The regular season is done – it's playoff time now, folks. For the Buffalo community it will be a historical one. In the prior two NWHL seasons, all of the Beauts' postseason games have been on the road. Even in winning the Isobel Cup last year in a shocker over Boston, the Buffalo faithful has never been able to cheer on their team on home ice. Until now. Mar. 17 will be the first time in the club's history that they will compete in a home playoff game.
Like all of her teammates, Edney is extremely excited for their opening round showdown with the Boston Pride. She wants you to be pumped too. The Beauts know that the fans can truly get the HarborCenter rockin' with some serious energy. Edney, who played her previous two seasons of women's hockey in the CWHL with the Brampton (now Markham) Thunder is already feeling the charge for getting the playoffs underway.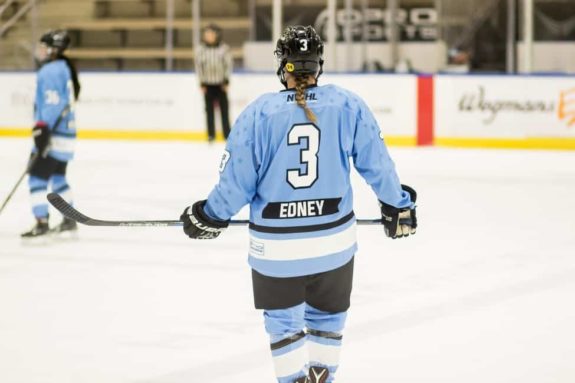 "I really like our crowd, and I know all of us really like playing at home," she said. "So that's definitely an advantage. I'm not from Buffalo, but it's a much shorter drive to get there. I think definitely our fan base is what really gives us energy, so it's really exciting to be able to play at home. It's the one-and-done for the playoffs, so you've got to build up the energy. The fans build up the energy, and (with) building our chemistry, everything is just building up. We're going in the right direction as to where we want to go."
Pressure Is on Buffalo but They Are Prepared
Though these are exciting times to be a Buffalo Beauts fan, repeating as Isobel Cup champions is an extremely challenging feat. There are no guarantees here whatsoever. Yes, the team has won 10 games in a row, but regular season is done with – it is over. This may be a harsh way to put it but that is just a simple fact. The NWHL playoffs on the other hand are handled with what has become more of a rarity in professional sports: you have one game – you win, you go on. You lose, you go home.
Truth be told, the pressure is on the Beauts in this situation. That understanding has not been missed by Edney, who was not a member of last year's Cup-winning team. When asked what the team's biggest challenge will be heading into the playoffs, she stated the following:
"I think it's always the pressure," said Edney. "The Buffalo Beauts did win the Isobel Cup last year, so that's definitely pressure. We're on a streak, and Boston was on that streak last year and lost that last game. I think the tables are turned a bit like that. Just building off this streak and energy, and coming home, I think we're going in the right direction at least."
The Time Is Now – Be Sure to Bring Your All
Even though the Beauts rightfully enjoyed their victory in Connecticut, they packed up their gear shortly thereafter, loaded the bus, and made the long trip back to Buffalo from the Terry Conners Ice Rink. The frame of mind for the Beauts is very clear – clarity that is defined by readiness. They are ready to battle, ready for an energized crowd, and more than ready to go the distance.
When Buffalo raised the Isobel Cup last year, the most noticeable aspect from that surprise win was how much the team believed in each other. They rode that notion to victory. This year the Buffalo Beauts are arguably the most cohesive team of the four NWHL squads. Edney and her teammates legitimately care for each other and work for each other. That simple recipe can bring about championships, if not multiple ones.
Nice picks Otter, but now it's time to put some #Buffalove into this draft. From my own @BuffaloBeauts, #TeamLeveille selects…Ed! THE Sarah Edney! #NWHLASG pic.twitter.com/TJOUJsPtxK

— NWHL (@NWHL) January 23, 2018
Regardless of what the outcome may end up being, know that Sarah Edney will have given every ounce of heart that she has, every ounce of her character out on the ice no matter who raises the Cup in the end. She is primed to compete. A female "Charlie Hustle" if there ever was one.
Edney wrapped up by saying, "I think it's going to be just as exciting or even more exciting than this season has been. We're at the peak of our performance right now. We're going to give a good show."
Buffalo, Sarah Edney will give everything she has got inside to bring you another championship.