The Winnipeg Jets have one of the deepest forward corps and prospect pools in the NHL, so some very good players are not going to play for them in the NHL. It looks increasingly likely that one of those players is Nic Petan.
Petan has a legion of fans and defenders among Jets observers, and rightly so. His junior numbers are gaudy, to say the least, and he's been a consistent producer in the AHL. This year, in particular, his stats have been impressive for the Manitoba Moose.
A point producer and power-play wizard wherever he goes, Petan has found offensive success everywhere but the NHL so far. That shouldn't be too concerning for a player who's still relatively young. He's only three seasons removed from junior, after all.
With the Jets' depth at forward, however, the question becomes what place Petan has in their forward group. The question becomes all the more pressing when considering the forward prospects who may have leaped over Petan in management's eyes.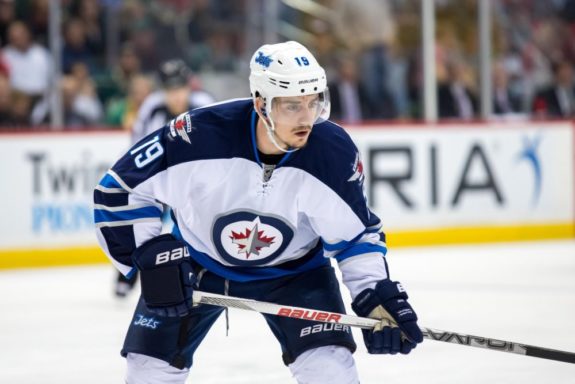 The sublimely skilled but undersized forward has been up and down from the AHL this season. During those stints with the Jets, he's all too often been a fourth-line or press-box regular.
Nic Petan Missed a Big Chance
When the trade deadline rolled around, it was suggested in some corners, including this one, that Petan might be a trade chip. While that didn't happen, questions about his future in Winnipeg remain.
On the other hand, we also suggested that Petan's February call-up was a golden opportunity for him to shine. He never really ran with that chance.
That February recall really was Petan's best chance yet. Most of the Jets' bottom-six was banged up, and Petan was virtually guaranteed time with other young, skilled forwards. He scored in his first game but scored just once more in the next eight before being returned to the Moose on Feb. 27.
Petan had his big opportunity when the Jets weren't healthy. Now that they are, and having acquired Paul Stastny, it's difficult to see where exactly he fits in their forward group.
So @GarretHohl, I've been spending the last 24 hours trying to figure out where to put our adopted son Nic Petan in this lineup… pic.twitter.com/ILd4lD8LGb

— Ian Tulloch📊 (@IanGraph) February 27, 2018
We've touched before on the jaw-droppingly deadly attack the Jets boast when healthy. While Stastny may or may not stick around, the fact is the Jets depth puts any prospect looking to crack the roster in a tough spot.
The Jets' top-six is crowded enough as it is. Patrik Laine, Nikolaj Ehlers, Mark Scheifele, and Blake Wheeler aren't going anywhere. Mathieu Perreault, Bryan Little, and now Kyle Connor have the first crack at the spots that remain, followed closely by Jack Roslovic.
That makes eight spots in the top-nine accounted for. Paul Stastny occupies the ninth at least for now. Another free agent may take it in the summer if the Jets decide to remain in win-now mode.
While Petan could take the ninth place, he may have fallen down the pecking order among those vying for that spot. And the Jets have shown some reluctance to use him as a fourth-line forward. Joel Armia, Adam Lowry, and Andrew Copp are all ahead of Petan on that list.
Other Prospects Have Vaulted Past Petan
It's hard enough for Petan to crack a regular NHL roster with such impressive established players ahead of him. Add in the prospects who seem to have overcome him and his task looks nearly impossible.
It's pretty clear Connor and Roslovic are above Petan in the eyes of Jets brass. The two 2015 first-rounders have locked themselves into top-nine roles for now and show no inclination to relinquish them.
Connor was at one point on pace for 30 goals. While that's no longer as likely, the 25-goal mark is still well within reach in what can only be considered a successful rookie campaign. Roslovic has made a strong offensive mark of his own and seems an immovable part of the Jets future.
As for Brendan Lemieux, his willingness to play a grinding, agitating game gives him an edge on many prospects. His willingness to fight doesn't hurt either. Look past that at the raw production numbers, and you'll see a player who's no slouch offensively.
Then there's newest AHL rookie sensation Mason Appleton, putting up bigger numbers than any rookie in Moose history. His 6-foot-2 frame and easy transition to the pro game have elevated him for the Jets.
Another top notch potential Jet. Another thing that makes Nic Petan very expendable https://t.co/RmSbpuemrh

— Sean The Oilcan (@SeantheOilcan) February 24, 2018
None of this is Petan's fault. It's not his fault NHL coaches still value the agitating and fighting ability of a guy like Lemieux. It's not his fault Kristian Vesalainen is having a world-beating season in Finland and looks primed for NHL duty next year.
Vesalainen is everything NHL teams love in a prospect. His blend of size and skill and his monster season in the Finnish Elite League have seen his stock shoot up the charts, and he'd likely be a top-10 pick if the 2017 draft were re-held today.
Even with the trade of Erik Foley, the list of Jets prospects fighting for a roster spot is impressive. Right now, betting money is on Vesalainen winning that top-nine spot next year. Assuming no free agents join the Jets, Petan still faces an uphill battle.
There's not much doubt that Petan deserves an NHL shot. The talent is unquestionably there, but in Winnipeg, he may never get a chance to showcase it on a regular basis. It might be the best thing for his career to be traded.
This was always a problem the Jets were going to run into eventually. Drafting as well as they have for as long as they have yielded a surplus of prospects, and someone is going to be a casualty of that surplus. Right now, that someone looks like Petan.
A long time hockey fan and player from Winnipeg, Manitoba. Play-by-play man with the SJHL's Estevan Bruins. Graduate of Red River College's Creative Communications program with a major in journalism. Former PxP man for the University of Manitoba Bisons. Lover of all things Jets and Avs related and always looking for a good hockey debate.