Paul Stastny did not come cheaply for the Winnipeg Jets, but players worth having on the roster rarely do. After just two games, it's evident Stastny is worth having.
The Jets already frightening offensive arsenal got yet another weapon at the trade deadline. Stastny cost them a first-round pick, promising prospect Erik Foley, and a conditional fourth rounder, but the Jets judged him to be worth that steep price.
Early returns have indicated the Jets were right. Despite the Jets' loss, Stastny fit like a glove on the line with Nikolaj Ehlers and Patrik Laine in his first game in a Jets sweater. His style seems a perfect compliment to the two budding superstars. The infusion of Stastny instantly makes that line one of the league's deadliest. Couple that with Mark Scheifele centering steadily brilliant Blake Wheeler and quiet rookie sensation Kyle Connor and you've effectively got two top lines.
Then there's the Bryan Little line to contend with. Little and Mathieu Perreault, the possession monster who makes any line better, have speedster Jack Roslovic alongside, and that line has proved a thorn in the side of any team.
All this without Adam Lowry in the lineup. Once Lowry returns, he and Joel Armia will form the basis of the team's fourth line along with Andrew Copp. There are plenty of teams in the NHL that can't ice a third line that good.
Lines courtesy of @DailyFaceoff…The Jets should be considered one of the favorites to win the Cup with these new lines AND Trouba and Lowry aren't even back yet pic.twitter.com/8wsxPGRz0B

— Dan Bahl (@danbahl) February 27, 2018
Without Jacob Trouba, there are reasonable concerns about the Jets defense core, though it too has depth and dependability once Trouba and Toby Enstrom return. Looking at the forwards, however, it's clear they stack up well against the NHL's best groups.
Stastny the Missing Puzzle Piece
The Jets' third line was a subject of great debate following their newest line juggling. Copp is a fine player, but not an offensive juggernaut, and his spot on the third line seemed the one flaw in an otherwise impeccable forward core.
When the Jets made it clear they'd be buyers at the trade deadline, suggestions rolled in from all over as to where that newest infusion of talent could come from. Ideas from us at The Hockey Writers ranged from then-Senators forward Derick Brassard to out-of-favor but vastly talented Coyote Max Domi.
Almost nobody, however, suggested Stastny. It seems obvious now, as Stastny has filled that spot perfectly, but he wasn't on the radar at the time. Indeed, his departure caught the Blues off guard, as evidenced by Brayden Schenn's unhappy reaction to the deal.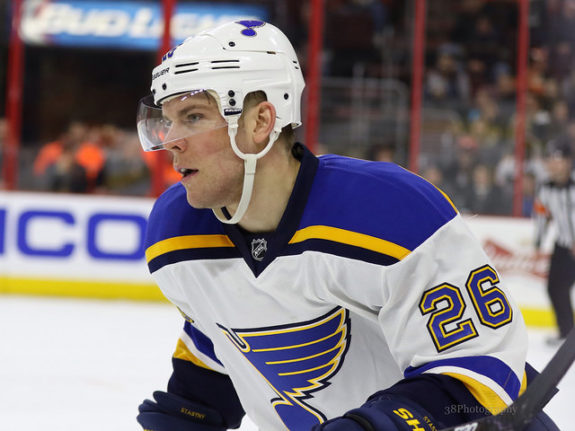 Stastny ticked all the boxes for the Jets, which is why they were willing to pay for him. The Jets have little playoff experience among their top forwards. Stastny has 55 postseason games under his belt. The Jets needed someone defensively responsible and good with his passes to bring out the best in Laine and Ehlers. Stastny filled both needs.
Any line featuring Laine and Ehlers, the Jets first and second-leading goal scorers, should be the team's top line. As it stood, lacking a quality centreman, they played fewer than 15 minutes a game in the three games prior to Stastny's arrival.
Since Stastny's arrival, however, the two are averaging much more ice time. Laine was over 18 minutes in the win over Detroit, Ehlers just under at 17:23. Having their two best scorers on the ice more often can only be good for the Jets.
While it's disappointing it took Stastny's acquisition for this to happen, now that it's happening the Jets are better for it. Rolling two top lines, the Jets can come at the opposition in wave after wave and make the matchup game nearly impossible.
No Weaknesses in Jets Forwards
Go up and down the Jets forward core and try to find an exploitable hole. You might hit on inexperience, but that's about it. Every other aspect of the Jets forward core is top-notch.
The Jets can play any way you like up front. For those heavy, grinding games, Lowry, Wheeler and Scheifele all have the size and strength to play in the trenches. Don't underestimate Laine on that front either.
If the game opens up and speed rules the day, the Jets don't really have any slow forwards. Connor and Roslovic are blazingly fast, and there are barely a handful of players in the NHL better in transition than Ehlers.
Stastny's pinpoint passing also seems likely to bring out the best in Laine's insane shot. With Laine climbing the all-time teenage scoring ranks, Stastny can only help with his ability to put the puck on a tee for that lethal release.
And woe betide any team that takes penalties against the Jets. Winnipeg sits second in the NHL in power play percentage and third in total goals. With Stastny adding his passing wizardry to the top unit, that percentage isn't dipping any time soon.
This is a Jets team born of the years of mediocre finishes and shrewd drafting. The draft picks that were touted so highly for so many years are starting to come into their own and dominate the NHL like Jets fans were always promised. Now, as other successfully rebuilt teams have done before them, the Jets have reached out for an established veteran to help the team along and help their young stars grow. Stastny was seemingly the perfect man for the job.
Stastny gives the Jets more than just experience up the middle, however. He gives them a top-tier passer and dependable faceoff man, and in essence a second first line. In short, he gives them the best attack in the NHL.
A long time hockey fan and player from Winnipeg, Manitoba. Play-by-play man with the SJHL's Estevan Bruins. Graduate of Red River College's Creative Communications program with a major in journalism. Former PxP man for the University of Manitoba Bisons. Lover of all things Jets and Avs related and always looking for a good hockey debate.