Max Domi was born in Winnipeg, though raised in Ontario, during the dying years of the old Winnipeg Jets. Now he might be a big piece of the playoff puzzle for the Jets' reincarnation.
Taken 12th overall in 2013 by the then-Phoenix Coyotes just before the Jets were slated to pick at 13, Domi looked like a future stud. Many Jets fans were hoping he would last until they picked and were quite disappointed to see him snatched off the draft board just moments before Winnipeg selected.
At the time, the idea of Domi being traded would've been laughable. He tore his way through major junior with the London Knights, winning two OHL championships and a World Junior gold medal on the way. His future looked blindingly bright.
His rookie season looked no less promising as he amassed 18 goals and 52 points. Now, however, he seems to have fallen out of favor in Arizona just as fellow World Junior star Anthony Duclair did.
With Domi's production declining and Arizona in yet another tailspin, his name has floated around the rumor mill. The Winnipeg Jets, noted many times to be buyers at this year's deadline, should make a pitch.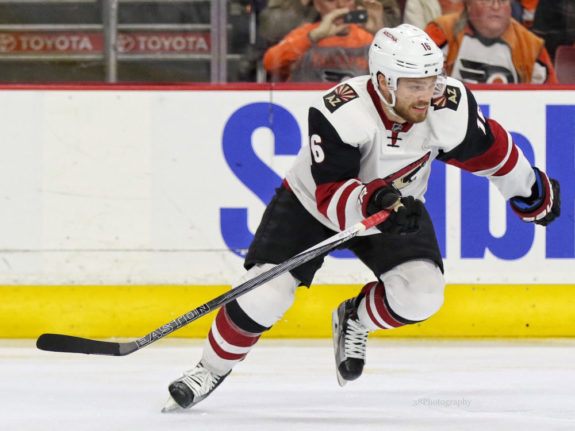 Winnipeg has the will and the assets to buy, and Domi could fit right in with their lineup, especially since he could play both wing and center. He won't come cheaply, but he carries a high ceiling to match that potentially high price tag.
Domi's Place in Winnipeg
The Winnipeg Jets latest forward line scheme has been an instant success. The Jets have consistently rolled three scoring lines, and the fourth line looks better than ever. There are, however, a few kinks that need working out still.
AM skate underway for #NHLJets leading into tonight's tilt vs #LAKings:

Connor-Scheifele-Wheeler
Perrault-Little-Roslovic
Laine-Copp-Ehlers
Petan-Hendricks-Armia

Morrissey-Myers
Enstrom-Byfuglien
Chiarot-Kulikov

Hellebuyck
Hutchinson/Comrie@TSN1290Radio @TSNHockey

— Brian Munz (@BrianMunzTSN) February 20, 2018
Those lines are deadly, and it's worth debating whether the Jets now own the NHL's deadliest forward core. But Andrew Copp isn't an ideal candidate to play with the team's two leading goal scorers in Patrik Laine and Nikolaj Ehlers. Copp has just 18 points in 62 games this year and is better suited to fourth line minutes at this stage of his young career.
This is part of why the Jets pushed so hard to land Derick Brassard among others. They needed that scoring center to play with their two biggest guns. Missing out on both he and Tomas Plekanec isn't catastrophic, but it does force a change of plans.
Domi helps in the immediate and long-term future. For the moment, imagine a line of Domi, Ehlers, and Laine. Domi has never played with players anywhere near that caliber. His talents as a set-up man would be hugely important to those two.
No disrespect to Copp, but his playing style doesn't mesh tremendously with Ehlers and Laine. They need a fast, skilled puck mover who can keep up with them. Domi may be that man if he can be responsible enough to play center.
Or, if Domi turns out to be better served at wing, his infusion into the Jets lineup allows them to drop Mathieu Perreault back between Laine and Ehlers. Domi then plays with veteran Bryan Little and skilled youngster Jack Roslovic.
There's no wrong answer for where to put Domi in the lineup unless your answer is the fourth line. Even there, with Petan and Armia, Domi could be an impact player but that's not what he would be brought in for.
What Would Domi Cost?
Domi has not been at his best in Arizona this year, and in a tumultuous season for the Coyotes that has meant his name has popped up in the rumor mill. As of this writing, he's ranked 12th on TSN's trade bait board.
It's no secret the Jets are looking to add depth up front. It's not impossible that they've already looked at Domi. The rest of the NHL is beginning to put two and two together in seeing that this could be a good fit.
Have to wonder if the #NHLJets would try to pry C Max Domi out of Arizona. No secret the organization loved him at the draft and tried to get him. Domi having terrible season in the desert, just 5 goals, 22 assists, Pending RFA currently making $1.36 million.

— Mike McIntyre (@mikemcintyrewpg) February 25, 2018
Yet despite the entire NHL knowing this, the Jets are in a position of strength. Adam Lowry will soon be healthy again, and his re-insertion into the lineup is as good as any trade acquisition.
The Jets also have the organizational depth to not be in desperate need of Domi. They're in good condition for the future with Brendan Lemieux looking better every day and Kristian Vesalainen tearing the Finnish men's league apart among many others.
The temptation, however, is going to be to try to win now with the outstanding season the Jets have had so far. If the Jets believe they're one or two pieces away from being a contender, they'll buy those pieces.
The Coyotes have their advantages as well. There's no pressing need to move Domi right away, seeing as he could still be part of their future. If they don't see an offer they like now, they'll wait until the draft as teams so often do.
Domi was a first round pick in 2013, and the Coyotes will be unlikely to part with him for anything less to start with. The Jets are deep enough in the prospect pool, and deep enough in the playoff race, to part with their first rounder for the first time ever.
That may be enough, but one doubts it. Domi was the 12th overall pick in a deep draft, and the Jets are unlikely to pick before 20th overall in a much less star-studded class after the top. Another piece needs to be in play, and many have speculated it will be Nic Petan.
Petan has the skill needed to play in the NHL but the opportunities simply haven't been there for him in Winnipeg, and may never be. He's another player who could benefit from a change of scenery. The Jets may regret it, but that's the risk you run trading skilled youngsters.
Still, whether at the trade deadline or at the draft, the Coyotes will be tempted to move Domi. Whether at the trade deadline or the draft, the Jets should be one of the teams doing the tempting.
A long time hockey fan and player from Winnipeg, Manitoba. Play-by-play man with the SJHL's Estevan Bruins. Graduate of Red River College's Creative Communications program with a major in journalism. Former PxP man for the University of Manitoba Bisons. Lover of all things Jets and Avs related and always looking for a good hockey debate.